If you are looking for the one broker that has the most experience in the binary options space, then you would have to focus upon Binary.com, a unique brokerage firm that pioneered online gambling across the planet beginning in 1999. While most of the newer breed of binary option brokers try to cloak their websites in investment terminology, Binary.com is quick to warn clients that trading in these exciting options is gambling, pure and simple, and the firm will go out of its way to counsel you on limits on your trading activity to ensure responsible trading. This advice appears on the Home Page, as well, and is just one example of the transparency of this broker. Binary.com's approach must be working because they have had over one million customers to date and have received numerous industry awards for their excellence.
The firm proudly displays its timeline, which begins in 1999. Its online presence soon became BetOnMarkets.com, which was re-branded in 2013 to become today's Binary.com. The firm has offices in Malta, Malaysia and Japan, and is licensed and regulated in Malta, the United Kingdom, the Isle of Man, Ireland, and Japan, with full compliance with MiFID regulations for the remaining EU countries. In 2014, the firm passed the US$ 2 billion milestone in volume turnover, making it one of the leading binary option brokers in the world. With experience, also comes innovation. You will not find a more creative set of option products, asset choices, and advanced trading tools, all easily accessible on the company's proprietary, web-based trading platforms. Both beginners and veterans have things that will interest them with this one-of-a-kind broker.
As the firm freely boasts, it has "the most flexible pricing and the most comprehensive suite of products available", as you might expect from one of the oldest and respected names in the industry. Payoff ratios top out at 91% for 115 asset items, which can be traded using classic Put/Call, One-Touch/No-Touch, and Boundary options for turbo, short, or long-term expirations. Innovative "Asians" and "Digits" options, which compare to averages or ending ticks, can lift winnings to as much as 1000%. A variety of platform options increases your flexibility, aided by a library of advanced trading charts and tools that are offered for all expertise levels. A Demo account comes free, and all client deposits are segregated and held safely in AAA-rated banks. Customer service is excellent, as well, "24X7", and bilingual (website can be read in a dozen languages). Numerous awards and testimonials depicted on the firm's website attest to this broker's unique offering of "Sharp Prices – Smart Trading."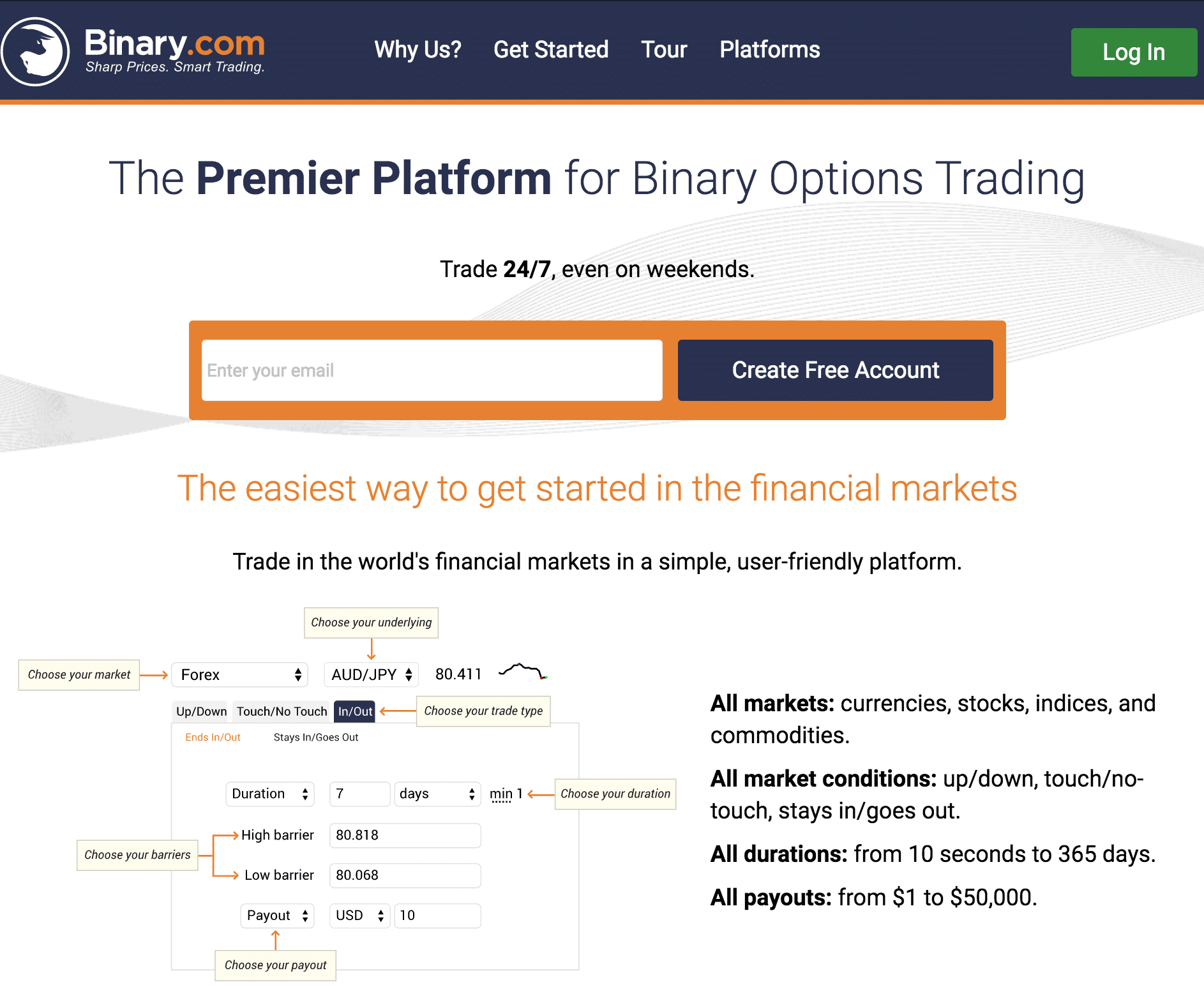 Features at Binary.com
The distinguishing features listed by Binary.com on its website are as follows:
Founded in 1999 as Regent Markets with a vision "to create a market in the simplest of all derivatives contracts – the fixed-odds bet – and to offer ordinary investors the chance to make small bets." BetonMarkets.com went live in April of 2000, the precursor of retail binary options trading;
Licensed and regulated in Malta, the United Kingdom, the Isle of Man, Ireland, and Japan, with full compliance with MiFID regulations for the remaining EU countries;
Client deposits safely segregated in AAA-rated bank accounts;
Multiple industry awards denoting service and product excellence;
Over 1 million registered accounts across the globe, with three offices located in Malta, Malaysia and Japan;
One account plus a free demo account to trade from 115 asset choices: currencies (30), indices (38), stocks (42), and commodities (5);
U.S. customers are not accepted at this time;
Classic Put/Call, One-Touch/No-Touch, and Boundary options for turbo, short, or long-term expirations, along with a variety of innovative options not offered on other broker websites;
Payoffs can be as high as 91% on traditional options, but some unique varieties can yield as high as 1000%;
A variety of basic and advanced trading platforms – proprietary, as well as Metatrader5 and Webtrader – no downloads necessary;
Mobile applications are also supported;
Binary.com academy includes free webinars, free daily market reports, free E-books, and free trading charts;
Website can be read in 12 languages;
First-class customer service available "24X7".
Supported Platforms
The firm offers a variety of trading platforms, designed for all levels of trader, from basic to serious. There are six in all, some with mobile apps: Binary.com, Next-Gen, Tick Trade, MetaTrader5, Webtrader, and Binary Bot. There is also a detailed comparison table that allows you to "Choose the ideal platform for your preferred trading strategy." The firm also takes pride in the stability of its networks by publishing a "Network Status" system for tracking network performance on its website. Safety and security are also assured by using the latest encryption technology techniques to safeguard your data.
Deposits and Withdrawals
There are over 17 ways to make a deposit with Binary.com, including the standard fare of major credit cards and banking wire transfers. Alternative payment processors, like Skrill and WebMoney, are also available, along with a host of other local, regional, and global providers. Be sure to have your KYC/AML documentation in order before requesting a withdrawal.
Customer Support
Bilingual customer service representatives can be accessed "24X7" via email, call-back service, phone, and live chat. The website has also been translated into a dozen languages. With offices in Malta, Malaysia and Japan, the firm is always open from a service perspective. Learning and support materials are also extensive and comprehensive, including webinars, daily market reports, E-books, and trading charts.
Binary.com – Conclusion
Winston Churchill once remarked, "I am easily satisfied with the best!" He may never have traded online, but, if he had, he would have been easily satisfied with Binary.com. The roots of this firm go deep, and the benefits of its experience and well-earned reputation as an industry leader are readily apparent with only a cursory look at its website and product offering. Innovative, unique, competitive, safe, and excellent are just a few superlatives that come to mind. With over one million customers, over $2 billion in volume turnover, and numerous industry awards, the team at Binary.com is obviously doing a lot of things right. If you want to be another satisfied customer, then maybe now is the time to give Binary.com a try.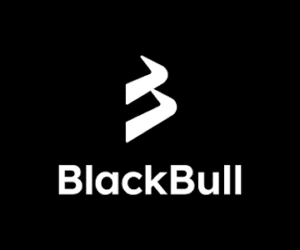 Forextraders' Broker of the Month
BlackBull Markets is a reliable and well-respected trading platform that provides its customers with high-quality access to a wide range of asset groups. The broker is headquartered in New Zealand which explains why it has flown under the radar for a few years but it is a great broker that is now building a global following. The BlackBull Markets site is intuitive and easy to use, making it an ideal choice for beginners.
Please be advised that certain products and/or multiplier levels may not be available for traders from EEA countries due to legal restrictions.