Are you a U.S. citizen that wants to trade binary options, but is frustrated when every foreign-based broker states that, "U.S. citizens are not accepted at this time"? There is a home-based solution for you – It is called Nadex.com. The reason why foreign binary option brokers will not deal with you is because the CFTC regards their operations as nothing more than online betting parlors. They will not permit trading in binary options unless the options are offered on a regulated exchange. In order to fill this market void, the North American Derivatives Exchange (Nadex) came into being in 2009.
Trading on the Nadex exchange is very dissimilar to trading binary options with a typical broker based outside of the country. The option is actually a "tradable security", as required by the CFTC. The style of trading with Nadex may be confusing at first and take a bit of time to understand, but the basics are the same – 1) you choose an asset, an expiry time and strike price; 2) you execute a buy or sell order after fixing your investment and payoff/loss potential; and then 3) manage your option until expiration (you can sell early, but only if there is a willing Buyer in the market). There are ample educational videos, archived webinars, and examples to guide you through the process, and customer service reps that can assist you with any queries. The system is definitely different. Nadex is an exchange, not a broker. Prices are set by the futures market. You are not betting against the House, as with foreign brokers. Your deposits are safe, too.
Nadex offers a live trading account, as well as a no-limit demo trading account. There are transaction fees- $1 per side for each contract – capped at $50.00 on the entry. Nadex waives the exit (settlement) fee for trades where the binary expires out of the money (at zero). International clients are welcome, but only if you reside in one of the 45 countries listed on the website. The platform is web-based, complete with mobile apps, and a Demo account comes free with $25,000 of virtual cash. Be sure to take advantage of the Demo for practice trading. The trading platform can be confusing and will take time to get used to. The asset list is smaller than you might expect, but does include forex pairs, commodities, and stock indices and a unique grouping of what they call "Event" options. Nadex offers both classic binary options and spread trades. The latter is similar to "Range" options. It may be tricky on the front end, but Out-of-the-Money options can produce returns of 300%.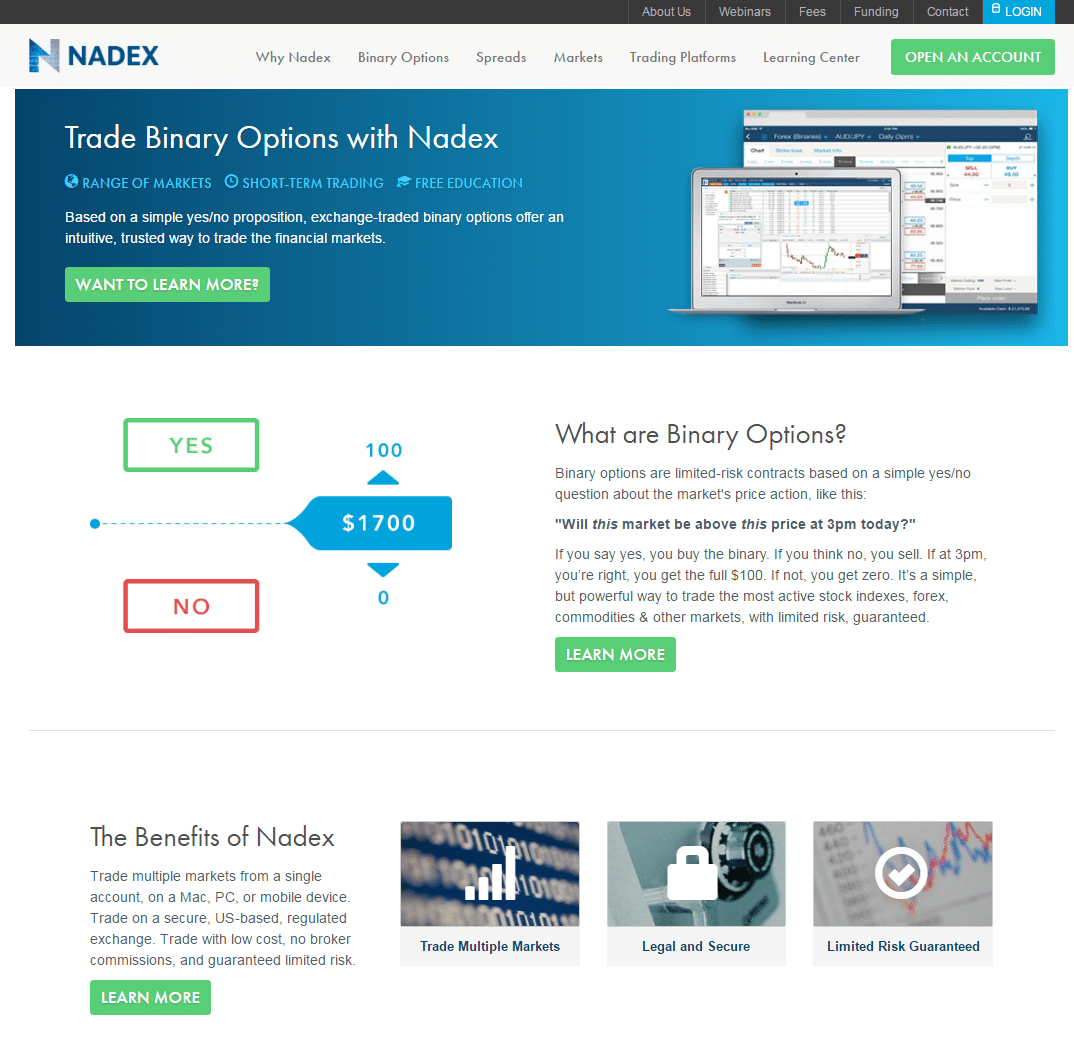 Features at Nadex
The distinguishing features listed by Nadex on its website are as follows:
Founded in 2009 in the United States, with headquarters in Chicago, Illinois;
Regulated and authorized by the CFTC;
Legal for U.S. citizens;
Minimum deposit is $250;
All customer deposits segregated in Top-Tier bank accounts;
One account classification, including mobile app and free Demo account with simulated $25,000;
Withdrawals are quick using ACH direct deposit or wire transfer;
Options are bought and sold on an exchange – There is no broker fixing the odds in his favor – You are not betting against the House;
Payoffs can vary depending on how far the price is out of the money, as is the case with real options, but a payoff of 300% for OTM options is not uncommon;
Asset choices include Currency Pairs (10), Commodities (7), Indices (8) and Events (3);
Events allow you to trade on the Fed Funds Rate, Non-Farm Payroll data, or Weekly Jobless Claims releases;
Trading platform is unique and proprietary that matches willing buyers with willing sellers;
Live technical charts are presented along side the order ticket;
Extensive Education and Support Center;
Customer support available "24×7" via email and direct phone line.
Supported Platforms
The Nadex trading platform is proprietary and takes some getting used to, but there are ample learning resources, trading examples, and a free Demo account for practice. The system is a blend of real option trading and binary options, where the exchange matches willing buyers and sellers, ensures fairness and transparency, manages payment issues, and offers options where risks are limited at the outset. You will never get a margin call, since orders will not execute unless requisite funds can be deducted from your account. Nadex also supports mobile applications, as its system is entirely web based.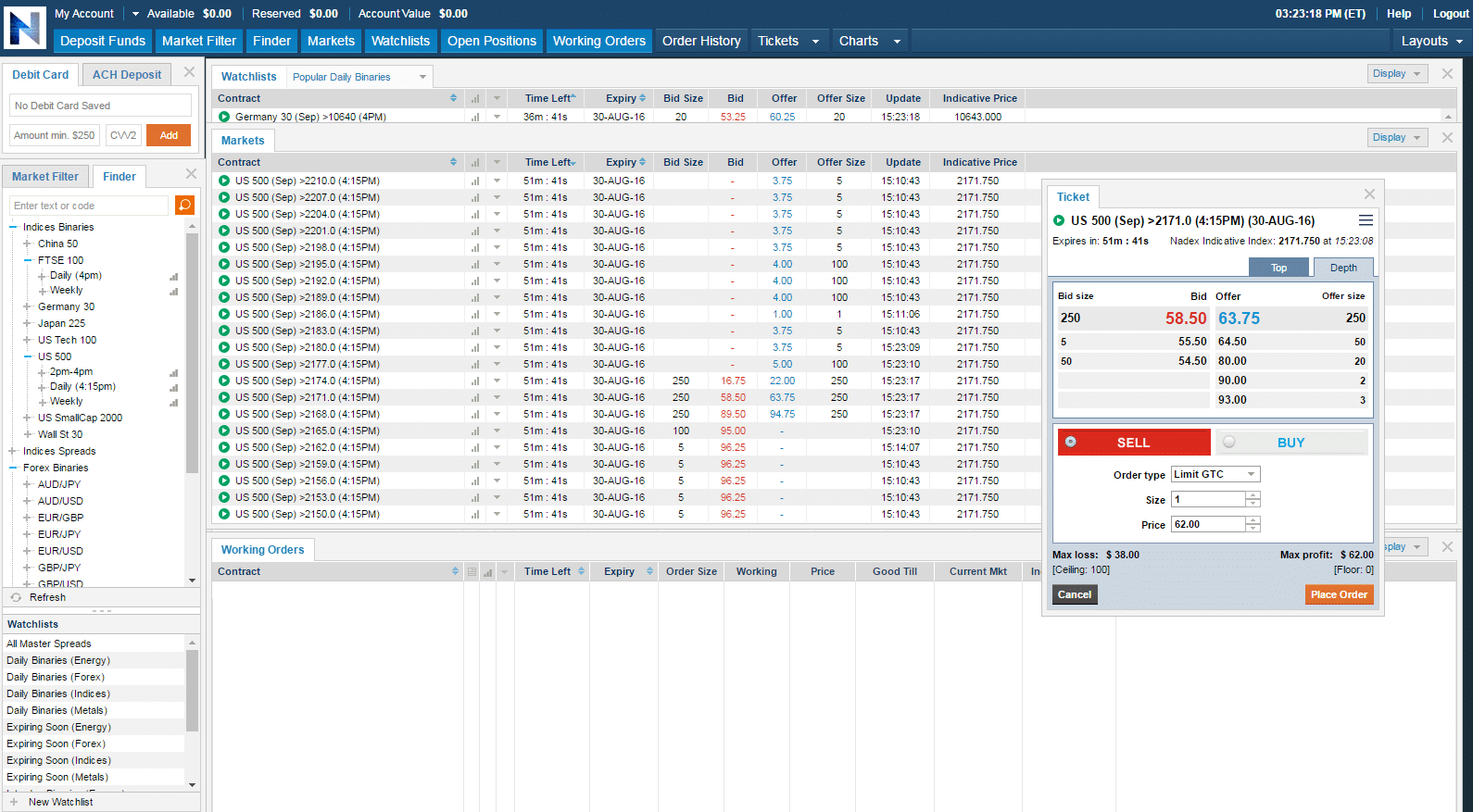 Deposit and Withdrawals
Debit cards, wire transfers, paper checks, and direct deposit ACH transfers are the only supported methods for deposits and withdrawals. Identity information is required, as with other international brokers, but the real advantage with Nadex is that the delivery of funds to U.S.-based bank amounts can occur in a single day over the national ACH clearing system. Encryption techniques protect sensitive data for security purposes.
Customer Support
Customer service representatives are available "24X7" during all regular trading hours via email or direct phone. Nadex is open for trading from 6pm ET Sunday through 4:15pm ET Friday, excluding end-of-day processing hours which occur between 5pm and 6pm ET on Monday through Thursday. Extensive Education and Support Center includes webinars (both current and archived), videos, courses, handbooks, news and market commentary, and trade examples.
Nadex Conclusion
If you live in North America and want to trade binary options, then Nadex is the solution for you. Yes, it is different than the run-of-the-mill foreign binary options broker, but it is a regulated exchange with all the deposit safety, transparency, and peace of mind that this setup entails. It is unmatched by any other exchange. There are ample resources and a demo account to help you adapt to the Nadex style and format. They are a U.S. based and regulated exchange that offers over 10,000 contacts listed daily. As the management team at Nadex proclaims on its website, it is "The premier US-based, regulated exchange for binary options and spreads." There is no competitor that comes close to this product offering in the U.S.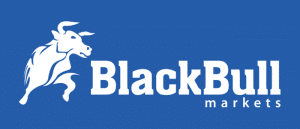 Forextraders' Broker of the Month
BlackBull Markets is a reliable and well-respected trading platform that provides its customers with high-quality access to a wide range of asset groups. The broker is headquartered in New Zealand which explains why it has flown under the radar for a few years but it is a great broker that is now building a global following. The BlackBull Markets site is intuitive and easy to use, making it an ideal choice for beginners.
Please be advised that certain products and/or multiplier levels may not be available for traders from EEA countries due to legal restrictions.