Founded in 2016, 1000pip Builder is a UK based professional forex signal provider that has been featured in publications such as daytrading.com and investing.com. A quick visit to the company's website reveals that the lead trader is an individual named Bob James, who spent over 10 years working at leading financial services institutes in London. This lead trader has expertise in forex trading and in fundamental and technical analysis to help advise members. The site provides day trading tips to traders wishing to accelerate their trading and searches the forex markets looking for the best trading opportunities to share with its members.
Based in the UK, customers will receive signals and alerts from the UK, Asian, US, and European sessions, giving customers trading options regardless of which time zone they live in.
Key Features
Provides clients with 2–7 trades a day in over 15 currency pairs.
Aims for a monthly target of 350 pips.
All signals are sent via email, Telegram (a popular mobile messaging application) and text message. However, subscribers who wish to receive text message alerts must pay a small fee to do so.
Subscribers have an option of three different membership plans ranging from one month to 12 months in length. Plans range from $41.42 per month to $97 per month.
Major focus on USDJPY and EURJPY pairings, although all major pairs and crosses are traded.
No signals for exotic pairs are available.
What Is A Forex Signal Service?
To fully appreciate what 1000pip Builder offers, it is important to clearly understand what service the company provides its clients.
Subscription-based forex signal services track markets and alert customers of potential entry and exit points. Some services, such as 1000pip Builder, use human analysis to determine these points, whereas other companies use an entirely software-based approach.
While every platform is designed slightly differently, signal services are very similar to copy or social trading but operate differently. With copy trading, users are required to deposit funds into an account managed by a trader or group of traders and pay a commission on winnings. In some cases, users must agree to deposit their funds for a predetermined time frame and may face penalties if they withdraw them before the agreed-upon date.
Conversely, signal trading allows subscribers to use whatever platform or broker they like and doesn't require them to deposit funds into an account. Instead, they receive messages outlining trading instructions and it is up to them to execute the trades.
While both options deliver similar results, many traders find they have more flexibility and control when using signals than copy trading, where everything is left up to the controlling trader.
How Does 1000pip Builder Work?
Once a subscription has been purchased, new customers will receive a guide outlining how to read, interpret, and use the signals, as well as some necessary information on trading forex.
After this, users will be asked to decide how they wish to receive alerts, and they will be given a choice of email, text message, and telegram (a popular privacy-based messaging application).
It's important to understand that 1000pip Builder sends signals for both long and short positions, so anyone interested in purchasing a subscription should make sure they have short-selling capabilities.
Account Types
As of March 2021, 1000pip Builder offers three membership options, all of which grant access to the same signals. The only difference between the three options is the subscription length and price. To purchase a subscription, visit here.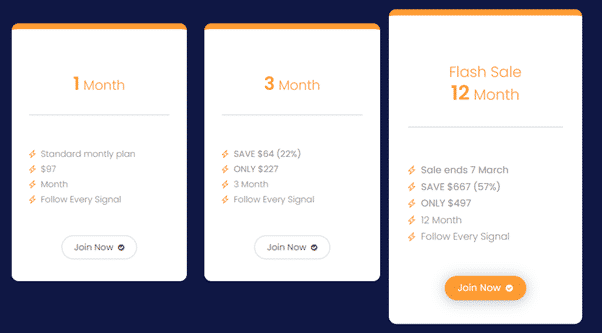 As we can see from the above image, people who choose the monthly option will be billed $97 every 30 days. The second option allows subscribers to lower their monthly cost by 22% if they pay for three months upfront. When this is done, the price comes down to $75.60 per month. The last option is the 12-month flash sale, which carries an average monthly price of $41.42 — which includes a discount of 57%.
When a subscription plan is chosen, the user will be taken to a checkout screen where they have the option of paying by either credit card or PayPal. Once all the necessary details are entered, the user must agree to the terms of service and click the pay now button.
1000pip Builder offers a 60-day refund policy. However, when one looks closely, the return policy states that the company may decide to grant a refund "If the customer provides evidence that their case merits a return".
Unfortunately, there is no automated process for terminating a subscription and doing so requires emailing 1000pip Builder directly and asking them to cancel the payments manually.
Customer Service
When it comes to customer service, the only available option for contacting the company is via email or through a contact form located on 1000pip Builder's website. Once signed up, 1000pip Builder claims to be available to answer however many questions a subscriber may have. Questions can be asked via email ([email protected]).
Commission & Links
1000pip Builder has a referral program that offers a 50% recurring commission on all membership plans. This means that for every payment made by a referral, the referring party receives 50% of the total cost. To learn more about this offer, visit here.
Education and Training
1000pip Builder has a blog section that contains over 20 entries, including an excellent five-part series covering technical analysis and candlestick formations. There are also several blog posts covering fundamental analysis, which may be of interest so some new traders.
Overall, the blog content is well written and does an excellent job at breaking down the complex topic of forex trading into easy to understand lessons. Unfortunately, the last blog entry was published in August 2020, and no new content has been created since then.
The site prides itself on day trading tips which it promotes to traders wishing to accelerate their trading.
Company Background and Regulation
Unlike forex brokers, there are no regulation requirements for signal services, and subscribers must use the service at their own risk. The company is located in London, England and has been in operation since 2016.
Although located in the UK, 1000pip Builder provides signals for markets all over the world, specifically the UK, US, Asia, and European markets. By doing this, subscribers are not limited by time zones and can pick a market that best suits their geographical location.
Third-Party Verified Trading Success
Any signals provider's value is ultimately judged on its past performance and how much money it has made its clients. On the website, under a section titled 'performance', 1000pip Builder claims to have generated an impressive 6,500 pips over the last 24 months by using several trading strategies tailored to a variety of market conditions.
Furthermore, 1000pip Builder appears to emphasise transparency by having its trading results audited by an independent third party, myFXBook — a provider dedicated to reviewing forex brokers, trading platforms and forex signals providers.
Unfortunately, when visiting the myFXBrokers website, the trading data only covers a period from 12th July 2019, to 22nd January 2020. However, within this span, we can see that the service was profitable, with an average win of 28.91pips / $51.76 and an average loss of -28.31pips / -$54.98. Moreover, we can see that 100pip Builder won the majority of its long trades during this period, coming in at 147/272 (54%), and 151/262 of its short trades (57%).
When we calculate the total number of trades, the result is 534 trades in 224 days, for an average of roughly 2.4 trades per day, which is on the low end of the promised 2–7 per day.
When we look a little closer at the information provided by myFXBook, we see that the initial deposit for this period was $3,000, and the ending balance was $5,635, meaning a profit of $2,635.84 and an 87.86% gain per dollar invested over just under 19 months.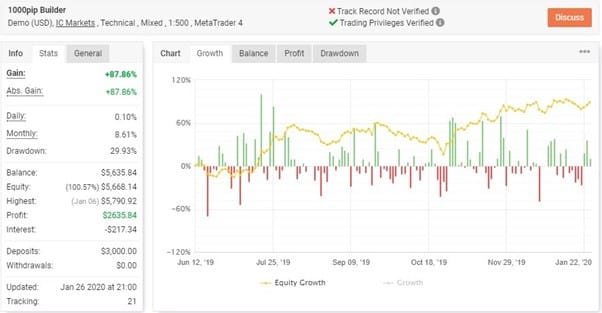 FAQs
Q: Is there a minimum account size?
A: No. 1000pip Builder only provides buy and sell recommendations and doesn't require customers to deposit any money with them. Thus, all minimum account sizes are determined by the broker the subscriber is using and not 100pipBuilder.
Q: How many positions does 1000pip Builder have open at once?
A: To keep it simple, there are usually only one or two positions open at once.
Q:How long are positions kept for?
A: Most positions are opened and closed within a few hours, although sometimes they may be held overnight. Some brokers charge fees to keep a position overnight, so it's important to clarify this.
Q: What level of risk does 1000pip Builder use?
A: Risk levels are lower than some other signal providers and typically range from 1:1 to 1:4.
Q: What pairs does 1000pip Builder trade?
A: 1000pip Builder specialises in yen pairs, and as a result, the most common signals are for USDJPY and EURJPY. Beyond this, it also trades all the most common fx pairs, such as USDEUR, USDCAD.
Q: Is there mobile support?
A: Once again, because 1000pip Builder is not a broker, there is no trading interface or application to download, and all signals are sent via email, text message, or Telegram.
Conclusion
1000pip Builder provides users with an easy-to-use forex signal service that focuses on a smaller than average set of pairs. One aspect that sets it apart from many other services is its focus on Japanese yen pairs and a lack of interest in exotic currency pairs.
Traders who are specifically interested in signals regarding yen trading may find 1000pip Builders a worthwhile platform and can sign up by visiting their website.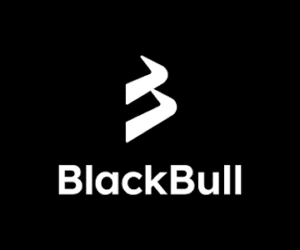 Forextraders' Broker of the Month
BlackBull Markets is a reliable and well-respected trading platform that provides its customers with high-quality access to a wide range of asset groups. The broker is headquartered in New Zealand which explains why it has flown under the radar for a few years but it is a great broker that is now building a global following. The BlackBull Markets site is intuitive and easy to use, making it an ideal choice for beginners.
Please be advised that certain products and/or multiplier levels may not be available for traders from EEA countries due to legal restrictions.