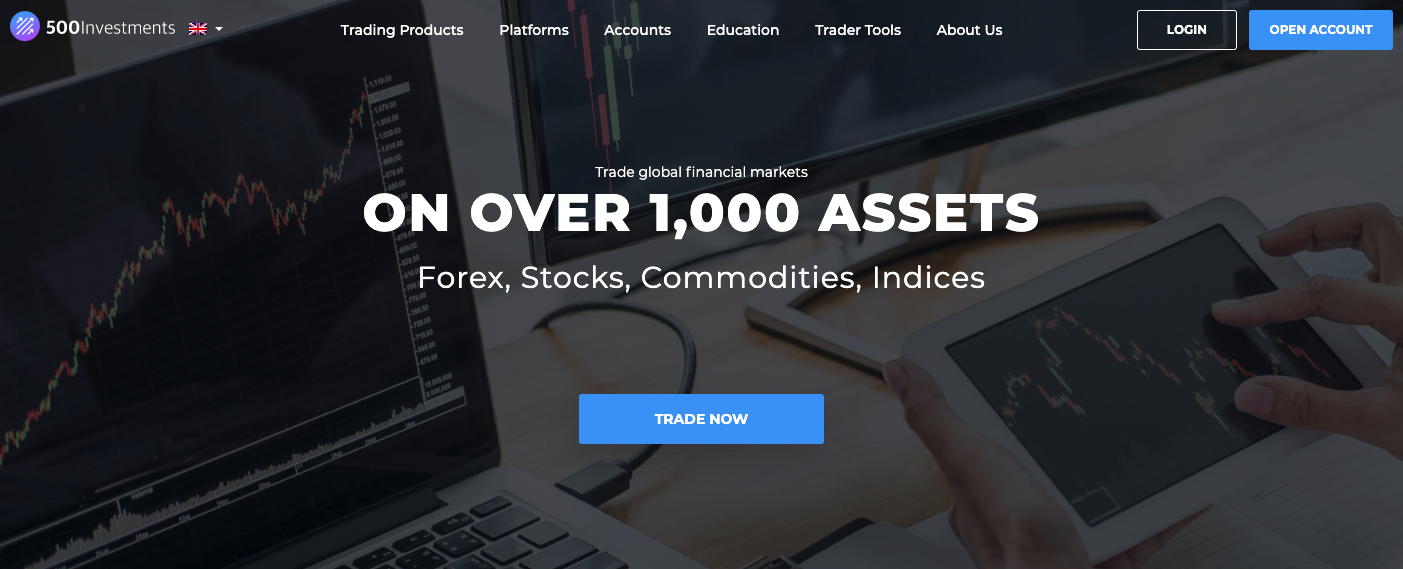 Pros
Cons
1,000+ trading instruments
No coverage for ETF products
Proprietary trading platform
No desktop platform available/td>
Proprietary trading platform
Trader's Viewpoint
500Investments is an online trading brand operating for customers all around the world, except for residents in the USA and Canada.
It offers access to a broad selection of trading instruments, including FX, stocks, indices, commodities, and cryptocurrencies.
500Investments is committed to providing its customer access to commission-free trading. Clients pay 0 Commission for the first $1 million in trading volume. Spreads are in line with the market averages and there are no hidden fees. Traders can open an account with as little as $250.
The customer support service at 500Investment is available 24/6 via phone or email. There's multilingual support provided by representatives specialized in solving trading-related issues.
500Investments is a multi-asset broker providing trading services, including a wide range of educational resources like video courses, eBooks, webinars, and seminars. The broker has a diversified trading offer, including proprietary trading software and 5 different account types, each with a different set of features, correlated with the deposit made by each client.
There are 1,000+ instruments based on forex, stocks, indices, commodities, and cryptocurrencies. 500Investments had developed a proprietary web-based trading software compatible with any device. TraderSoft is the company's mobile app for both Android and iOS smartphones. The trading software is highly customized, integrating all the features traders need to trade optimally.
About 500Investments
Owned by Cabsy Holdings Ltd, 500Investments is a reputable financial services provider offering a wide range of investment products through a high-tech trading platform. The broker offers the opportunity for traders all around the world (except for USA and Canada residents) to invest in more than 1,000 world-class assets, including FX, stocks, indices, commodities, and cryptocurrencies.
It uses the same level of encryption technology as international banks to protect and ensure the highest level of security for funds and personal data. Trading funds are kept in segregated bank accounts, with a commitment to not share personal details to any outside agency or third party.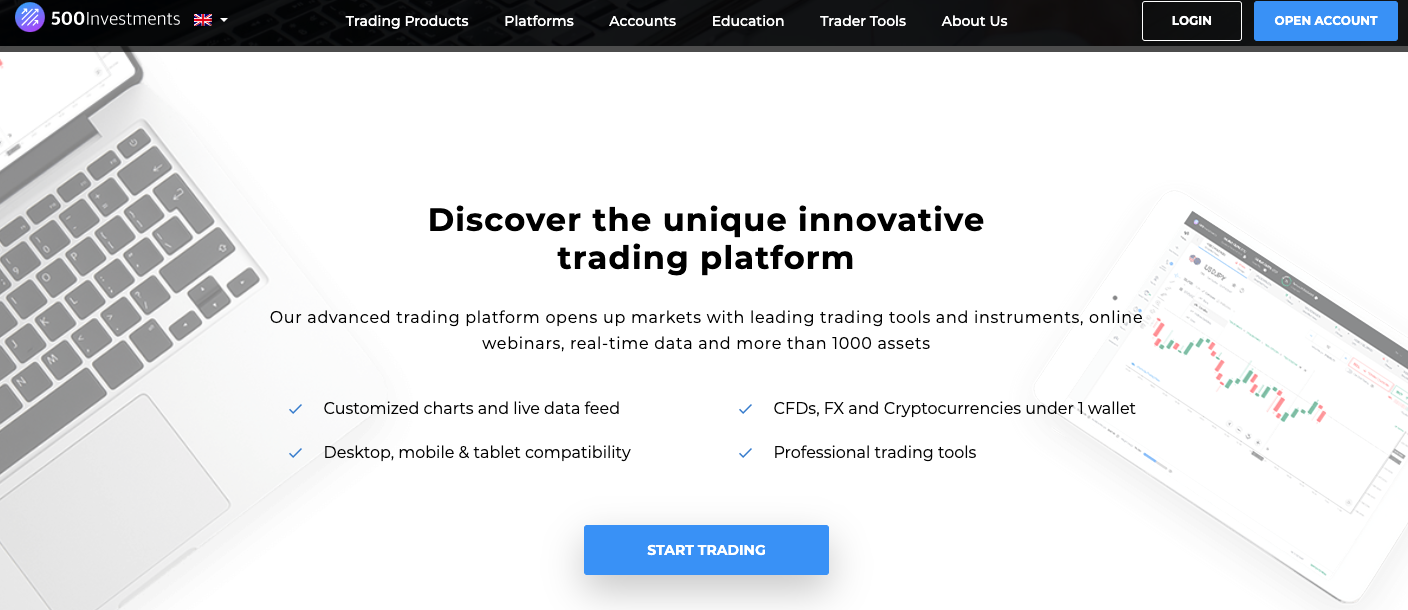 The broker operates under a guaranteed no hidden fee policy, ensuring both deposits and withdrawals are processed fast, convenient, and via a wide range of methods (credit/debit cards, wire transfers, e-wallets).
Who Does 500Investments Appeal To?
500Investments is a multi-asset broker with a global reach. The company wants to serve customers from the entire world, both beginners and professionals. That is why it provides plenty of useful trading features in the form of educational resources (courses, eBooks, webinars, seminars, etc.), as well as enhanced trading features like social trading, financial news, one-click trading, and others.
Since traders can open an account with as little as $250, finances should not be an issue. All clients will benefit from the necessary features to conduct their daily operations in an orderly manner. 500Investments is committed to supporting all clients to succeed in their trading journey.
Account Types
500Investments provides access to 5 different account types, to ensure it will cover the needs of different traders around the world. Those wanting to open an account can choose between Basic, Silver, Gold, Platinum, and Diamond. 0 Commission for $1 million trading volume, negative equity protection, platform, introduction, financial market introduction, 24/6 support, and daily market brief are just a few of the features all account holders will benefit from.
For traders able to deposit more money into their account, 500Investments provides enhanced trading features like VIP webinars/seminars, stocks packages, exclusive updates, wealth management, and giveaways. The broker had proven to work in a transparent way, given it provides all the information about trading costs, fees, commissions, deposits/withdrawals, on the official website. The 500Investments accounts are designed so no trader will be left behind.
Markets and Territories
Although Cabsy Holdings, the parent company, is located in St. Vincent and the Grenadines, 500Investments is an online trading brand for traders all around the world, except traders based in the United States of America and Canada. The broker's website is available in four different languages (English, German, Dutch, and Spanish) and the customer support is multilingual, to ensure clients all over the world will benefit from the services in a familiar language.
500Investments Instruments and Spreads
When it comes to the trading instruments, 500Investments covers more than 1,000 different assets, including currency pairs, stocks, indices, commodities, and cryptocurrencies. The offer includes tens of different FX pairs (major, minor, exotic), hundreds of popular stocks from the leading global markets, all popular stock market indices, and the VIX (volatility index) + DXY (US Dollar Index), industrial, agricultural commodities, as well as precious metals. Lastly, the broker has an edge when it comes to covering cryptocurrencies. There are tens of different crypto contracts, allowing traders to gain exposure on many different popular tokens.
Spreads are fixed or variable, depending, on the instruments. At the same time, the account type will play an important role in determining trading costs. The good news is that the broker offers access to industry-leading spreads for all its instruments.
500Investments Fees and Commissions
When it comes to fees, traders will be charged only when making deposits via bank wire transfer, given some banks may charge fees for each transfer. At the same time, 500Investments has a withdrawal fee. When it comes to trading commissions, the broker offers 0 Commission for $1 million trading volumes. Commissions will apply for each instrument under the conditions specified by the broker on its website.
500Investments Platform Review
To differentiate itself from competitors, 500Investment had developed a proprietary web-based platform, incorporating all the popular features (advanced charting, risk management tools, one-click trading) as well as some extra features like social trading, price alerts, and trading account reports. The platform is available via any modern browser, allowing traders access to their accounts via any device. TradingView charts are integrated into the platform, which means clients will benefit from a wide range of technical trading tools.


Mobile Trading
TraderSoft is the mobile app for Android and iOS developed by 500Investments to enable clients access to their accounts via mobile. What's important about the app is how it manages to downscale perfectly to smaller mobile screens with no loss of functionality or performance. They can also have full account management, including secure deposits and withdrawals.
Customer Support
To keep close contact with customers 500Investments representatives are available 24/6 via email or a phone number provided on the official website. The broker benefits from positive feedback when it comes to the support service. As a global company, multilingual support is provided, to help clients not familiar with the English language.
Conclusion
500Investments is a well-established, global trading brand, providing access to a wide range of tradable instruments and proprietary trading software. Both the Web Trader and TraderSoft are two pieces of trading software suited to meet the challenges of current financial market conditions.
The services provided are available for a wide array of traders since the minimum deposit is only 250 in any major currency (EUR, USD, GBP). We appreciate 500investments offers negative balance protection, enhanced security features, and 0 Commission for $1 million trading volume. This broker is an option for traders looking for a diverse trading offer and enhanced trading capabilities.

Forextraders' Broker of the Month
ForexTime (FXTM) is an award-winning platform that certainly has the feeling of being set up by people who know what they are doing. The firm demonstrates an understanding of what helps traders make better returns, and its success can be measured by the fact that it's doubled the number of clients it supports in recent years. The fact that the broker has grown to have more than two million accounts suggests it is getting things right for clients.
Please be advised that certain products and/or multiplier levels may not be available for traders from EEA countries due to legal restrictions.