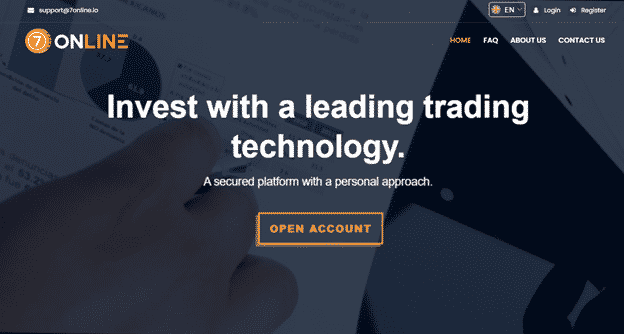 | 7Online Pros | 7Online Cons |
| --- | --- |
| Simple, cutting-edge trading technology is provided. | Cryptocurrencies are the only instruments available. |
| Safety is ensured via some of the most advanced security measures. | No desktop platform is provided. |
| Professional customer support. | |
Traders' Viewpoint
7Online is a cryptocurrency trading platform designed to help people trade with leading trading technology, taking advantage of opportunities in the cryptocurrency sphere.
It offers access to a broad range of cryptocurrency instruments denominated in Bitcoin, Ether, or Tether.
7Online wants to operate for a broad customer base from all around the world, but despite that, some jurisdictions can't open an account with this provider at the time of writing.
At 7Online, the customer support service is available 24/6 and the trading schedule is 24/7, to make sure that cryptocurrency traders are able to solve their problems fast, even on Saturday.
7Online is a growing cryptocurrency trading platform that wants to provide its unique vision for cryptocurrency trading. Via a proprietary trading ecosystem, it wants to bring people closer to the crypto world and enable them to take advantage of new opportunities arising daily.
Designed for both experienced and beginners, using the 7Online platform should not be an issue, given all the resources currently available. Is the 7Online platform the best-suited trading software? Although each trader has a unique trading approach, this platform integrates multiple tools and features, including advanced charting (powered by TradingView), price alerts, the ability to make deposits, and other simple yet effective functions like favorite list and Risers & Fallers.
With a global outreach, 7Online is addressing cryptocurrency traders from all around the world, wanting to show that its personal and secure trading approach is best suited in the current uncertain and volatile environment.
About 7Online
7Online is an online trading brand owned by RedRock Ltd, with headquarters in Loubiere. Dominica, currently providing cryptocurrency trading services for customers based all around the world. It is known for a diversified crypto trading offer and leading trading technology designed for the cryptocurrency markets.
Because crypto trading continues to increase in popularity, in this 7Online review we'll cover some of the most important trading benefits and features, ultimately help you assess whether this is the right crypto trading platform to work with.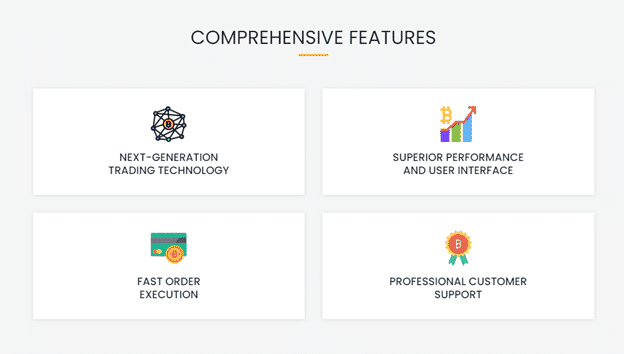 Who Does 7Online Appeal to?
7Online was designed for traders that believe in the power and potential of cryptocurrencies, wanting to take advantage of this fast-growing industry. Using next-generation trading technology, superior performance and user interface, fast order, execution, and professional customer support, the brand wants to show that cryptocurrencies had been designed for the wider public.
Considering its optimized and simple trading infrastructure, anybody can open an account with 7Online and start trading without having to make a large deposit. All customers are treated equally considering they get access to a standard trading account incorporating all trading functionalities available.
7Online Instruments
When trading with 7Online, you get access to tens of different cryptocurrency instruments, including Bitcoin (BTC), Litecoin (LTC), Ether (ETH), Ethereum Classic (ETC), Monero (XMR), Tron (TRX), Cardano (ADA) and plenty of other altcoins. With competitive costs and margin trading, 7Online ensures that anybody can get access to its services.
Due to a low initial deposit, anybody can open an account and start trading the favorite cryptocurrencies. The instruments available are liquid, considering they are denominated in Bitcoin, Ether, or Tether. Also, keep in mind that liquidity is variable depending on the cryptocurrency involved.
7Online Platform Review
Combining superior technology, the 7Online platform is a web-based solution designed to optimize your trading speed and efficiency. This platform enables you to trade on any device, from your browser, with no download required.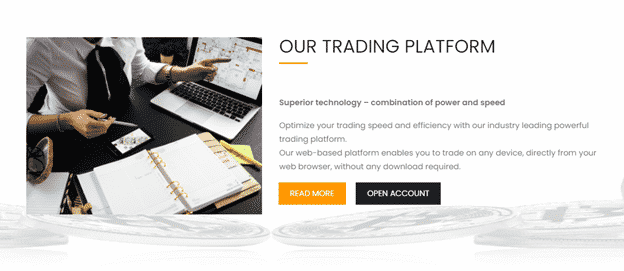 The main goal of 7Online is to put the quickest and most reliable trading tools in your direct control, finally giving you the ability to buy or sell the world's fastest-growing cryptocurrencies, with simple control and impeccable accuracy.
Features like TradingView charts, CNBC-powered news section, asset alerts, and Risers & Fallers are currently integrated into the 7Online platform. Their main goal is to help traders gain a broader perspective on the market state at any given time and ultimately take better and informed trading decisions.
7Online Mobile Trading
Alongside the Web platform, 7Online is also providing access to an Android app, incorporating the same functionalities. Mobile trading is a must when trading crypto, considering how fast the markets can change.
By logging into your trading account via an Android device, you will be able to track price movements as well as manage already-opened positions. The app is optimized to work in volatile conditions and that is why 7Online had allocated so many resources to develop it.
Thanks to a simple yet very effective interface, even beginners are able to use the app without any hurdles. 7Online continues to believe that cryptocurrency trading is designed for the masses and not just for a few.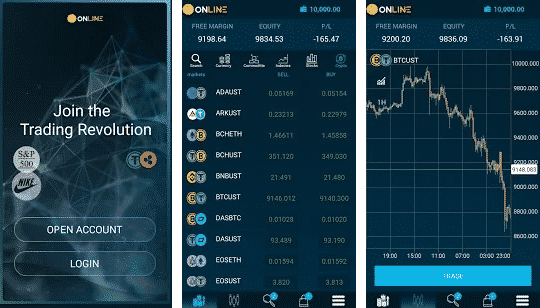 7Online Customer Support
Another important benefit comes from the 7Online customer support service. Available 24/6 via email or live, it enables any client or person interested in the services provided, to find out more information about 7Online to solve any unwanted technical issue.
7Online wants to stay committed to a customer-oriented approach and because of that makes sure that there won't be major inconveniences along the way. Representatives have a professional attitude and are there to assist you, regardless of your previous trading background.
7Online Review Conclusion
Trading cryptocurrencies continues to grow in popularity and at the same time with it, the demand for more competitive crypto trading services. 7Online is a cryptocurrency trading platform with a proven track record in providing a full pack of trading functionalized tailored towards the challenges of the crypto market.
Keep in mind that cryptocurrency-related services are the main specialty of 7Online, which is why traders focused on other asset classes might find the offer not suited. However, for traders that want to get involved in the crypto market, there are tens of different cryptocurrencies supported, including some of the most promising altcoins in the market.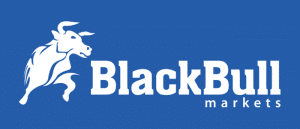 Forextraders' Broker of the Month
BlackBull Markets is a reliable and well-respected trading platform that provides its customers with high-quality access to a wide range of asset groups. The broker is headquartered in New Zealand which explains why it has flown under the radar for a few years but it is a great broker that is now building a global following. The BlackBull Markets site is intuitive and easy to use, making it an ideal choice for beginners.
Please be advised that certain products and/or multiplier levels may not be available for traders from EEA countries due to legal restrictions.