Alpari pros
Alpari cons
Hard to beat trading experience
Limited number of markets to trade
Long track record and large client base offer some operational security
Regulatory and compliance framework can be improved
Tight spreads, great flow

Traders' Viewpoint
Alpari, formed in 1998, is a member of the Financial Commission and is owned by Exinity Limited. Exinity Limited itself is licensed by the Financial Services Commission in the Republic of Mauritius and offers trading for customers with Forex and CFD products, amongst other instruments and securities.
Alpari offers a trader-focused experience that prioritises market access, platform quality and competitive pricing. Like many of its peers, it provides clients with access to the MetaTrader, MT4 and MT5 accounts.
Alpari, with an array of account opening options, claims to have over 2 million customers. This means it is one of the larger forex brokers available to traders and it has over 20 years of experience and development. There are four categories of accounts to choose, from Standard, Micro, Pro and ECN. All the accounts are compatible with MT4, whilst the more experienced traders can get access to MT5 via Pro and ECN.
Alpari is a global broker, originally founded in Russia, during the rouble crisis of the late 90s, and now has over eight operating offices around the world. There are some countries where residents are restricted from holding an account with Alpari, one of which is the United States.
Alpari provides coverage of over 250 markets with different instrument types. This is not market-leading and important to be aware of when choosing the right Forex broker that suits you. There is access to the Crypto markets with Bitcoin, Ehtereum, Litecoin and Ripple covered. A notable positive is that the trading spreads are very competitive, close to zero, across all markets. Trading fees are also considered very attractive and most importantly, transparent.
The Trading platform is universally known and very user-friendly. The MT4 version is not only robust but has the usual array of charting and educational tools as well as being fast and precise. The more recent enabled MT5 platform is an improved offering that allows for more technical tools and allows for Swap-free trading, that is relevant to Islamic accounts. Both MT4 and MT5 can be accessed using the mobile Metatrader App, on Android or IOS.
Alpari has a more limited educational trading site compared to its peers. However, it is aimed at new traders, and there are frequent webinars for those looking to move up to the next level, coupled with an interactive in-house specialist support function. Customer support is available 24 hours a day, five days a week, via phone, email or Live Chat. Language spoken by the support team include English, Chinese, Russian, Hindi, Arabic, Indonesian and Spanish.
Alpari has a longstanding and proven track record in Forex trading with a large and loyal trader base. As a member of the Financial Commission, it is internationally financially and legally compliant. Funds deposited are segregated and backed by a Compensation Fund that covers any disputes unto EUR20,000 per client. The trading experience is fast and reliable, around very tight spreads and allows for minimal charges when withdrawing funds. Two million accounts are attracted to this, very transparent, online trading proposition and that coupled with recent Industry award recognition is a very positive indictment.
About Alpari International
Alpari is the trading name of Exinity Limited. Exinity Limited is licensed by the Financial Services Commission (FSC) in the Republic of Mauritius with license number C113012295 as an Investment Dealer (Full Service Dealer Excluding Underwriting). Exinity Limited offers trading with Forex and CFD products, among other instruments and securities. Exinity Limited is also an official member of the Financial Commission.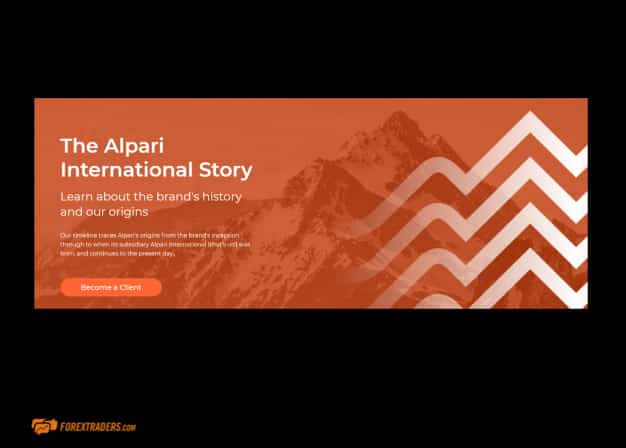 The firm started in 1998 when it launched into the headwind of a global financial crisis centred around the Rouble Crisis and the collapse of hedge fund Long Term Capital. After surviving a very tough initiation, the firm quickly grew it's client base and fine-tuned its offering. Between 2005 and 2006 the firm was doubling the number of clients year-on-year and in a parallel operation was building a more secure framework by working with international regulators such as the National Futures Association (NFA) in the US who recognised Alpari as a Futures Commissions Merchant in 2007. By 2013 the firm was celebrating its 15th anniversary, an event it marked in business terms by posting annual turnover of $ 1.469 trillion. Turnover continues to grow, and the firm has also been recognised in terms of industry awards. In 2017 the firm won the much-coveted "Most Innovative Broker" and "Most Reliable Broker" awards at the FX Empire awards.
The hunger and appetite remain, and the firm continues to grow and change. Those looking to find out more would do well to note that the firm is recently going through a change of web address and those who click through to https://alpari.com/en/ might find themselves redirected to the address https://www.alpari.org/register/deposit-bonus?rdr=alpari.com.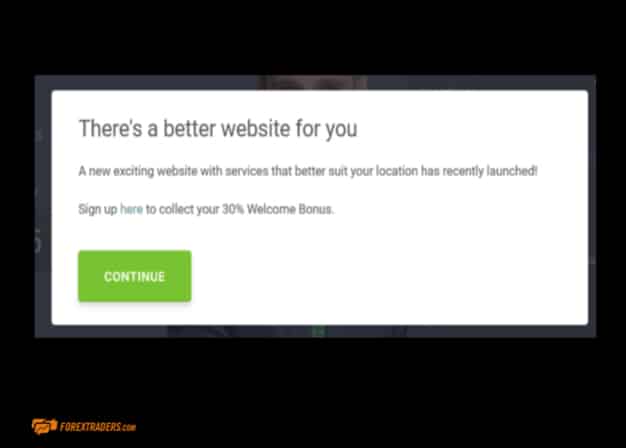 Who does Alpari appeal to?
Alpari offers a trader-focused experience. The firms' operational framework is relatively streamlined and specialises in providing its clients with a cutting edge trading platform. It prioritises market access, platform quality and pricing. Traders looking to get up and running with a well-positioned broker would do well to consider Alpari.
Alpari offers a range of accounts so that traders can opt for the best fit and then once in position gain access into the heart of the markets. They also provide clients with access to the MetaTrader, MT4 and MT5 accounts. These two form the standard which other platforms measure themselves against. Their popularity comes down to the array of powerful software tools on hand to help traders navigate the markets.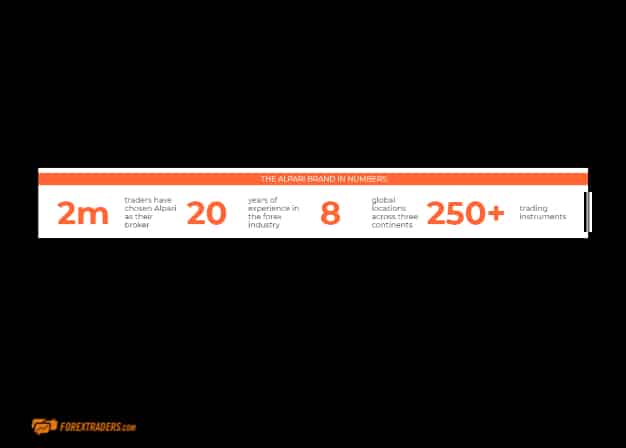 The regulatory structure and add-ons such as educational resources might not be as strong as at some other brokers, but the Alpari trading experience is about supporting actual trading. The firm is very transparent in terms of what is on offer. Those who visit the site will find it a refreshing experience as the information is clearly laid out, and the site itself is very easy to navigate. One area sees the firm claim to have over 2 million customers. As the Alpari site itself suggests "Millions of Alpari clients can't be wrong".
This makes it one of the larger forex brokers out there. The format they have developed and run for over 20 years is proving successful. The broker doesn't try to be all things to all people. Instead, it offers a particular area of the trading community a service which offers just what they want and nothing that they don't. The firm has a clear mission to deliver the best possible trading environment for beginners and more advanced traders and would even suit some who have managed to turn trading into their career.
The Alpari demo account can be found by accessing the portal https://alpari.com/en/beginner/demo-account/.
Alpari Account Types
Alpari break their accounts down into four categories, Standard, Micro, Pro and ECN. Each is set to appeal to a particular type of trader. For example, all accounts are compatible with MT4, but only Pro and ECN also offer the option to hook up to trade through MT5 as well as MT4.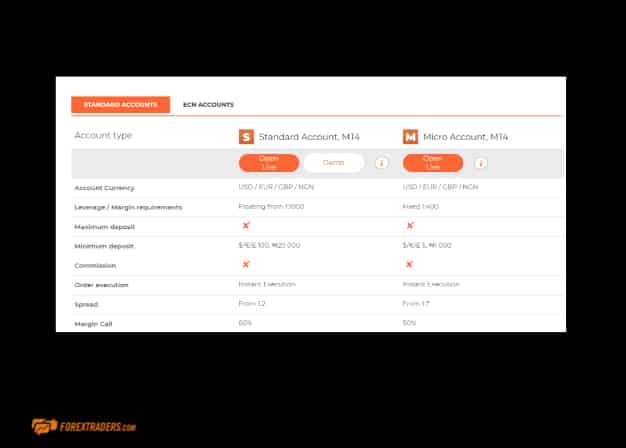 The Standard account works off the basis that keeping things simple is sometimes the best option. Not least when doing something as important as trading the markets with your own money.
The Micro takes that logic one step further. It allows traders to run strategies on a micro-scale, which means they can test strategies in real market conditions before scaling up in size. Minimum volume is 0.01 and leverage is capped at 1:400 whereas the Standard has floating leverage up to 1:1000
The Pro and ECN accounts actually both use ECN format. The Pro requires a larger account balance but offers trading in greater size. The ECN offers greater leverage (up to 1:1,000) and the opportunity to trade Cryptocurrencies.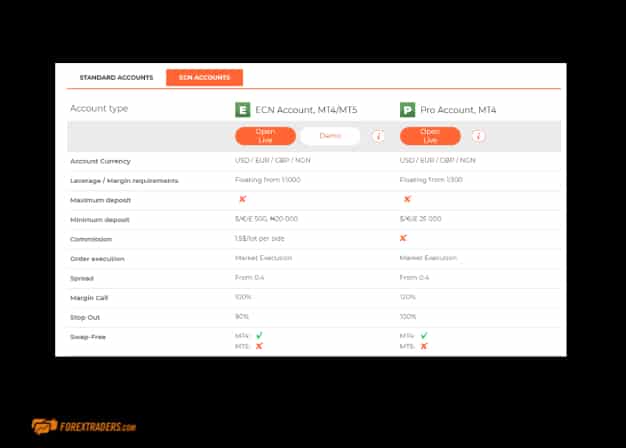 Those looking for Swap-Free / Islamic accounts would do best to consider the MT4 based account types.
The full T&C's are well laid out on the Alpari site (https://www.alpari.org/trading-accounts/trading-account-comparison ). By offering four different accounts, the firm has tried to find a good fit for those looking to use their service. They do a very good job of keeping the selection process simple and outlining the many and varied exceptions and features of each account.
Markets and Territories
Alpari is a global broker. Originally found in Russia, it' now headquartered in Mauritius and has eight offices spread around the world and caters to the trading needs of over 2 million clients.
As is the way with all brokers, there are some countries where residents are restricted from holding an account. In the case of Alpari International, these include the USA, Mauritius, Japan, British Columbia, Quebec, Saskatchewan Haiti, Suriname, the Democratic Republic of Korea, Russia, Azerbaijan, Belarus, Kazakhstan, Kyrgyzstan, Armenia, Moldova, Tajikistan, Uzbekistan, Turkmenistan, Ukraine and Georgia.
Instruments and Spreads
Alpari provides over 250 markets in a range of instrument types. Whilst this is a substantial number and enough for most traders, it is a long way off the +10,000 markets available at some brokers. It is also worth noting that not all the accounts support all the products. Potential clients would be recommended to consider what markets they trade and base account selection from that starting position.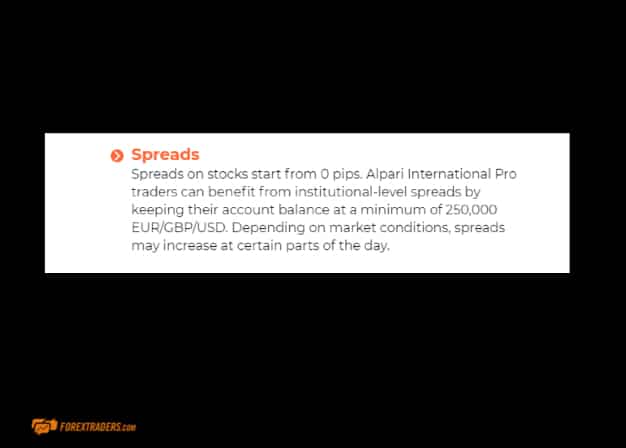 If the choice of markets is slightly disappointing, the trading spreads will go a long way to compensating. Spreads start at 0 pips and are tight across all markets, not just forex. Equity trading is done in cash rather than CFD format which is a break-out from the norm but justified by the firm as offering improved market flow and tighter spreads.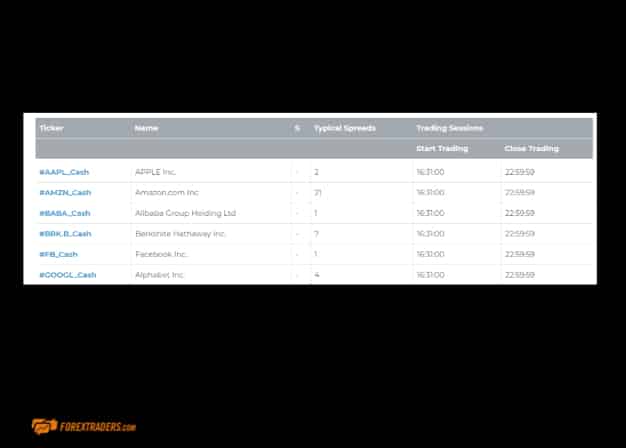 The 'Contract Specifications' section of the site (here: https://www.alparitrader.com/trading-instruments/contract-specifications ) provides a matrix of all instruments and the T&Cs associated with trading them. Even a cursory glance shows how strong Alpari are in terms of pricing. It is fairly standard to offer the biggest forex pairs such as Euro-Dollar (EURUSD) at 0.1 pips but just looking at the first page even 'quieter' pairs such as AUDJPY, CHFJPY and USDCAD have minimum spreads of 0.1. This will tick a lot of boxes for traders who trade a range of markets or specialise in one that is a little more esoteric.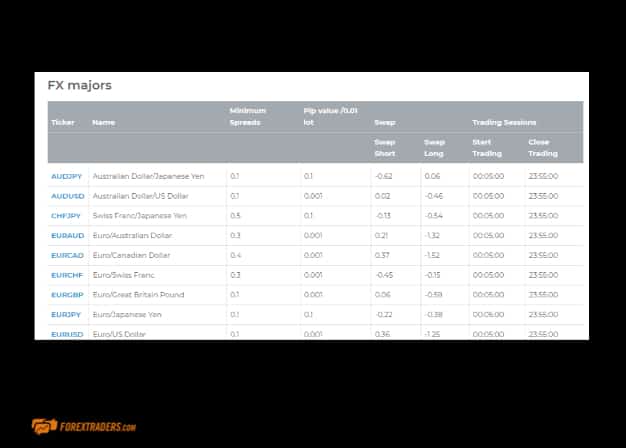 Alpari Fees and Commissions
The good news on trading fees carries on into the area of operational and financing fees as well.
There are 5 Metals to trade and Alpari note, not only the trading spread but the financing rates as well.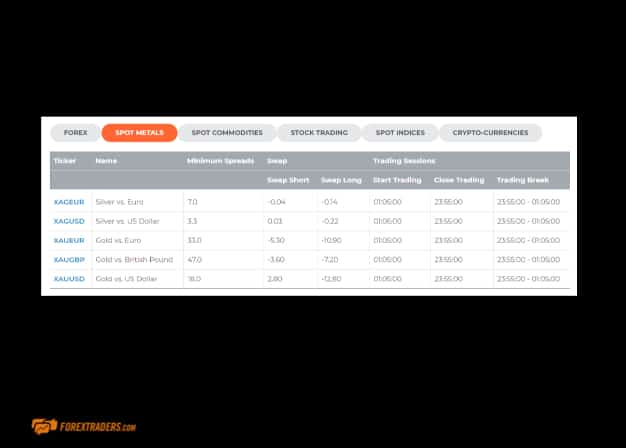 There are also over 50 Forex markets to choose from, and the financing costs associated with these are also laid out in an exceptionally transparent way. Offering such a clear breakdown actually helps the trading process by allowing a thorough analysis of all the permeations prior to pulling the trigger.
The Deposits and Withdrawals section of the Alpari site details 29 separate payment methods and all of them are noted as "no commission".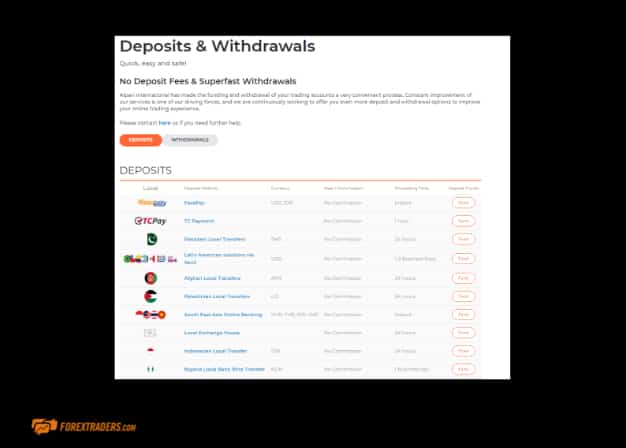 The withdrawal process does see some payment methods flagged up as incurring a charge, but there are plenty that don't. Clients who do a little homework, therefore, have the option of swerving fees on withdrawals.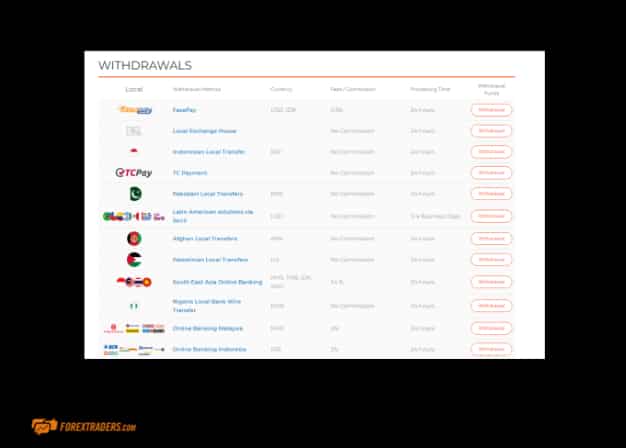 Client accounts which have been inactive for at least 6 months are subject to an inactivity fee of 5 EUR/ USD/ GBP.
Alpari Trading Platform Review
Alpari has been using some version of the MetaTrader platform since 2003. This means the all-round platform development has been closely linked to the attributes and nature of MetaTrader trading. They've grown up together, and the tight relationship demonstrates itself in the Alpari trading experience being so seamless. It just works.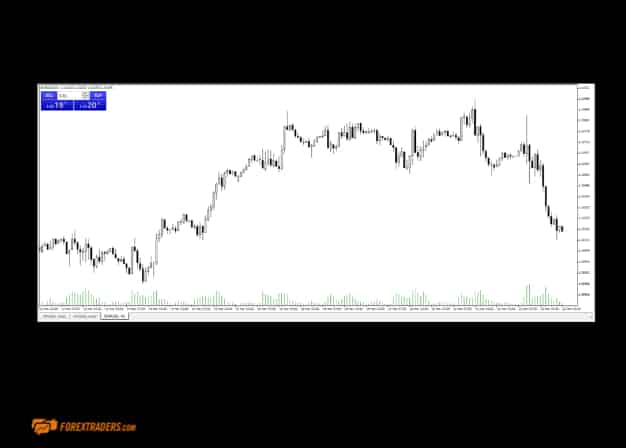 The MetaTrader platform holds a range of very pleasing contradictions. It is tried and tested as it has been operating in the markets since the turn of the century, but it also shows constant innovation. It is particularly user friendly with an almost surgical aesthetic, but at the same time, just behind the scenes, the platform hosts an almost endless supply of powerful software tools.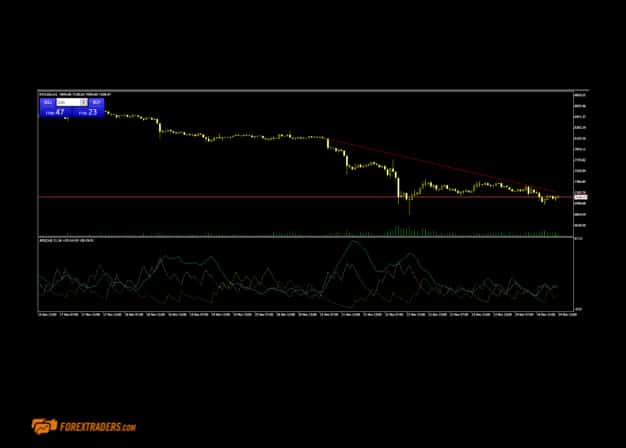 The MT4 version of the platforms is the world's most popular retail trading platform within excess of 10 million users. It is robust, reliable, precise and comes packed with powerful charting tools. Its broad appeal means there is even more functionality and tools which have been developed by members of the 'MT4 community' of traders around the globe. These can be bolted-on and used; some are even free to use.
The MT5 version of the platform is the more recently developed model. A lot of traders still use the MT4 version due to legacy issues involved with traders already having developed strategies with MT4 in mind.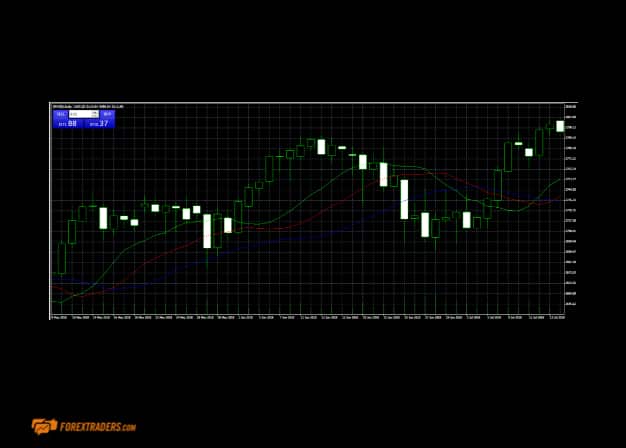 Some just prefer MT4 but the MT5 version does do some things which MT4 doesn't. The GUI is also different and helps traders consider their own personal preference.
Whilst traders are likely to test-run both platforms, Alpari do provide a much-welcomed comparison of the two formats.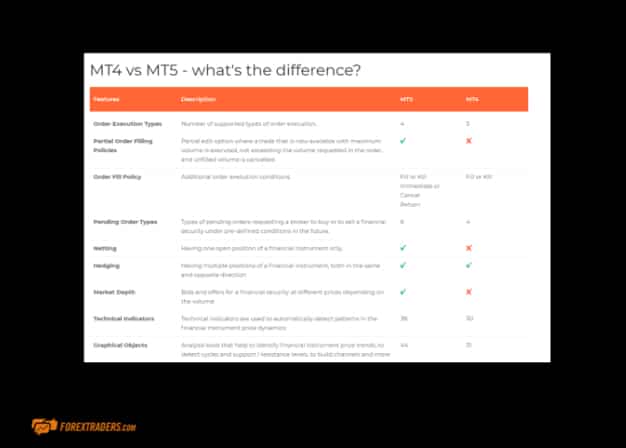 The full breakdown can be accessed here (source: https://www.alpari.org/trading-platforms/compare-mt4-and-mt5) and helps to pick out the slight differences. The move from MT4 to MT5 represents an organic evolution so there's not that much separates the two. For example, MT4 allows traders to build 4 pending orders and MT5 allows six. The number of technical indicators on MT5 is slightly higher, 38 as opposed to 30. The MT4 platform allows for Swap-Free trading (Islamic accounts) whereas MT5 does not.
Those looking to run their own algorithmic programs, or take signals from the programs of others will find the forex markets and MetaTrader platforms a rich hunting ground. The Expert Advisors area of the MT service allows clients of Alpari to automate their trading by following the signals of others.
Mobile Trading
Both of the MetaTrader platforms, MT4 and MT5 can both be accessed using the MetaTrader App, which can be downloaded for no charge on both Android and iPhone. They can also be accessed using the WebTrader version of the MT product range, which requires little more than an internet browser to allow access to the markets.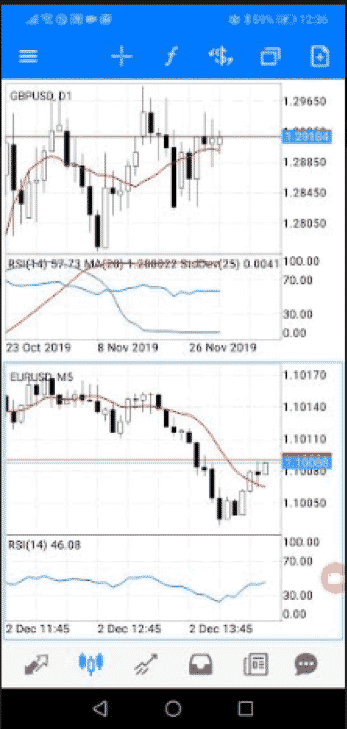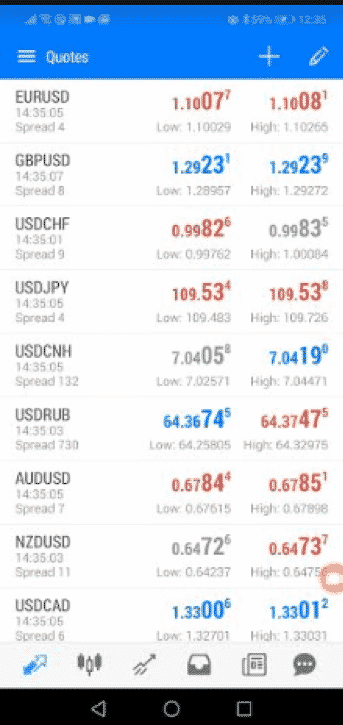 Given the extensive range of tools and indicators which come as part of the desktop package, it's not surprising that some don't transfer over to a smaller screen. The number which don't is very low, which means the Mobile Trading experience with Alpari is one where traders can very easily keep up with the markets whilst on the move.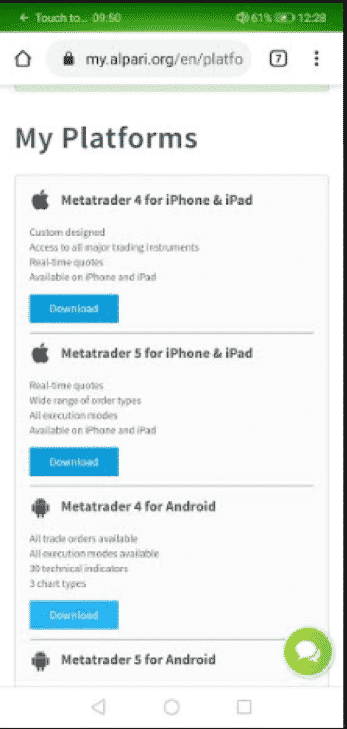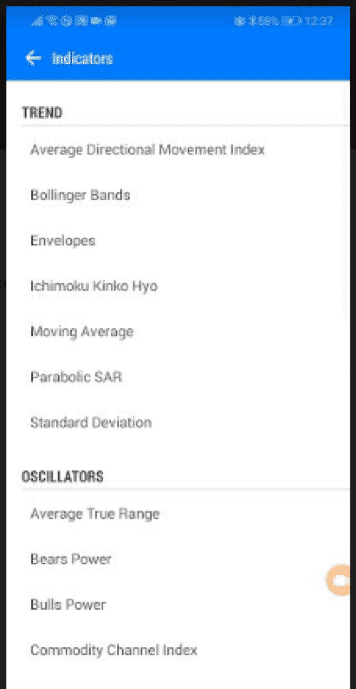 Social Trading and Copy Trading
Alpari clients are offered two separate routes into the world of Copy Trading.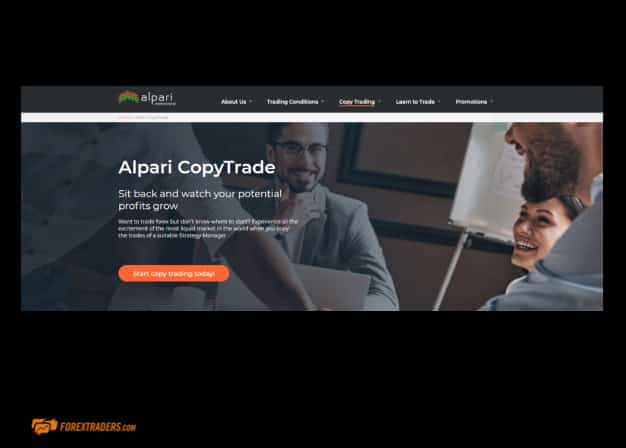 Alpari CopyTrade is a bespoke product which allows clients to apply to their own account the trading signals of other traders. The trader who offers the signals is termed a Strategy Manager and receives a fee from the account which 'buys' the signal. Given the popularity of additional income streams, there is strong competition among Strategy Managers which works to the benefit of those taking signals. Account-holders who make consistent returns could even offer themselves up to be a Strategy Manager.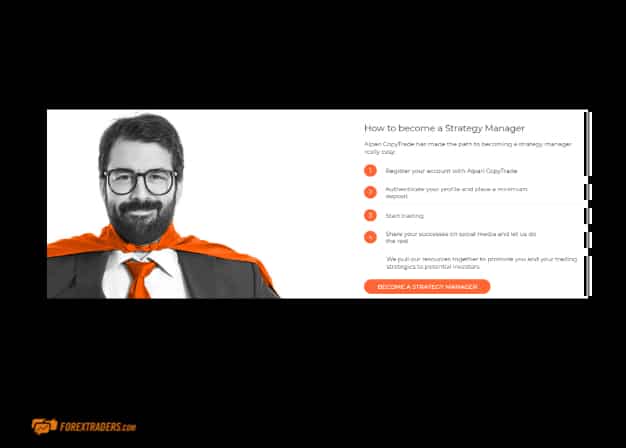 The performance of the respective Strategy Managers can be monitored and measured using a range of metrics.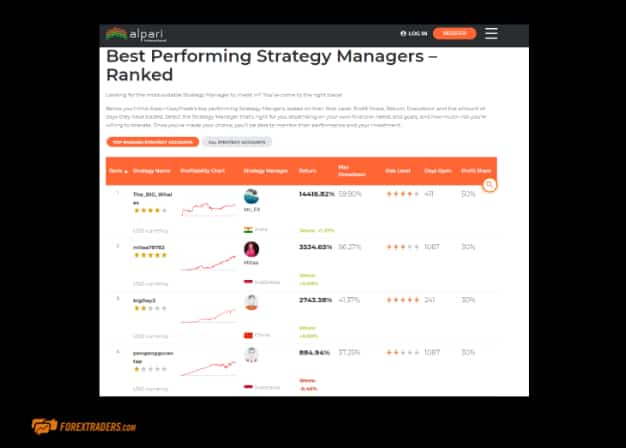 Alpari also offers copy trading using the MetaTrader platforms and their Expert Advisors program.  EA is a long established and very popular platform where account holders at brokers can access the trading signals of other, third party, traders.
Crypto Trading with Alpari
Alpari has some exposure to the Crypto markets, but the range of markets is somewhat limited. The big four crypto pairs are covered: Bitcoin, Ehtereum, Litecoin and Ripple.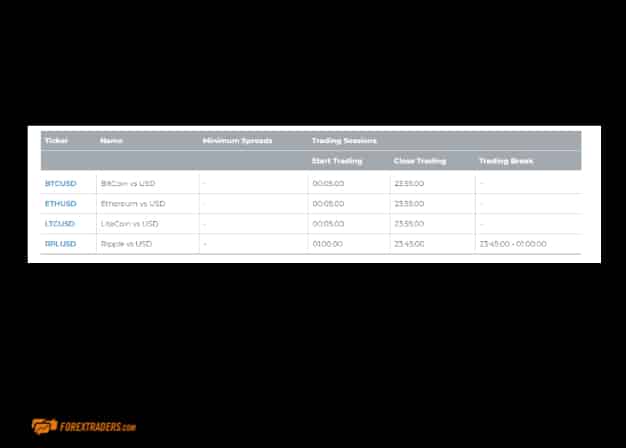 There is a 5 – 15 minute reset period each day.
Charting and Tools
MetaTrader is world-renowned for the trading tools and indicators it provides to traders. Alpari builds on this by giving a clear breakdown of the relative strengths and weaknesses (mainly strengths) of MT4 and MT5 and point out how many off-the-shelf indicators come with each account package.
There is a lot of scope to customise the suite of analytical tools on offer. In total, there are more than 2000 indicators for technical analysis available to MT users. Countless topics are covered but include things such as trend and reversal indicators, predictors and scalping indicators.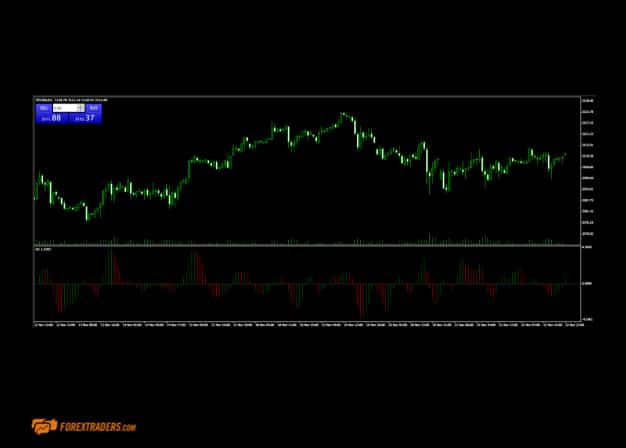 Learn Trading with Alpari
The 'education and learning' section of the site is relatively limited. What is available is of good quality, professionally presented and available in a variety of formats.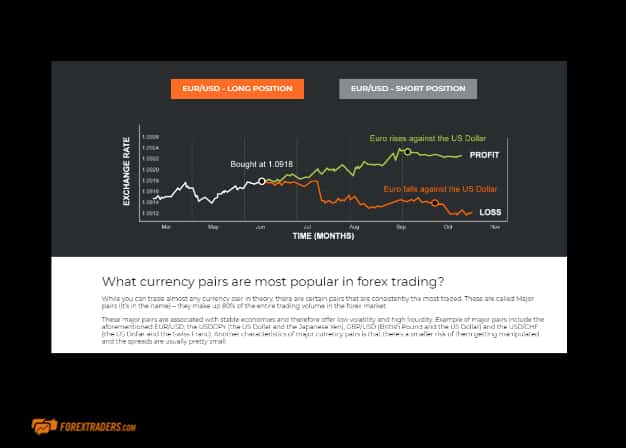 The resources on offer are weighted towards beginners and topics include 'Beginners guide to trading.'
The regular webinars would be useful for those looking to take their trading up a level and being interactive do allow Alpari clients to ask questions of the in-house specialists.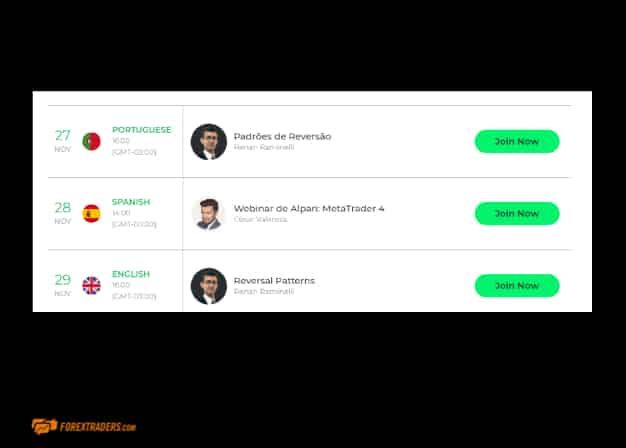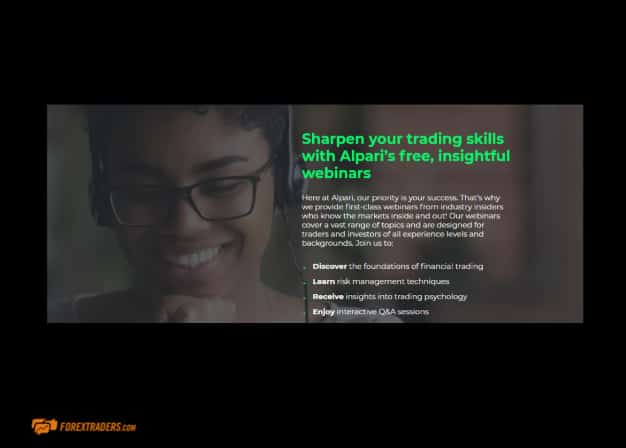 The learning resources are definitely useful and thought provoking. They just aren't on the same scale as some other brokers which devote more resources to this part of the offering.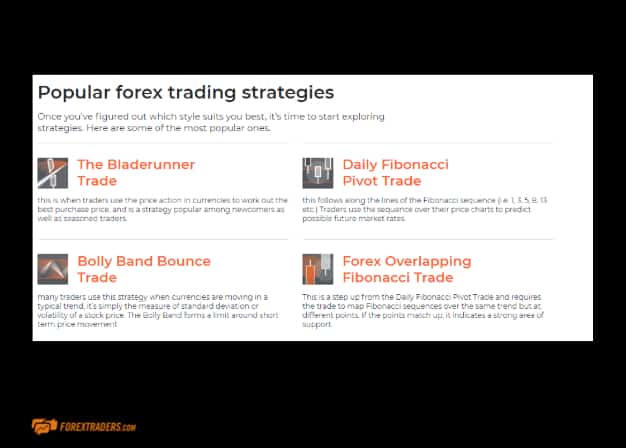 Trader Protections by Territory
Alpari is the trading name of Exinity Limited which holds a license (number C113012295 as an Investment Dealer (Full Service Dealer Excluding Underwriting)) with the FSC in the Republic of Mauritius. Some might raise an eyebrow at this as the FSC is not widely regarded as being in the top division of global regulators.
Alpari has since 2013 been a member of the Financial Commission (https://financialcommission.org/ ) an organisation which aims to resolve complaints using a process that is quicker and more simple than going through industry regulators or the legal system. As well as resolving disputes, it tries to encourage greater trader education.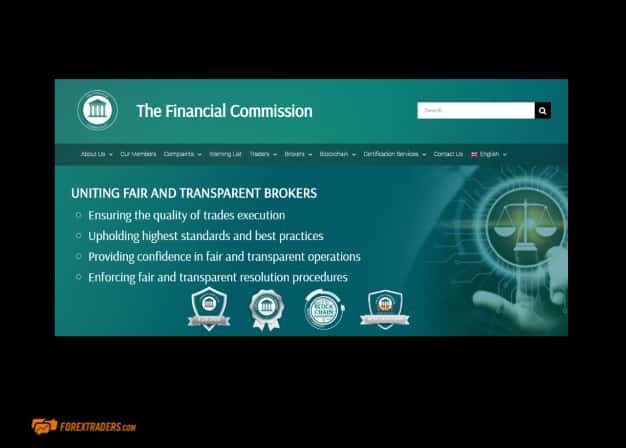 As Alpari is a member of the Financial Commission account holders are offered help resolving disputes but also protection in line with the Commission's Compensation Fund which is an insurance policy held by the Commission on behalf of Alpari International clients. Funds are segregated and paid out in the event that the Commission member does not observe the Commission's judgement following a dispute resolution. This means that as a client of Alpari International, you can be confident that you will receive the money that the Commission rules you're entitled to claim. The Compensation Fund covers judgements of up to €20,000 per client.
Alpari hold client funds in segregated accounts and also invest in keeping high levels of operational and cyber-security. Another reassuring feature is that clients can contact Alpari on compliance issues on a 24-hour basis, Monday to Friday.

How to Open an Alpari International account
Alpari offers Live and Demo accounts which can be found here, https://www.alparitrader.com/register/open-account?my=open-account. The Live account set up also includes the Micro account which allows traders to practice using much smaller pots of capital.
The number of payment options is possibly the most extensive in the sector. Many of them incur zero fees and quote processing times as fast as "instant".
There are several different instances of 'Alpari'. It's a global firm which tailors its offering to respective markets. Whilst the firm can quite rightly consider itself a global broker the subdivision and different entities can at times be confusing.
Alpari Customer Support
Customer support at Alpari is offered around the clock, Monday to Friday. The 24/5 coverage encompasses all aspects of the business, including compliance, funding, account opening and day-to-day trading issues.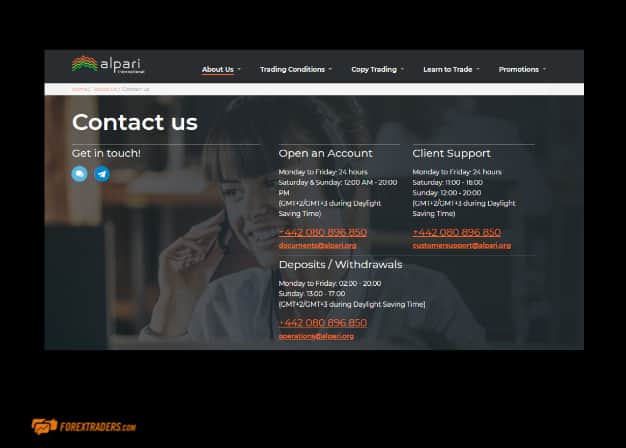 The support team can be contacted via phone, email, Live Chat or Telegram. Providing all these means of communication allows clients to use the most appropriate format for their query. There is a FAQ section, but this is something clients can search out if they want to rather than something they have to work through before gaining access to a human support agent. Cutting out unnecessary chats with 'bots' is a really positive aspect of the Alpari service, and comments in trading chat rooms tend to share positive opinions about this part feature.
Languages spoken by the support team include but are not limited to, English, Russian, Chinese, Hindi, Arabic, Indonesian, and Spanish.
Alpari Review Conclusion
Alpari offers rapier-like access to the markets. The trading experience is based around speed, agility and reliability. The trading spreads are as good as they get, the reporting is exceptionally transparent, and the analysis and trading dashboards are market leading.
The firm has been operating for over 20 years and continues to innovate and pick up new clients and industry awards. The total number of accounts on the platform now totals in excess of 2 million, demonstrating that the package will be just what at a lot of traders are looking for.
———————————————————————————————————————-
FAQs
How can I open an account with?
Alpari is a long established global brokerage with over 2 million clients. They have, as much as they can, fine-tuned the on-boarding process and offer Demo and Live accounts which can be found here, https://alpari.com/en/beginner/demo-account/
Is Alpari a regulated broker?
There are a few different instances of Alpari but the core body of the firm is regulated by the FSC (Financial Services Commission of Mauritius – license number C113012295). It is also signed up to the Financial Commission scheme which has the aim of acting as an intermediary between clients and brokers should a dispute occur.
What fees does Alpari charge?
Alpari is very upfront about its fees because it positions itself as a low-cost broker. A good place to start when considering what they charge is here:  https://www.alparitrader.com/trading-instruments/contract-specifications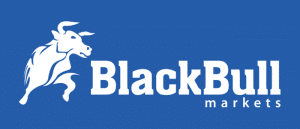 Forextraders' Broker of the Month
BlackBull Markets is a reliable and well-respected trading platform that provides its customers with high-quality access to a wide range of asset groups. The broker is headquartered in New Zealand which explains why it has flown under the radar for a few years but it is a great broker that is now building a global following. The BlackBull Markets site is intuitive and easy to use, making it an ideal choice for beginners.
Please be advised that certain products and/or multiplier levels may not be available for traders from EEA countries due to legal restrictions.