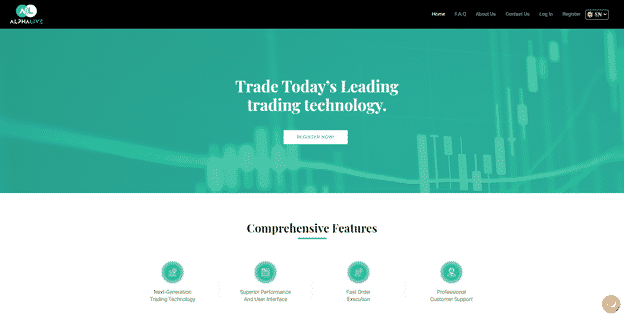 | AlphaLive Pros | AlphaLive Cons |
| --- | --- |
| Wide variety of cryptocurrencies available | Focus on cryptocurrency trading |
| Crypto-tailored trading platform | Limited educational resources available |
| Security, AML, and KYC compliance | |
Traders' Viewpoint
AlphaLive is an international cryptocurrency trading platform, working on behalf of crypto traders from all around the world, wanting to take advantage of new trading opportunities emerging in a broad range of tokens.
Because there are tens of different cryptocurrencies currently part of the AlphaLive offer, the brand has a leading advantage over other brokerage houses that continue to keep their crypto offer limited.
AlphaLive wants to provide cheap trading services and right now, trading costs on most instruments are competitive. Traders will also benefit from increased security features, AML, and the safety of funds.
Having a customer-oriented approach is key, which is why AlphaLive provides access to professional customer support services, available from Monday to Friday, via email or live chat.
Due to an increased demand for cryptocurrency trading services, AlphaLive emerged as a promising new brand, designed to help both experienced and beginning traders to get involved in some of the most promising cryptocurrencies in the world.
With a small initial deposit and limited restrictions in play, AlphaLive addresses a broad audience or English and German-speaking people that want to benefit from the full potential of cryptocurrency trading.
It does so using a combination of diverse crypto coverage and high-tech trading software, designed specifically for the volatile and uncertain environment of the cryptocurrency market. Fortified with the latest and most advanced security measures in the industry, AlphaLive offers complete freedom to trade cryptocurrencies, without having to worry about privacy issues or online security.
About AlphaLive
AlphaLive is a cryptocurrency trading platform set out for people sitting at home or in their office, wanting to trade cryptocurrencies. With 100% support for beginners via a team of professionals, a modern trading platform, and other trading tools, it wants to show that cryptocurrency trading is not that esoteric or impossible activity, but one that could be mastered with proper knowledge and the right trading skills.
Because cryptocurrency trading is such a challenging activity, superior performance and user interface, as well as fast order execution are part of the AlphaLive trading ecosystem. Combining power and speed, its trading software is the main takeaway, ensuring that all customers can use a simple yet very effective platform.
Who Does AlphaLive Appeal to?
AlphaLive was designed for traders that want to focus on the cryptocurrency market. There are plenty of trading opportunities emerging constantly across many different tokens and because of that, the AlphaLive trading offer has been designed with the goal of enabling access to a broad range of cryptocurrencies while using trading tools and features that have proven efficiency.
If you are a trader looking to trade a larger number of cryptocurrency, then you should take a look at what AlphaLive has to offer, to figure out whether this is the brand you've been looking for. Registration with AlphaLive is a simple and fast process, with no geographical restrictions in place right now.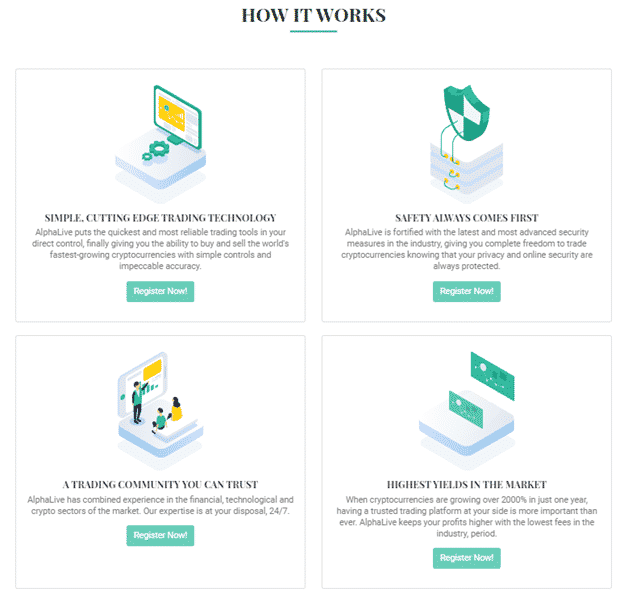 AlphaLive Crypto Instruments
Trading with AlphaLive means access to many cryptocurrency instruments. The offer covers large-cap tokens like Bitcoin, Ether, Litecoin, or XRP, but at the same time, traders get to benefit from some of the leading altcoins such as OMG, IOTA, Tezos, Tron, Stellar, Monero, ZCash, Ethereum Classic, or Dash.
AlphaLive believes that there is still unexplored potential not just with the popular cryptocurrencies we all know, but also in some that don't benefit from the same exposure. Traders have the unique opportunity to trade them denominated in BTC, ETH, or USDT, benefiting from tight trading costs, good liquidity conditions, and fast trading execution.
AlphaLive Platform Review
Cryptocurrency trading would be a very difficult activity without a proper trading platform. With that in mind, AlphaLive had designed a proprietary trading platform, one that could fit into the crypto picture easily. This web-based solution is a flexible alternative to popular platforms, wanting to provide enhanced flexibility and speed.
No installation is required, considering it can be accessed via a browser on any device with just the login credentials. Because it integrates features like TradingView charts, traders wanting to apply various technical strategies would be very glad.
Almost all tasks can be performed from the platform, including making deposits, adjusting account details, or providing the identification documents required to pass the verification process.
Because the trading offer is built around the platform, AlphaLive uses the latest trading technologies and security measures to ensure that personal data and funds will be protected all the time.
Mobile Trading
An Android app is available to be used alongside the web platform, in case customers will need access to the markets while on the go. Although they could log into their account from a browser on a mobile device, with this app the process is simplified even further.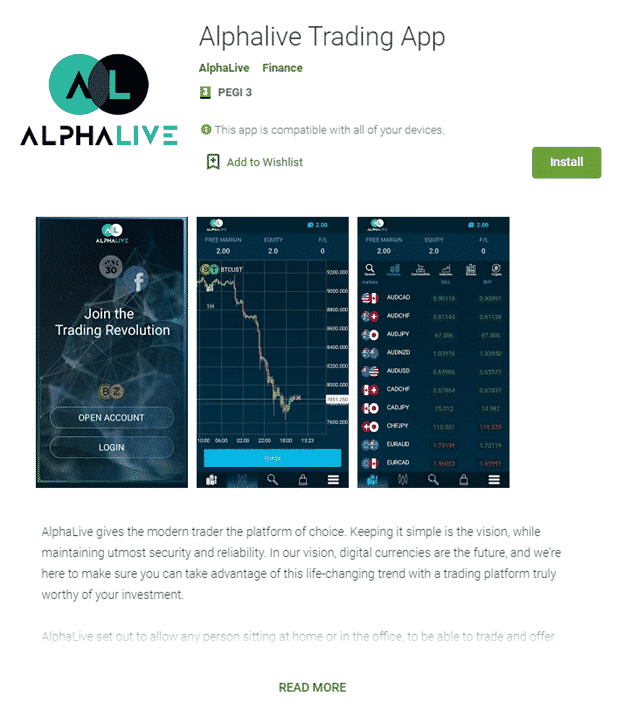 The AlphaLive trading app comes with all the features needed to keep track of the markets on mobile or monitor existing positions, staying updated with all the latest developments.
AlphaLive Customer Support
Available via live chat or email 24/5, the AlphaLive customer support has proven to be effective. Anybody can get in touch with a representative and get an answer to any questions fast, without having to wait for hours in a row. Currently, there is good feedback for the support service, which means AlphaLive remains committed to its customer-oriented approach.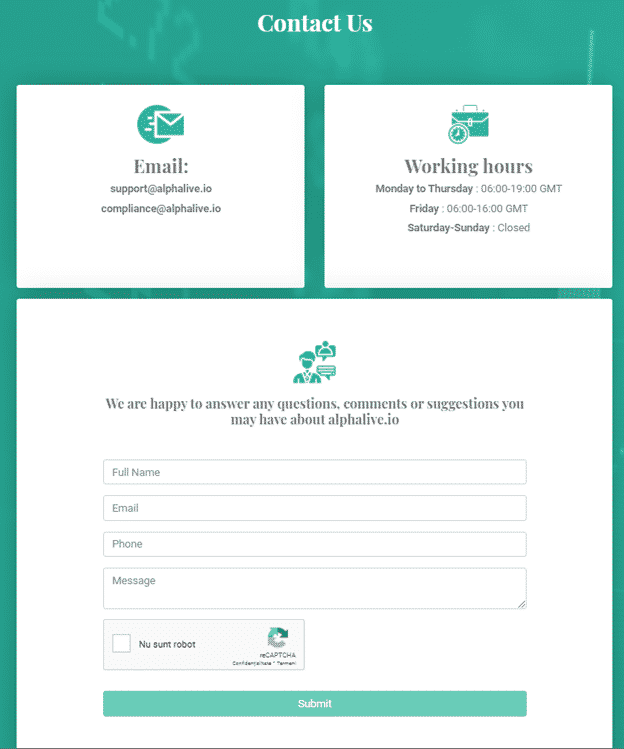 AlphaLive Review Conclusion
To take advantage of new opportunities in the cryptocurrency market, a well-tailored trading offer is required. To fill out the market's need and to answer crypto enthusiasts' demands, AlphaLive emerged as a new cryptocurrency trading platform, providing its unique vision on how traders should get involved in this new sector.
Due to its focus on cryptocurrencies, that might be a drawback for traders looking at other asset classes as well. Still, AlphaLive ensures a broad cryptocurrency exposure thanks to its expanded offer. Those interested in flexibility, personalization, and reliability via security measures could be attracted by the AlphaLive trading offer.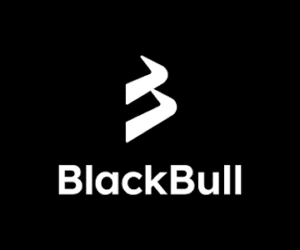 Forextraders' Broker of the Month
BlackBull Markets is a reliable and well-respected trading platform that provides its customers with high-quality access to a wide range of asset groups. The broker is headquartered in New Zealand which explains why it has flown under the radar for a few years but it is a great broker that is now building a global following. The BlackBull Markets site is intuitive and easy to use, making it an ideal choice for beginners.
Please be advised that certain products and/or multiplier levels may not be available for traders from EEA countries due to legal restrictions.