AssetShot is the newest addition to the forex brokerage community in the island country of St. Vincent and the Grenadines (SVG). The island's regulator, the Financial Service Authority (FSA), has issued an International Business Company (IBC) license to the firm, which allows the global company to operate in an agent status from SVG, but the FSA does not provide any regulatory oversight for forex brokers.
Judging by lists on the internet of forex brokers that call SVG their home, there are over 50 such enterprises that have been issued IBC licenses. Their reason for locating in SVG is clear. They can act freely to offer features and services that brokers in more developed countries can no longer provide, due in part to regulatory crackdowns by domestic authorities.
The appeal of AssetShot is that it is new and that it offers levels of leverage which can no longer be found in the UK, Australia, Europe or the United States. There are no fees or commissions, and the broker is free to offer enticing marketing bonus programs to seek your patronage. The firm offers over 400 tradable assets, supported by the very popular family of MetaTrader4 trading platform product line. Traditional forex trading and CFDs are available.
Is AssetShot the right forex broker for you? There are several reasons for not choosing an unregulated broker that is in start-up mode, but there are a multitude of traders that seek out these new platforms for the benefits they provide. In addition to higher leverage and low fees, start-ups tend to be more responsive and supportive of their early adopters, providing more lucrative bonuses and expert advice to ensure a successful trading experience early on.
Is AssetShot one of these forex brokers? Take your time reviewing this broker's offerings. Their website is in the early stages of development. It could be more transparent, but if you have questions, be sure to contact customer service. If their responses are satisfactory and you wish to proceed, start off slow and test the withdrawal process. Patience and caution is advised.
AssetShot pros:
Straight-Through-Processing (STP) broker
Over 400+ assets available for trading
No hidden fees or commissions
MT4 family of trading platform products
AssetShot cons:
No regulatory oversight
Broker is a relatively new startup
About AssetShot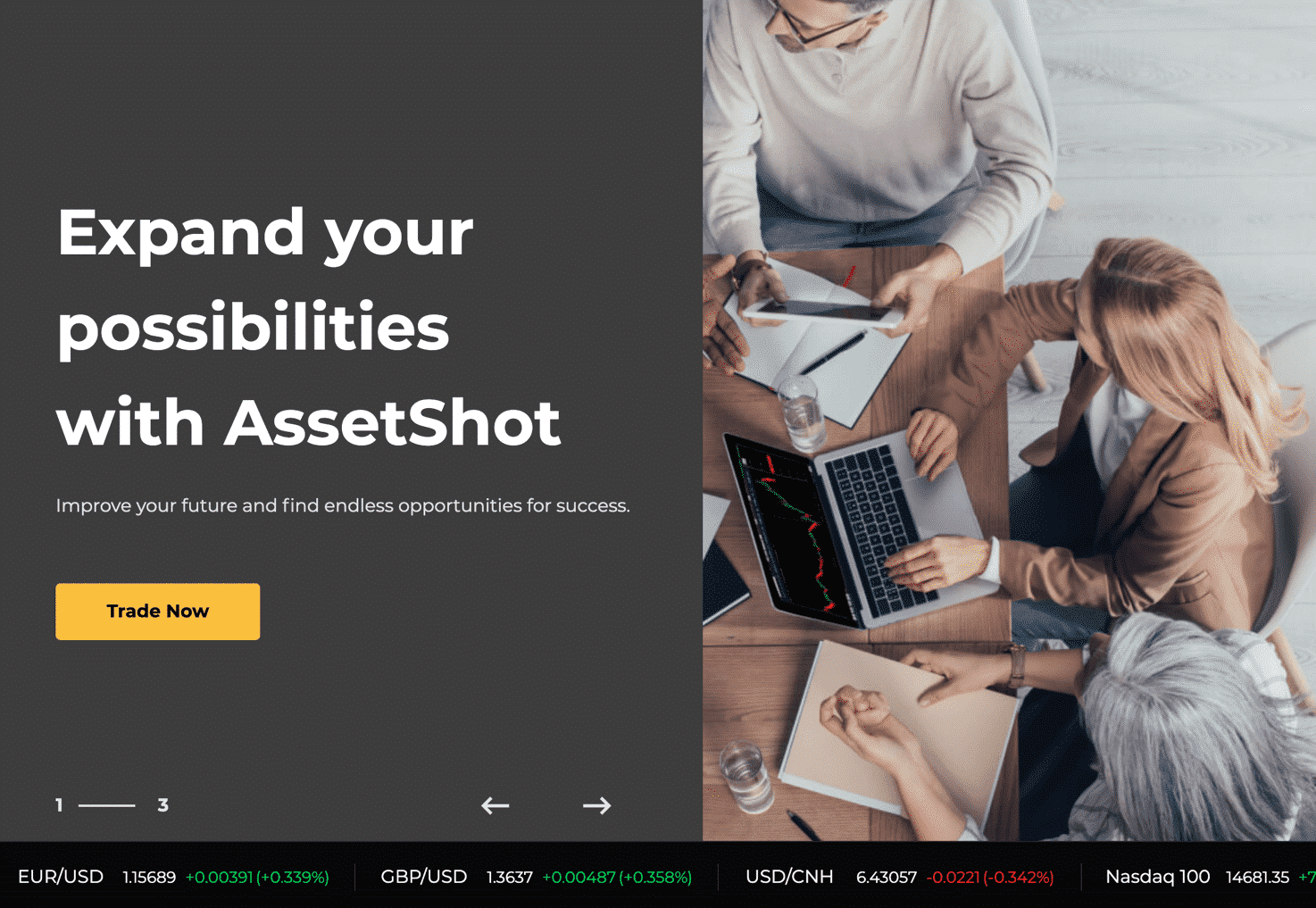 The registered owner of AssetShot is the Jess Group LLC. Its registered agency address is First Floor, First St Vincent Bank LTD Building, James Street, Kingstown, P.O. Box 1574, VC0100, St Vincent and the Grenadines, and its license registration number is 917 LLC 2021. The last four digits imply that operations began in SVG's 2021 fiscal year. There is very little in the way of information on the internet about this broker, further confirming its recent launch. The "About Us" section of its website does not provide any history, any disclosures regarding management or physical addresses or whether it is a re-brand of another broker.
Format changes also appeared while this review was being prepared, suggesting that more changes may be on the way, which could sway your opinion one way or the other. At this juncture, the website has a professional appearance, but it is very basic. If you contact customer service, they can set you up with an MT4 demo system to explore their product offerings. If you set up a real account before making a deposit, you may gain access to other materials, including training materials for beginners.
The appeal of AssetShot is its leverage offerings. For example, in Europe, leverage for major currency pairs may be 1:30 and as low as 1:5 on equity issues. AssetShot's lowest leverage limit is 1:100 and can increase up to 1:400 with a Platinum account. Leverage can be a great tool for success, but traders have to remember that it can magnify losses as well. Stop Out levels at AssetShot are set at 5%, where 50% may apply to traders in Europe.
In our review of AssetShot, we did not find any current bonus programs, but their Bonus Agreement in the Documents section does disclose that programs will be forthcoming from "time to time". Developed country regulators have put strict limits on marketing strategies that can be used to attract traders, especially if CFDs are in the mix.
AssetShot offers traditional forex trading in 60 foreign currency pairs, although the broker counsels its customers on the wisdom of starting with the highest traded pair, the "EUR/USD". CFD trading is also supported for stocks, indices, precious metals, energies, commodities and futures contracts. Each of their four account categories provides access to its portfolio of 400+ assets and features. Expert Advisors (EAs), however, are only provided for Platinum account holders.
AssetShot may be new and offshore, but if you take them at their word, the management team wants to "Expand your possibilities" and to "Improve your future and find endless opportunities for success". Every account classification includes a personal account manager, an effort designed to fulfil its promise from your very first interaction.
Who does AssetShot appeal to?
Are you tired of the heavy limitations placed upon forex brokers in the UK, Europe, Australia and the United States? Do you long for higher leverage limits, lower margin requirements and bonus programs that reward your patronage? If you have a trader mindset that is appalled by the current restrictions on trading in developed countries, then AssetShot may appeal to you and your desire for more freedom in your trading experiences.
Trading with an offshore broker and one that is in start-up mode can also be a risky adventure, but if you are up for it, you have learned how to manage risk and how to determine when a broker is not acting according to best business practices, AssetShot may be for you. AssetShot is new. There are favourable testimonials on its website, as well as on other internet sites, but there are critics as well. All new companies have hurdles to deal with, but responsiveness is key. AssetShot provides a personal account manager for every client, which may slow things down when a heavy load of new accounts are being added to the system. Be prepared but be cautious too.
Account types

AssetShot provides four account classifications, similar to other forex brokers, but the only variations between accounts relate to spreads and leverage limits. Trade sizes are the same and can range from 0.01 to 50 lots. There are no limits on how many open positions you can have and Stop Out Levels are set at 5%. Each account includes a personal account manager and scalping and trading on the news is allowed. Expert Advisors are limited to Platinum accounts, the institutional offering for the broker.
AssetShot claims to have deep liquidity providers, thereby ensuring quick execution speeds with limited re-quotes. The firm is also a Straight-Through-Processing (STP) shop, which ensures that there is no dealing desk trading against your interests in the background. There are no fees for deposits or withdrawals, although swap fees may apply on overnight trades. Banking intermediaries tend to assess their fees independently of the broker, but this practice is universal.
In order to open an account, customer service will provide an application form, which will entitle you to a demo account. To convert to a real account capable of trading its 400+ assets, a deposit and Know-Your-Customer (KYC) documentation are a necessity. These requirements are the same for all forex brokers, as these rules are mandated by international law. Current deposit methods include Visa, MasterCard and banking wire transfer. Withdrawals are automated.
Markets and territories
AssetShot acts as a global forex services provider. As such, your only restrictions are those imposed by your domestic government. US regulatory agencies, for example, do not permit trading in CFDs. Creative traders, however, have learned to use virtual private networks (VPNs) to get around these barriers, however, tax laws may still apply to your profits, and banks may still report major deposits from foreign banks to the authorities.
The reach of AssetShot is global, with instruments from 20+ global markets and exchanges. The MT4 trading platform option of your choice enables access to all of these markets, and account holders can choose from 400+ of tradable assets with AssetShot, including:
Foreign currency pairs: Deep liquidity exists for 60 currency pairs to ensure quick execution of your orders in the world's largest trading market
Indices: Indices for 16 global stock exchanges are offered with spreads from 0.5 points, traded as CFDs
Metals: Trading by way of CFDs in the futures and options contract market is supported for gold, silver, platinum and palladium
Energies: CFD trading in Brent crude oil, WTI crude oil and US natural gas can also help you diversify risk in your account holdings
Futures: AssetShot enables direct trading in futures contracts for indices, shares and commodities via CFDs
Shares: Global equities are last on the list, but AssetShot offers CFD trading in the most popular companies listed on 20+ global exchanges
Instruments and spreads
AssetShot supports traditional forex trading with 60 currency pairs. It also provides CFD trading for its other tradable assets. Spreads can range from 0.1 pips to 2.8 pips, depending upon your account classification. There are no hidden fees. Institutional pricing may involve a combination of unit and commission pricing along industry guidelines.
Fees and commissions
There are no hidden fees, and no charges for deposits or withdrawals, except for bank intermediary assessments. AssetShot makes income from its spreads and on hedging its risk exposures on the net CFD trading liabilities of its customers. CFDs do tend to be highly risky. Brokers typically report client loss rates ranging from 70% to 80%, but no figures are given related to CFD profits compared to losses from a net financial perspective.
Platform review
AssetShot offers a free MT4 demo-trading platform for practice purposes. Fortunately, they have selected MetaTrader4 as their platform provider, rather than forcing a new trader to learn a completely different system. They have customized four versions of popular MT4 trading platform configurations for your usage. These four configurations are as follows:
MetaTrader4 Terminal: The downloadable version of MT4 has been around for decades and has become a household name in forex trading communities. Many traders prefer the security and privacy of dealing directly with software on their desktop and laptop devices. In today's world, familiarity and convenience account for something, and AssetShot recognizes this simple fact. Pleasing chart layouts, a plethora of indicators, and one-click trading are accepted now as basic "must haves" if the trading experience is to be rewarding.
MetaTrader4 Mobile: Mobile trading is all the rage these days, and AssetShot also offers MT4's mobile solution for your Androids and iPhones. One-click trading and CFD trading are now possible on your handheld devices from anywhere at any time.
MetaTrader4 Web: If you prefer not to download software to your computer, MT4 Web provides the solution with their web version. Full MT4 functionality is provided directly from the AssetShot servers. Access to the internet and a browser is all you need to trade.
MetaTrader4 for macOS: Traders devoted to their Mac devices need not worry, MT4 also has a solution for you. MT4 macOS will require the use of the "Wine" app to install. Once up and running, you will experience everything you expect in advanced features.
AssetShot supplements their MT4 web pages with a MetaTrader4 guide. This guide provides additional assistance for basic questions related to MetaTrader4 products. There are nine questions and answers for such basic items as how to make a trade and where to find portfolio balances, along with other bits of helpful information.
It is important to note that AssetShot is an STP (Straight-Through-Processing) processor. In this environment, trades are matched immediately with liquidity providers without the need to send the orders through a deal-making desk in the background first. The broker has assembled a network of deep liquidity providers to ensure that this matching process operates smoothly and seamlessly to your advantage.
Mobile trading
AssetShot offers mobile trading through the MetaTrader4 Mobile app. If you are an on-the-go trader, then you will appreciate the one-click environment and market access that this app provides. It supports both Android and iPhone handheld devices.
Social trading and copy trading
Our AssetShot review did not find any support for social trading or a copy trading service at this time. As the firm builds its account base and experts begin to appear, it may add this service to its offering in the future.
Crypto
Our review did not find that AssetShot supports trading of cryptocurrencies. The screenshot of its home page, however, did reflect ongoing quotes for BitCoin (BTC), LiteCoin (LTC) and Ethereum (ETH) in its ticker tape feature. These quotes do not necessarily indicate support for crypto trading.
Charting and tools
MT4 charts, tools and features have been customized for AssetShot to ensure a favourable trading experience.
Education
On their "About Us" webpage, AssetShot claims: "We believe that there is a successful trader in everyone, including you. Enjoy access to five-star-rated educational materials and your very own trading mentor." Our review did not find any such materials, but access to these "five-star-rated" materials may be tied to your opening a funded account. If you are a beginner and want educational materials tailored to your needs, speak with your personal account manager.
Trader protections by territory
AssetShot provides its services without the oversight of a regulator. The FSA in SVG specifically states on its website that: "The FSA does not issue any licenses to carry on the business of FOREX trading or Brokerage or Binary Options Trading nor does the FSA "Regulate, Monitor, Supervise or License" International Business Companies (IBCs) which engage in such activities."
How to open an account
In order to open an account, customer service will provide an application form, which will entitle you to a demo account. To convert to a real account capable of trading its 400+ assets, a deposit and Know-Your-Customer (KYC) documentation are a necessity. These requirements are the same for all forex brokers, as these rules are mandated by international law. Current deposit methods include Visa, MasterCard and banking wire transfer.
Customer support
To its credit, AssetShot assigns a personal account manager to every accountholder to provide mentorship of their experience with trading and with their website. The "Contact" webpage provides an email address, form and direct telephone number. A "Live Chat" service may be under development but was not available at the time of writing. The AssetShot website states that trading is "24/7"and that "Our customer support team is online 24/7 to assist you if you have any queries about the verification process."
The Bottom Line
AssetShot is a new broker that wants you as their customer. It will be interesting to watch this young broker adapt to the highly competitive world of forex trading. It is not easy to wean customers away from larger and more tenured brokers or to attract new clients to venture out and try an offshore broker. AssetShot will need to promote their services in ways that will be attractive, if they are to build upon their initial setup.
AssetShot is operating as a licensed IBC from St. Vincent and the Grenadines, which gives it a good deal of latitude when crafting new promotional programs. The website is still a work in progress, and it is not unusual for statements made on it at this junction to be unsupported until a later date. Claims that it is a number one broker that has 20+ awards and recognitions may be applicable to its staff's previous experience, unless AssetShot is a re-brand of another site. If you want answers ahead of time, email your queries to a contact.
At the end of the day, offshore brokers and start-ups are risky ventures, but if you are prepared to take a chance on benefitting from being an early adopter, this broker may be worth your while. Do your due diligence. Ask questions. Take your time and test out all of the features, including their automated withdrawal process, before committing to a larger deposit. If everything checks out to your satisfaction, then proceed as you deem appropriate. Caution is advised.
FAQs
How can I open an account with AssetShot? Contact customer service for an application form. After submission, you will be granted access to a free MT4 Demo system. When you wish to upgrade to a real account, you must fund your account and submit Know-Your-Customer (KYC) personal identity documents for review. After these credentials are approved, you will be able to trade.
Is AssetShot a regulated broker? AssetShot operates out of St. Vincent and the Grenadines. It is licensed as an International Business Company. The local regulator, however, does not provide any regulatory oversight for forex brokers in SVG.
What are the deposit options for AssetShot? There are four account options with AssetShot, the lowest starting at $250. Funding options at this time are Visa, MasterCard and bank wire transfer, although the firm may add new options in the future.
How do I withdraw money from AssetShot? The withdrawal process for AssetShot is completely automated. Provided your KYC documentation is in order, the process will run smoothly, and funds should be released by the company within 48 hours. There are no fees for withdrawals at AssetShot, but banking intermediaries may add fees and delays for processing your funds before it is posted to your banking account.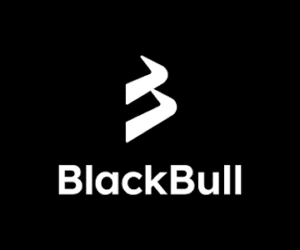 Forextraders' Broker of the Month
BlackBull Markets is a reliable and well-respected trading platform that provides its customers with high-quality access to a wide range of asset groups. The broker is headquartered in New Zealand which explains why it has flown under the radar for a few years but it is a great broker that is now building a global following. The BlackBull Markets site is intuitive and easy to use, making it an ideal choice for beginners.
Please be advised that certain products and/or multiplier levels may not be available for traders from EEA countries due to legal restrictions.