CEDARFX CONS
No VIP account options
Offshore Broker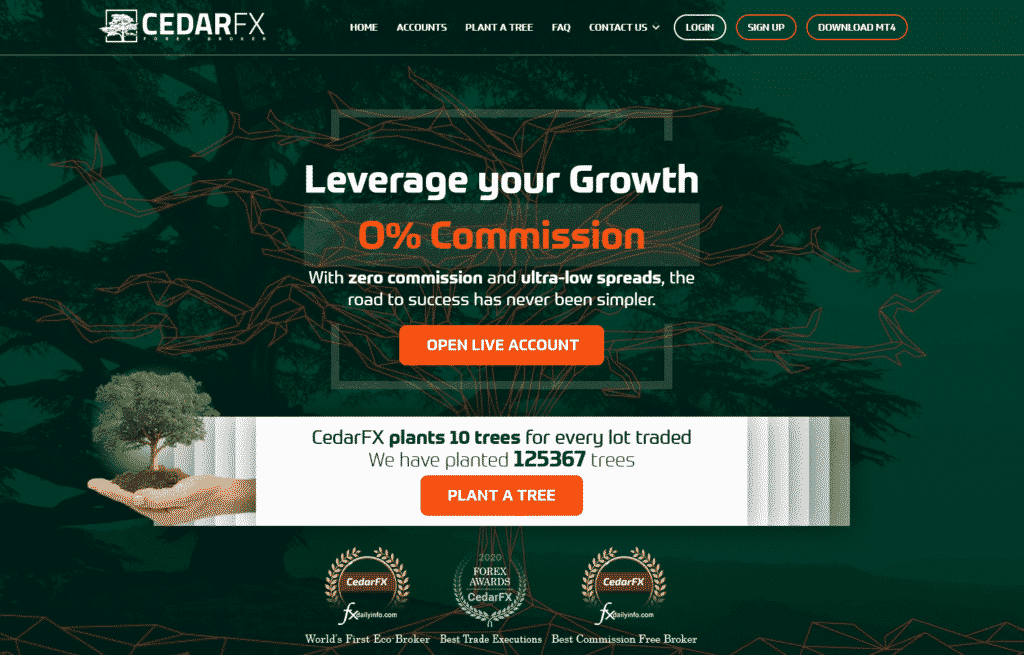 Traders' Viewpoint
CedarFX only started in 2020, but it is already growing and developing a niche. This broker made a name for itself through its commitment to giving back and helping the environment via its Eco Account and connection to the environmental NGO Ecologi.
However, it has continued to develop as a forex broker thanks to its lack of fees and commissions, and its competitively low spreads on 180+ different tradeable assets. Traders can enjoy trading on 55 fiat currency pairs and 38 crypto pairs along with stocks, indices, commodities, and metals, all on the highly respected, secure MT4 trading platform.
CedarFX is a new, small Forex broker and some traders may be put off because it lacks a number of features that are found in larger brokers like a series of tiered VIP accounts and social trading options. CedarFX could also benefit all of its traders by adding more language capabilities to its customer support team and providing more accessible information on its site regarding its geographical reach, licensing agreements, and regulation.
On the whole, however, CedarFX is a reliable, attractive option for traders who are interested in trading using a low-fees broker. Its lack of additional fees and key features including unlimited demo accounts, and environmentally friendly outlook, help to set CedarFX apart from its competitors and it will very likely continue to grow as a broker.
About CedarFX
Launched in 2020, CedarFX has already made a splash in the Forex broker industry. This low-fee broker offers an impressive range of 180+ different assets to trade, including 38 different cryptocurrency pairs and 55 Forex pairs. CedarFX has a trader-first mentality, which is demonstrated in its lack of fees, super-low spreads, and absence of a commission for the 0% Commission Account. Perhaps most notably, CedarFX also has an impressive commitment to supporting the environment with NGO Ecologi, supporting its work planting trees and reducing carbon footprints around the world.
Who does CedarFX appeal to?
CedarFX will appeal to a diverse range of different traders. Novice and veteran traders will appreciate the low spreads, lack of fees, and non-existent commission in the 0% Commission Account. Traders who are interested in experimenting with different strategies in a risk-free way will also appreciate the option for unlimited demo accounts and education resources. Also, this is the forex broker for eco-conscious individuals who like the thought of making a positive difference in the world while making trades.
Traders who prefer larger brokers, which offer features like a range of VIP accounts and social trading, may need to look elsewhere, as CedarFX is a smaller, new broker without these features.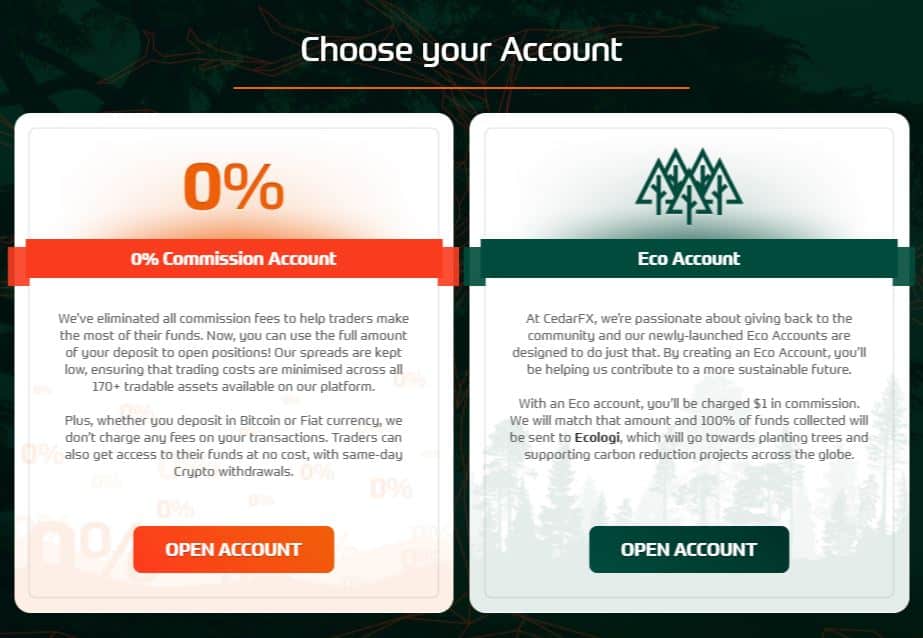 Account types
There are two different account types offered by CedarFX — the 0% Commission Account and the Eco Account. Firstly, the 0% Commission Account has, as its name would suggest, no commission fees so that traders can take full advantage of the money they invest to trade.
Another bonus is that, regardless of whether you choose to deposit in bitcoin or in a fiat currency, CedarFX will not charge fees on any of your transactions. Traders who use the platform will also be able to enjoy same-day withdrawals for cryptocurrencies and receive access to their funds with no additional fees attached.
The Eco Account has all of the same benefits as the 0% Commission Account, but you will be charged $1 in commission with the Eco Account. CedarFX has committed to collecting the funds that are made through this commission, matching all of the funds, and then donating them to Ecologi — an environmental NGO.
Ecologi funds tree planting and carbon reduction projects around the world — at the time of writing CedarFX has planted 5,700 trees through its donations to Ecologi. If you feel passionately about the environment, or just want to use your trading to give back in a small but meaningful way, the Eco Account is for you. Traders who would like to try both accounts can open simultaneous 0% Commission Accounts and Eco Accounts.
One excellent feature provided is the fact that traders can open an unlimited number of demo and live accounts. This is a feature that really sets CedarFX apart from its competitors and makes it an attractive option for traders who frequently want to test new theories and strategies without risking any of their own funds.
Traders who prefer to use VIP accounts may be put off by the limited number of account options and may instead want to opt for a broker that offers a bronze, silver, gold style gradation of accounts. However, other traders will appreciate the low fees of the 0% Commission Account or the idealistic, environmentally friendly outlook of the Eco Account.
Markets and territories
CedarFX is located in St Vincent and the Grenadines and it, conveniently, has no restricted countries. The site could benefit from providing more information regarding the geographies and markets it operates in, as well as more information regarding licensing and the regulations of St Vincent and the Grenadines.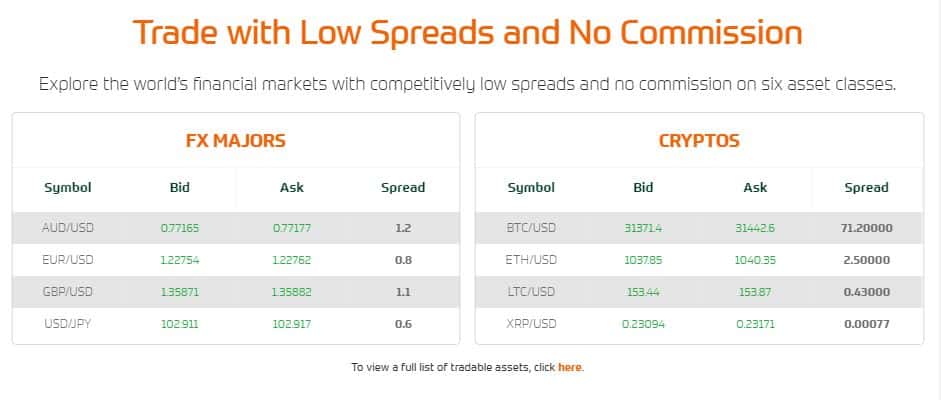 Instruments and spreads
CedarFX provides traders with competitively low spreads on an impressive range of over 180 different assets. This includes 55 different Forex currency pairs, 73 stocks, 11 indices, metals, and commodities, along with 38 crypto pairs.
As for margin rules, CedarFX issues a margin call when your margin level drops to 100% and it also will issue a stop-out if your margin level falls to 70% or below. The leverage settings will depend on the type of instrument you are trading. However, CedarFX offers 1:200 leverage for indices and commodities, 1:100 leverage for all crypto pairs, 1:500 leverage for Forex and metals, and 1:20 leverage for stocks.
It should be noted that arbitrage trading is not allowed, interested is not paid on unused margin. Also, there is no negative balance protection available, which some traders will miss. Also, CedarFX does not offer rVPS or VPS.
Fees and commissions
In terms of fees and commissions, CedarFX prides itself on being a low fee trading platform. It does not charge fees for deposits or for any of your transactions on the platform. The lack of commission on the 0% Commission Account also helps to lower the costs associated with trading and help traders maximise their deposit funds for trading.

Platform review
CedarFX uses the ubiquitous MetaTrader 4, or MT4, platform. It is not hard to see why CedarFX would opt for MT4, as it is one of the most popular trading platforms for a reason. MT4 has become so well known in the industry because of its easy-to-use interface, its security, its high level of customisability and its range of tools and analytical options. The MT4 trading platform can be accessed using desktop, tablet and mobile devices, which provides busy traders with a high degree of flexibility.
Some of the tools and features offered by MT4 include technical indicators, one-click trading, expert advisor supports, black box trading, hedging, an interface in a number of different languages, multiple order types, and graphical objects.
Via MT4, CedarFX allows trading techniques including hedging, scalping, auto traders, expert advisors, and robots. When trading on CedarFX, you can open positions from 0.01 lots to 1,000 lots, which provides a good range for traders.
The CedarFX interface and UX is excellent for beginners and novice traders as it is very streamlined. The broker has removed all unnecessary or confusing graphics and instead has left its traders with a clean, sophisticated interface to enjoy.
The simplicity and sophistication of the experience also extends to the customer support. On other sites, you may have noticed that the moment you are registered, you are continually bombarded with emails, live chat requests, and communication from the broker. CedarFX has a much more hands-off approach, which is refreshing for veteran traders and calming for novice traders who might otherwise feel overwhelmed.
Mobile trading
Mobile trading on CedarFX is delivered through the mobile version of MT4 trader. Conveniently, you do not need to download a separate app for CedarFX and instead can use the MT4 mobile trader, which comes in both Android and Apple versions.
The mobile trading versions of the desktop trading platform have fewer tools and analytical options. However, you will still be able to buy and sell and make trades with perfect ease using the mobile account. CedarFX's mobile trading platform is ideal if you are a busy trader on the go and want to quickly make a trade while on the train home or on your way into town.
Social trading and copy trading
Based on the information provided, CedarFX does not yet offer options for social trading or copy trading. Social trading has become increasingly popular in the industry as novice traders can follow the trading strategies of some of the most successful traders on the platform. This allows new traders to build their confidence on the platform. Veteran traders who are interested in trying new strategies and mixing up their trades also enjoy engaging in social trading and trying to play the market through another viewpoint.
It is not unusual for a broker of CedarFX's size and age to not have social trading as CedarFX just broke out onto the scene in 2020. It takes time to develop a following in the market and create a population of dedicated traders who are looking for social trading. However, that being said, CedarFX is growing quickly and it is possible that it could introduce social trading or copy trading in the near future.
Crypto
The global events of 2021 have shaken virtually every national economy and currency. In response to this instability, crypto trading has steadily become more popular and many cryptocurrencies are being actively traded than ever before.
Crypto trading aficionados will appreciate CedarFX's range of 38 crypto pairs to trade. Some of the cryptocurrencies available to trade on CedarFX include the biggest currencies on the market like bitcoin, Bitcoin Cash, and ethereum along with newer cryptos like litecoin, tron, dash, ripple, and monero.
Traders can also deposit funds in bitcoin into their CedarFX accounts. CedarFX does not charge any fees for deposits, but the Bitcoin Network charges 0.0005 BTC for every deposit, regardless of the size of the transaction.
Charting and tools
MT4 is a well-developed and detailed platform that is also highly customisable. Charting and analysis tools are essential for developing a high-performance trading portfolio. As the industry grows and more and more people are starting to trade using Forex brokers, the analytical tools have improved as well and have become increasingly nuanced and accurate.
MT4 has a range of different analytical tools and charting options for traders who love data and charting, including Gann and Fibonacci-based tools for charting. On top of those tools, MT4 also offers a number of different types of indicators and oscillators such as Stochastic Oscillator, RSI, MACD, Moving Averages, and others.

Education
CedarFX offers a number of educational answers to common questions for traders in the form of an FAQ. That being said, this resource is not the largest on the market. If you are a novice trader who does not know where to start with trading and you are looking for a detailed series of guides and resources to help you learn more, you may want to look elsewhere.
Aside from educational resources, the demo accounts offered by CedarFX are intended to help traders to learn more about the platform and also learn by trial and error, without incurring any financial losses. If you are interested in testing strategies, you can open as many demo accounts as you like and try making trades through your demo accounts. Once you feel comfortable on the platform and you have a strategy for trading, you can opt for a live account.
You can open as many demo accounts as you like before registering for a live account. If you would like to test a new strategy risk-free, you can open a demo account to test out your ideas while you simultaneously use a live account. Demo accounts will cease to exist after 14 days of inactivity.
One beneficial aspect of the platform is that CedarFX has a very restrained UX and sophisticated layout. Rather than constantly reaching out to the trader, CedarFX allows traders to find their own way and will provide support whenever needed. This restraint on the part of CedarFX creates a relaxed, calm environment, which is ideal for novice traders who are easily overwhelmed by all of the new information and tools.
Trader protections by territory
There are no restricted countries for CedarFX. In our research, we could not find any additional information regarding potential restrictions for specific territories. CedarFX is licensed under the company Cedar LLC. CedarFX and Cedar LLC operate under the jurisdiction and laws of St Vincent and the Grenadines.
In our research for this review, we could not find any additional information regarding licensing, regulations, or geographical restrictions. As increasing numbers of Forex brokers enter the market, traders are developing a critical eye when it comes to licensing and transparency. CedarFX can increase its transparency and develop more trust with traders by more-clearly listing information regarding geographies and licencing on its site.
How to open an account
Opening an account on CedarFX is a simple, painless process. Firstly, you need to create an account on the sign-up page of the site. Once you have created and verified your account, you will be directed to fill out a form with all of the relevant details needed.
After you have created an account, you will need to also create a free MT4 Trading Account and you will need to make the minimum deposit in order to start trading, which is $10 for both the 0% Commission Account and Eco Account. After you have made the minimum deposit, you can begin trading on the platform. Depending on the type of deposit you made, you may have to wait for a set period as the funds are transferred or verified. Wire transfers of fiat currency will take time to verify, but once the funds are verified, you will be able to start trading.
Traders can open as many demo and live accounts as they like, and they can also open simultaneous 0% Commission and Eco Accounts. The process is very straightforward, but if you do run into any issues or complications, the CedarFX support team is available immediately via live chat and email 24/7.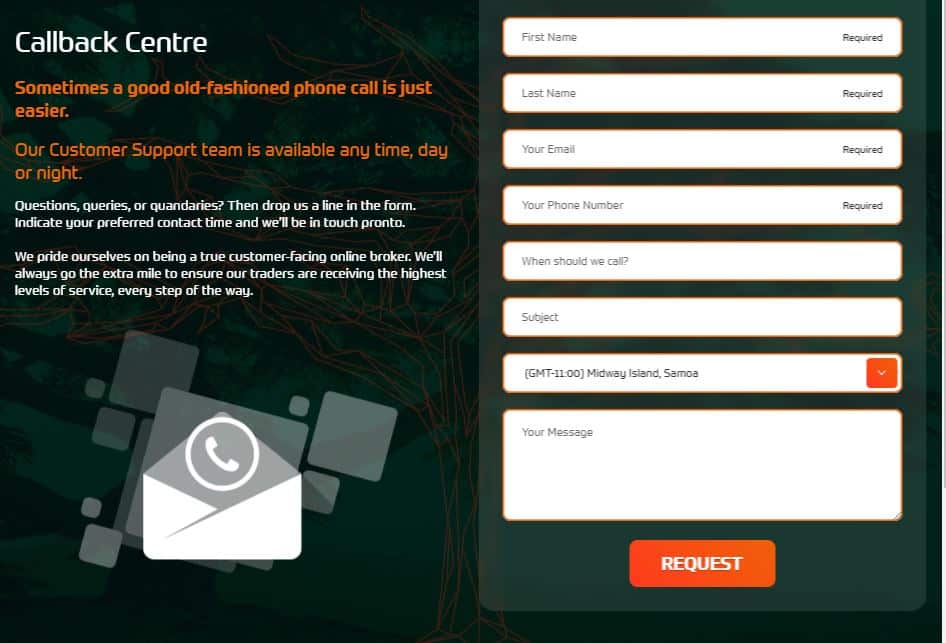 Customer support
The customer service team at CedarFX provides 24/7 support via live chat and email contact options. Sometimes it might be necessary to speak with a person about an issue, especially if it is difficult to describe or if there has been difficulty discussing the issue over chat or email. For issues like this, and for those who just prefer using the phone, CedarFX also has a 'Callback Centre'.
Users can fill out a form and request a call at a specific time, and a CedarFX representative will then call at that time to work through the issue over the phone. This client-facing style of customer support is great to see in the industry as it provides an additional level of professionalism and assistance for traders.
Unfortunately, CedarFX currently only offers customer support assistance in English. As a result, if a trader cannot speak English, they will likely need to enlist the help of a translator — a difficult and burdensome obstacle. That being said, it is important to remember that CedarFX is still a new broker and it is likely that as it grows, its language capabilities will also expand to a range of other languages.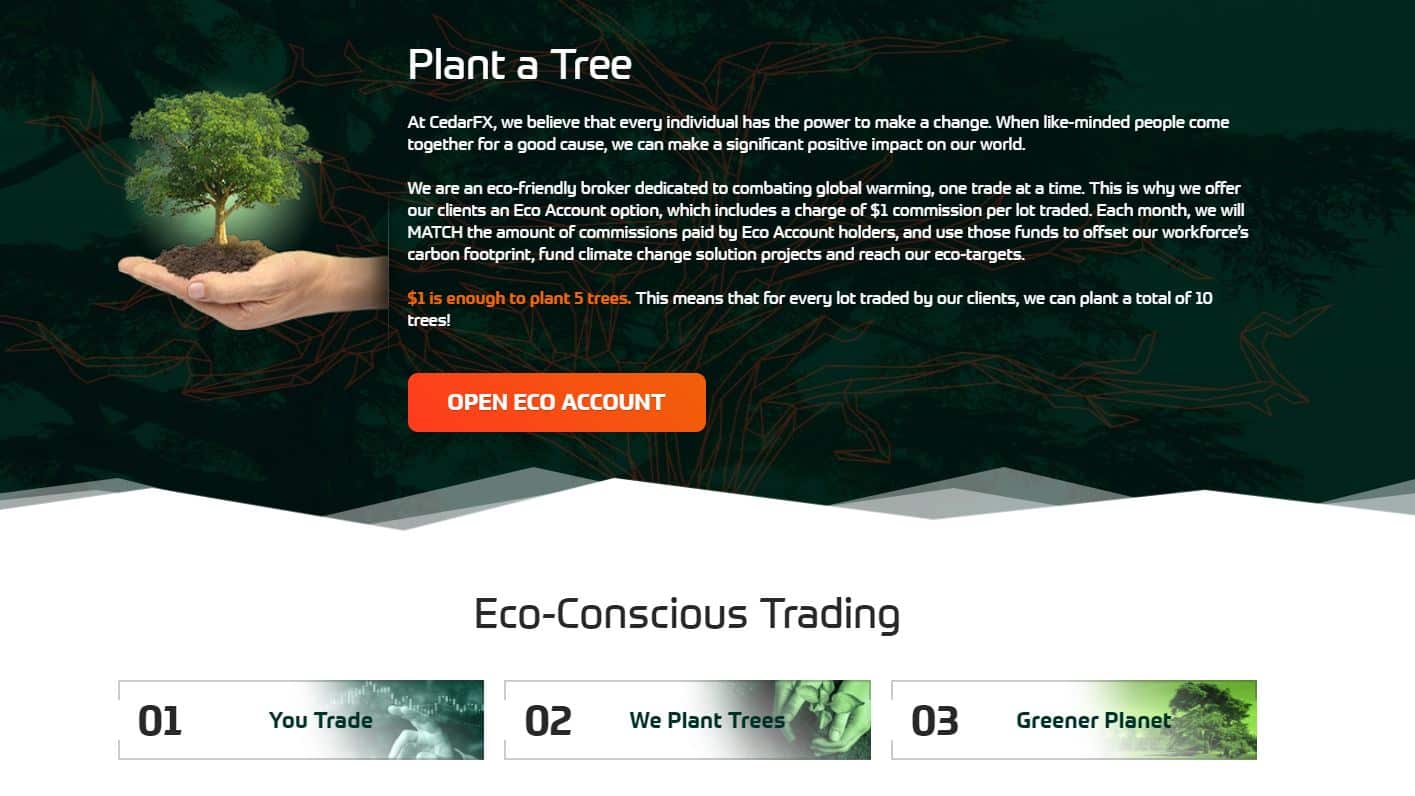 The bottom line
CedarFX is an excellent Forex broker with an impressive range of tradeable assets, very low spreads, and a notable lack of fees and commission charges. This is a great no-nonsense broker for confident traders who are not looking for features like VIP accounts, social trading, and extensive resource libraries, but instead want a capable platform with low fees and a diverse range of assets.
Traders who are also interested in testing out their theories will really appreciate the unlimited number of demo accounts that traders can open, along with the low minimum deposit amounts. Novice traders may find the limited educational resources frustrating, but they will benefit greatly from the learned experience gained from opening demo accounts and practising trades on the platform before investing their funds.
CedarFX's commitment to the natural environment should also be emphasised. It is an interesting innovation that CedarFX has brought a charity on board. Even though it is a hefty financial commitment that it has made to the environment, it has also likely captured a particular niche in the market specifically because of the eco-friendly, idealistic model.
Essentially, this is a secure, robust forex trader that has a wide range of different features and assets, which are attractive to traders of all stripes. At less than a year old, CedarFX has already performed very well in the market and created a niche for itself — something that many other new forex brokers have failed to do. It is likely that CedarFX will continue to grow in the future and, as it develops, additional features and options sure to be added for users.
FAQs
How can I open an account with CedarFX?
Opening an account with CedarFX is a painless, quick process. You just need to fill in the form on the sign-up page of the CedarFX website. Once you log into your CedarFX account, deposit a minimum deposit of $10, and create your free MT4 Trading Account, you can start actively trading.
Is CedarFX a regulated broker?
CedarFX is a forex broker licensed under the registered company Cedar LLC, which is regulated under the laws of St Vincent and the Grenadines.
What are the deposit options for CedarFX?
Traders can make deposits through bitcoin, bank transfer, credit card, or debit card. Bitcoin is the main payment method used by traders and preferred by CedarFX for its security and speed in processing. The minimum deposit on CedarFX in bitcoin is $10 and the minimum deposit available for other types of payment methods is $30. Traders can make deposits using EUR, USD, GBP, and BTC.
How do I withdraw money from CedarFX?
CedarFX offers same-day withdrawals for traders, the minimum amount to withdraw is $10, but there is no maximum for withdrawals. To make a withdrawal, you need to submit a request for withdrawal. The CedarFX team will review the request within 24 hours of its submission. Once your request has been approved by the CedarFX team, your money will be sent to your bitcoin wallet. You can continue to trade while your withdrawal is being processed, as long as you have not requested to withdraw all of the money in your account. If you change your mind and want to cancel your withdrawal request, you can contact CedarFX's customer support team while the request is still processing.
Please be advised that certain products and/or multiplier levels may not be available for traders from EEA countries due to legal restrictions.