CityIndex Pros
CityIndex Cons
High-quality risk management and trade execution tools
No in-house social or copy trading
Choice of two top of the range trading platforms
Customer support Chat Bot can be frustrating
Free tools for those setting up systematic models
Research tools
Best in class mobile trading
Traders' Viewpoint
City Index is a spread betting and CFD trading broker headquartered in London. It was founded in 1983 and is a top-tier multi-asset broker that has an industry leading global trading platform with thousands of markets on offer across all asset groups including bonds, equities, crypto, indices, forex, commodities, metals and options.
Spread betting and CFDs form the backbone of the platform, and there are UK domiciled traders to support trading in an area that can be more tax-efficient as they are free from UK Capital Gains Tax and Stamp Duty. Spread Betting allows clients to speculate on whether the price of an underlying financial instrument, such as an equity, will rise or fall.
City index is very deserving of the title of being a multi-asset broker. There are, for example, 12 interest rate markets, and a fantastic offering in the forex section for major and more minor currencies and crosses. City index also has a deep offering in cryptocurrency trading with 17 different markets.
Customer support is also very strong. City index has a Live Chat support bot that is very transparent. This is backed up by a real-life support agent with free calls to UK Landlines and mobiles. There is also a feedback loop to aid future system upgrades. In addition, the mobile offering on the City Index app is market-leading with a fast and reliable execution process.
Using the City Index platform, clients can choose between the industry leading MetaTrader MT4 or the AT Pro in-house platforms. The AT Pro is a proprietary platform and has charting and execution will appear on the default front page. It's also possible to build 'One Cancels the other' (OCO) orders and a range of stop loss instructions. Social Trading is not supported, but account-holders can engage in Copy trading via the MT4 platform.
Opening an account at City Index is very straightforward with an electronic guided tour. Deposits and withdrawals can be made using debit card, credit card or bank transfer and no charges are applied by City Index. Educational tools are offered on the City Index Platform. The education format could be described as a syllabus, focusing on how individual clients, experienced or otherwise, might want to balance their strategies around technical or fundamental analysis. There are 16 technical chart types and over 80 indicators backed by a database of chart patterns and the ability to identify trading signals. There is also a fundamental analysis portal.
City index can truly be described as market leading in many facets of its online trading platform. The range of markets is hard to beat, and the research tools are of a very high standard backed by a highly professional customer service team. Spread betting and CFDs are a strong element of its offering that more than offsets its limited in-house offering of social or copying trading. City Index scores very highly in terms of regulatory structure and corporate governance authorised and monitored by the Financial Conduct Authority (FCA), the Australian Securities and Investment Commission and the Monetary Authority of Singapore. City Index is part of the Gain Capital group, that is listed on the New York Stock Exchange (NYSE: GCAP).
About City Index

City Index is a spread betting and CFD trading broker headquartered in London but with a global perspective. The firm has been operating since 1983 and had over the years built a reputation managing to combine reliability, client protection and innovation. It provides traders with some market leading tools and services and the choice of two top of the range trading platforms.

Who Does City Index Appeal To?
City Index is a top-tier multi-asset broker. Pretty much everything a trader might need to trade can be found on their platform.
They offer the reassurance of having been operating in the sector for decades and an appetite to adhere to all the latest regulatory rules and regulations. The range of markets and instruments available to trade is hard to beat and a very nice-to-have for UK domiciled traders is the option to trade using spread bets as well as CFDs. Individual circumstances would need to be considered but for many trading using spread bests is more tax efficient.
The support and resources made available to traders is designed to offer something for everybody, from beginner to the more experienced. Across all categories, from customer services to research and learning, City Index offers traders what they need to work effectively in the markets.
There are only a handful of brokers which offer such a range of services and City Index is one of them.

City Index Account Types
Spread Betting and CFDs are both available at City Index. They are similar in the respect that they both allow clients to speculate on whether the price of an underlying financial instrument, such as an equity, will rise or fall. Typically UK based investors choose to Spread Bet because any profits made are free from UK Capital Gains Tax (CGT) and Stamp Duty though the personal circumstances of each individual will determine if that is to be the case.

For example, investors that wish to offset any losses against tax may prefer to trade CFDs. Clients from outside the UK should check if spread betting is allowed in their region.
City Index is a firm with a global outlook and account terms vary from region to region. There are four general categories which are broken down by which of the City Index offices a client falls under. The choices are UK, Australia, Singapore and Middle East.

The Demo account has all the functionality of the live account but is only available for a fixed period. In the UK this is 12 weeks and whilst appreciating the need for good house-keeping that restriction did strike our testers as being borderline counter-productive.
The minimum opening balance for a live account is £100 and traders can choose to open an account which supports both CFD account and spread betting which means they can toggle between both formats.
Markets and Territories 
City Index is deserving of the status 'multi-asset broker'. Its possibly easier to pick out markets which the broker doesn't cover.


There are, for example, 12 interest rates markets to trade and in digging down into the detail of the forex sections shows there are 23 Scandie-Crosses.  These are just examples of the thousands of markets on offer across all asset groups including bonds, equities, crypto, indices, forex, commodities, metals and options.
Unlike some other brokers, City Index has embraced cryptocurrency trading and offers a range of 17 different markets. The coins covered include Bitcoin and also some alt-coins such as Litecoin, Ethereum and Ripple.
City Index Customer Support
The first stage of the City Index Live Chat support takes the form of a support bot. City Index can be applauded for being transparent about this (rather than pretending the support is human) but the Live Chat is more of a glorified FAQs section.
Strangely clicking on one of the FAQ prompts led one query to a dead end.

Moving from this area through to a real-life support agent was harder than it ought to be. Once through response times weren't market-leading but the real-life staff who helped our testers were knowledgeable, and 94% of queries were resolved during the first interaction. The responses were direct and concise which helped the focus remain on trading the actual markets, but if City Index wanted to improve the service then allowing urgent queries to by-pass the chat-bot would be a good place to start. It would also help if transcripts of chats were able to be sent to email.

The helpdesk can be contacted on an 0845 number meaning calls are free to UK landlines and mobiles.

The City Index platform is a well-oiled machine. The millions of hours of use have allowed the broker to develop a platform which meets the needs of their clients. It's reassuring to see that despite this, the firm is still looking to improve. One feature that caught the eye of our analysts was the 'Feedback' function. City Index gain points for providing clients with the chance to provide input for future system upgrades. The markets are always changing, and platforms need also to make adjustments and making this process trader-led is a real positive for the site. 
Instruments and Spreads
Markets offered at City Index include stocks, indices, forex, cryptocurrencies, options, futures, commodities, bonds, interest rates and ETFs. City Index is a well-established, well regulated, provider of user-friendly access to the global markets. 
The execution spreads at City Index are in-line with the broker's peer group. Fixed or variable spreads are available, and the execution interface displays the spread at time of trade. Providing traders with up to date and accurate information such as that at the time of trade is to be congratulated. It also suggests quite rightly that City Index is confident their pricing is competitive. For example, some major forex spreads coming in as tight as 0.5 pips.

The pricing structure is quite transparent. There are no charges applied on cash transfers. The charge on inactive accounts is £12 per month (for accounts dormant for longer than 12 months) but brokers do need some kind of scheme to incentivise their clients to engage in good housekeeping.

ECN
City Index does not currently offer ECN services. 
Broker Fees and Commissions
Each instrument comes with a Key Information Document, which can be brought up on the trading dashboard. Traders can, therefore, access the price action, news, economic calendar and information relating to the instrument itself. The drop-down list shows items such as margin, spread, financing charges, and so on. Having these on the dashboard is useful as all of the important frictional costs can be incorporated into the trading strategy right up to the point of execution.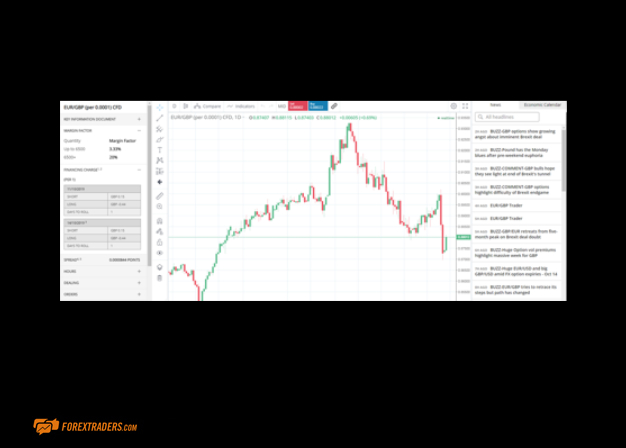 Personal preferences associated with each account were also displayed on the dashboard and formed a useful and timely reminder. It was also possible to override the Price Tolerance on the account.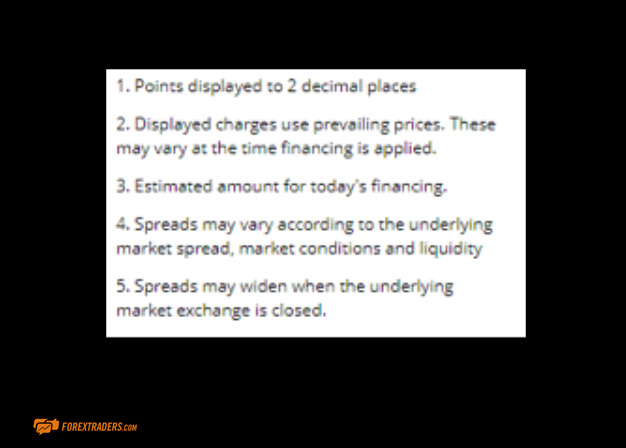 The transparency relating to prices and commissions also carries over to the mobile trading format.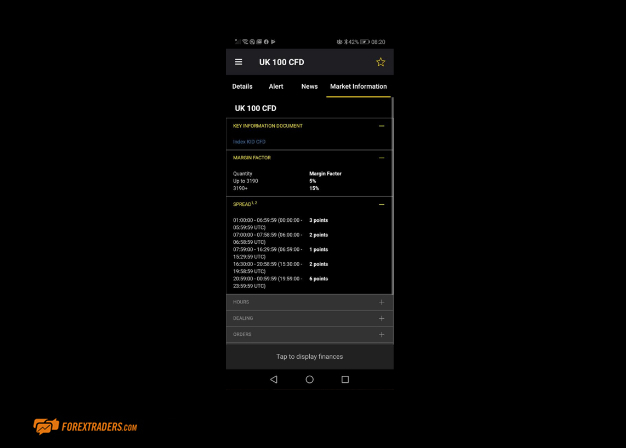 City Index Platform In Depth Review
Clients of City Index are able to choose between the MetaTrader MT4 and the AT Pro in-house platforms.
MT4 is widely known in the market and draws strong support from the Forex community.
The AT Pro is a proprietary platform specific to City Index.  Having two top quality platforms to choose from is a real plus point for City Index clients. They both tick most boxes but have a different 'feel' to them so traders can work out what best suits them.
The functionality of the trading platform has been well thought out. Charting and execution appear on the default front page. The trading GUI is always on hand and less time-sensitive reports and watch lists are held on separate tabs.
The ticket building functionality deserves a special mention as City Index has pulled out a few stops to give traders some very nice-to-have tools.
Traders can apply "Trades", "Orders" or "Set Alert" parameters. At one extreme there is the option just to go ahead and select one-click trading, but the more advanced functionality contains a range of features that are particularly appealing. Trades can be set up as "hedged" meaning opposite trades will create hedged positions rather than close out existing.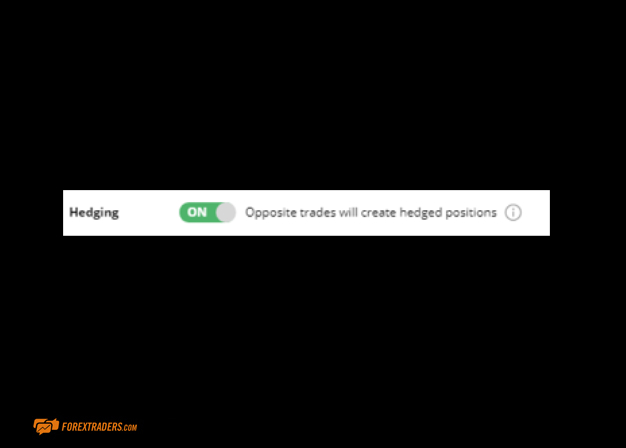 It's also possible to build "One Cancels the Other" (OCO) orders. These tools, along with the healthy range of stop loss instructions not only make trading more convenient but used properly also act as effective risk management tools.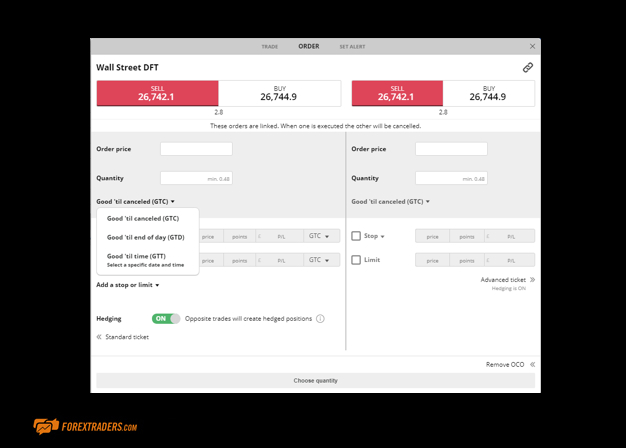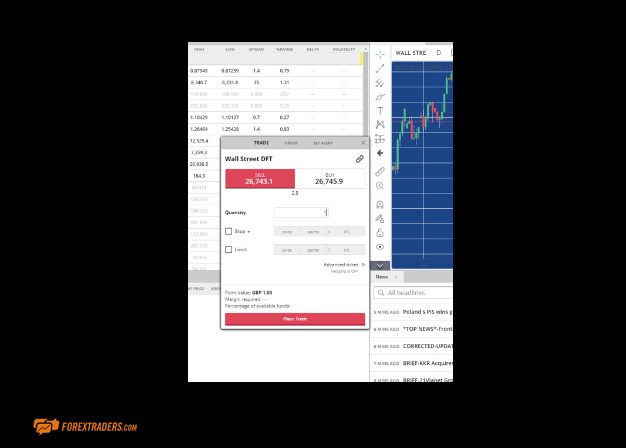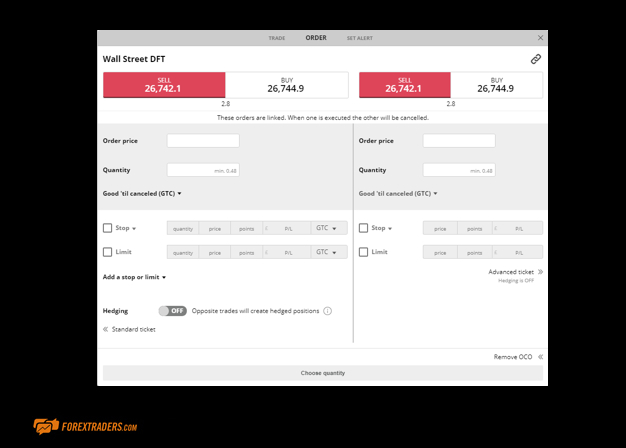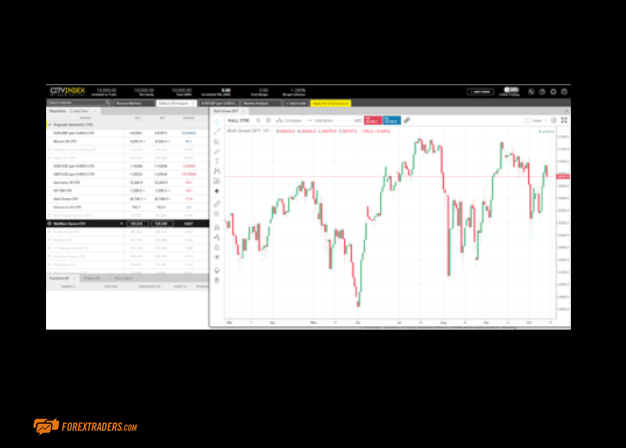 The trading desktop provided by City Index allows for more personalisation than those at most other brokers. This proved to be much more useful than first thought, particularly during times when markets were fast-moving as the colour coding helping with instant recognition of markets and instruments.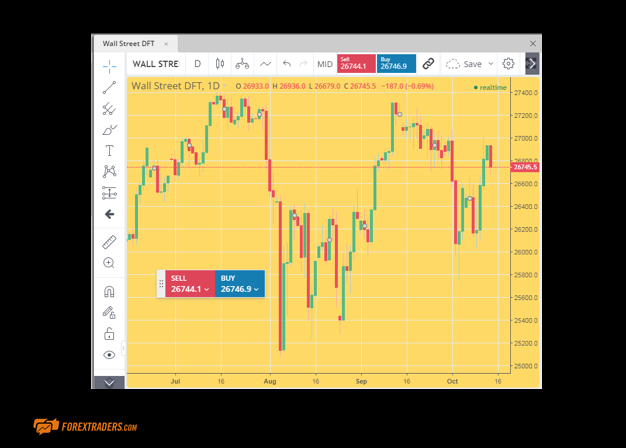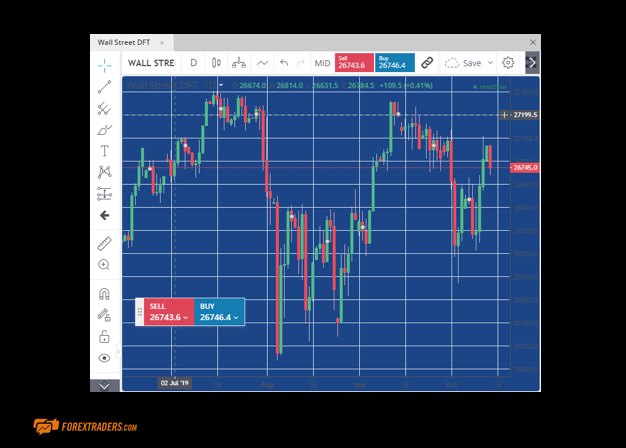 One of our traders reported experiencing the 'white screen of death' when none of the tabs worked. This was a one-off and was remedied very quickly. Nor does it suggest the platform is unreliable, but it is a point that needs to be shared.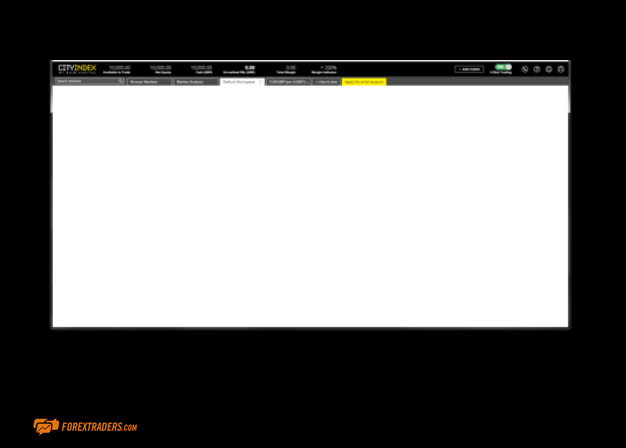 Mobile Trading
The mobile service offered by City Index is exceptional. It is a very comprehensive package with a whole range of add-ons. Of course, it is still possible to just log in and execute a trade. There is, however, also a lot more to the City Index mobile experience than just 'point and shoot'.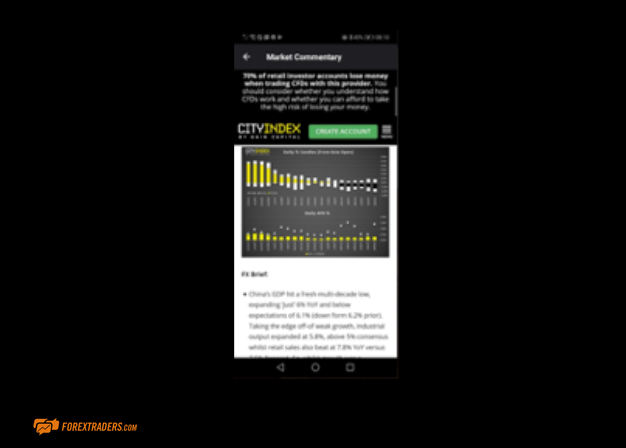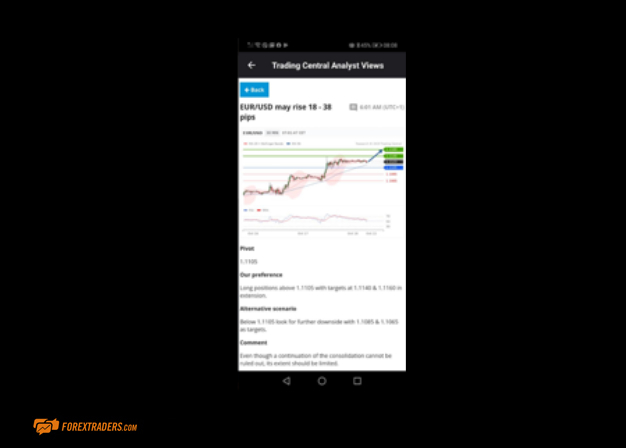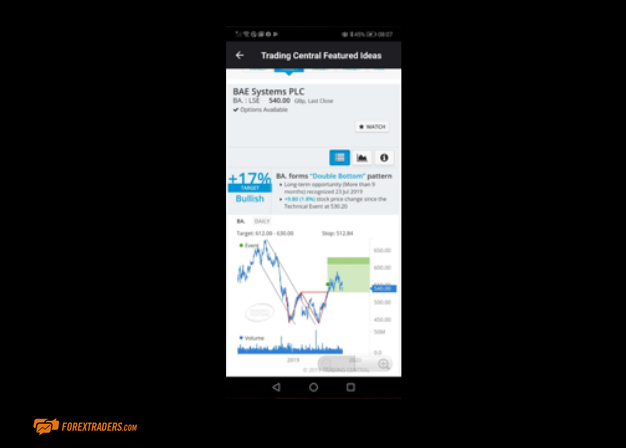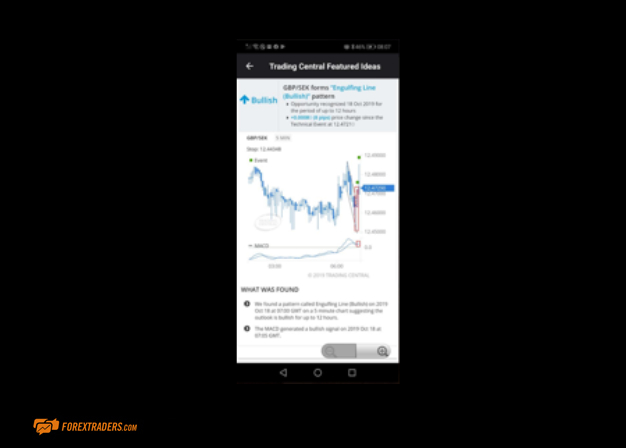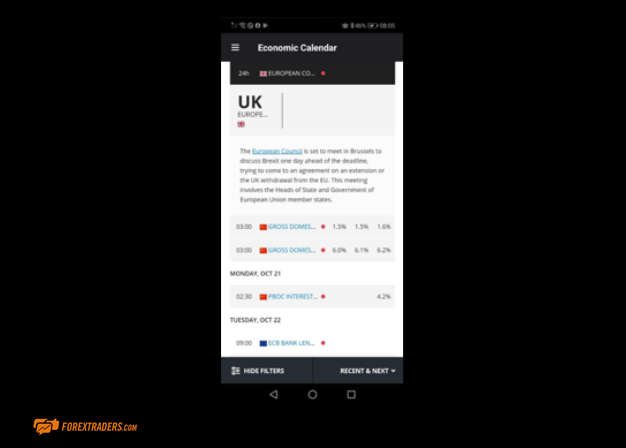 The execution of the interface itself offers guaranteed and trailing stop losses and converts order instructions into cash terms to help traders avoid 'fat finger' risk. One-click into the background information and traders can access the full breakdown information on the instrument, including margin terms and the Key Information Document.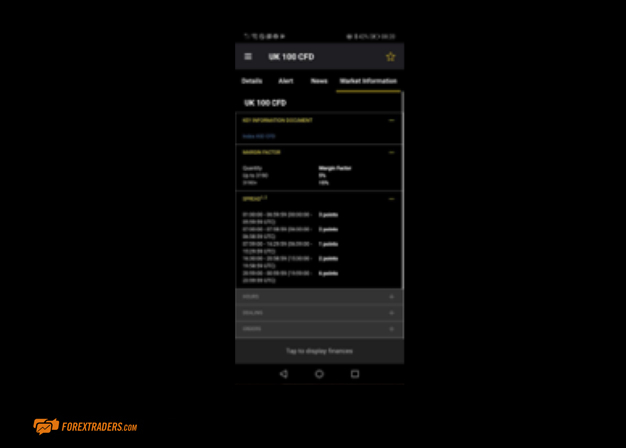 Clients can take on as much news and analysis as they like. At the entry-level is the market standard 'news calendar' but even here there is a slight upgrade to the service which can be filtered to trader preference and comes with a glossary of terms. The Market Commentary section provides a concise and insightful update on current events. Then the Trading Central research tool, which is included as part of the mobile package takes research to another level. It allows for trader led analysis and also has a section where the sites own analysts share their in-house ideas on current trading strategies. The Trading Central research covers topics ranging from general market trends down to individual stock picks.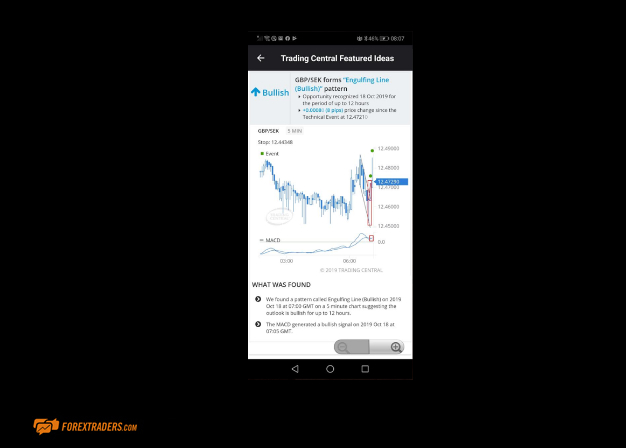 Not only is the package comprehensive, but it is also very well laid out and exceptionally easy to navigate. It is, for example, possible to seamlessly move from a complex charting analysis through to managing risk parameters applying across an account.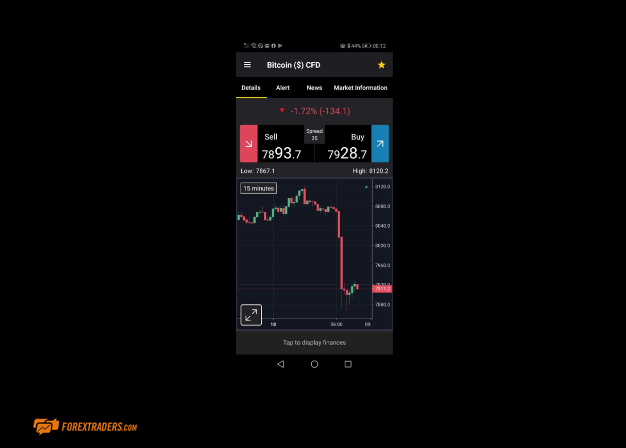 During testing, we did find some of the charting tools worked better with the larger screen of a tablet / iPad rather than a phone. This is, however, a nice problem to have and reflects the amount of powerful software tools which are available to use.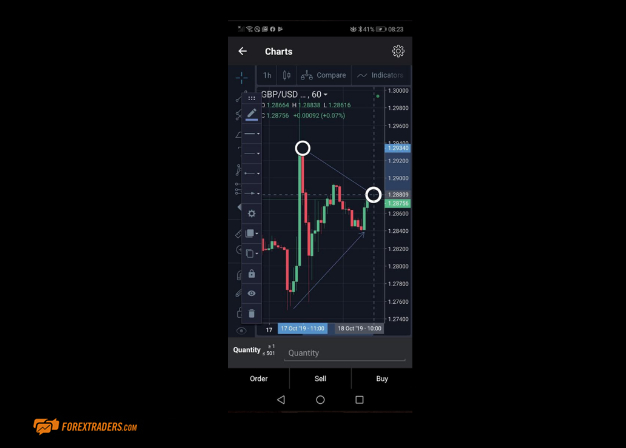 The mobile experience with the City Index app starts with fast and reliable execution. It then moves on to offer a mobile service that is industry-leading. As if all this wasn't enough, clients of City Index can also take advantage of the MetaTrader app, which is something of a market standard.
Social Trading
City Index does not support Social Trading. Clients looking to engage with other traders to share strategies news and trading ideas would do well to research the MetaTrader site for the countless opportunities to be found there.
Copy Trading
Account-holders who want to engage in Copy trading can do so through the MT4 platform. MT4 supports traders looking to run their own algorithmic programs it is also possible to install the third-party software, Expert Advisors which allows City Index clients to apply the trading signals of others onto their own account.
On the surface, the AT Pro platform appears to be designed with the discretionary trader in mind, but although it doesn't support Copy Trading, it does support Robo-trading where traders create and run their systematic models on their own account. The tools on offer are free to download and include C#, .NET and Visual Basic programming services; it's also possible to choose from hundreds of built-in templates.
Crypto Trading with City Index
City Index supplies the information relating to crypto trading in a very transparent format.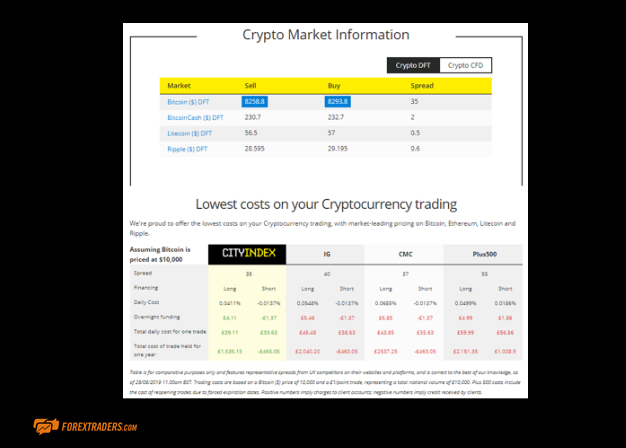 Offering the markets in CFD format rather than physical form means traders can go short as well as long and the risk management tools which apply in other markets can also be set up for crypto trades.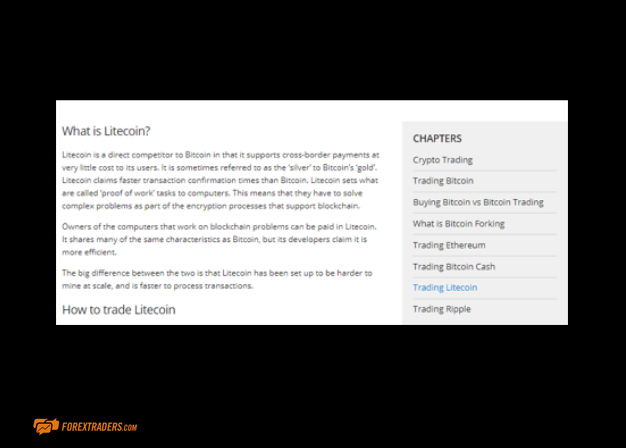 Coming under the umbrella of the general trading account means traders can also trade on margin and don't need a stand-alone crypto wallet.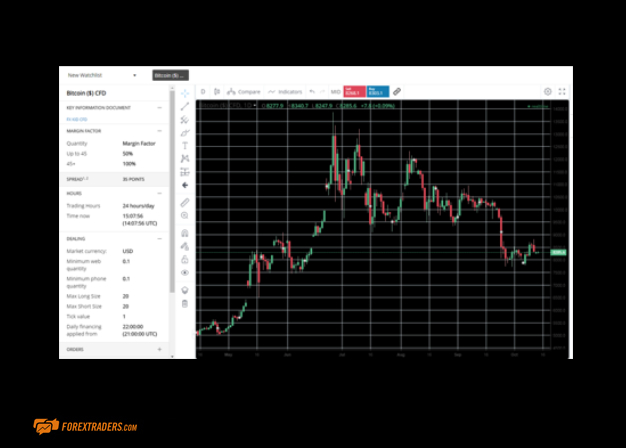 City Index trading lets clients trade Bitcoin against USD, GBP, EUR and AUD. Those looking at other markets will find Ethereum, Litecoin, Ripple and Bitcoin cash can be traded against USD. Crypto markets are only open 24/5 which compares unfavourably to some brokers which offer the service on a 24/7 basis.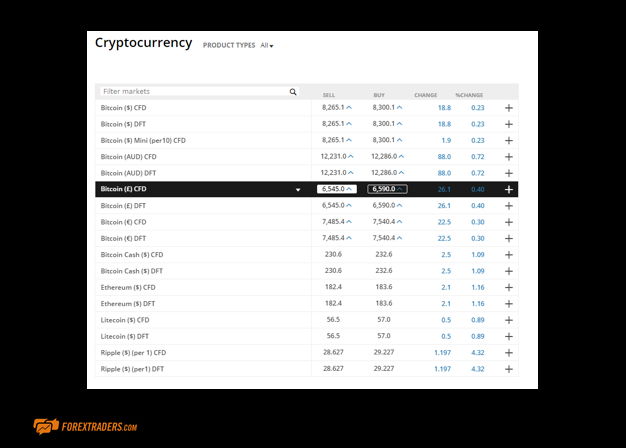 Margin in crypto markets is 50% which equates to leverage of 1:2.
Charting and Tools
The City Index trading platform offers 16 chart types and over 80 indicators.  The MetaTrader MT4 platform is the most popular retail platform in the world. Its success based on its reliability, accuracy and powerful charting tools.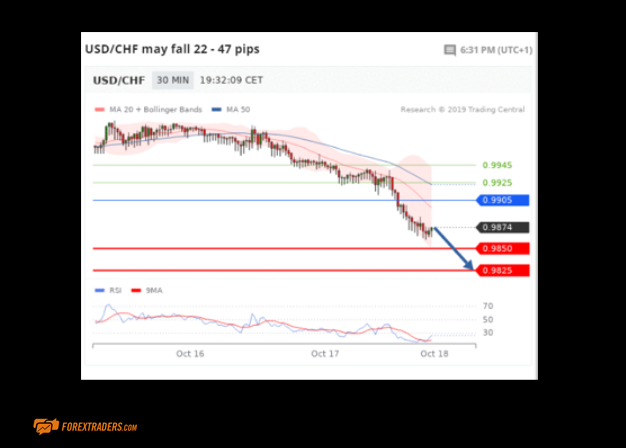 The 'Undo' function is a nice addition which makes charting easier. Our testers found the Indicators function had pretty much all that was needed (NO FIB) and some of the more frequently used tools are held conveniently on a side-bar. The 'Comparison' functions to be particularly useful.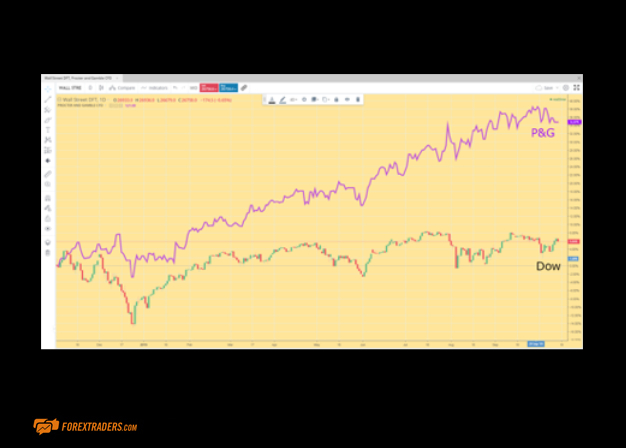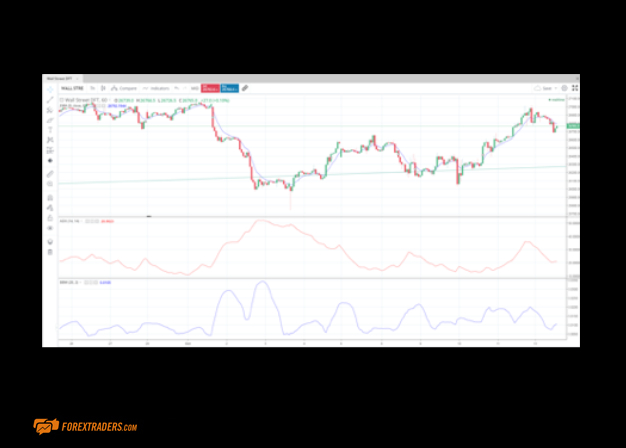 One comment made was that the charts could quickly feel cluttered, if, for example, several instruments were compared at once. This won't be an issue for most and during out testing having such user-friendly graphics was an acceptable trade-off for razor-sharp accuracy. This is not, however, any kind of deal-breaker and those looking for pin-point accuracy on their charting cross-hairs can take advantage of the MetaTrader MT4 platform which City Index also offer. That dashboard is renowned for its industrial style formatting.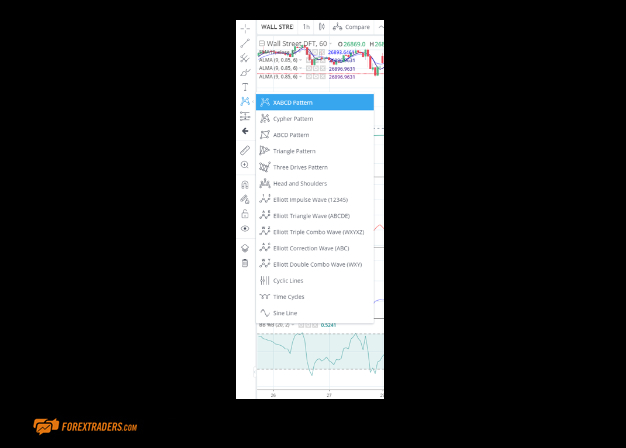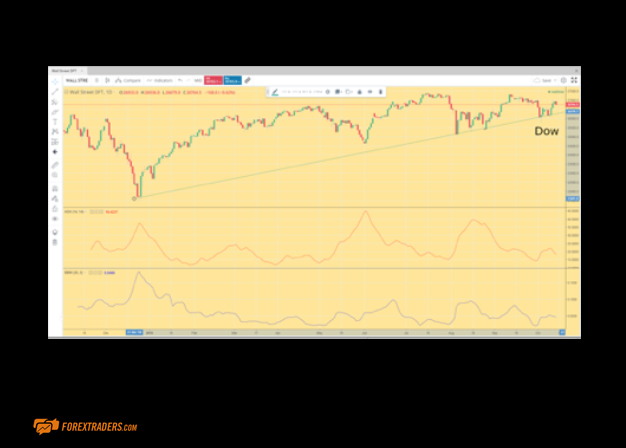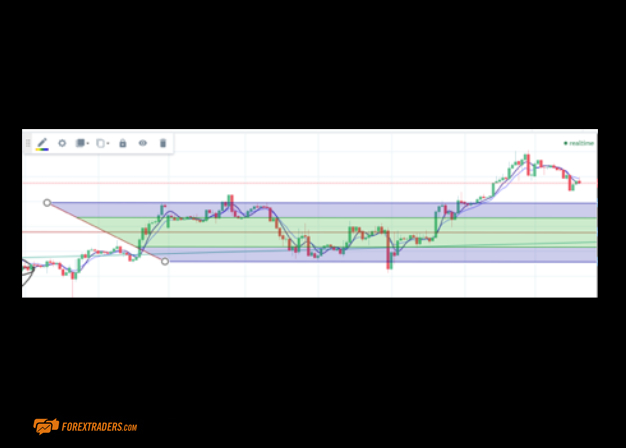 Learn Trading with City Index
Traders looking to develop their understanding of the markets would do well to engage with the materials on offer at City Index.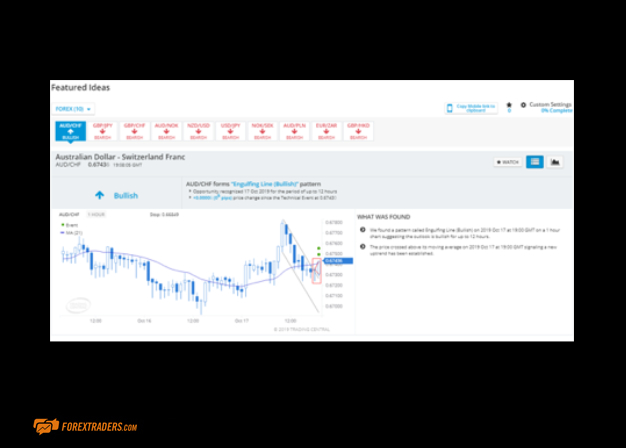 Whilst some brokers offer a list of topics the City Index approach could best be described as a syllabus. Right from the off they offer the use of Trading Central and crucially address the issue of how individual clients might want to balance their strategies around technical or fundamental analysis.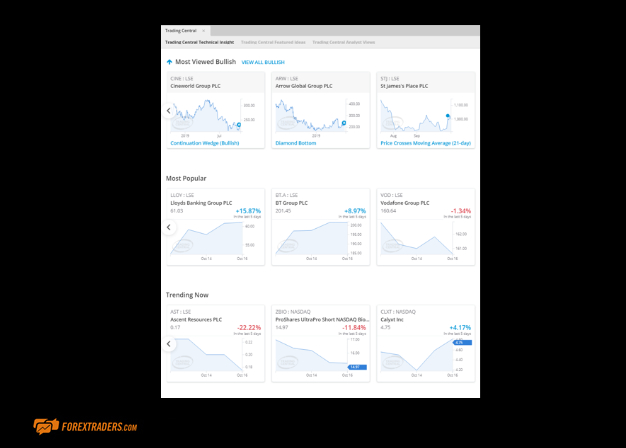 The City Index Trading Central technical analysis portal constantly scans stocks, forex and commodity markets. It uses a database of chart patterns, technical indicators and oscillators to identify trading signals which might benefit their clients.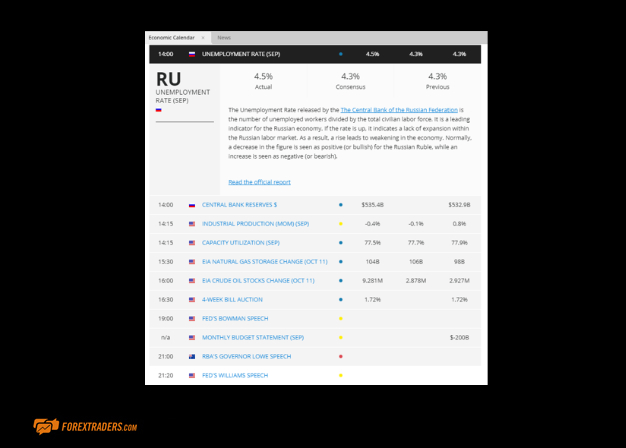 The fundamental analysis portal considers the complex inter-relationships of financial statements, earnings, growth and other data. Clients with a preference for this approach can use the 'Trading Central fundamental analysis portal' to make a judgement on whether an asset is under or over-valued.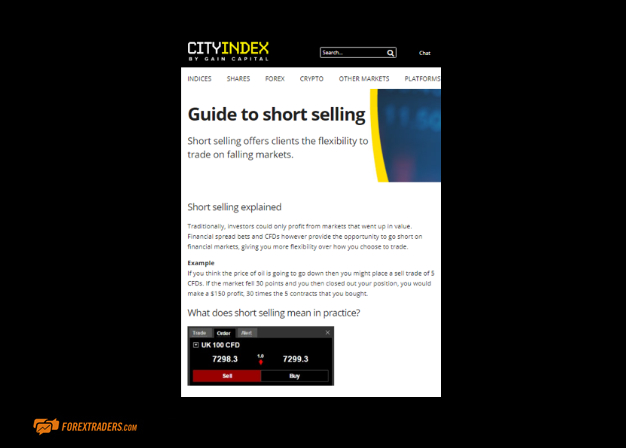 City Index Trader Protections by Territory
City Index scores very highly in terms of regulatory structure and corporate governance.
The firm was established in the UK in 1983 and is authorised and regulated by: Financial Conduct Authority (UK), Australian Securities and Investment Commission (Australia), and Monetary Authority of Singapore (MAS).
From an operational and corporate governance perspective, it can draw on the being part of the Gain Capital group, which is one of the world's largest retail broking firms. GAIN Capital Holdings Inc is listed on the New York Stock Exchange (NYSE: GCAP) meaning it has protocols in place which are sufficient to satisfy the compliance officers of the NYSE.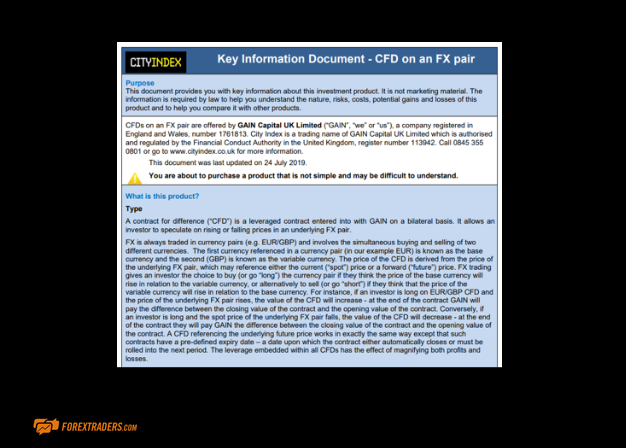 How to Open a City Index Account
Deposits and withdrawals can be made using debit card, credit card or bank transfer and City Index apply no charges to the deposits or withdrawals through third parties might. Deposits are restricted to: AUD, CAD, CHF, EUR, GBP, HKD, HUF, JPY, PLN, SEK, SGD and USD, the currency used in the payment will form the base currency of the account which means traders who choose wisely will be able to avoid the frictional costs associated with converting one currency to another.
Upon opening an account, an offer of a guided tour is made available. It's actually well thought out and although bot-led the ten top-tips would help novice and experienced traders familiarise themselves with the platform.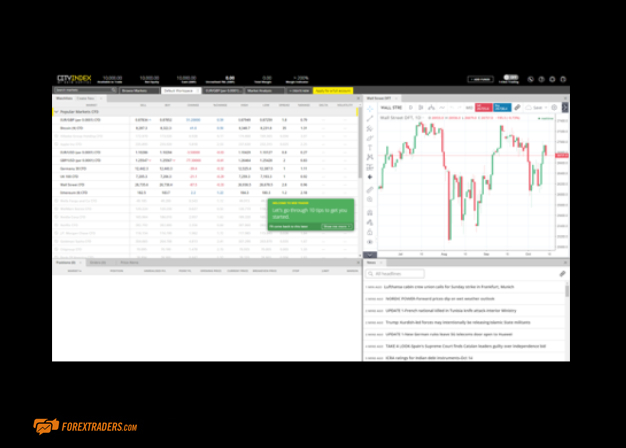 Topics covered include default layouts, workspaces, and where to find the most useful hamburger buttons.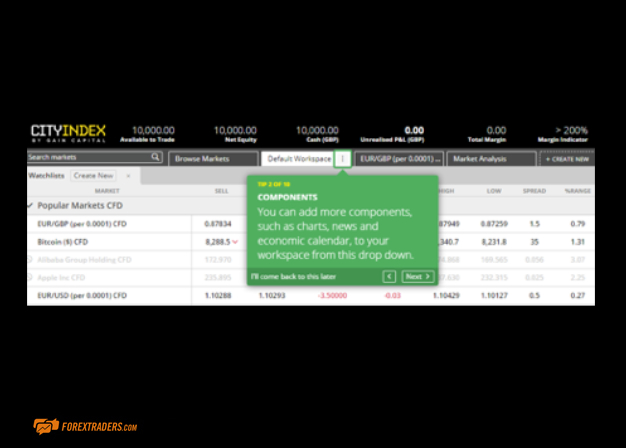 City Index Review Conclusion
It's hard to find a weakness in the City Index offering. The firm demonstrates an understanding of trading and what traders need. It has spent decades fine-tuning its trading platform and regulatory framework and by focusing on these two key points offers its clients top-grade service in fundamental areas.
The range of markets is hard to beat. The research tools are of the highest standard and the customer service team as professional as can be found in the space.
They don't really offer much in the way of in-house social or copy trading and instead out-source that work to MetaTrader. What City Index do instead is support independent traders to the fullest extent possible and provide a market-leading platform with which they can trade the markets.
FAQs
How can I open an account with City Index?
Opening an account at City Index is simple as deposits and withdrawals can be made using debit card, credit card or bank transfer with no charges being applied by City Index. There's an electronic guided tour which walks you through the process step by step.
Is City Index a regulated broker?
City Index is a regulated broker. Established in the UK in 1983 City Index is authorised and regulated by the Financial Conduct Authority in the UK, the Australian Securities and Investment Commission in Australia and the Monetary Authority of Singapore. It operates across the EU in line with MiFID regulations.
What fees does City Index charge?
A Key Information Document on the trading dashboard gives access to all financing charges, including important frictional costs.
How do I close my City Index account?
Closing an account with City Index is straightforward but must be done in writing by post to
Park House, 16 Finsbury Circus, London, EC2M 7EB. Any open trades will mean the account remains active until they are closed, filled or cancelled.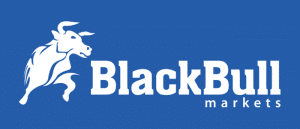 Forextraders' Broker of the Month
BlackBull Markets is a reliable and well-respected trading platform that provides its customers with high-quality access to a wide range of asset groups. The broker is headquartered in New Zealand which explains why it has flown under the radar for a few years but it is a great broker that is now building a global following. The BlackBull Markets site is intuitive and easy to use, making it an ideal choice for beginners.
Please be advised that certain products and/or multiplier levels may not be available for traders from EEA countries due to legal restrictions.