| Pros | Cons |
| --- | --- |
| Focus on customer trust and safety | Swap options could be better |
| Multiple account types available | |
Trader's Viewpoint
CM Trading was founded in 2013 by a group of seasoned trading professionals who felt that there was a gap in the market and that trading platforms could be optimised. The company was founded in the southernmost tip of South Africa, but it has grown exponentially since 2013 and now expands across multiple countries and continents.
The founders of CM Trading wanted to create a new broker that traders could use to "trade with trust." This focus on customer safety and protection has remained a priority for the company as is evidenced by the fact that CM Trading is regulated by South Africa's Financial Services Board. In accordance with the Board's regulations, all of the customer deposits are put in separate accounts and kept segregated from CM Trading's working capital.
Along with the regulatory oversight, CM Trading also protects customer funds with a number of compensation and insurance plans. When it comes to cybersecurity and data privacy, CM Trading is also very focused on protecting the customers and uses SSL encryption technology to protect all of the transactional, personal, and financial information and data that is shared on the platform.
Unlike similar platforms in the industry, CM Trading offers four different account types for traders, which all have their own positives and negatives. These four accounts are Mini ($200 – $999), Standard ($1,000 – $4,999), Executive ($5,000 – $24,999), and Gold (+ $25,000). Demo accounts are also available for traders who would like to test out the platform before using it.
The benefits schemes for each of the four account types improve progressively, and the trading spreads become progressively tighter as well. That being said, the spreads are all fairly competitive across the forex pairs and CFDs for indices, stocks, and commodities.
As for the platforms used, traders can use either the familiar MetaTrader platform, or the Sirix platform. Both of these platforms have advanced features which you will see on similar trading platforms. Deposits and withdrawals are made easy on the CM Trading platform, and most are processed within 24 hours.
CM Trading has a number of additional features which make it even more user friendly. CM Trading's multilingual customer service team is available via email, live chat, or phone from sixteen different international direct phone lines. CM Trading also has an innovative "guardian angel" feature which you will not find on any other trading platforms. The CM Trading "guardian angel" proactively warns traders if there are any immediate, disruptive changes to the market currently occurring.
Although CM Trading is a relative newcomer in the space, and it is headquartered far away from many of its competitors, it is quickly making a name for itself in the trading platform industry. CM Trading's focus on user wants, protections, and needs shows through in its regulatory compliance, data security, and additional trading features like their trading "guardian angel." The stratification of accounts also allows more flexibility for traders to find exactly the right trading platform for their needs. This is a great platform for traders both new and experienced to try out.
The fascinating thing about forex trading is that it is truly global by nature, engaging firms and traders from a multitude of cultures and diverse countries of residence. Within this framework, CM Trading.com, a firm in South Africa, offers a full service trading experience, while operating in the most economically developed nation within the African continent. The firm is global and services a broad based clientele across the planet. South Africa has enjoyed a long history of trade with its European trading partners, which have established many banks in the nation that cater to international commerce. Access to major liquidity providers is therefore a given with CM Trading.
South Africa also follows the strict regulatory regimes that reside in the UK and Europe. The Financial Services Board (FSCA) has authorized the firm under FAIS License Number 38782. As such, your deposits benefit from the safety of segregation within accounts at major Tier-1 banks, and all personal and transaction data are encrypted, using the latest in SSL technology. CM Trading was founded by "traders for traders" to create a "one-stop shop for online trading". Your experience with this website does not stop with forex, but it is also enhanced with alternative choices for other asset groups by the inclusion of CFDs for commodities, stocks and indices, as well. Due to U.S. restrictions on these asset classes, U.S. customers are not accepted at this time.
CM Trading has also garnered a number of prestigious industry awards, especially for its Introducing Broker (IB) service. Metatrader4 is the primary platform format, but Sirix versions are also available for web-only, tablet, and smartphone access. Their systems provide the standard features that every trader has grown to expect, but the firm prides itself on "always looking to give you that bit extra." For example: a "CopyKat" system for automated trades from experts; a "Smart Communication System" that keeps you advised of all market changes; a "Flexi Analysis" system that assembles all proprietary analyses and trade signals, alerts, TA and FA, plus Candlestick analyses in one place that can be converted into nearly 100 languages; and lastly, for accounts with over $500, the firm will issue you a MasterCard prepaid card that can be used for immediate ATM withdrawals or purchases around the globe with funds from your account. Safety, security, and features to beat the band with CM Trading – what more could you want?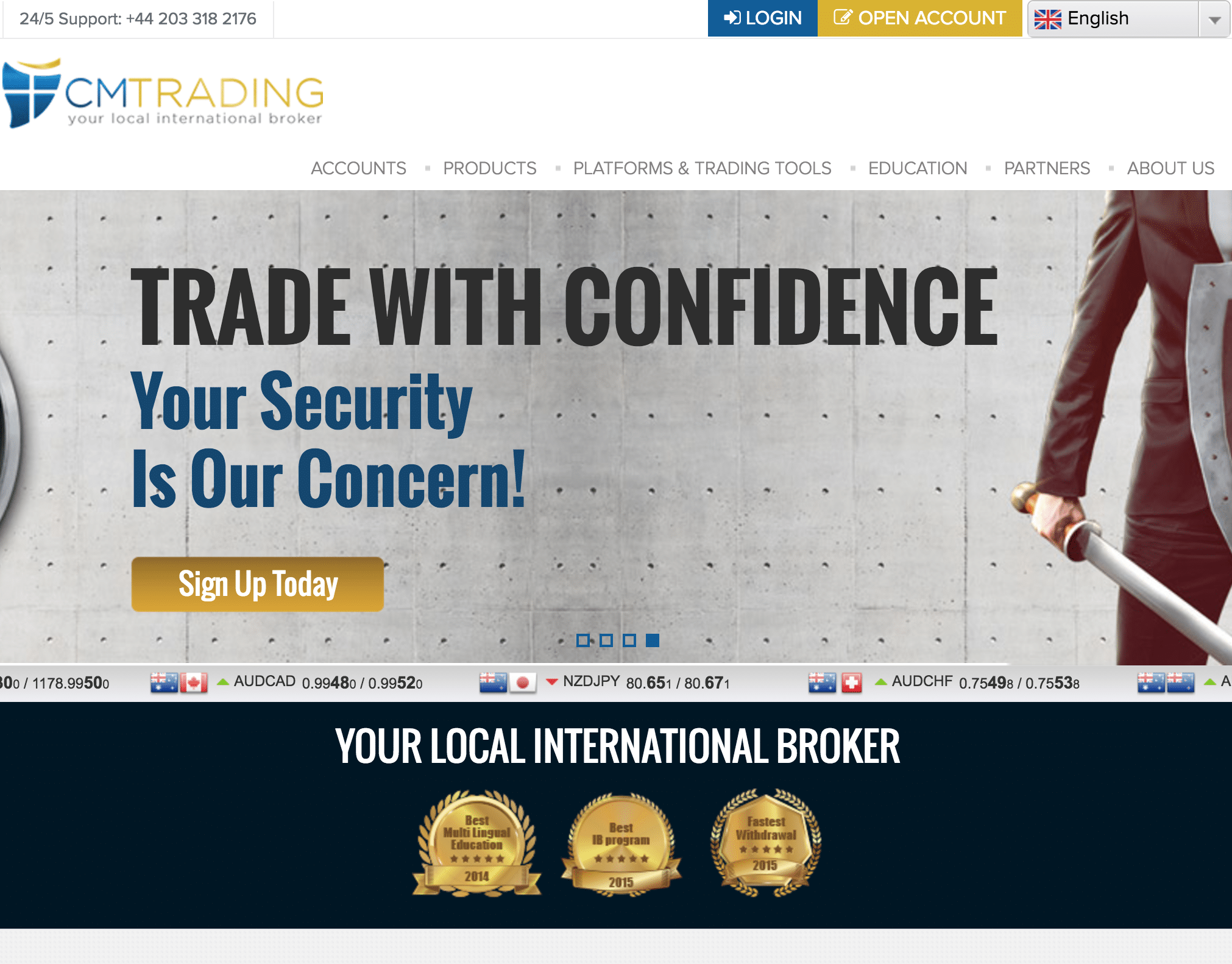 Explore The CM Trading Platform
Open Your Account In Minutes
Features at CM Trading
Why trade with CM Trading.com? The firm lists these reasons:
Founded by professionals from all aspects of the trading industry;
Headquartered in Johannesburg, South Africa, with an operating satellite office in Victoria, Mahe, Seychelles;
Regulated by FSCA.
Firm offers traditional forex trading, together with CFDs for commodities, stocks and indices;
MT4 and Sirix trading platforms supported for complete set of access options;
Competitive spreads and leverage up to 200:1 (400:1 on Mini accounts);
Up to 50:1 leverage allowed on CFDs;
Automated "mirroring" service and social trading;
Extensive education materials that include one-on-one training;
Four account classifications with escalating benefits, including tighter spreads: Mini ($200 to $999; Standard ($1,000 to $4,999); Executive ($5,000 to $24,999); and Gold (over $25,000);
All accounts come with a free Demo Account;
Deposits are easy – $250 minimum;
Withdrawal requests are handled within 24 hours, or they can be immediate if you take advantage of the firm's proprietary prepaid card;
Several promotions and bonus programs;
Institutional players will benefit from partnering with CM Trading's Introducing Broker (IB) Program, which also won the 2013 Award Best IB program;
Bilingual customer service reps are available 24X5 via live chat, email, or by 16 direct international phone lines.
Supported Platforms
The CM Trading team elected to go with the extremely popular Metatrader4 trading platform, but for those traders that want a web-based or mobile option, the firm also supports the Sirix set of services. All services supply state-of-the-art order execution with stability and accessibility assured. Special proprietary features also keep all traders up to date on signals and market changes. For security purposes, the latest in 256-bit SSL encryption technology is utilized to disguise all trading session and personal data from potential hackers that might attempt to compromise the service.
Deposits and Withdrawals
Deposit methods follow the industry standard with credit/debit cards, bank wire transfers, CashU, and Skrill (Moneybookers). Withdrawal requests are all handled promptly within a 24-hour period, as long as internationally mandated ID materials are on file. CM Trading is also unique in that it is the only broker to issue its own prepaid card to its clients. The MasterCard can be used in ATMs or at the point-of-sale for purchase around the world.
Deposit Now With CM Trading
Start Trading Instantly
Customer Support
Bilingual representatives are eager to assist you or offer direct training 24X5 during market trading hours. Live chat, email, or a direct call from any of several international direct phone lines can put you in touch with someone immediately. The firm excels in the support arena and is particularly known for their extensive set of educational materials, including Training Videos, Technical Analysis, Fundamental Analysis, Webinars, Guardian Angel, Expert Advisors, CM Trading Signals, Flexi Analysis, Support Resistance, and Trendlines Forex. The "Guardian Angel" service is a unique one, designed to keep all traders abreast of changing market conditions.
CM Trading – Conclusion
CM Trading may seem far away in South Africa, but their country of residence is a well-known financial center of the world, especially in the arena of international trade. The firm's service offering is above standard, including many special features that you will not find elsewhere. Their trading platform options pull everything together for an enjoyable trading experience, the ongoing objective of the firm's founders. Their management team is also committed to innovation, as their own words communicate: "As CM Trading continues to develop and upgrade we look only to arrive at the forefront of the online trading world." From this vantage point, it appears that they will achieve their goal.
Find the best FX Broker for you in our forex brokers section.
Claim Your CM Trading Account Now
As Approved By Forextraders.com

Forextraders' Broker of the Month
ForexTime (FXTM) is an award-winning platform that certainly has the feeling of being set up by people who know what they are doing. The firm demonstrates an understanding of what helps traders make better returns, and its success can be measured by the fact that it's doubled the number of clients it supports in recent years. The fact that the broker has grown to have more than two million accounts suggests it is getting things right for clients.
Please be advised that certain products and/or multiplier levels may not be available for traders from EEA countries due to legal restrictions.