Cons:
$100 minimum account opening balance
Limited number of markets
Traders' Viewpoint
At first glance, it might be strange to consider a broker that is 10 years old and has one million clients, to be a newcomer to the sector. On the other hand, the name CMTrading might be one that some traders haven't heard of yet. However, that could be about to change.
CMTrading has built its impressive client base by offering a trading platform and service levels that fit well with what traders want. Focusing on getting the basics right, instead of aiming to establish a global client base too early, can have its advantages. The firm has until now focused on becoming one of the best platforms for traders in countries ranging from its headquarters in South Africa to the Middle East.
One attractive feature is that the CMTrading platforms can be accessed in a variety of ways. Some of the heavier software tools can be downloaded to desktop devices, but the Webtrader version of the dashboard is agile, packed full of useful features, and can be accessed from anywhere there is an internet connection. There is no need for downloads or apps – just click and trade.
The regulatory framework that CMTrading operates on will tick a lot of boxes with traders who want to know that their funds are safe. The South African entity is regulated by the FSCA and the Seychelles company by the FSA. Along with the regulatory oversight, CMTrading also protects customer funds with a number of compensation and insurance plans. When it comes to cyber security and data privacy, CMTrading is also very focused on protecting the customers and uses SSL encryption technology to protect all of the transactional, personal and financial information and data that are shared on the platform.
Explore The CM Trading Platform
Open Your Account In Minutes
About CMTrading
CMTrading was established in 2012 and from day one, it has set out to shake things up a bit. The backstory of how the firm was created involves seasoned market pros giving up their jobs to create a brokerage set up 'by traders, for traders'. That dynamic and ambitious approach continues to this day.
The group of companies is overseen by the holding company CMT Group Ltd and the different entities of the group operate out of offices found in three locations in Seychelles, South Africa and Cyprus. This reflects the firm has a strong foothold in Africa and the Middle East.
GCMT Limited Trading as CMTrading is a Securities Dealer registered in Seychelles with company registration number 8425982-1-l and is licensed and regulated by the Financial Services Authority (FSA) of Seychelles with licence number SD070. Registered office: Unit A, House of Francis, Ile Du Port, Mahe, Seychelles.
GCMT SOUTH AFRICA PTY LTD Trading as CMTrading Registration No. 2013/045335/07 A juristic representative and agent of BLACKSTONE MARKETING SA (PTY) LTD Registration No. 2010/010099/07 (FSP No. 38782). Registered office: 14th Floor Sandton City Office Towers, 158 5th St, Sandton, 2196, South Africa.
CMT Processing LTD. Registered number HE 340325. Registered office: Triton Quarters, 2nd Floor, Office 202, Parallel Road to New Port Limassol, No.22, 3045 Limassol, Cyprus. All cards are processed by CMT Processing LTD. The company acts as an internal and non-commercial payment processing agent.
Recent industry awards that the firm has won include 2022 'Best Performing Broker South Africa' – Finance Derivative Awards, 2022 'Best Financial Broker Nigeria' – Global Business Magazine, 2022 'Best Financial Broker Nigeria' – Global Business Magazine, and 2021 'Best Financial Broker Africa' – Finance Derivative Awards.
Who does CMTrading appeal to?
The different accounts that CMTrading offers its clients demonstrate that the firm can support experienced as well as beginner traders. The ECN protocols, trading signal tools and research are designed to offer every kind of trader the best possible service.
In one sense, CMTrading would be ideal for beginners. This is because the functionality of the site is incredibly user-friendly. The MT4 platform is the most popular forex trading platform in the world and the in-house Webtrader platform can be accessed from any internet browser and is still incredibly secure. That makes CMTrading the ideal platform for those trading from mobile devices.
Traders who start their trading journey with CMTrading will benefit from the many available tools that aim to develop the skills of clients and support them on their trading journey. Those who have traded before and switched to using CMTrading would also notice how some of the services provided are above the market standard.
Account types
The four accounts that CM Trading offers traders each have their own pros and cons, and to the broker's credit, these are clearly laid out, so those signing up with CMTrading get a clear idea of what is the best fit for them. The accounts also have different minimum balance requirements, so it is a case that the more you deposit, the more extra services you gain access to.
The CMTrading minimum deposits, while not ground-breaking, are in line with the rest of the market. The Bronze account has a minimum account opening balance of $100, the Silver account minimum is set at $1,000, and the Gold and Premium accounts demand $10,000 and $100,000 respectively. If you are looking to test new strategies or practice trading, then the free-to-use CMTrading Demo accounts are an ideal option, and Sharia-compliant Islamic accounts are also available.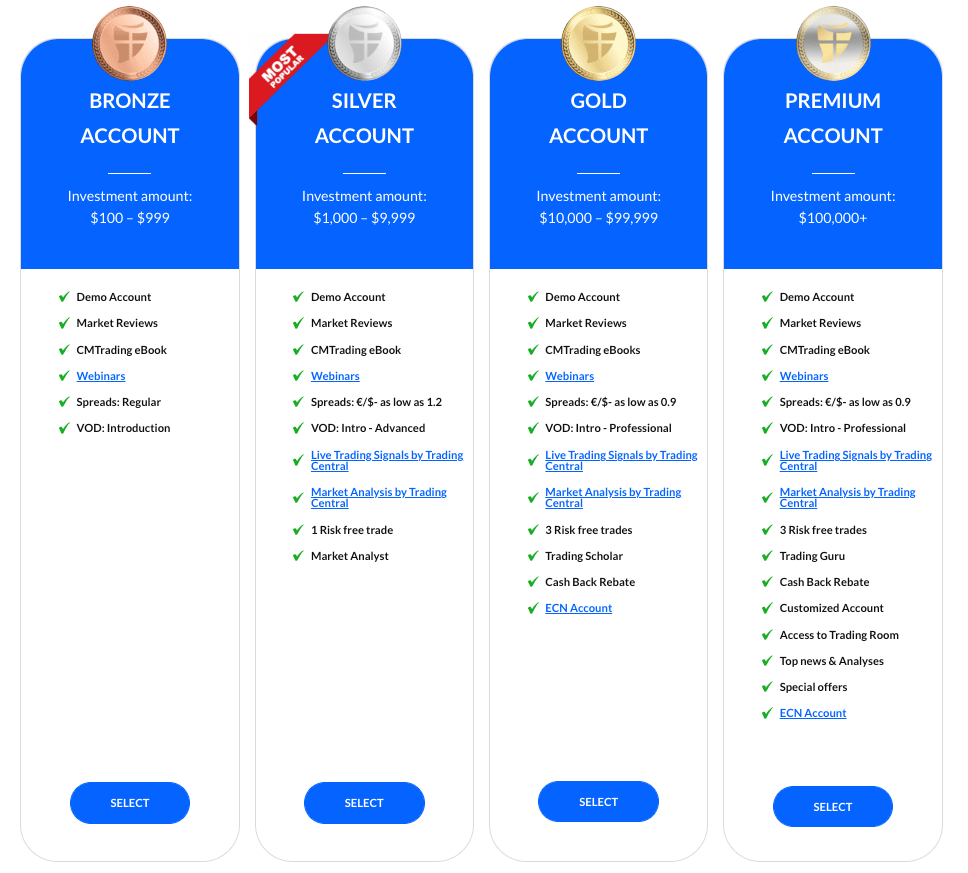 Markets and territories
CMTrading South Africa currently represents the core client base of the company. The broker currently has more than one million clients who are predominantly from Africa and the Middle East.
Due to US restrictions on CFD trading, CMTrading does not currently accept clients from the US.

Instruments and spreads
One area that CMTrading could improve on is the range of markets on offer. That being said, what is available is more than sufficient for beginners and is partly compensated by the spreads on the markets being super-tight for those who choose to upgrade to ECN (electronic communication network) trading.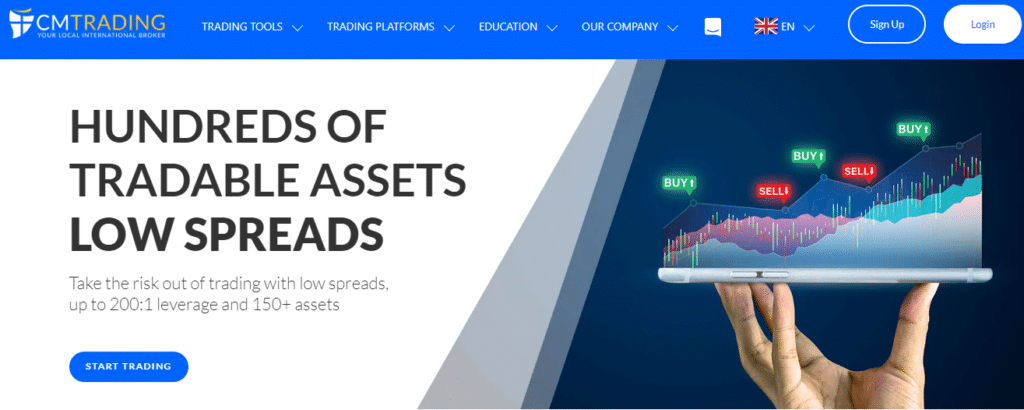 There is also a good range of markets to trade, including cryptocurrencies. The 150+ instruments available to trade include single stocks, forex, commodities, indices and crypto.
Spreads on some forex pairs such as EURUSD are as tight as 0.1 pips when using the ECN service. This is a headline-grabbing rate that puts CMTrading up there with the most competitive brokers in the peer group. Spreads across other accounts vary but are still in line with the market average, and one neat feature of the CMTrading platform is that all rates are laid out in a particularly clear and transparent way. This is always a good sign as it shows that the broker is confident of its position in the market and not trying to conceal any hidden costs.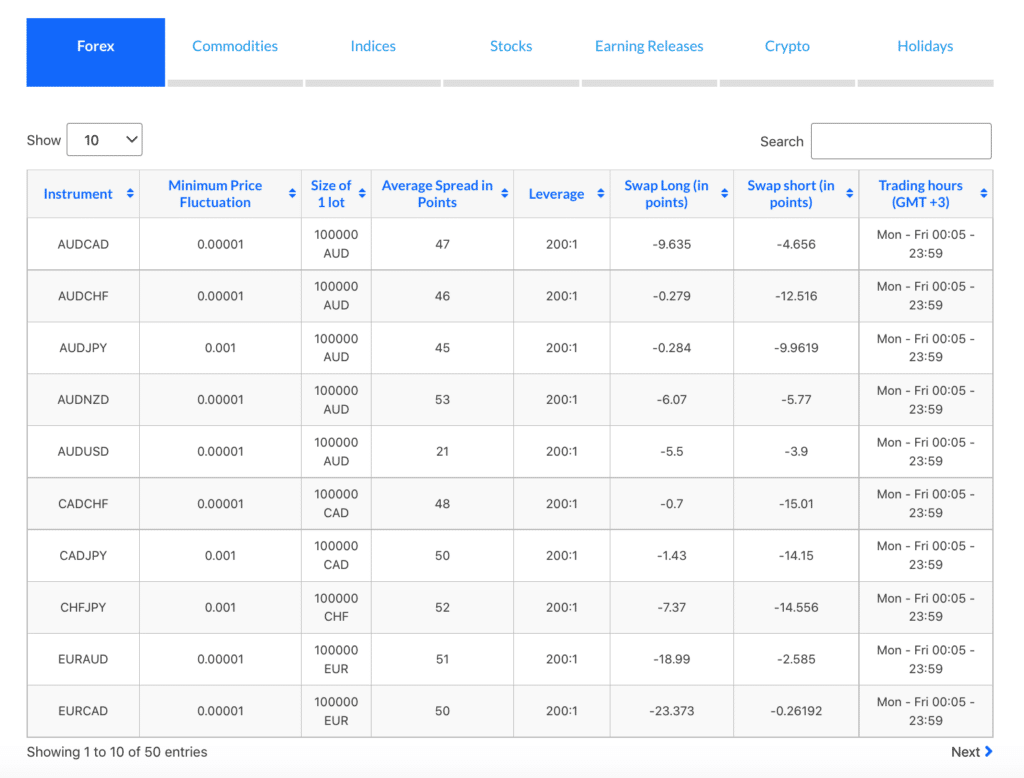 Deposit Now With CM Trading
Start Trading Instantly
Fees and commissions
Other fees and commissions also need to be considered, especially overnight financing charges. Once more, these are clearly displayed in one easy-to-access table that gives a breakdown of key metrics such as the margin points on long and short positions, the maximum available leverage, and the hours that the markets are open to trade.
Platform review
The ever-popular MetaTrader (MT4) platform is the most popular forex trading platform in the world. It has user-friendly, intuitive functionality and crystal-clear aesthetics, which allows traders to focus on what is important: market prices.
Additional high-spec software tools come as default, with the option to download more from third parties, and the trade execution GUI is robust and super-fast.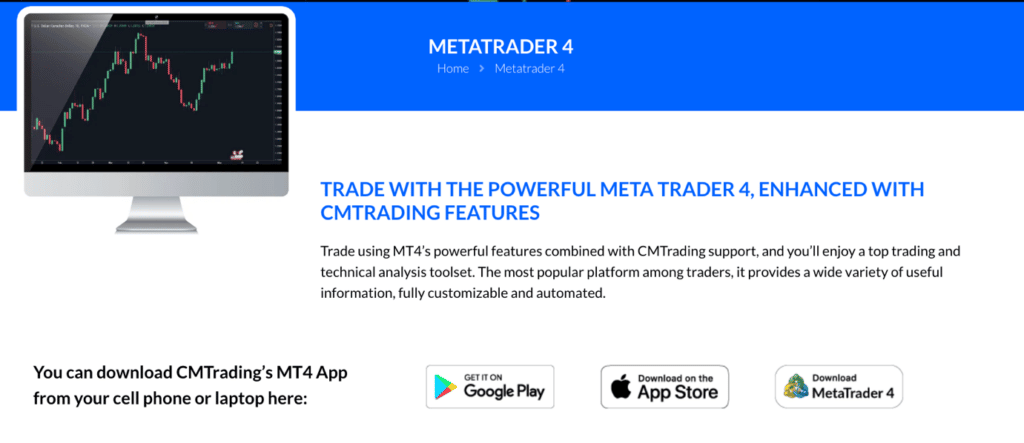 MetaTrader platforms have been used so extensively that they have been user-tested to an extent that they are now ultra-reliable. This helps ensure that trading orders aren't rejected in fast-moving markets.
MT4 can be downloaded to PC and Mac devices or used in a Webtrader format – meaning that traders can access the full platform anywhere they have an internet connection.
Another benefit of the popularity of the MetaTrader platforms is that users automatically gain access to a well-established and thriving community of other traders who use the same platform. That makes it easy to share ideas on the state of the market, get ideas on the next trade, or download custom-built indicators that can be bolted onto your account.
The Expert Advisors function is home to thousands of MT4 traders who are willing to let other traders share their trading signals. This offers a handy alternative to the Copykat social and copy trading platform that CMTrading also offers.
CMTrading's Webtrader platform has a very different aesthetic from MT4, and during our CMTrading review, our researchers thought that it would be more suited to beginners and those who want to trade on the move.
Mobile trading
All of the platforms on offer are available in formats designed for those using mobile devices. The MT4 app is compatible with Android and iOS devices and free to download. The good news is that the MT4 platform carries over most but not all of the technical indicators found on the desktop/downloadable format of the platform.
Those using the in-house CMTrading Webtrader platform will be able to access their account wherever there is an internet connection. That platform is browser based, which makes it easy for clients to keep on top of the markets.
Social trading and copy trading
The Copykat platform offered by CMTrading is the broker's way of facilitating those who want to use the ideas of others when trading. There is a $250 minimum deposit for CMTrading CopyKat accounts, but once onboarded, it's possible for clients to choose from a range of traders and then apply their trading decisions to their own account.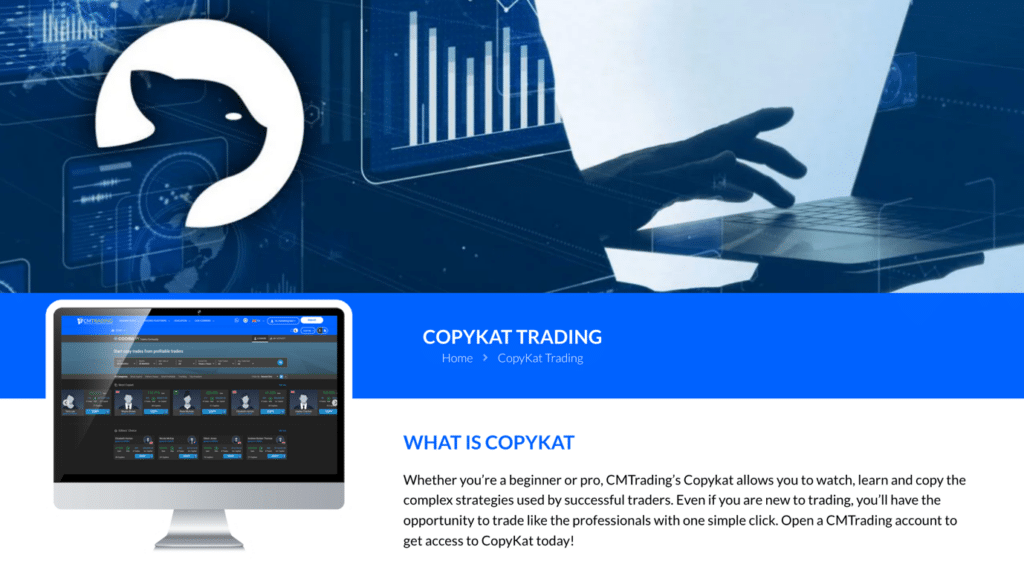 There are two main benefits of Copykat trading. The first is that it allows a more hands-off approach to trading and this can suit a lot of traders who are looking to get a return from the market but have to balance the demands of their day job. The second is that following the strategies of more experienced traders can help beginners develop their own understanding of how to approach the markets.
Crypto
CMTrading offers CFD markets in 23 cryptocurrencies. This means that not only are the big coins such as Bitcoin and Ether available but some of the ground-breaking altcoins such as Polkadot and Shiba Inu can also be traded. Clients from some countries are restricted from trading crypto using CFDs. Those who can are able to use the added functionality of CFDs to scale up on risk-return by applying leverage (up to 1:5) or even sell short if they think that a market is overvalued.
There is no need for specialist wallets. Instead, you can trade crypto from the same account you trade other assets such as stocks and forex.

Claim Your CM Trading Account Now
As Approved By Forextraders.com
Charting and tools
The razor-sharp graphics of MT4 allow users to pinpoint trade entry and exit points, and it's possible to set charts to three different colour settings and nine different time intervals. It comes with 30 trade indicators as standard – there are more than enough Oscillators, Volatility Indicators, Volume Indicators and Market Cycle Indicators for most traders. If that isn't the case, then it's always possible to download additional ones from third parties – many of which are available for free.
The charting package in CMTrading Webtrader is more than adequate, but if forced to choose between the two CMTrading platforms, MT4 would probably have the edge in this area.
Education
CMTrading's range of educational and analytical tools is ideal for those who are new to trading. The 'how to trade' and 'what is'-style pieces offer clear explanations of the basics of the markets and are available in eBook and video format.
Intermediate traders are also well-catered for, with the Weekly Webinar being a nice-to-have feature. These cover a variety of topics and allow clients to interact with the presenter in a Q&A-style session.
More experienced traders will be pleased to find that Trading Central is available. That product helps identify trade entry and exit points in real-time markets and the Daily Market Review and Economic Calendar are useful if not necessarily ground-breaking resources.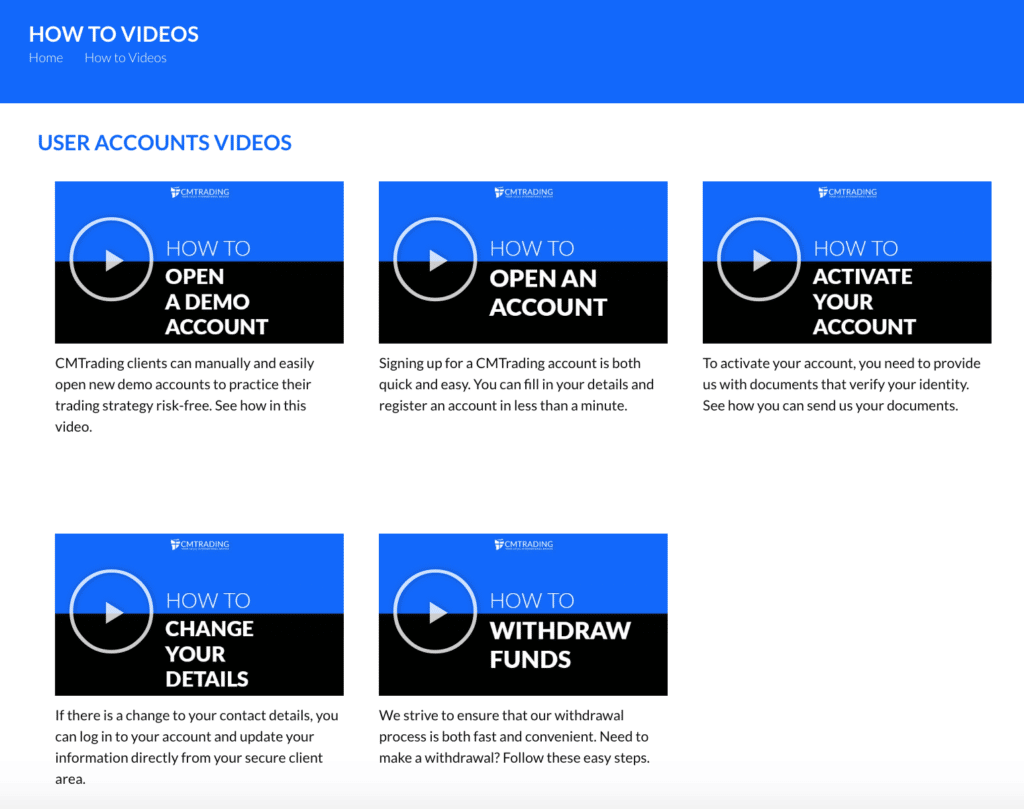 Those looking for additional sources of inspiration can turn to the MetaTrader platform and the MQL online community. This forum is a place where traders can share market news and strategy ideas. As it is user-led, it caters to traders of all abilities.
Trader protections by territory
Client protection is determined by each client's place of residence. Some will fall under the protection of the FSCA in South Africa and some that of the FSA of Seychelles.
GCMT SOUTH AFRICA PTY LTD Trading as CMTRADING Registration No. 2013/045335/07. A juristic representative and agent of BLACKSTONE MARKETING SA (PTY) LTD. Registration No. 2010/010099/07 (FSP No. 38782).
GCMT Limited Trading as CMTrading is a Securities Dealer registered in Seychelles with company registration number 8425982-1 and is licensed and regulated by the Financial Services Authority (FSA) of Seychelles, with licence number SD070.
Each of the regulators has solid a reputation in the investment community, but the FSA and FSCA don't rank as highly as some Tier-1 regulators such as the FCA and CySEC. The flipside of this is that the regulators that CMTrading is licensed by have a more relaxed view on margin rates, which means that the CMTrading leverage rates extend up to 1:200 in some markets, whereas the FCA and CySEC cap leverage at 1:30.

One of the neatest features of client protection at CMTrading is the way that the broker offers video and written materials that clearly outline what kind of protection is offered. The step-by-step guide detailing how clients can cross-reference the claims made by brokers to a regulator's database is also a nice-to-have feature. CMTrading is the only broker that ForexTraders knows of that goes into the subject in this detail and the service will go a long way to helping traders avoid scams.
CMTrading also has an innovative 'guardian angel' feature, which you will not find on any other trading platforms. The CMTrading 'guardian angel' proactively warns traders if there are any immediate, disruptive changes to the market currently occurring.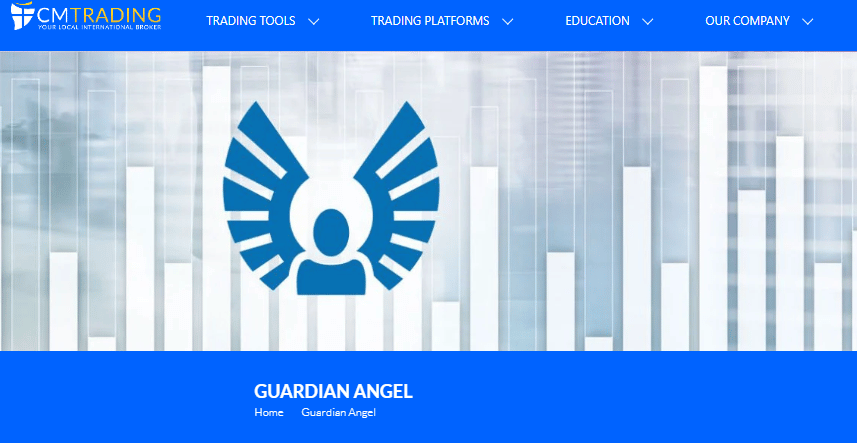 Cash deposits benefit from the safety of segregation within accounts at major Tier-1 banks, and all personal and transaction data is encrypted using the latest in SSL technology.
How to open an account
You can open a CMTrading account in minutes. Verification is completed online and only requires uploading an appropriate piece of photo ID to an encrypted server. The registration process takes minutes and there is no obligation to immediately add funds. Instead, you can wait until you want to place a trade.
When you're ready to send funds to your account, you can do that using a variety of payment providers, including bank transfer, debit and credit cards, and payment apps, and at CMTrading, you can also fund your account using crypto.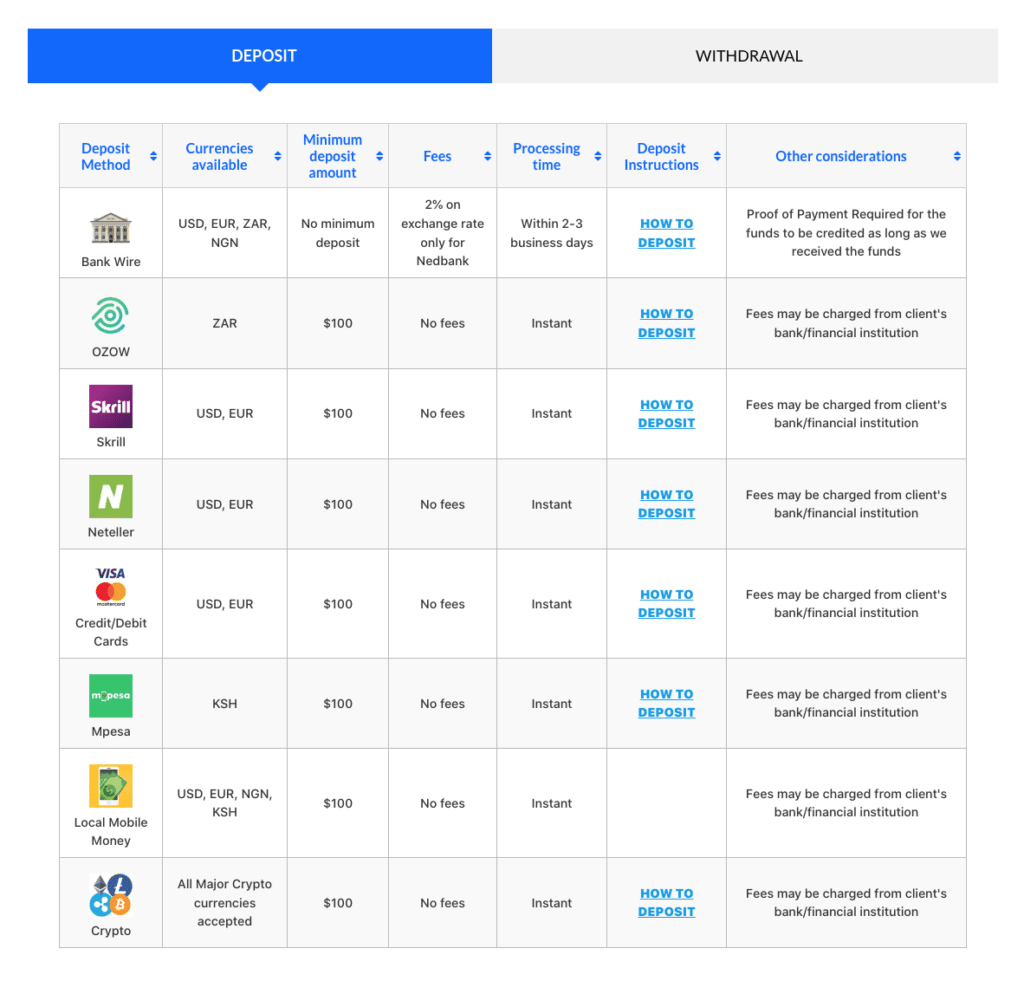 Customer support
During this CMTrading review, our researchers found the customer support team to be professional and customer focused. Support is provided on a 24/5 basis; multilingual; and available via phone, live chat and email. Support centres are located in South Africa, Seychelles, Dubai and Nigeria.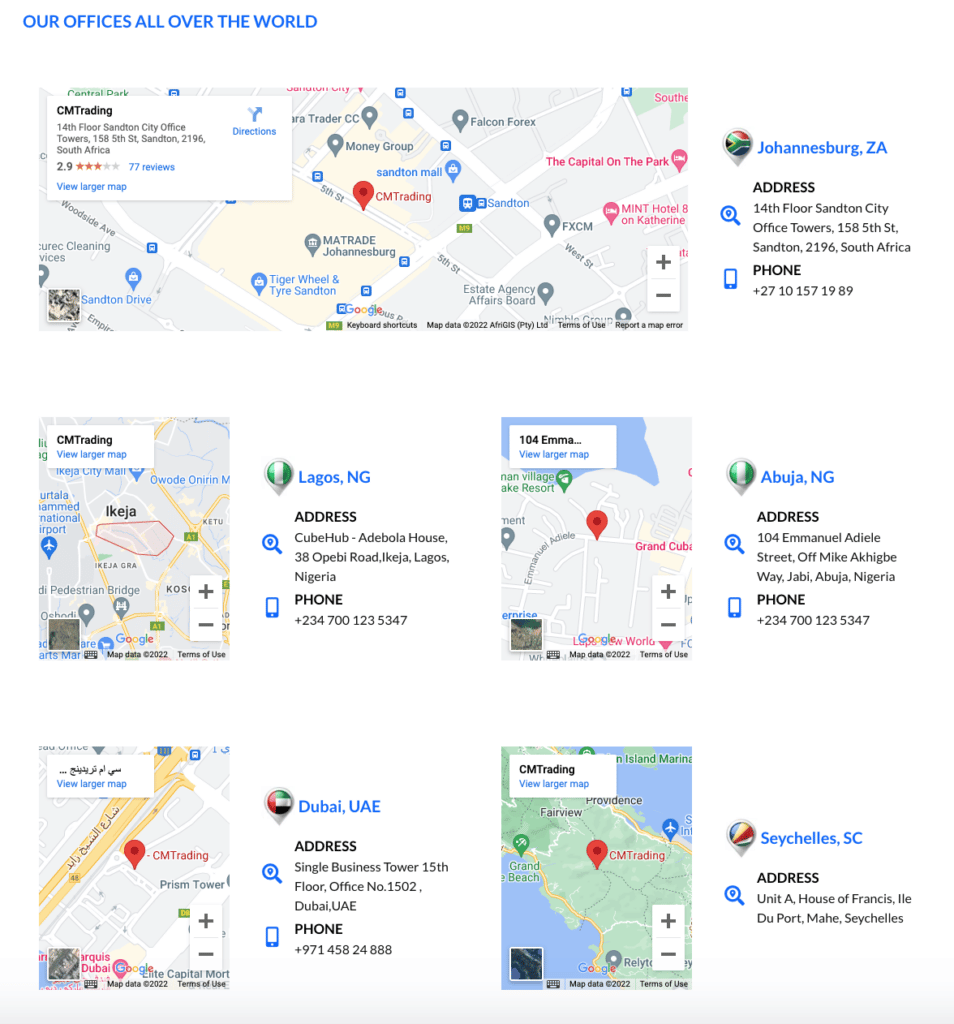 The Bottom Line
It's easy to see why CMTrading has built up such an impressive client base. The platform is designed to support its users and help them be in the best position to trade the markets. The trading infrastructure, educational materials and regulatory cover have been well thought out, and the T&Cs are competitive.
Possibly the most appealing feature of the CMTrading platform is that all of these great features are wrapped up into one incredibly easy-to-use package. CMTrading is ideal for beginners who are looking to access the markets quickly and easily, using a reliable and cost-effective broker.
FAQs
How can I open an account with CMTrading?
Opening an account with CMTrading is completed entirely online. Visit the CMTrading site, head to 'Account Types', and follow the three easy stages to set up an account and start trading. There are four account types to choose from.
Is CMTrading a regulated broker?
Yes, CMTrading is regulated in two different jurisdictions. Depending on where you live, your trading will be protected by the Financial Services Conduct Authority of South Africa or the Financial Services Authority of Seychelles.
What fees does CMTrading charge?
CMTrading offers very competitive terms and conditions. The fees it charges are in line with standard market practice and relate to trading commissions and financing. All deposits and withdrawals are processed with zero hidden fees.
How do I withdraw money from CMTrading?
Withdrawing funds simply requires accessing the secure client area of your online account and starting the process by clicking on 'Withdraw Funds'. If you still have open positions, then the withdrawal may be declined to protect the margin on your positions.
CMTrading General Risk Warning: CFDs are leveraged products. Trading in CFDs carries a high level of risk thus may not be appropriate for all investors. The investment value can both increase and decrease, and the investors may lose all their invested capital. Under no circumstances shall the Company have any liability to any person or entity for any loss or damage in whole or part caused by, resulting from, or relating to any transactions related to CFDs.

Clients are strongly recommended to seek independent financial, legal and tax advice before proceeding with any currency, spreads or metals trade. Any information in this site should not be read, interpreted or construed as constituting advice on the part of CMTrading or any of its affiliates, directors, officers or employees.

The offered services of CMTrading and the general information on this site are not directed at citizens/residents of the United States, and are not intended for distribution to, or use by, any person in any country or jurisdiction where such distribution or use would be in conflicting to local law and/or regulations.
Find the best FX Broker for you in our forex brokers section.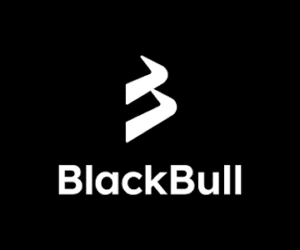 Forextraders' Broker of the Month
BlackBull Markets is a reliable and well-respected trading platform that provides its customers with high-quality access to a wide range of asset groups. The broker is headquartered in New Zealand which explains why it has flown under the radar for a few years but it is a great broker that is now building a global following. The BlackBull Markets site is intuitive and easy to use, making it an ideal choice for beginners.
Please be advised that certain products and/or multiplier levels may not be available for traders from EEA countries due to legal restrictions.