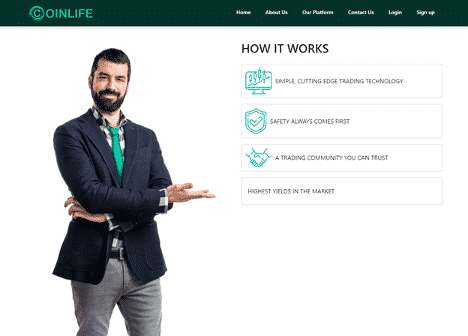 Pros
Tens of different cryptocurrency instruments supported, covering a broad spectrum.
Versatile and flexible web-trading platform compatible with multiple devices.
Trusted customer support available via multiple communication channels.
Cons
The main focus is on cryptocurrencies, which will not favour traders that want to trade other assets.
Only a WebTrader available with no other trading solution supported at the time of writing.
Expert's Viewpoint
Coinlife is an online trading brand that believes the art of trading is no longer just for the experts in the room but is something to be shared with a broader audience. Based on that belief, the brand has a comprehensive trading offer that includes advanced technology, innovative tools, and an intuitive interface, all designed to keep pace with the changing world of cryptocurrencies.
With the main focus on crypto assets, the company provides a smooth transition, no matter your level of expertise. You should view Coinlife as a platform that offers the opportunity to join a welcoming community of crypto enthusiasts. It assures customers they'll receive top quality support while using a user-friendly interface, built for those seeking the best of what trading technology has to offer.
Its main goal is to become a reliable trading partner that can be relied upon when making trading decisions. The Coinlife trading platform is easy to navigate and is available on different devices, to stay in touch with the markets at all times.
Generally speaking, the trading conditions with Coinlife are adequate. They enable traders from all around the world to trade cryptocurrency-based instruments with low costs and enhanced liquidity conditions. That is possible because the assets are denominated in Tether, Bitcoin, or Ether, which are currently some of the most traded crypto instruments in the world.

Features at Coinlife
Why trade crypto with Coinlife? Here are some of its most important features:
Cryptocurrency coverage – Coinlife takes pride in providing access to a diversified list of cryptocurrencies, covering not just popular assets like BTC or ETH. It goes much deeper with altcoins like IOTA, ZCash, Ethereum Classic, DASH, Tron, Stellar, OMG, ARK, and tens of others. Also, the instruments are denominated in USDT, BTC, and ETH to ensure ample liquidity conditions.
Advanced trading software – the Coinlife platform integrates some of the latest trading technologies to handle the volatility and the other challenges arising from cryptocurrency trading. The platform has multiple tools integrated, serving the needs of different traders, based on their trading style and strategies.
Trusted customer support – via email, phone, or live chat. Registered customers or any other individual can get in touch with a Coinlife representative, 24/6, to answer any enquiry.
Security features – Coinlife ensures the safety of funds and maximum security by using protocols and mechanisms popular in the industry. At the same time, it has a robust Privacy Policy in place to protect all personal data being stored. Coinlife holds the minimum amount required.
Multiple funding methods – credit/debit card, wire transfer, or cryptocurrency are the methods available to fund a Coinlife trading account. All are convenient and fast. They carry small fees.
Standard account for all customers – all customers are treated equally by Coinlife, which is why they have access to a standard account, no matter the amount of the initial deposit. The broker does not want to limit the trading features based on each client's financial situation.

Coinlife Cryptocurrency Products
One of the main benefits of trading with Coinlife is the ability to be involved in tens of different cryptocurrencies, denominated in USDT, BTC, and ETH. Most of the popular brokers cover just a few crypto instruments, that's not the case with this brand, that has made a lot of efforts to include many more. Ethereum Classic, OMG, ZCash, ARK, DASH, Tron, Tezos, Neo, and other altcoins are available for traders, with competitive trading costs.
Coinlife Trading Platform
At Coinlife, you can optimise your trading speed and efficiency with an industry-leading and powerful trading platform. Integrating TradingView charts, CNBC market news, account funding options, and a great degree of customisation (adjusting windows, changing skin, or the platform language), this is a web-based solution available via any type of device, including smartphones and tablets.
The Coinlife platform is not limited by any operating system. It can be accessed via a browser, with no installation being required. In doing so, the broker made sure that each client can log into a trading account with ease.
Funding Methods
Via credit/debit card, wire transfer, or cryptocurrency, Coinlife customers can easily fund their account. The broker also allows phone deposits, where a trader can make a deposit by calling the broker to do so via a method previously used. The same techniques are used for withdrawals after the customer passes the verification process. That requires the production of an ID, proof of residence, and proof of payment if the deposit was made using a credit card.
Customer Support with Coinlife
To contact Coinlife, you can use the email address, the live chat feature available on the website, or request a call-back to talk on the phone with a representative. Either method is reliable and all representatives have been proven to have a professional attitude. The brand's customer support service benefits from good ratings and that's excellent news for all customers and people wanting to work with a trusted brand.
Coinlife Review Conclusion
Based on all the functionalities described, Coinlife is an online trading platform that managed to bring cryptocurrencies closer to a broad audience. It does so via a trading offer that includes tens of different crypto instruments, proprietary trading software, and with other trading tools included to facilitate crypto trading in 2020.
Coinlife offers access to a broad range of altcoins, not just Bitcoin, Ether, and other large tokens that are popular. With trading opportunities arising across many small tokens, it is imperative to have access to as many crypto instruments as possible.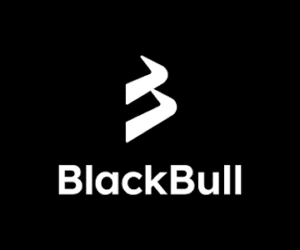 Forextraders' Broker of the Month
BlackBull Markets is a reliable and well-respected trading platform that provides its customers with high-quality access to a wide range of asset groups. The broker is headquartered in New Zealand which explains why it has flown under the radar for a few years but it is a great broker that is now building a global following. The BlackBull Markets site is intuitive and easy to use, making it an ideal choice for beginners.
Please be advised that certain products and/or multiplier levels may not be available for traders from EEA countries due to legal restrictions.