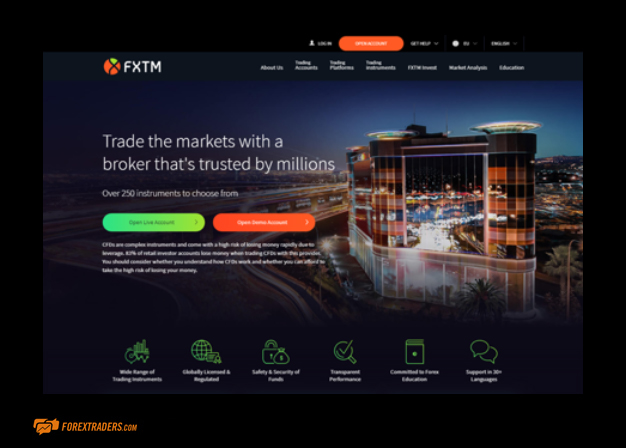 FXTM specialises in forex trading and offers 59 currency markets. A collection of other asset groups is also available, including more than 160 CFD equity markets, 11 equity index CFDs, five spot metal markets, plus Brent Crude, US Crude and Natural Gas. Like many of its peers FXTM offers several different account opening options. There are essentially six to choose from, and they are classed as Standard Accounts or ECN Accounts. 
FXTM Pros
FXTM Cons
Over 2M accounts registered
No traders from the USA accepted
30% deposit bonus to non-EU traders
Leverage and order size restrictions on some instruments
MT4, MT5 Web Trader Platforms
No crypto
Tight spreads and super-fast execution
Superb learning resources to help traders
Extensive risk management tools
TRADERS' VIEWPOINT
ForexTime (FXTM) was founded in 2011 by a team led by industry veteran Andrey Dashin. The award-winning platform certainly has the feeling of being set up by people who know what they are doing. The firm demonstrates an understanding of what helps traders make better returns, and its success can be measured by the fact that it's doubled the number of clients it supports in recent years. The fact that the broker has grown to have more than two million accounts suggests it is getting things right for clients.
Part of the FXTM secret is that the service can be tailored to fit individual investor needs. It offers a range of different types of accounts, with the Cent Account standing out as an ideal route into trading for beginners. The $10 minimum account balance on the Cent Account means newbies can get used to trading without risking too much cash.
The rest of the service is something that will appeal to experienced as well as novice traders. The firm has a long-established reputation for offering tight spreads and fast execution but is more than a low-cost broker. It provides a comprehensive range of education resources, market analysis and extensive risk management tools. Resources such as the FXTM Pivot Point Strategy are worth mentioning as they are designed to help traders spot actual trading ideas and trade entry points. It does not, however, offer cryptocurrencies.
As the broker's name suggests, it started out specialising in forex markets and still offers an impressive 59 currency pairs. It has recently expanded with other asset groups. It now offers more than 160 CFD equity markets, 11 equity index CFDs, five spot metal markets and Brent Crude, US Crude and Natural Gas.
Demonstrating an understanding of what traders want from a broker, FXTM round things up with a robust compliance framework. The group's different entities are regulated in Tier-1 jurisdictions, the United Kingdom, Cyprus and Mauritius.
ABOUT TRADING WITH FOREXTIME
FXTM has grown rapidly since it first entered the market in 2011. It has maintained its appetite for innovation but now has an established track record that provides the firm with some gravitas. Offering a mixture of best-in-class processes and some new and unique features, the broker has carved out a niche that has proved popular with over a million traders.
Focusing on providing a service for clients in the UK, Europe and South Africa has worked well, and FXTM continues to pick up industry awards by pushing boundaries regarding what brokers can offer their clients.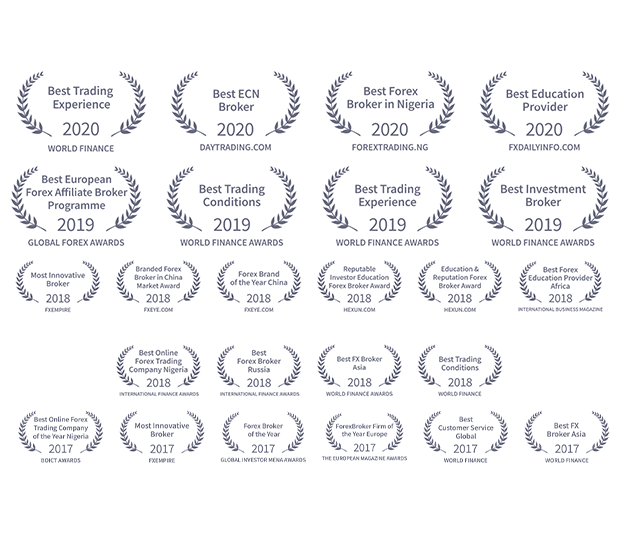 WHO DOES FOREXTIME APPEAL TO?
FXTM specialises in providing fast, reliable and cost-effective execution using the popular trading platforms MetaTrader 4 (MT4) and MetaTrader 5 (MT5).
It is strongest in the forex markets, but it does offer the same level of service in other asset classes such as equities and commodities. The broker's popularity is primarily due to providing a high quality, low-cost service which can be adapted to each trader's needs.
It offers more account types than most other brokers, which means that clients can set themselves up with best-fit T&Cs for trading the markets.
The ECN-type accounts on offer ensure that all strategy types have super-fast and reliable access to the markets.
One underlying theme is client protection, and the regulators with which they hold licences are top grade.
The educational resources on offer are also of high quality, and having been generated in-house, they are tailored to suit FXTM clients and the FXTM platform specifically.
FXTM has recently seen the number of supported accounts double from 1m to 2m which tells its own story and makes the broker a candidate for any selection short-list.
FOREXTIME ACCOUNT TYPES
There are essentially six different accounts from which to choose. Three are classed as 'Standard Accounts', and three are 'ECN Accounts'.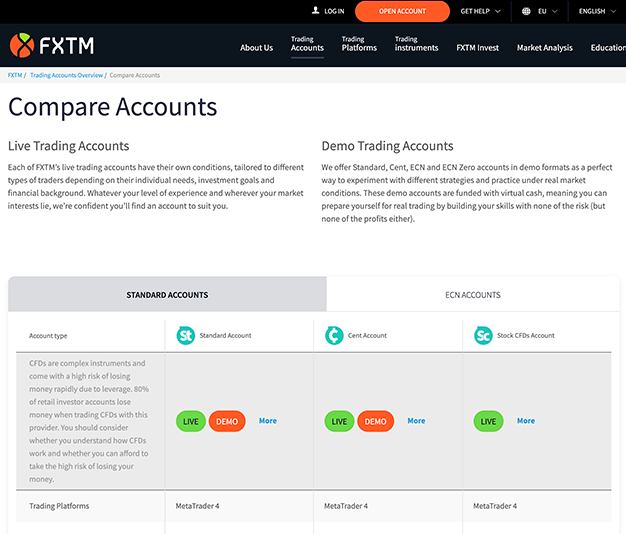 This means that traders can find an account to suit their trading strategy. However, they will need to carry out some research and cross-reference the terms and conditions.
The standard accounts come with instant execution and are called Standard account, Cent account and Stock CFDs account.
The ECN-grade accounts are called ECN, ECN Zero and FXTM Pro.
The terms and conditions across the accounts vary and are constantly updated, so traders need to take care when selecting which type to use (source: Forextime). The decision-making process will, for many, be streamlined to only two options as the FXTM Pro account is aimed at more experienced traders. It also requires significant capital to be held at the broker, but in return features even faster execution speed, tighter spreads and improved market liquidity.
FOREXTIME MARKETS AND TERRITORIES
FXTM has the feel of a global broker and provides trading services to residents of more than 150 countries. The entity you sign up with is determined by where you live.
FXTM is successfully moving away from being seen as "only" a forex broker in terms of tradeable markets. The actual markets offered vary across account types and which entity you sign up with, but the maximum range of forex markets available is 19 major currency pairs, 22 minors and 19 exotics. Spreads on these range from EURUSD with a minimum spread of 0.1, down to USDTRY and GBPPLN, which have minimum spreads of 20.0 and 3.1 respectively.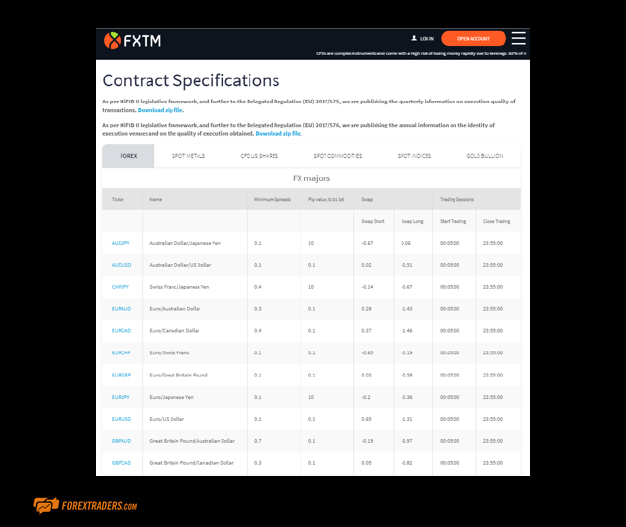 The platform supports over 160 CFD equity markets and 11 equity index CFDs. There are also five spot metal markets and spot markets in Brent Crude, US Crude and Natural Gas. Something that stands out from the crowd is the option to hold gold bullion.
The increasing popularity of the platform has been achieved despite it not offering trading in the crypto markets. This historical disadvantage will be less of an issue as regulators ,such as the FCA (Financial Conduct Authority), introduce measures prohibiting retail investors from trading cryptos using CFD instruments.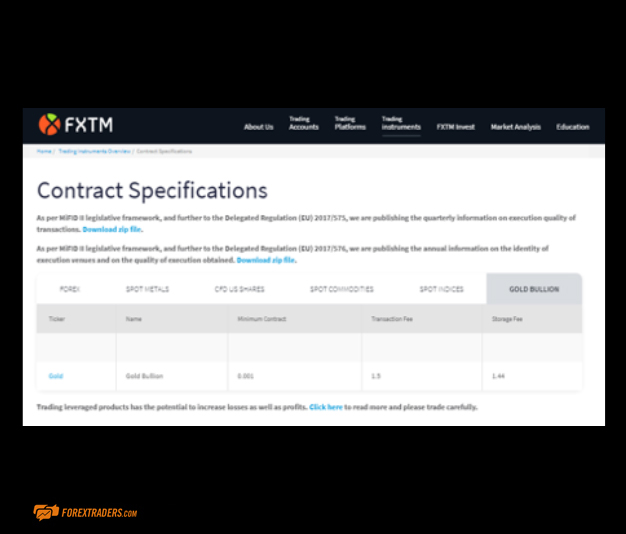 Other brokers offer a greater number of instruments and a better range and depth of markets but for most traders the FXTM offering is undoubtedly adequate. If forex is your target market, it's worth visiting the platform for a free trial of the FXTM Demo account.
FOREXTIME INSTRUMENTS AND SPREADS
Different instruments and markets are supported by the MT4 and MT5 versions of the MetaTrader platform. MT4 supports 48 forex pairs, three metals and 14 spot CFDs. The MT5 version supports 33 forex pairs and two spot metals.
Traders can execute using fixed and variable spreads. Both are among the lowest in the industry, starting from just 0.1 on ECN accounts and 0.5 on Standard accounts.  We found the spreads to be relatively tight for the peer group across both STP and ECN accounts. The FXTM Pro account was a step up, offering the tightest possible spread, though this account requires a minimum deposit of $25,000.
Leverage is offered based on client knowledge and experience and may change from country to country. With six different accounts to choose from, clients are advised to closely check the Trading Account Comparison section of the FXTM site. This page provides a complete and detailed breakdown of the different terms and conditions on offer. In line with the rest of the site, it shares a lot of information without overcomplicating things. 
ECN ACCOUNTS AT FOREXTIME
There are three types of ECN account from which to choose: ECN MT4, ECN Zero and FXTM Pro accounts – and all operate market execution.  The range of accounts on offer allows clients to select what works best for them.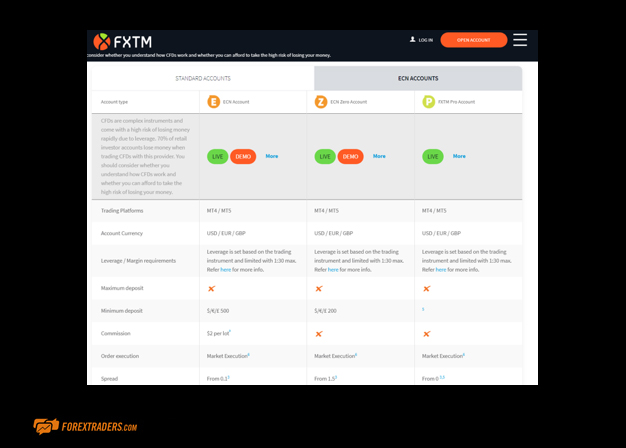 Differences between the accounts include things such as ECN MT4 operating with the commission charged on open positions (approximately US$4 per lot). In ECN Zero MT4, there is no commission charged on open positions. The devil is in the detail, which requires some attention, but it is refreshing to see a broker offering clients a choice.
Another feature of the FXTM operation that will appeal to traders is the option to trade using a virtual private server (VPS). The use of an independent server means increased stability and flexibility, leading to a more secure trade execution process.
VPS services are particularly popular with traders applying their own models to the market. They ensure a more reliable link to the market and reduce the risks associated with a model not connecting at any time. There is often some additional benefit from operating models using low latency.
FOREXTIME FEES AND COMMISSIONS
FXTM takes transparency of fees and charges to a new level. The information is clearly laid out, and as is often the case with brokers, the most transparent ones tend to be those with the most to shout about.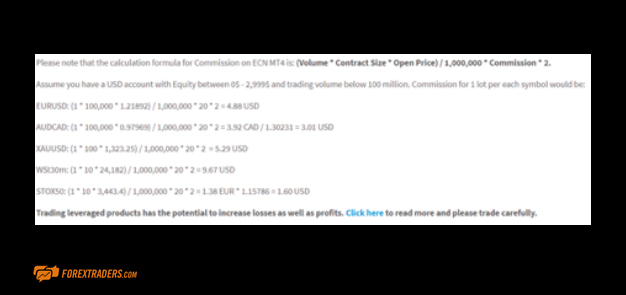 FXTM offers flexible commissions on ECN MT4 trading. Its 'table-accordion' commissions are based on a customer's account equity and trading volume – the higher a client's equity and trading volume, the lower the commissions.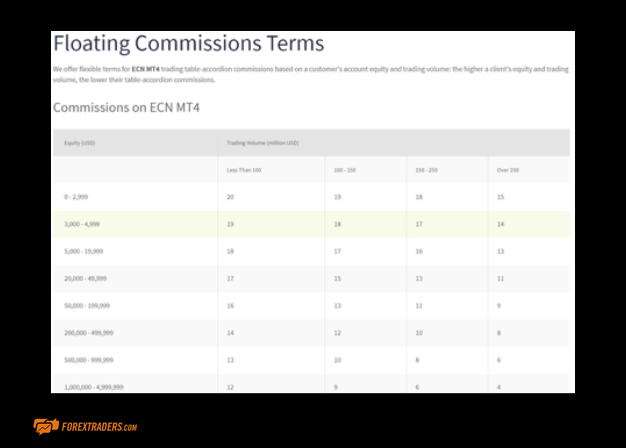 To ensure that the simulated trading matches the reality, margin requirements on demo accounts are equivalent to those on the corresponding live account. There is also a full breakdown of terms and conditions provided.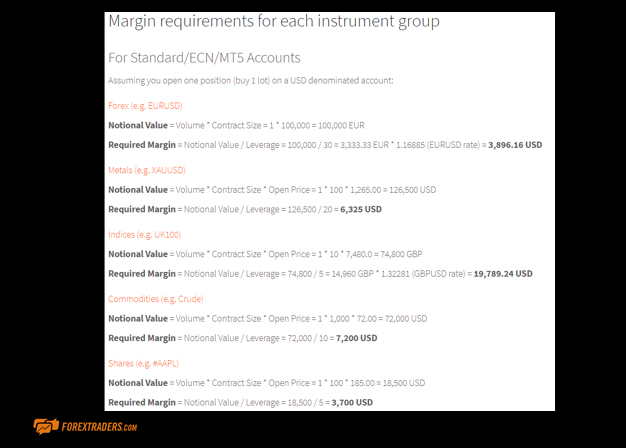 IN DEPTH FOREXTIME PLATFORM REVIEW
All clients have access to the MT4 platform, and non-UK clients can also take advantage of MT5. The MetaTrader platforms are the world's most popular retail trading platforms. A combination of reliability, powerful software tools, and an extensive range of indicators means they maintain a certain finesse and agility.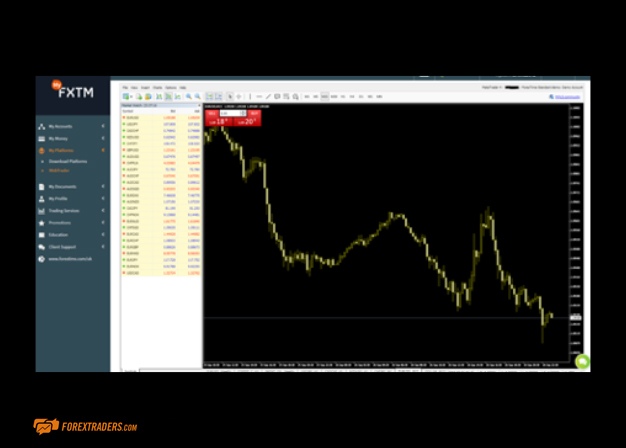 Navigating the platforms is very easy. Their popularity with beginners and advanced traders alike comes down to them being so effective at supporting trading activity. They give traders everything they need to work their strategies in the markets.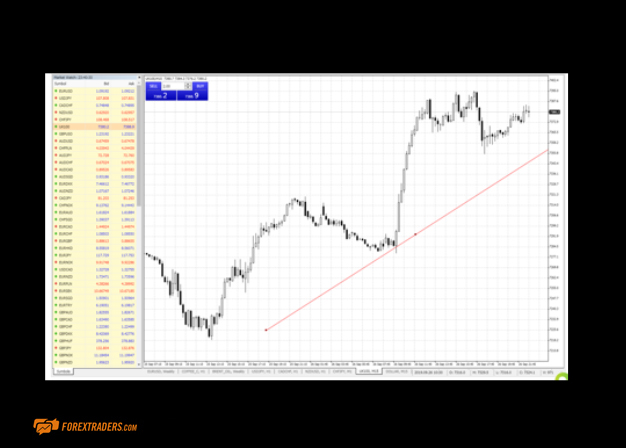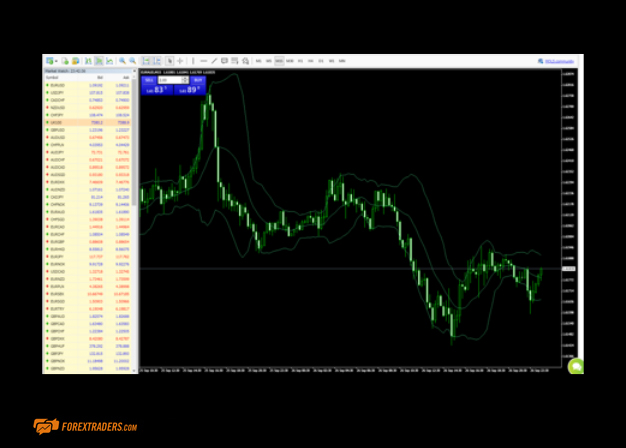 There is also a breakdown of some of the most commonly used indicators. These indicators are designed to help traders shift the win/loss ratio in their favour and manage risk better. The pip value indicator, for example, helps measure the risk/reward ratio of a trade in the account holder's base currency.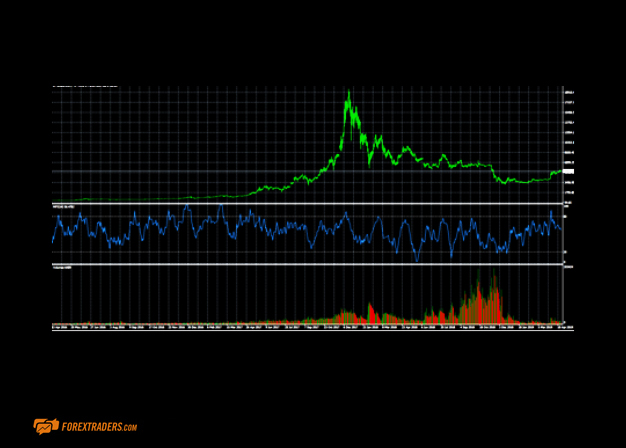 Having the MetaTrader indicators is one thing but having the host platform provide learning resources to support their use is another. Not all brokers take the trouble that FXTM does to help clients maximise the benefits of the powerful software that is to hand.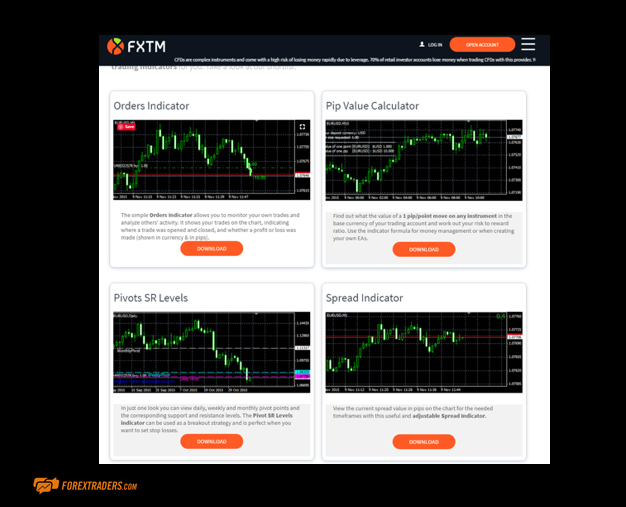 The execution GUI is a pleasure to use. It has a simple industrial aesthetic, but the most noticeable feature is the speed of execution. Building orders to set in the market takes a little more time but is straightforward enough. It allows traders to take advantage of the stop loss and take profit parameters, which are available to help mitigate risk.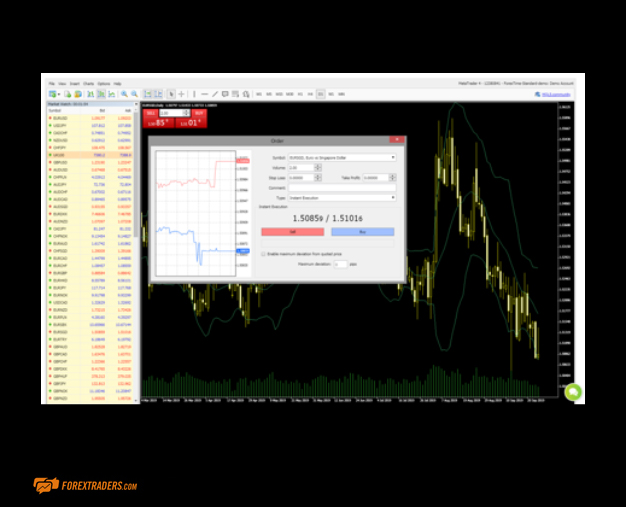 FXTM MOBILE TRADING
The MetaTrader platforms, MT4 and MT5, which form the FXTM desktop trading service base, are available for free download to mobile and tablet devices. They come in Android and iOS versions, and the WebTrader service can be used on tablet devices.
Having a seamless crossover between desktop and mobile trading always helps. The MetaTrader apps come with nearly all the functionality of the desktop service, which means that traders can carry around in their pockets some potent trading tools. While on the go, they can draw charts, make trades, set up alerts and carry out account management.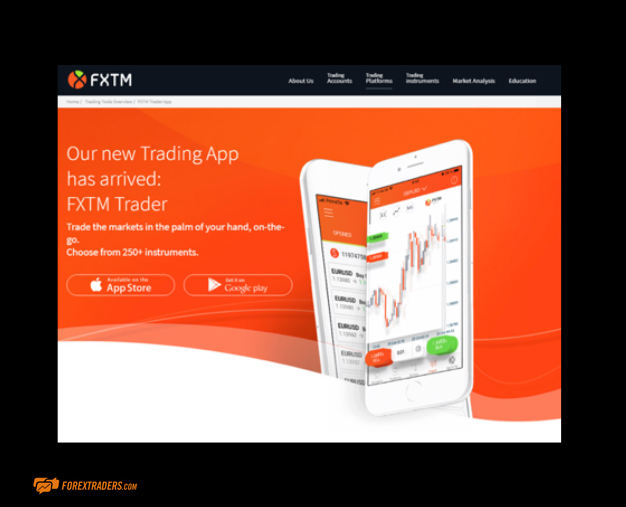 In addition to the MetaTrader apps, FXTM also provides a standalone mobile app, which relates more to account administration. The FXTM app has an attractive layout and is uncluttered. Clients can use it to access market updates, carry out account administration, and even check in on live trading.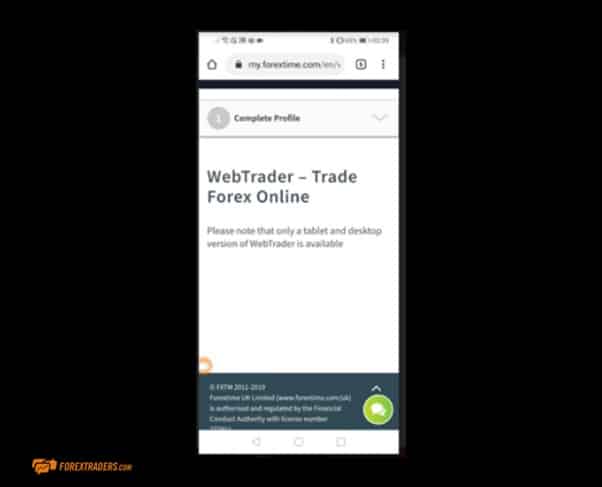 FXTM SOCIAL TRADING
FXTM does not specifically support social trading, though users of the MetaTrader platforms can share ideas with other members of the MetaTrader community.
FXTM COPY TRADING
Clients who are EU domiciled can take advantage of the FXTM INVEST copy trading program.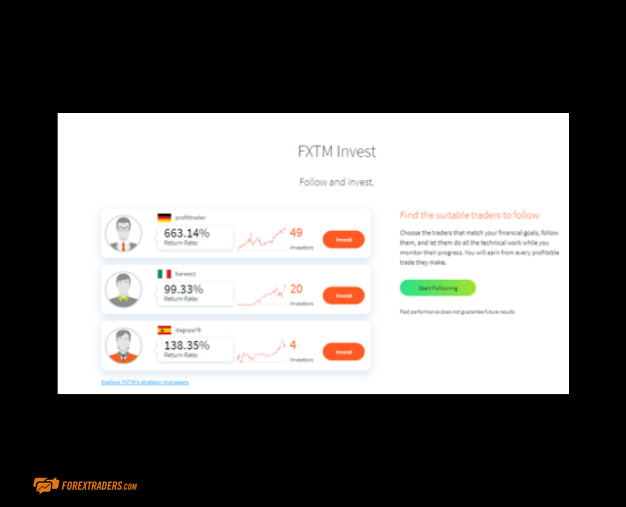 FXTM Invest covers forex markets and allows clients to 'follow' the trading signals of other 'lead' traders. To some extent, this takes the heavy lifting out of the building and running of a trading strategy, but the risks to capital are the same as if the account holder was self-trading.
There is some work involved in the selection process, but FXTM does provide a range of standard metrics that fill in some of the gaps. Portfolio construction, win/loss data and performance charts are valuable tools for those looking to copy trade.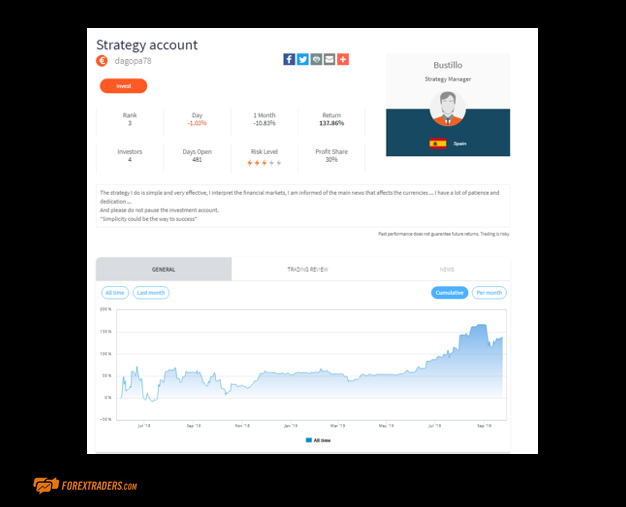 The pricing is transparent, with the lead trader keeping a share of the profits made for the following account. The profit split varies, and some that we reviewed during the testing process ranged from 10% to 50% of profits being retained by the lead trader.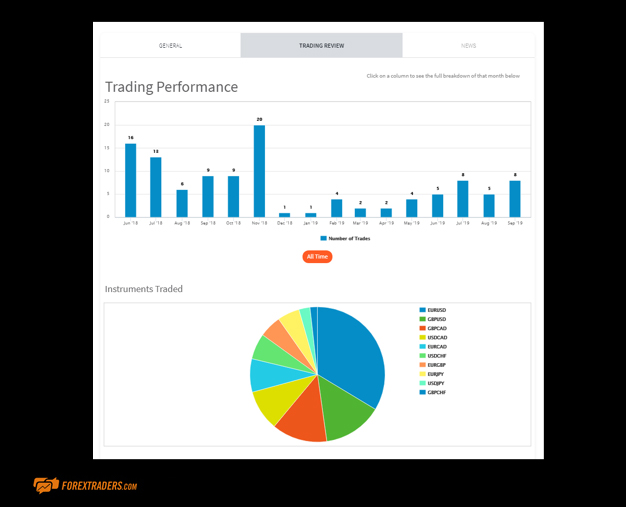 UK clients are not eligible to use the FXTM INVEST service.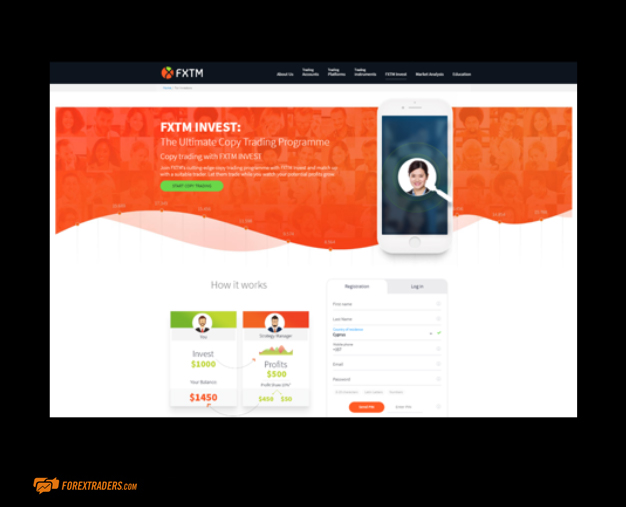 MetaTrader MT4 and MT5 facilitate various types of automated trading. The Expert Advisors platform supports copy trading, and the MT5 platform comes with an MQL5 Wizard, which allows traders to develop, program and test their trading algorithms before setting them to trade the markets automatically.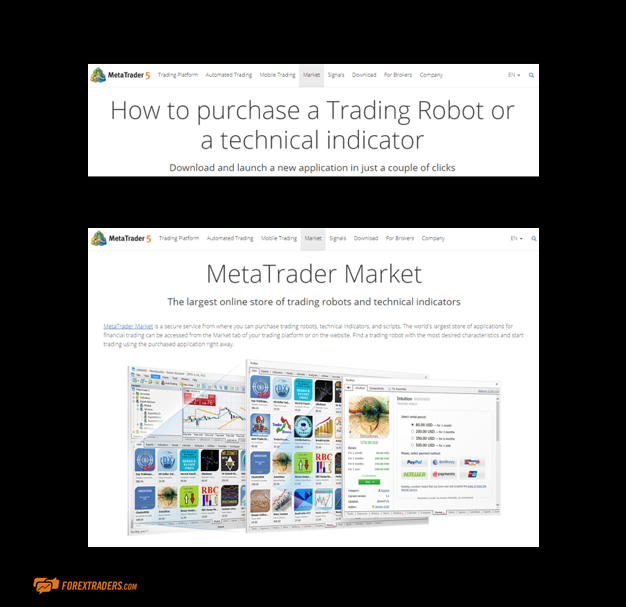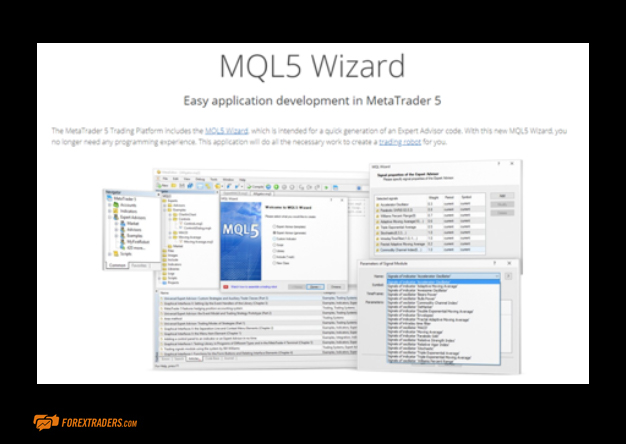 FXTM CRYPTO TRADING
Forextime Limited and Forextime UK Limited do not currently support the trading of cryptocurrencies.
FOREXTIME CHARTING AND TOOLS
Charting is the FXTM/MetaTrader sweet spot. Both MT4 and MT5 offer a range of tools and indicators that would take a trader a long time to completely understand.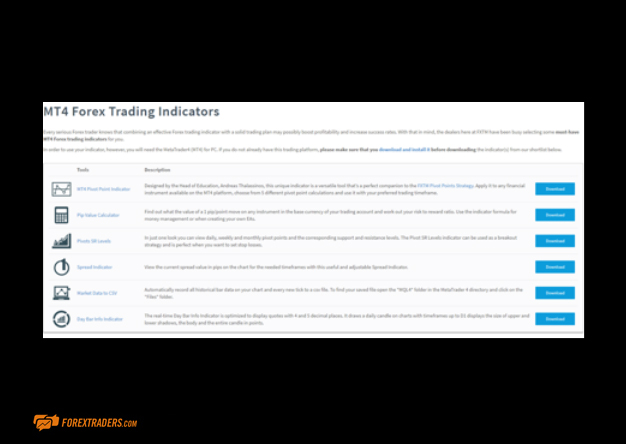 FXTM has a separate section relating to the indicators, where each piece of software is explained and evaluated. Such guidance is particularly valuable to beginners, but even seasoned traders will benefit from covering their previous notes on the subject.
The Market Data to CSV function demonstrates the usefulness of the service to even the most experienced traders. This tool automatically records all historical bar data on your chart and every new tick to a CSV file. Data transfer is a vital part of testing, back-testing, strategy assessment and keeping on top of the markets.
LEARN TRADING WITH FOREXTIME
In terms of education and learning resources, FXTM punches above its weight. Technical and fundamental analysis is covered by a range of in-house materials distributed in blog posts, videos, eBooks and written reports.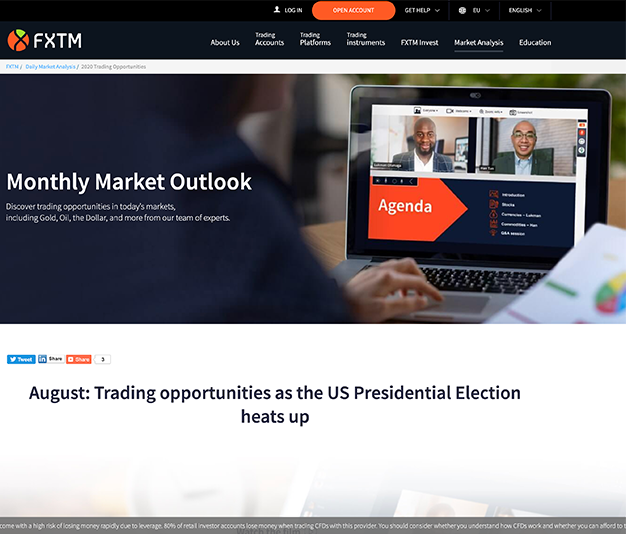 The Quarterly Market Outlook reports provide in-depth analysis that allows traders to take the opportunity to reassess and recalibrate strategies.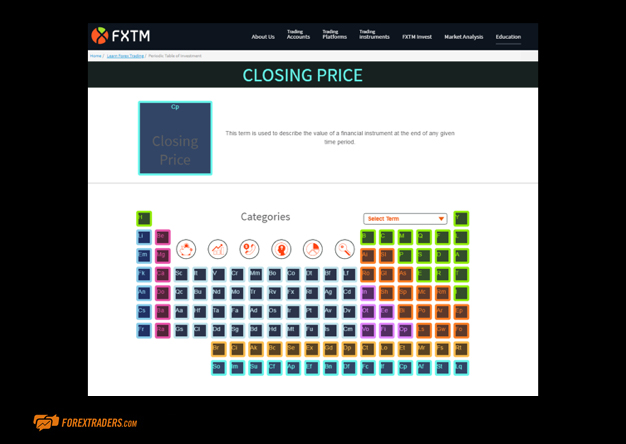 The Periodic Table of Investment demonstrates FXTM's dedication to providing clients with good learning resources. This innovative tool incorporates some of the nuts and bolts of investment terminology into an attractive format.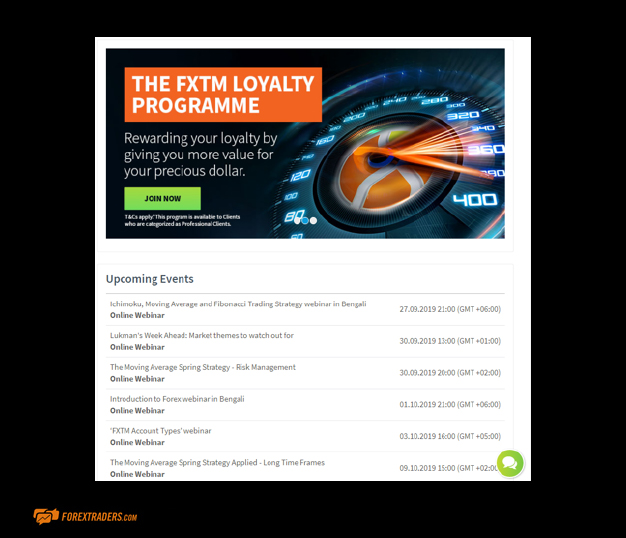 The provision of webinars relating to the basics of forex trading is beneficial for entry-level traders. Both MetaTrader platforms come packed with powerful software tools that can take a bit of getting used to, and FXTM scores points for supporting its clients in this way.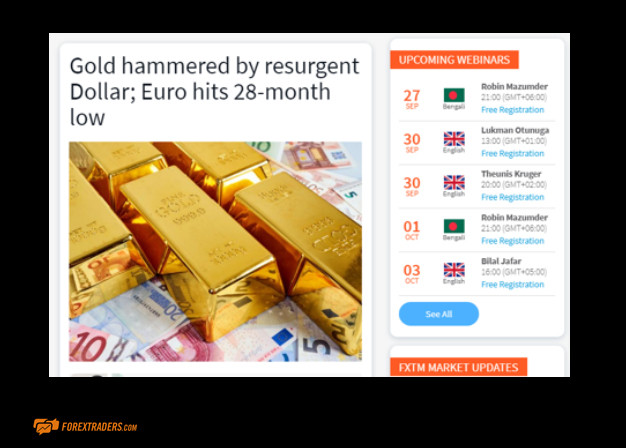 Overall, the research and learning materials provided by FXTM are well thought out, effective, wide-ranging, and come with an innovative edge. The amount on offer is by no means industry-leading, but FXTM is not pitching itself as a multi-asset global broker.
Instead, the broker has effectively built a suite of educational resources that are well-tailored to the platform's users. Its approach has earned the broker a strong reputation in the trading community, and in 2020 it picked up the FXDAILYINFO.COM award for Best Education Provider.
IS FOREXTIME A REGULATED FOREX BROKER?
Companies in the FXTM Group offer regulated trading to clients around the world. The different entities are regulated in three jurisdictions, and individual cover is determined by where someone lives.
ForexTime (www.forextime.com/uk) is authorised and regulated by the Financial Conduct Authority with licence number 777911.
Exinity Limited (www.forextime.com) is regulated by the Financial Services Commission of the Republic of Mauritius with an Investment Dealer Licence bearing licence number C113012295.
ForexTime Limited (www.forextime.com/eu) is regulated by the Cyprus Securities and Exchange Commission with CIF licence number 185/12 and is licensed by the Financial Sector Conduct Authority (FSCA) of South Africa with FSP No. 46614.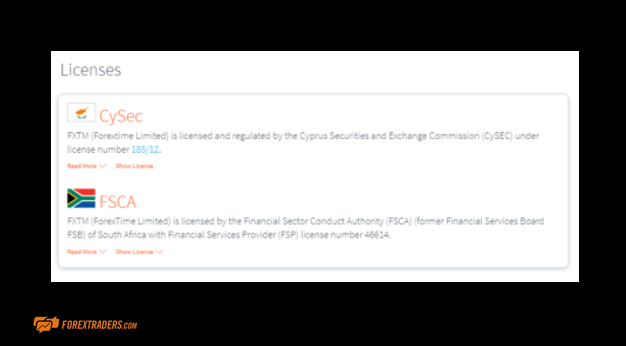 The CySEC and FCA authorities are regarded as Tier 1 regulators by the investment community and require FXTM to comply with regulations covering subjects such as the segregation of client funds, Investor Compensation Funds and broker liquidity.
The Safety of Funds section on the FXTM site specifies that "Investor funds are safely deposited in separate accounts from the company's funds and always with top-tier banks", which is good news for clients.
Operational security is also considered. FXTM has adopted the Secure Sockets Layer (SSL) network security protocol for all communications. This protects customers during their transactions with the company and keeps all client information private. The firm has offices in the UK, Mauritius and Cyprus.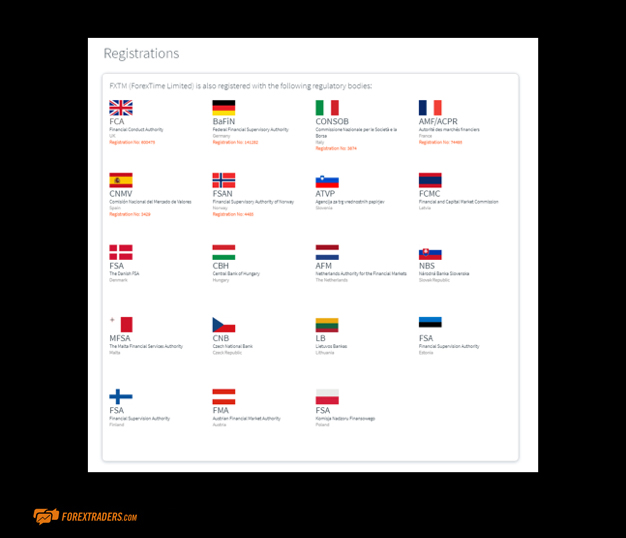 HOW TO OPEN A FOREXTIME ACCOUNT
Those who are eligible for an account can open a demo account in a matter of minutes. This offers an insight into the platform's functionality and provides access to virtual funds with which to practice trading.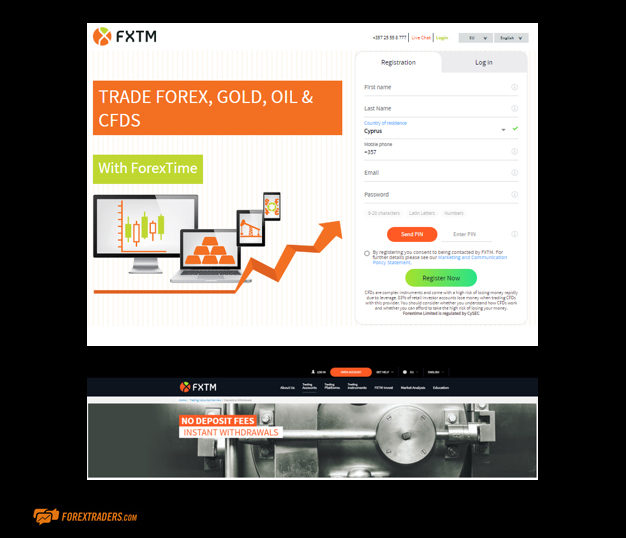 The full live account takes longer to open due to compliance with regulatory terms and conditions.
Leverage is variable, but for UK and EU clients is capped at 1:30. The minimum deposit amount is US$10, and funds can be deposited using Visa, Mastercard, Maestro, Neteller, Skrill/Moneybookers, Alfa Click, Western Union, Dotpay, Yandex Money, QIWI and wire transfer.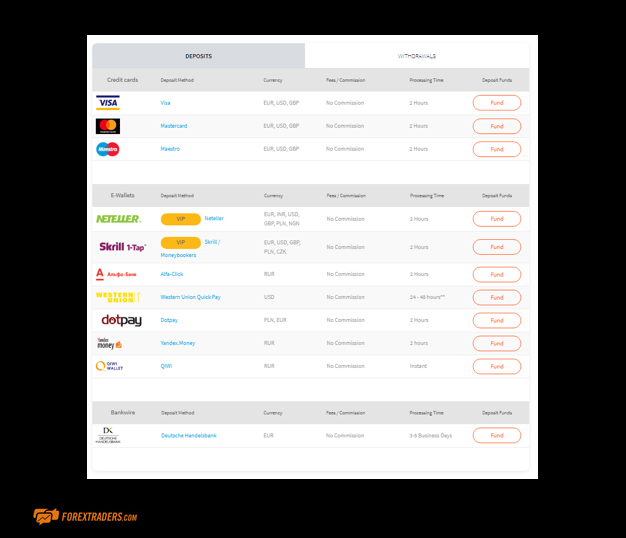 Payment processing times are slightly better than the market average. Withdrawals, for example, are quoted as being "same business day". While conducting their due diligence, the keen-eyed will note that there are more ways to deposit than withdraw funds.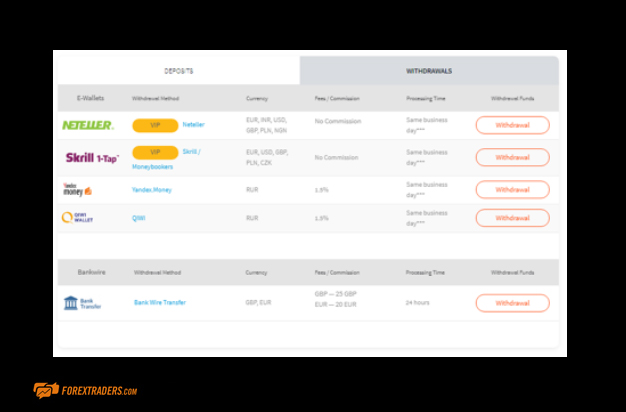 Customer Support
The customer support team is available Monday to Friday, 08:00 to 18:00 GMT. This level of support is some way off the pace, considering that other brokers offer 24/5 or even 24/7 support and can lead to messages such as the one below:

However, the FXTM support is offered in various languages – 18 in total. Contacting the team can be by various methods, including live chat, WhatsApp, Viber, Telegram, Messenger, and Call Back. It's also possible to call one of the helpdesk lines and resolve any issues over the phone, which is very useful, considering that delays in response times can cost traders money.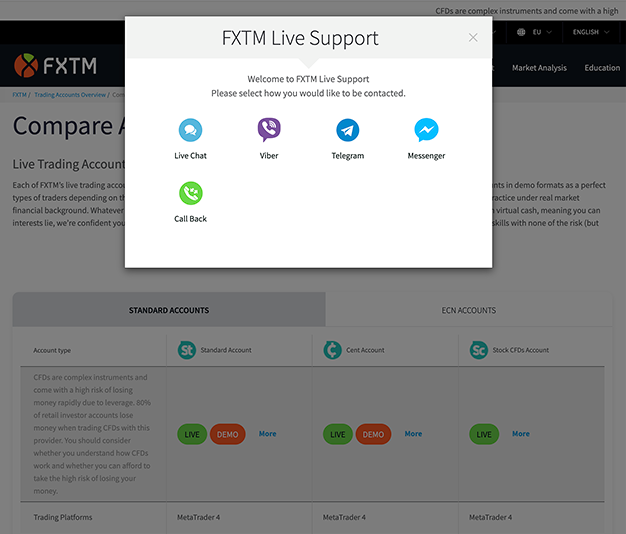 Support via the live chat service is generally very effective. The staff dealing with our queries came over as well informed, and we achieved a satisfactory first-time resolution to the questions in 95% of chats. The response times were adequate, if not great. The lag time between message iterations was slightly slower than the market average, but the main benefit was having our questions answered accurately.
One system glitch that we noticed was that any open live chat window disappeared when we navigated away from the page on which it was started. This was quite frustrating to deal with and meant that our testers had to restart a few chats until they got the hang of staying on one page, which in itself isn't ideal.
A neat feature of the FXTM service is its use of metrics to monitor support levels. It has even asked global consultancy firm PricewaterhouseCoopers Limited (PwC) to verify the findings, including feedback and fund processing time statistics.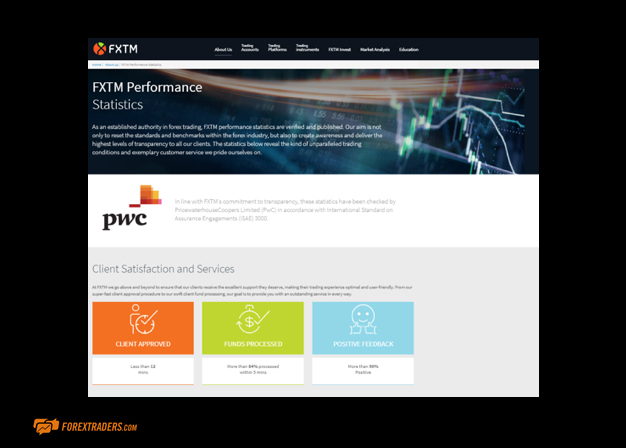 FOREXTIME REVIEW CONCLUSION
FXTM has picked up over two million clients and a trophy cabinet full of industry awards in its nine years of trading. The package that it offers might not fit absolutely everybody. There is, for example, the issue of the broker not supporting crypto markets. However, the platform does well by focusing on nailing down certain core elements of the trading experience and delivering them to a very high standard.
The FXTM experience revolves around tight spreads and super-fast connectivity. The trading platforms are market-leading and provide a range of indicators and charting tools that are hard to beat. There is also the option for clients to bolt on their algorithmic models or even copy trade from Expert Advisors or, indeed, the proprietary copy trading service FXTM Invest.
The regulatory framework is top-tier, and FXTM does give the impression of trying to be as transparent as possible. Information ranging from the regulatory cover to the minor detail of the financing charges on accounts is well laid out and easily accessed.
FXTM is definitely worth considering for your forex trading.

FOREXTIME FAQS
How can I open an account with ForexTime?
The process of opening an account is quite simple and takes no more than three minutes.
To open an account, you must visit the site ForexTime and fill out your details in the account registration form provided.
Is ForexTime a regulated broker?
Yes, FXTM is permitted and regulated in various jurisdictions.
ForexTime is regulated by the Cyprus Securities and Exchange Commission with CIF licence No. 185/1. It is licensed by the Financial Sector Conduct Authority (FSCA) of South Africa, with FSP No. 46614. The company is also registered with the UK Financial Conduct Authority under number 600475.
ForexTime UK is authorised and regulated by the Financial Conduct Authority with licence number 777911.
Exinity Limited is regulated by the Financial Services Commission of the Republic of Mauritius, licensed as an investment dealer with licence number C113012295.
Exinity Limited is a member of the Finance Commission, an international financial services dispute resolution organisation in the Forex market.
What fees does ForexTime charge?
For replenishment of the trading account, the broker does not charge a commission. However, for the withdrawal of funds, the commission does not exceed 2%, just as if the client replenishes the trading account through a bank transfer, the commission is 30 euros.
Regarding trade:
EURUSD: (1 * 100,000 * 1.21892) / 1,000,000 * 20 * 2 = USD 4.88
AUDCAD: (1 * 100,000 * 0.97969) / 1,000,000 * 20 * 2 = 3.92 CAD / 1.30311 = 3.01 USD
XAUUSD: (1 * 100 * 1,332.25) / 1,000,000 * 20 * 2 = 5.29 USD
WSt30m: (1 * 10 * 24 182) / 1,000,000 * 20 * 2 = 9.67 USD
STOX50: (1 * 10 * 3443.4) / 1,000,000 * 20 * 2 = 1.38 euros * 1.15786 = 1.60 US dollars
The commission depends on the client's capital and monthly turnover. It should be noted that the higher the capital and turnover, the lower the commission.
How do I withdraw money from ForexTime?
Clients can withdraw their money using: Visa, Mastercard, Neteller, FasaPay, VLOAD, WebMoney, Yandex. Money, QIWI, Bitcoin, bank transfer and other payment systems. The broker tries to execute withdrawal orders as quickly as possible. Usually, this happens during the working day.
Disclaimer
ForexTime Limited, ForexTime UK Limited and

Exinity Limited

share the same brand name, FXTM. ForexTime Limited (www.forextime.com/eu) is regulated by the Cyprus Securities and Exchange Commission with CIF license number 185/12, licensed by the Financial Sector Conduct Authority (FSCA) of South Africa, with FSP No. 46614. Forextime UK Limited is regulated by FCA with license number 777911. Exinity Limited (www.forextime.com) is regulated by the Financial Services Commission of the Republic of Mauritius with an Investment Dealer License bearing license number C113012295.

– Leverage is offered based on your country of residence, knowledge and experience.
– Bonuses and promotions are offered based on your country of residence while terms and conditions apply.


– Please be advised that certain products and/or multiplier levels may not be available for traders from EEA countries due to legal restrictions.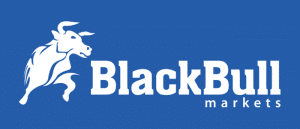 Forextraders' Broker of the Month
BlackBull Markets is a reliable and well-respected trading platform that provides its customers with high-quality access to a wide range of asset groups. The broker is headquartered in New Zealand which explains why it has flown under the radar for a few years but it is a great broker that is now building a global following. The BlackBull Markets site is intuitive and easy to use, making it an ideal choice for beginners.
Please be advised that certain products and/or multiplier levels may not be available for traders from EEA countries due to legal restrictions.