| Pros | Cons |
| --- | --- |
| Good selection of CFDs | No proprietary trading platform |
| PMAM platform support | |
Trader's Viewpoint
FXGiants is one of the newer forex brokers to break onto the scene, as it was started in 2015 in both Australia and the UK. The platform prides itself on the wide array of trading options available on the site and offers trading across an impressive 200 assets for CFD trading including forex, stocks, futures, and spot metals. A point of pride for FXGiants is also its international nature; this broker is available in 150 different countries worldwide. But is this new platform really worth your time?
As for the small print, FXGiants is registered in Cyprus. In the UK, FXGiants operates under the UK Financial Conduct Authority and in Australia, it is regulated by the Australian Securities and Investment Commission. Under these regulatory bodies, customer accounts are fully segregated from the broker's accounts, and customer funds are protected in the event of FXGiants going bankrupt.
The trading platform FXGiants uses is the familiar and dependable MetaTrader4 which can be used via web applications and mobile. In addition to MetaTrader4, FXGiants has a Personal Multi-Account Manager, or PMAM, feature. PMAM is a risk management platform which allows users to manage a number of trading profiles at once.
Another interesting feature that sets FXGiants apart is their Virtual Private Server, or VPS, which users can access for a $1,000 minimum deposit. The VPS has optical fibre connectivity which means that you can use the site with an improved connection, better security, and enhanced performance. Traders who use VPS will also be able to avoid issues caused by slow or faulty internet connections which can interrupt trades.
Withdrawals and deposits are easy to make on the site, and FXGiants accommodates a range of payment platforms and types, to streamline the process for you. If you do run into any issues, FXGiants has a team of customer service representatives who can be reached via email, live chat, and phone.
With regards to the trading itself, FXGiants has both retail and institutional investors and offers flexible leverage of up to 500 to 1 on a number of its trading instruments. FXGiants stands out from its peers with its range of more than 200 financial instruments on offer for investment, and its competitive spreads.
FXGiants offers a scaled-down educational section which lacks the breadth and depth of many of its competitors. For this reason, newer traders who are looking to learn more about trading, hone their skills, and learn from video tutorials and training tools, may want to look elsewhere.
Although still a relatively new broker in the space, FXGiants is starting to gain prominence in the market thanks to its tight spreads, range of investment instruments, and its oversight by well-respected regulatory bodies. It may not be the best online broker for new traders who are interested in improving their skills, but it is a great option for traders who would like to trader through multiple accounts or across a wide range of instruments through a secure and transparent platform.
FXGiants currently operates from the UK and Australia and is a registered brand of Cyprus-based IronFX Global, which had a regulatory issue with CySEC regarding trader withdrawals.
In Australia, FXGiants is a trade name of GVS Pty Limited that is authorized and regulated by the Australian Securities and Investment Commission or ASIC under the AFSL no. 417482. Their official website is located at www.fxgiants.com.au.
In the United Kingdom, FXGiants is a trade name of 8Safe UK Ltd, and is authorized and regulated by the Financial Conduct Authority or FCA under license number 585561. Their official website can be found at www.fxgiants.co.uk. A screenshot of the UK homepage for FXGiants can be seen below:
FXGiants is committed to meeting the highest standard regarding their services, with full transparency to clients. In addition to being a fully regulated online forex broker, investor funds are securely deposited in completely segregated accounts according to the company's strict policies and procedures.
These two forex brokers were registered with their respective regulating agencies after the owners changed their name in late 2015 and early 2016. Due to the existence of two FXGiants brokers with the same owner that operate virtually identical websites and services, the two will be treated as one forex broker in this review.
Please take note that FXGiants does not currently accept clients based in the United States.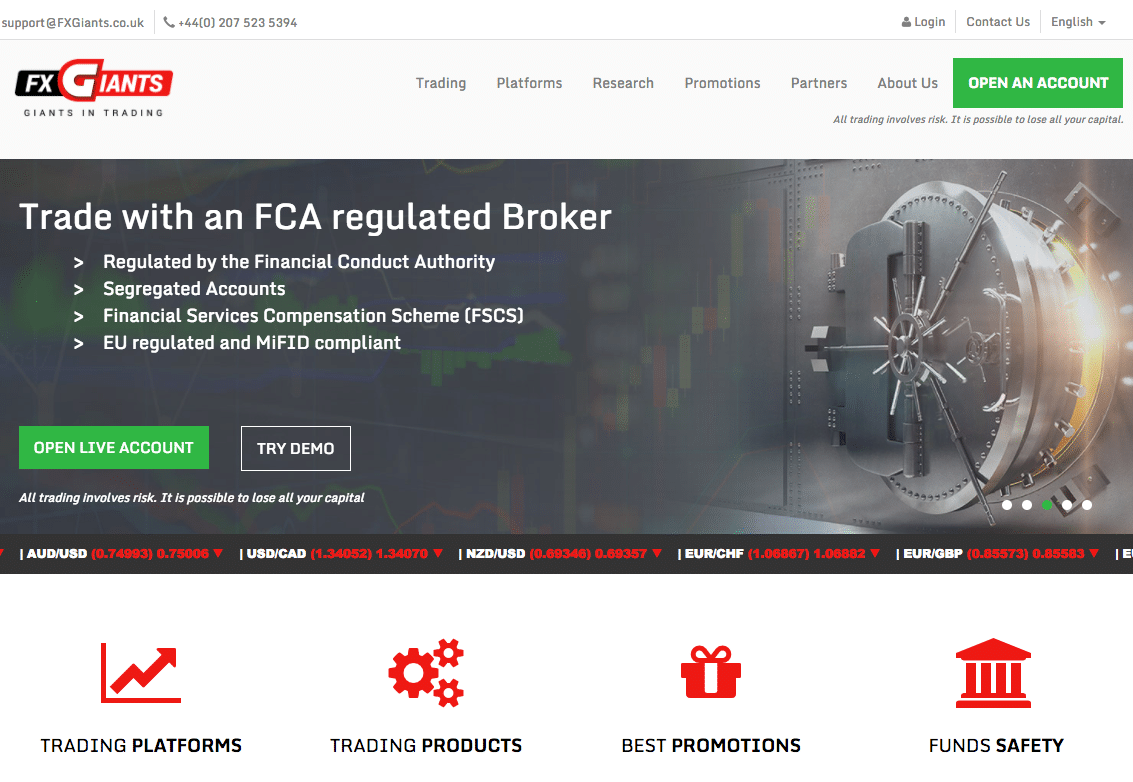 Try The FXGiants Platform For Yourself
You Could Be Trading In Under A Minute
Features at FXGiants
This online forex broker offers retail and institutional investors in over 150 countries around the world, the opportunity to trade in more than 200 different financial instruments and assets with flexible leverage of as much as 500 to 1. The company is made up of a group of experts in the field of international finance with many years of experience. The FXGiants team includes risk management experts, client business solutions specialists, developers and market analysts.
Also, the company offers an impressive bonus package, with an initial $35 free, no deposit bonus available to all new registered clients.  Other incentives include a 100 percent "bonus maximizer" and a 20 percent bonus advantage on all deposits up to $2,000.
Accounts at FXGiants FCA regulated entity are protected by the UK's Financial Services Compensation Scheme, in which investors would receive compensation in the event of the broker failing to meet its financial obligations.
Supported Platforms
FXGiants uses MetaTrader 4 or MT4 as the primary trading platform for its brokerage. The MT4 trading platform is available for both Mac and PC desktops. MT4 also has a mobile iOS version for iPhone and iPad, as well as a version of the trading platform made for Android smartphones.
FXGiants also offers its Personal Multi-Account Manager or PMAM software, which gives clients a powerful tool to manage multiple accounts in real time. The PMAM is a complete risk management platform that lets the user enter orders with one-click entry, manage multiple accounts and create multiple funds. The service provides real time monitoring of financial instrument pricing and also issues activity reports. A screenshot of the broker's proprietary Personal Multi-Account Manager is shown below:
Deposits and Withdrawals
FXGiants has a proprietary interface to make its account funding process easier, fast and secure. The broker does not accept cash deposits but offers a variety of automatic deposit methods such as, bank wires, Visa or MasterCard credit or debit cards, Neteller, EcommPay, Fasapay, Skrill, China Union, Safecharge and DotPay.
Account deposits can generally be made free of charge, with the exception of bank wire transfers that depend on corresponding and intermediary banks. Withdrawal fees vary with each payment service provider. For Visa and MasterCard credit/debit cards, up to EUR 2.00 per transaction is charged, with a maximum transaction amount of $5,000.
To withdraw funds using Neteller, a withdrawal fee of $0.29 per transaction is charged with a two percent surcharge that is capped at $30.00. Neteller also has a minimum size of $1.00 and a $5,000 maximum amount per transaction. FasaPay has a withdrawal fee of 0.5 percent per transaction, with a $5.00 maximum and permits up to $5,000 per transaction.
For Skrill withdrawals, withdrawals cost a one percent fee on the transaction that is capped at $10.00, with a $5,000 maximum transaction amount. China Union has a CNY 20.00 fee per transaction, with a CNY 360,000 maximum amount per transaction.
Deposit For Free At FXGiants
Simple Sign Up Process
Customer Support
Customer support for FXGiants can be accessed through email or by telephone and via live chat.
In addition to being able to call directly to their trading desk, FXGiants offers toll free numbers for customers in the following countries: China, Hungary, Poland, Malaysia, Indonesia, Spain, Portugal, Italy, Russia, Thailand and Korea.
Trader educational materials are pretty much limited to a basic forex glossary, while the only fundamental analysis tool offered by the broker seems to be a news headline feed.
FXGiants – Conclusion
Despite being a relatively new online forex broker brand that is still building its reputation after the issues experienced by IronFX, FXGiants has already gained a decent following among traders for its low spreads, transparent trading environment, and its oversight by the FCA or ASIC regulatory bodies.
Nevertheless, the customer service department at this broker could probably use an overhaul. Perhaps it would help if FXGiants offered a live chat box on their website or another immediate way for the broker to be reached in the event that its phone lines were too busy.
Educational material and fundamental analysis offerings also seem weak at this broker, so it may better suit more experienced traders who do not require fundamental analysis tools.
Claim Your FXGiants Account
As Approved By Forextraders.com
Best Features
Another service offered by FXGiants is allowing clients to connect remotely using a Virtual Private Server or VPS. The FXGiants VPS features optical fiber connectivity for increased security, enhanced performance and ease of use. Access to a VPS helps traders avoid problems such as power cuts, computer failure and slow internet connection speeds, which can adversely affect a trader while they are operating.
Through the FXGiants VPS service, clients can install their favorite Expert Advisor or EA application and run the program throughout the trading week without even having to have their personal computer powered on. The VPS lets traders take advantage of market conditions not normally available to traders due to the time of day or the trader's geographical location.
FXGiants VPS specifications include a 2.2GHz Intel Xeon CPU, 1GB guaranteed with up to 2GB Dynamic Memory, 30GB of HDD Storage Space, a Microsoft Windows Server 2008 R2 Data center with a dedicated IP. Also, the VPS is hosted in a secure data center and available 24 hours a day.
The VPS service lets you trade from your mobile device and features technical analysis, an economic calendar, free FX signals and a news feed. The VPS service is free to clients with a deposit of over $1,000.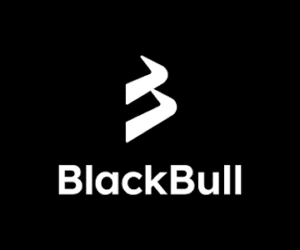 Forextraders' Broker of the Month
BlackBull Markets is a reliable and well-respected trading platform that provides its customers with high-quality access to a wide range of asset groups. The broker is headquartered in New Zealand which explains why it has flown under the radar for a few years but it is a great broker that is now building a global following. The BlackBull Markets site is intuitive and easy to use, making it an ideal choice for beginners.
Please be advised that certain products and/or multiplier levels may not be available for traders from EEA countries due to legal restrictions.