| Pros | Cons |
| --- | --- |
| Multilingual broker—over 30 languages supported | Spreads could be more competitive |
| VPS service available | |
Trader's Viewpoint
Established in 1999, FXPrimus has been in the online forex trading industry for over two decades, making it one of the oldest players in the space. Former traders started it from a hedge fund and retail sectors who wanted to build a better trading platform. FXPrimus has gone on to make a name for itself for its dogged focus on customer needs, wants, and protection.
In today's world, where hacks and data leaks are commonplace, it is undoubtedly essential that you use a broker that will be able to protect your sensitive information. FXPrimus has a reputation in the industry for unparalleled security and customer protection and has even declared itself "the safest place to trade online". However, other than customer protection and security, how well does FXPrimus compare to its competitors in the industry?
FXPrimus is currently headquartered in Cyprus and, as a result, it resides under the CySEC financial regulator's purview. FXPrimus also has licensing authority from twelve different regulatory agencies, and as a result, it is one of the most well-regulated brokers on the market today. As a result of its relationship with regulators, FXPrimus is able to operate in 200 different countries around the world.
As for the trading conditions themselves, the spreads offered by PrimusFX are good at about 2 – 2.5 , but are not quite on the same level as some of their competitors. The leverage offered by PrimusFX is pretty good for the industry, but in no way makes PrimusFX a leader in the space. Depending on the type of account, you can expect leverage ranging from 1:1 at the lower end of the spectrum, and 500:1 at the higher end.
FXPrimus uses the popular MetaTrader 4 platform which can be conveniently used via the web, mobile, and desktop. FXPrimus has also invested in their tech infrastructure for trade processing, and as a result, it provides users with reliably, satisfyingly fast execution speeds. All prices are executable thanks to the broker's use of liquidity providers and STP.
Their focus on user security and data privacy is also reflected in their use of 128-bit SSL tech, which translates to user information being protected through high levels of encryption.
When it comes to deposits and withdrawals, FXPrimus again has reliable and consistently good performance. Depositing and withdrawing funds is a painless process with this broker and, no matter where you live, you can transfer the funds in a variety of ways including wire transfer, credit card, debit card, prepaid cards, and even a number of cryptocurrencies.
Offered in 30 different languages, FXPrimus is a global platform and has a multilingual customer service team on hand. Customer service can be accessed via phone, email, or live chat, and traders can also avail of a number of additional learning materials, support documents, and resources on the site.
Although FXPrimus is certainly not a leader in the space in terms of spreads and leverage, it is certainly a great and reliable choice if you want a broker that is safe, secure, and transparent, and which offers decent trading conditions.
Having confidence in your broker is paramount, and few brokers can match the reliability, security and transparency of FXPRIMUS, one of the top-rated brokers in the industry. Founded in 1999 by former retail and hedge-fund traders, this management team understands the importance of infrastructure when it comes to high-frequency trading volumes. For that reason, they have constructed a network of four data centers across the planet and high-tier liquidity providers to ensure that their Straight-Through Processing (STP) business model works effectively at all times. Scalping, EA's, hedging, and automated trading strategies are welcome with no threat of slippage or re-quotes.
FXPRIMUS is headquartered in Cyprus and falls under the strict regulatory purview of CySEC, but the firm does not stop there. It is also licensed with other regulatory bodies in a host of other jurisdictions, which allows them to service clients in over 200 countries. Unfortunately, they do not accept clients from the United States, Australia, or Japan at this time (Check their site for your country). They do provide support for up to eight languages on their website, and their MT4 platforms can operate in 30 languages. The firm is truly global, with experienced "24X5" customer support that handles quickly any call request during market hours in any time zone. You will also find all major currency pairings and many minor ones, as well. To round out the offering, you may also trade CFD's in indices, equities and commodities, if you wish.
Since FXPRIMUS is an STP shop, you will not have to be concerned about a back-office trading desk, and, as for spreads, they offer the tightest around for variable and fixed bid/ask spreads over traditional or ECN options. You may also want to check out their ECN Premier pricing option, which offers spreads in tenths of a pip for the majors. The platform backbone is MetaTrader4 for desktop and WebTrader options. Mobile trading is also supported, as is Sirix social trading and other automated options. Account types can be individual, joint, or corporate, but the firm also offers a demo and Islamic accounts, too. Pattern recognition software can help guide you to profitable trades, along with other alert systems. Leverage can also be as high as 500:1, with Micro-lot trading allowed. Other support tools and training materials are extensive, as one might expect from such a top-flight broker. Security is also top of mind. All client deposits are kept offshore with Barclays Bank to ensure this firm's motto: "The Safest Place to Trade."
Simple Sign Up Process, Get Started In Minutes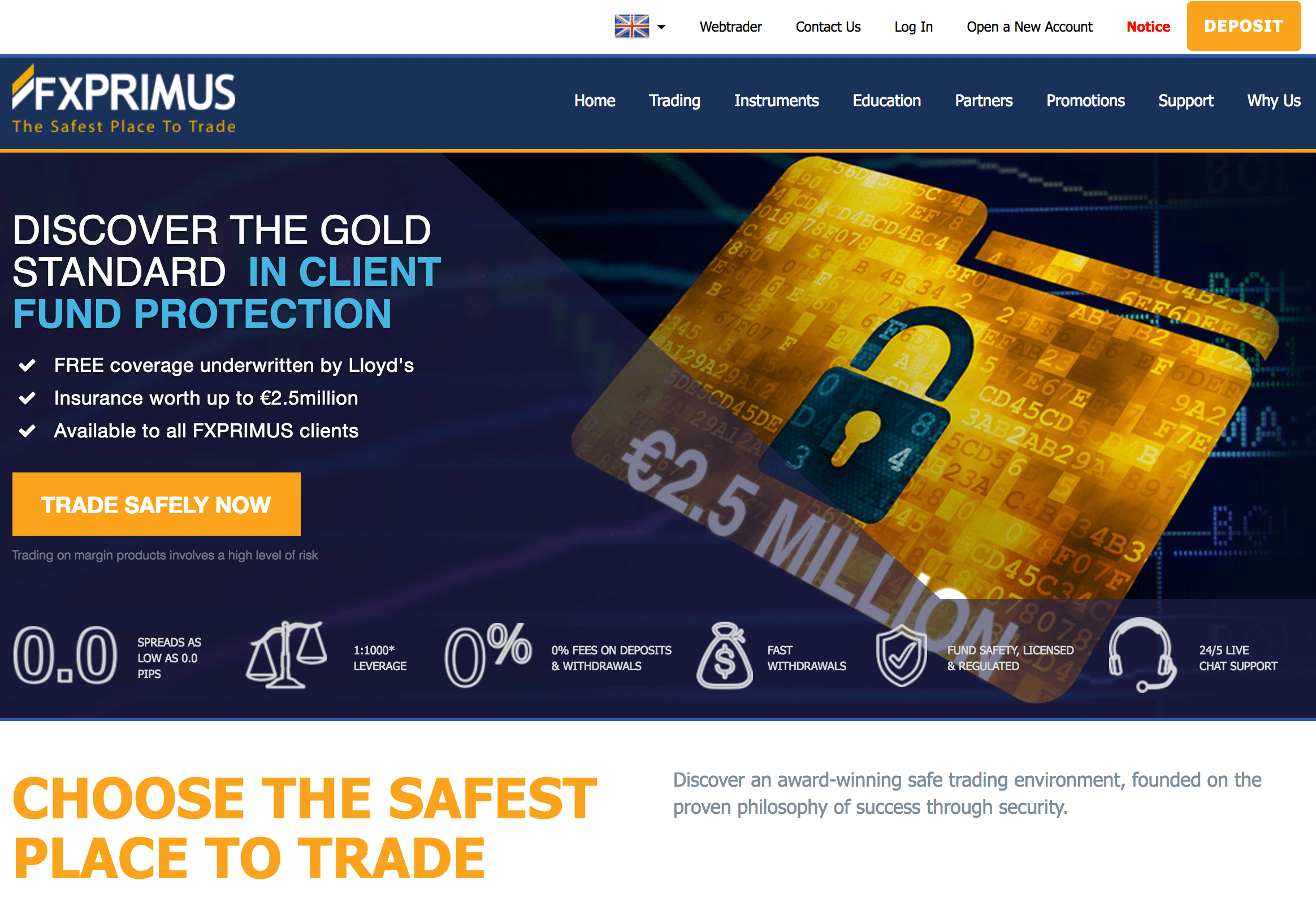 Features at FXPrimus
Why trade with FXPRIMUS? The firm lists these reasons:
Founded in 1999 by a team of experienced retail and hedge-fund traders;
HQ'ed in Cyprus with CySEC regulatory oversight;
Client deposits segregated offshore in Tier-One bank and further protected by national investor compensation protection schemes;
Accounts may be individual, joint, or corporate, with options for classic or ECN type pricing;
Free demo account and Islamic accounts are available;
Deposits can be made by major credit or debit card, wire transfer, Skrill, or a host of other local payment methods;
Minimum deposit is USD $100 or its equivalent;
Trading in standard, mini, and micro lots;
Broad array of traditional currency pairs with up to 500:1 leverage, supplemented by CFD trading in equities, commodities, and indices;
Customers from the U.S., Australia, or Japan are not accepted at this time;
STP processing system supports variable and fixed spread pricing;
Tight spreads, especially with Premier ECN set up = one pip or less, with no threat of slippage or re-quotes, except possibly during high volume events;
MetaTrader4 trading platform options: Desktop, webtrader, and mobile;
Sirix social trading system, as well as other automated trading options;
Extensive training materials and trading tools, including pattern recognition software, alerts, MYFX console, EAs, and daily commentary;
Multi-lingual support, "24X5", each trading day.
Supported Platforms
FXPRIMUS elected to go with the MT4 set of trading platform options for desktop, web trading, and mobile. Sirix social trading is easily interfaced, and a variety of console formats are also offered. When combined with the firm's global processing infrastructure, the company can offer tremendous speed of execution and reliability. The MetaTrader4 family of products is the industry standard for a reason, and FXPRIMUS has adapted its services to take full advantage of its capabilities. From a security perspective, all data and personal information are encrypted using the latest in 128-bit SSL technology.
Deposits and Withdrawals
FXPRIMUS makes depositing and withdrawing an easy process, no matter where you might be located on the globe. Banking wire transfers, major credit and debit cards, Skrill, and even BitCoin can be used, but the firm has also established more than a dozen other payment services that will make local access a snap, together with a prepaid MasterCard option that will enhance withdrawal needs. Be sure to have your AML documentation up to date at all times to ensure timely processing of your requests.
Deposit Now To Start Trading With FXPRIMUS
Trustworthy Brokerage
Customer Support
Experienced customer support representatives will deal with your questions within a four-minute time limit in a variety of languages during every market day in your respective time zone, "24X5". The website is also in eight languages, and the firm's learning academy is overflowing with training videos, support materials, and a variety of signal and alert services to complement your daily trading needs. One-on-one support is also available for all levels of competency.
FXPrimus – Conclusion
FxPrimus Europe (CY) Ltd, trading under the FXPRIMUS trade name, is regulated by CySEC, licence no. 261/14. Its President and CEO is a Mr. Terry Thompson. Does your forex broker reveal the name of its top officer? This is just one more example of transparency that is a hallmark of this firm. Full disclosure for them is a trait that reinforces credibility and trustworthiness. The firm has evolved over the past two decades as a leader and innovator in the forex industry for its broad-based offering, reliability, and its network of data centers and liquidity providers spread across the globe. In your review, you will find many pluses and very few minuses for this company. It has established a high standard for other firms to emulate, as far as safety, security, and effectiveness are concerned. The firm's motto attests to its commitment to be "The Safest Place to Trade."
Claim Your FXPRIMUS Account Now
As Approved By Forextraders.com
Please be advised that certain products and/or multiplier levels may not be available for traders from EEA countries due to legal restrictions.