Trader's viewpoint
The first part of any HF Markets review should start by considering the trading experience. The broker offers clients the tried and tested MetaTrader MT4 and MT5 platforms, but the range of additional research and trading services immediately catches the eye. MT4 and MT5 are robust and effective platforms used by millions of traders worldwide. However, not many brokers also offer additional high-end add-ons such as Premium Trader and Autochartist to allow their clients to get the most out of the platforms.
The Advance Insights feature allows strategies to be built which use AI to factor in volatility and sentiment monitors. And the Trading Board service offers a way to watch the flow of live trades to understand which way prices are heading.
With a range of different account options and a minimum balance requirement of $0, there are few reasons not to set up an account. The solid regulatory protection offers additional comfort, which all adds up to deciding to open and try an HF Markets account, a 'no brainer'.
The range of markets is also appealing. Within seconds of logging in, trading assets ranging from stocks and bonds to commodities, cryptos, and ETFs is possible. That allows several different types of strategies to be operated from the same account simultaneously and for portfolios to benefit from the advantages of diversification.
Trading using the mobile app is effective enough, but there are few standout features. But that doesn't detract from the quality of the overall trading experience.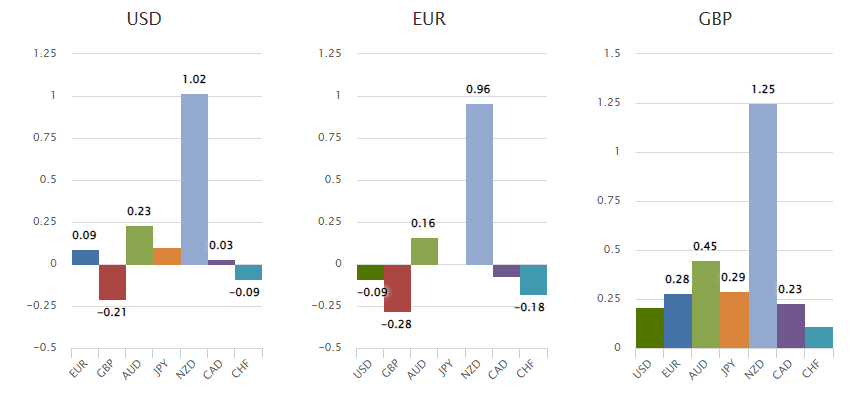 About HF Markets
Widely known by the trading names HF Markets and HFM, HF Markets Group is a global player with regulated entities operating as multi-asset brokers. More than 3.5m people have opened live accounts with HFM, which employs more than 200 staff to ensure the trading experience is high quality.
The firm was set up in 2010, so it has a strong enough track record for those concerned about the safety of funds, and the 60-plus industry awards the firm has won back up the reputation it has established among the trading community. Previously known as HotForex, the firm's rebranding into HF Markets ties in with expanding its coverage to a wider audience.
Who does HF Markets appeal to?
HF Markets has set itself up to appeal to those seeking the best trading tools to access the financial markets. The range of add-ons is comprehensive and can be used to trade any of the available 1,000-plus markets. The research and education package is designed to help beginners get up to speed and, once they do, to take full advantage of what is available.
The platform is designed to cater to absolute beginners and experienced professionals, with the latter likely to be drawn to HFM thanks to the high leverage which can be applied to trades.

Account Types
Premium, Premium Pro, and Zero are the three main accounts on offer. Those with extensive experience can apply for the Professional Account, which requires a $500,000 minimum account balance which, while out of reach for most traders, demonstrates the kind of trader HFM can support.
The Premium and Zero accounts have the lowest minimum deposit requirements possible – zero dollars. Spreads are as low as 0.00 pips on forex and gold, and leverage terms can be set to suit individual tastes.
The Premium Pro account has a higher minimum account balance of $5,000 but that ties in with the account offering market-beating leverage terms of up to 1:2000. Leverage has to be treated with care because losses, as well as profits, are magnified, but this is a standout feature for HFM and a reason many will set up accounts with the broker.
Swap-free trading is available across all accounts.

Markets and territories
HF Markets has a global client base. For example, the FCA-regulated entity HF Markets (UK) Ltd provides services to UK clients, but other firms in the HFM group support traders from Pakistan, Hong Kong, India, Malaysia, Philippines, Singapore, South Africa, Nigeria, and Kenya.
This approach is backed up by the firm's services being available in more than 27 languages. Wherever you are in the world, if the impressive range of trading tools HFM offers appeals to you, you'll likely be able to set up an account and start trading within minutes.
HF Markets (SV) Ltd does not provide services to residents of the USA, Canada, Sudan, Syria, North Korea, Iran, Iraq, Mauritius and Myanmar.
Instruments and spreads
An impressive range of asset types can be traded at HF Markets. There are more than 50 forex pairs, six markets in precious metals, two energy markets, 11 stock indices, 96 stocks, five soft commodities, three bond markets, and 34 ETFs (Exchange Traded Funds). It is also possible to trade 19 cryptocurrencies.
The spreads in forex markets are as low as 0.00 pips, and stock spreads start at 0.01 pips.  As the broker operates using variable spreads, the exact difference between the bid and offer price varies according to market conditions. This can sometimes result in spreads widening, and while HFM might not always offer the tightest trading ranges in the market, one neat feature of the broker is that it offers a spread comparison table that performs two functions. It allows traders to compare spreads at HFM against other brokers and reflects the broker's confidence that its rates are competitive.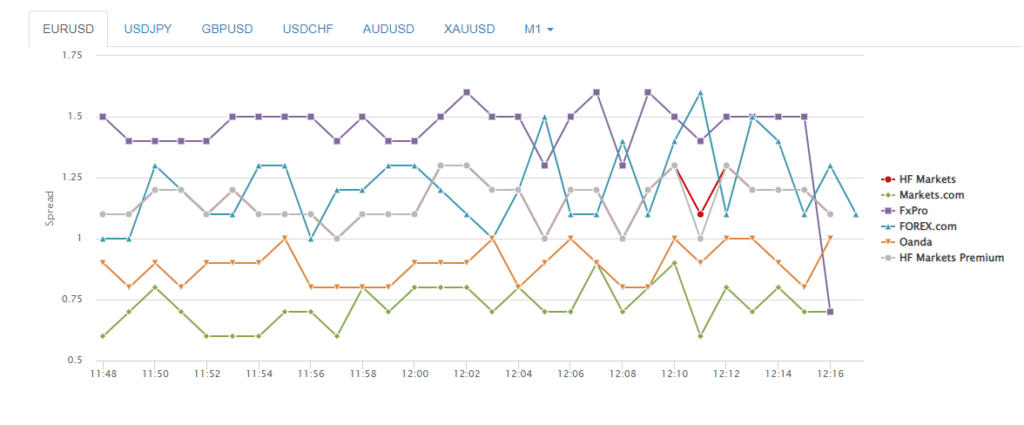 Clients in some regions have access to a broader range of instruments and markets, including the HFcopy trading service and the ability to buy stocks outright, not as CFDs, or invest in a PAMM account.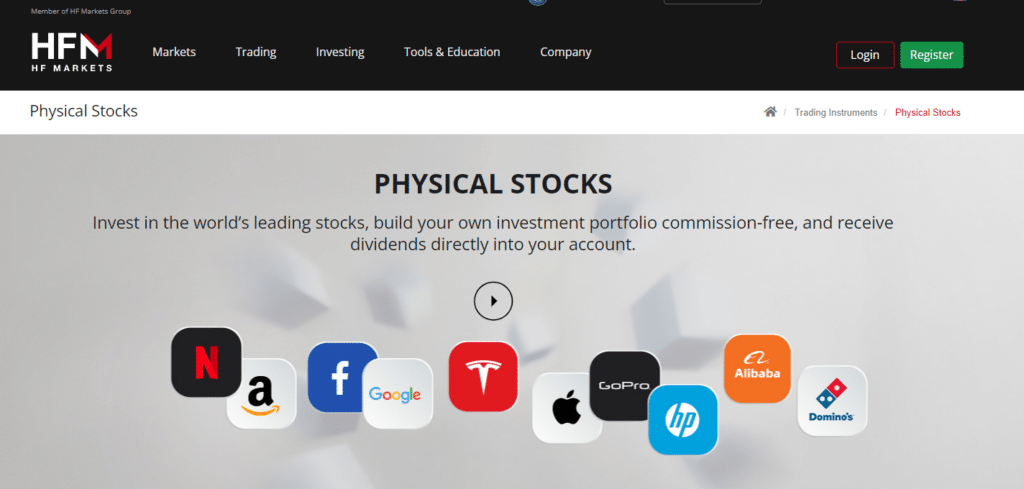 Fees and commissions
HF Markets does not charge any commissions on trades. Fees on deposits and withdrawals are also free of charge. Some banks and payment processors may charge a withdrawal transfer fee, and HF Markets does apply a $5 per month inactivity fee on accounts which don't book trades for over six months.
Platform review
Trading with HFM is conducted using the MetaTrader MT4 and MT5 platforms. Both are well-regarded in the trading community and are the world's most popular retail trading platforms.
MT4 can support up to 2,000 trading indicators, each designed to make identifying trading opportunities easier. The price charts have a clean aesthetic which suits those following charting strategies, and execution is fast and reliable.
With even more indicators and a more comprehensive number of asset groups available to trade, MT5 represents an upgrade on MT4. Still, the slight differences in functionality mean deciding which one to use depends on personal preference. Both platforms support automated trading, which will appeal to those looking to use algorithmic models to manage their account.
Mobile trading
HFM clients looking to trade using handheld devices can choose the MetaTrader MT5 platform in App or WebTrader format or the in-house designed HFM App. The proprietary App is free to download from Google Play or the App Store, and the functionality is user-friendly.
It's possible to trade the markets, update your account, or test new strategies, and another neat feature is that it's possible to use the HFcopy social trading service using your mobile. The HFM APP trading service is currently only available to holders of Premium accounts, though this hopefully changes soon.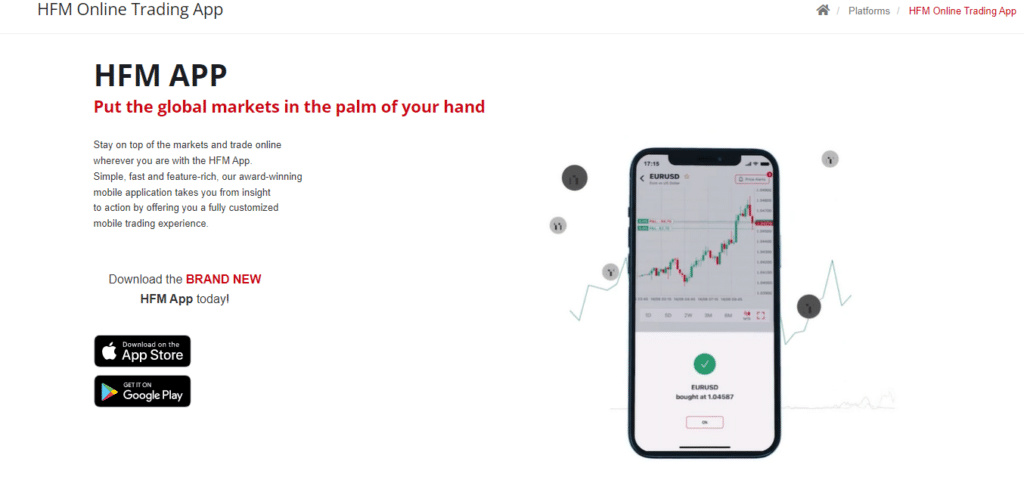 Social trading and copy trading
The Expert Advisors copy trading service is a well-established way for users of MT4 and MT5 to take on and use the best ideas of other traders. At HFM, that is complemented by the additional copy trading platform HFcopy, unique to HFM.
Clients can decide if they want to copy the trading strategies of others or offer their trading ideas for others to follow. If following a strategy provider, they still have complete control over whether to continue doing so.
Crypto
Depending on your location, cryptocurrency trading using an HFM account might be possible. Clients in Malaysia, for example, can buy and sell 19 different cryptocurrencies, including market favourites, Bitcoin, Ethereum, Litecoin, Monero, Ripple, Zcash, and Neo.
Leverage extends to 1:10 on some coins, and spreads are as tight as the 0.02 price range on IOTA US Dollar.

Charting and Tools
Part of the appeal of HF Markets is the impressive selection of charting and tools on offer to enhance the trading experience. Both the MT4 and MT5 platforms are well known for being the natural home of traders who use chart analysis, but there are also additional tools and indicators for HFM clients to use.
The Autochartist package has a strong reputation in the trading community. Its unique Global Market analysis and decision support tools allow traders to identify trading opportunities without the support of a team of analysts and translators.
HFM's exclusive Advanced Insight tool uses AI to scour millions of data points to calculate market volatility and sentiment and to consider how they might influence upcoming market events.
The possible highlight of the additional trading tools is Premium Trader, which does an excellent job of extracting the best possible functionality out of the MetaTrader platforms. A trader can make more informed and confident trading decisions thanks to access to institutional quality technology, including advanced trading tools, user-configurable news and information, as well as trade analysis.
Education
The HF Markets platform offers a comprehensive if not mind-blowing, selection of research tools. There are economic calendars and market news portals, and the educational resources provide just what is needed by any broker trading for the first time. The features most worth investing some time in learning are the additional trading tools, Autochartist, Premium Trader, Advanced Insights and Traders' Board.
Each service offers a different way to get the most out of your trading. For example, the downloadable Premium Trader packages cover a wide range of trading requirements and support strategies ranging from scalpers looking for precise order entry points to traders who base their decisions on complex Excel models.
Trader protections by territory
Client protection and fund security constitute a significant part of HFM's philosophy. Its strong reputation is backed up by multiple industry awards and neat ideas for making trading as safe as possible.
The broker operates under licence from six financial regulators, with client domicile determining which protective umbrella they are sheltered by.
HF Markets (SV) Ltd is registered in St. Vincent & the Grenadine as an International Business, with the registration number 22747 IBC 2015.
HF Markets (UK) Ltd is authorised and regulated by the Financial Conduct Authority (FCA) under firm reference number 801701.
HF Markets (DIFC) Ltd is authorised and regulated by the Dubai Financial Services Authority (DFSA) under licence number F004885.
HF Markets SA (PTY) Ltd is authorised and regulated as a Financial Service Provider (FSP) by the Financial Sector Conduct Authority (FSCA) in South Africa under licence number 46632.
HF Markets (Seychelles) Ltd is incorporated under the laws of the Republic of Seychelles with registration number 8419176-1, regulated by the Seychelles Financial Services Authority (FSA).
HFM Investments Ltd is authorised by the Capital Markets Authority in the Republic of Kenya as a non-dealing online foreign exchange broker with licence no. 155.
Clients' funds are segregated in bank accounts separate from those used by the company, so if the company goes bust, your cash can't be used to pay its debtors. It also offers an innovative insurance product. Its Civil Liability insurance program has a limit of €5,000,000, which provides cover against HFM and third-party errors, omissions, negligence, fraud, and various other risks that may lead to financial loss.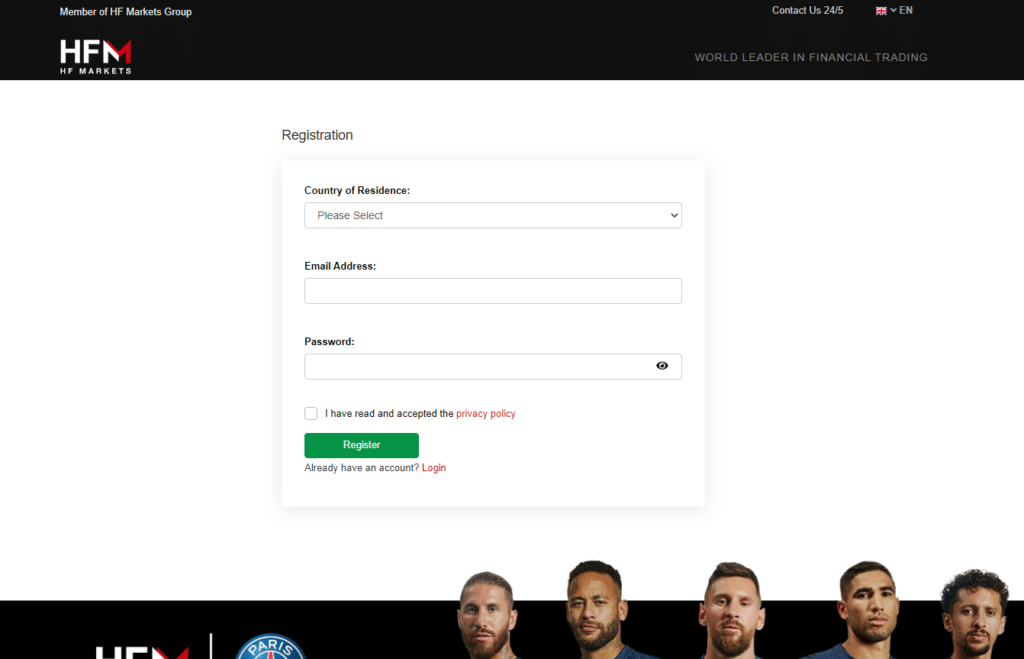 How to open an account
HF Markets offers new clients the choice of a Live account or a free-to-use Demo option. Both HF Markets login areas can be found easily on the broker's homepage. Live accounts take minutes to set up, and the Demo account is available almost instantly. As HFM is regulated, new clients must provide KYC (Know Your Client) documentation and complete a questionnaire on topics such as trading experience and educational background.
Depending on your domicile, you may qualify for promotional offers such as the Top Up Bonus or No Deposit Bonus schemes where the broker matches some or all of your initial deposit or offers more relaxed T&Cs.
As third parties operate the MT4 and MT5 platforms, the onboarding process involves new users being sent login details specific to the MT trading dashboard.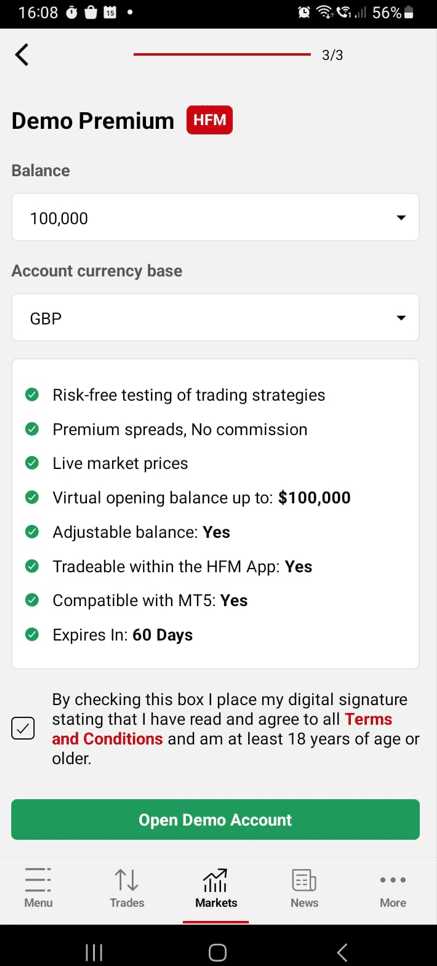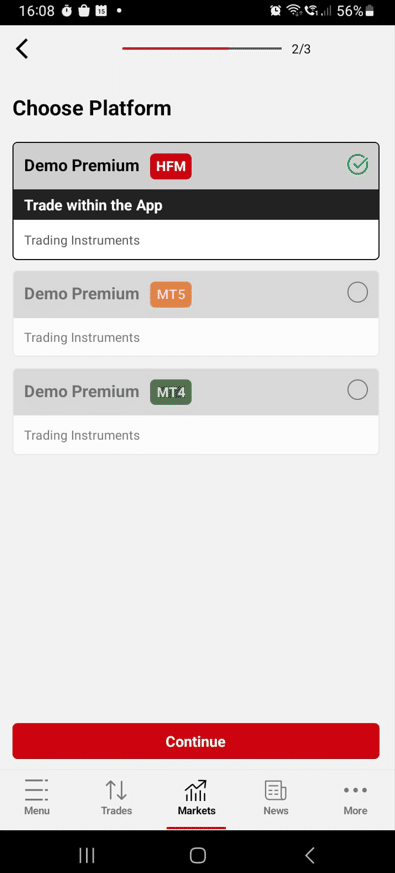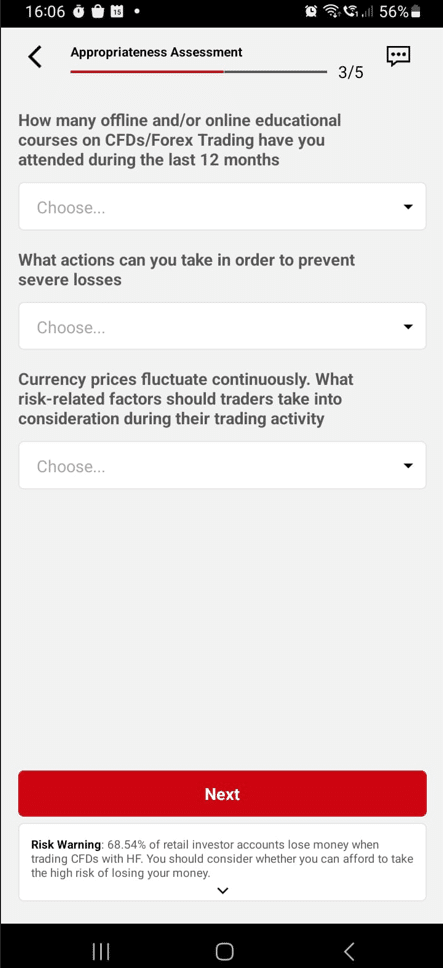 Customer support
HF Markets' customer support can be contacted on an impressive 24/5 basis via phone, email, or Live Chat. That ensures clients get the help they need in a format that suits them, putting HFM in a strong position in this category.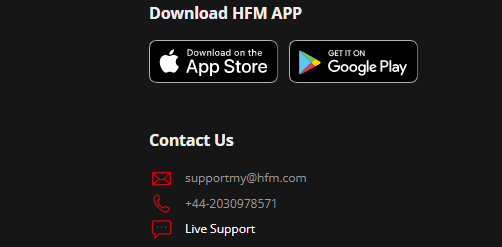 The bottom line
The unique nature of the additional services offered by HF Markets will make them a best-fit broker for many traders. There's a lot to like about the range of instruments, high-end trading tools, and round-the-clock customer support. If you want to trade a wide range of asset groups, draw on lots of quality research, and trade using a robust platform, then HF Markets ticks the box.
Others may point to one or two features which aren't as good as they could be. The mobile trading App, for example, is satisfactory but is not quite the same standard as found elsewhere. But no broker is an ideal fit for every trader, and the good things about the HFM offering ensure the broker will be on the shortlist of those traders looking to get their trading off to the right start.
FAQs
How can I open a demo account with HF Markets?
The link to open a demo account is found on the home page of the HF Markets site. It's possible to set up a Demo account for the HFM App, MT4, and MT5 platforms.
Do HF Markets offer an Islamic account?
Yes. HFM offer swap-free accounts, which are Shariah-compliant.
What fees do HF Markets charge?
HFM doesn't charge commissions on trades or cash deposits and withdrawals. Instead, they make their money on the difference between the bid-offer spread in the markets they offer. An inactivity fee is charged if an account has no trades booked for six months.
How do I withdraw money from HF Markets?
Withdrawals and other account management tasks can be completed using the HFM App or a desktop device. Withdrawals using Skrill and Neteller are immediate and have a minimum withdrawal amount of $5. Debit/ credit card and wire transfer withdrawals take 2-10 days to process and must be a minimum of $5 and $100, respectively.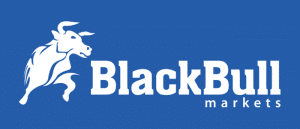 Forextraders' Broker of the Month
BlackBull Markets is a reliable and well-respected trading platform that provides its customers with high-quality access to a wide range of asset groups. The broker is headquartered in New Zealand which explains why it has flown under the radar for a few years but it is a great broker that is now building a global following. The BlackBull Markets site is intuitive and easy to use, making it an ideal choice for beginners.
Please be advised that certain products and/or multiplier levels may not be available for traders from EEA countries due to legal restrictions.