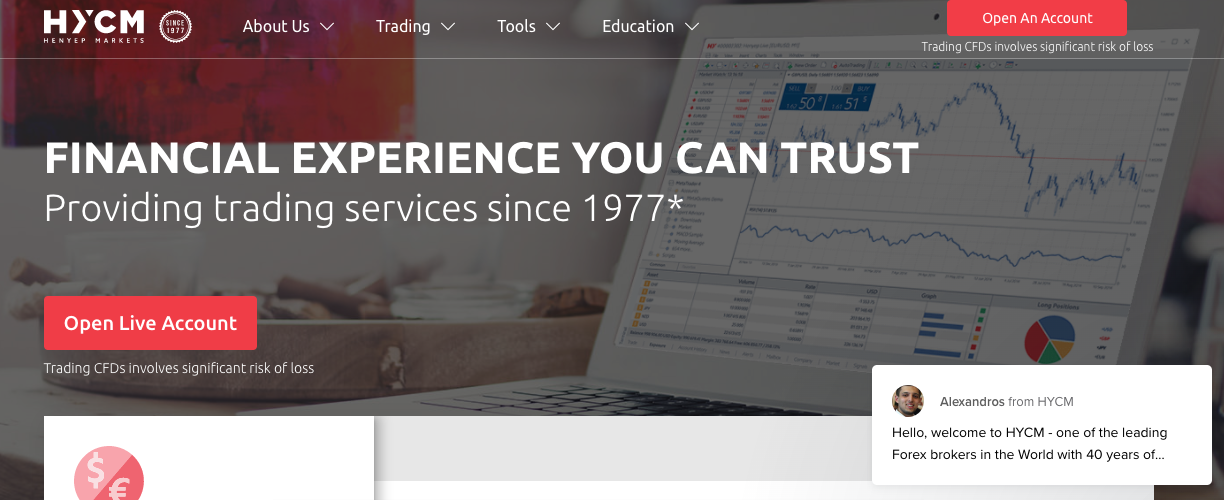 | Pros | Cons |
| --- | --- |
| Over 40 years' experience in the trading space | No MT5 access provided/td> |
| Quick execution speeds | Research resources could be more advanced |
Traders Viewpoint
With over forty years' experience as a broker, HYCM can make a legitimate claim to being one of the most well-established brokers currently operating in the online space. HYCM is the retail-trading arm of the Henyen group, an international conglomerate with decades of experience behind it.
Although it is currently headquartered in London, HYCM currently has operations across EMEA and Asia-Pacific, including the United Arab Emirates and Hong Kong.
In total, it has a client base spread across one hundred and forty countries around the world, giving it one of the most diverse footprints of any online broker. But when it comes to the trading experience offered by it, how does it stack up against the competition?
Trading is done primarily using the MetaTrader 4 platform, which is the most commonly used trading platform out there, and more than likely the one you are most familiar with.
The MT4 platform is known for being stable, easy to use, and very adaptable no matter what your skill level. Additionally, HYCM has also developed a number of proprietary trading tools that add to your trading experience and can be accessed directly through the trading platforms. Mobile trading is delivered through the MT4 platform, as well as through the HY WebTrader.
In general, the trading conditions offered are pretty solid. Spreads are low, and execution speeds are incredibly quick, making executing trades a quick affair. There are multiple account types available depending on what type of trading style you prefer, which includes fixed, classic, and raw account types.
As you would expect from such a geographically diverse broker, customer support is provided on a 24 hour a day basis in multiple languages. Support is provided through web chat, email, and by phone. Additionally, there are also numerous FAQs and other materials to help you work through any problems you might be having yourself.
In terms of customer trust and safety, HYCM also ranks very highly. As a globally diversified broker, it comes under the regulatory oversight of the FCA in the UK, CySEC in Cyprus, the SFC in Hong Kong, and the DFSA in Dubai, making it one of the most well-regulated brokers out there.
With over four decades in continuous operation, it is clear that whatever it is doing, it seems to be doing it right! In addition to the hundreds of thousands of customers it has serviced, HYCM has also amassed numerous industry awards from a wide variety of industry publications across the globe. As such, no matter what skill level you are, if you are looking for a highly professional online broker, with an almost unrivalled amount of experience in the industry, HYCM is an excellent choice.
While many forex brokers do their best to impress you with their claims and purported benefits, there are a select few that already have the goods in house and have no need to go to great lengths to impress anyone. HYCM.com (formerly HYMarkets.com) is one of the very few that has every attribute a trader could want in spades and then some. The firm is a member of the Henyep Group, a globally diversified conglomerate with over 35 years of operational experience in financial services, property, education, and charitable activities. This broker is headquartered in London, but is also authorized and registered in London, United Arab Emirates, and Hong Kong.
HYCM is uniquely positioned in three continents with a corporate footprint in over 20 countries and 3 continents. Regulatory compliance is multifaceted, as well, under the auspices of the FCA in the UK, the SFC in Hong Kong, the DFSA in Dubai, and by way of the MiFID for the European Union. Client funds are always protected by regional compensation plans, segregated trustee accounts in top-tier banks, and by external auditor compliance. Safety and security are never an issue with HYCM, and its quality of service is above excellent, as the numerous industry awards listed on its website that have been earned since 2011 confidently denote. Unfortunately, U.S. clients are not accepted at this time.
As a large global player with 35 years of operational experience under its belt, HYCM can access the best pricing for its diverse list of investment instruments. From forex to stocks, metals, commodities and indices, a trader would be hard pressed to find a better partner in any region of the globe. Innovation and customer service are also major hallmarks of this firm, and it has been a leader in building online access to all international capital markets. Metatrader4 forms the basis of access, but it is also augmented with special features that only a firm like HYCM can provide. If you want professional quality, integrity, and excellence, HYCM has it all.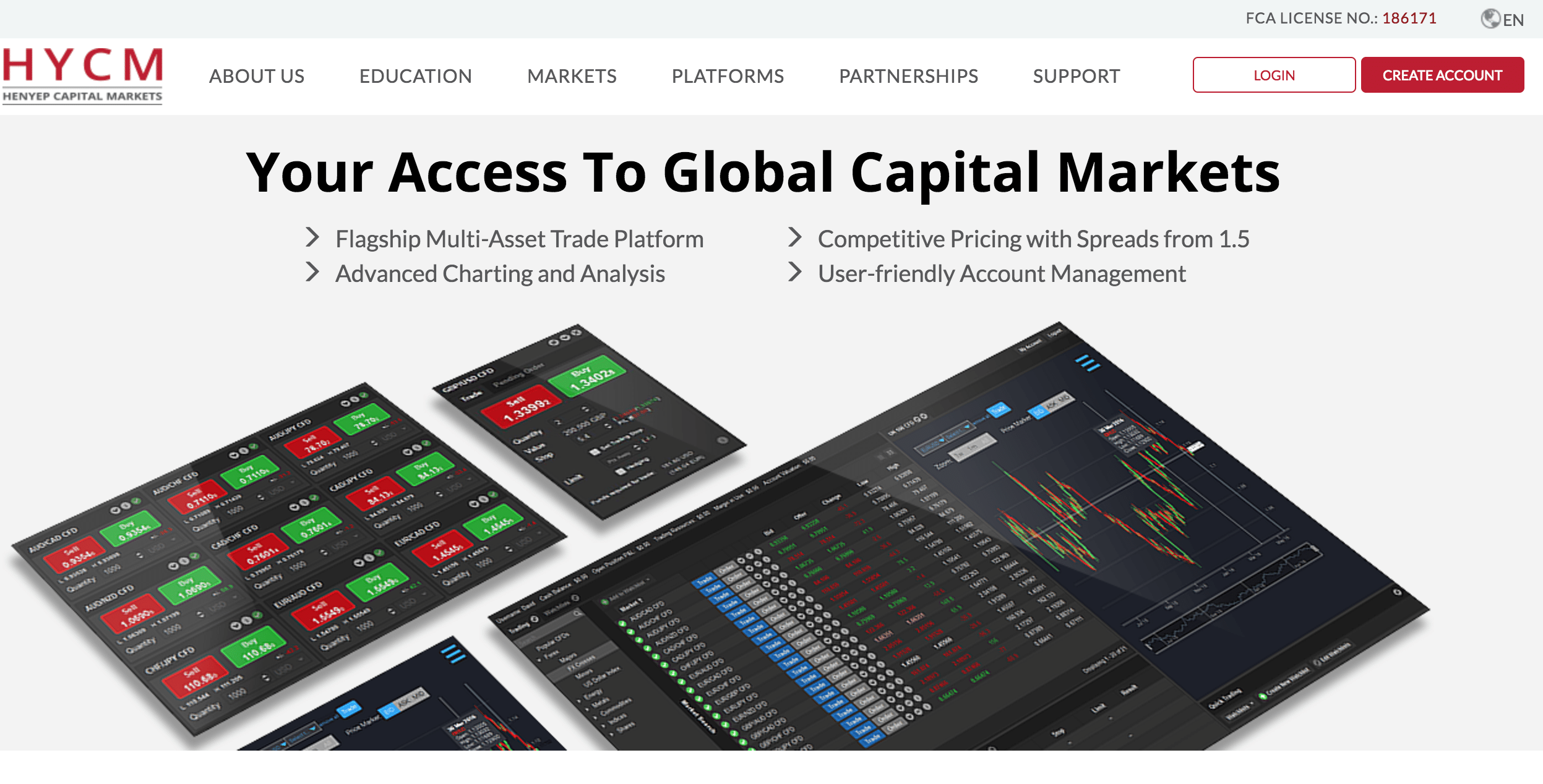 Features at Henyep Capital Markets (HYCM)
Why trade with HYCM.com? The firm lists these reasons:
Trade with a leader with over 35 years of operational excellence and experience;
Headquartered in London's financial center and in full compliance with the FCA and other major global regulatory bodies;
Full transparency in all matters with an emphasis on client deposit protection from local compensation schemes, external audits, and the segregation of deposits in Tier One banks away from the firm's operational capital;
Broad global presence in all markets, including arrangements with major liquidity providers that provide spreads that start at 1.8 pips (lower for higher account types);
Trade a full array of asset choices in currency pairs, stocks, indices, and commodities, all from one integrated account with access to all capital markets through their global network;
Account opening process is easy with three distinct account types to suit the needs of any individual, along with a free demo account and varying benefits according to amount of activity:
Mini – Starts at $100 and up, with spreads as low as 1.8 pips and 200:1 leverage as an upper limit;
Standard — Starts at $1,000, with spreads as low as 1.5 pips and leverage of 200:1, plus additional privileges;
VIP – Designed for the institutional trader – Starts at $10,000 – STP ECN with no dealer desk, spreads can start at 1.5 pips and leverage can be 200:1, plus additional privileges;
Trading signals come free for the top two account classes;
Rebates based on volume of trading turnover;
Experienced support staff and help desk in local languages, 24X5, with a focus on excellence that only 35+ years of service can provide;
Free trading education and one-to-one support;
Significant investment in training and support materials, plus continuous commentary and market information, SMS alerts, timely market information briefs, advanced charting systems, and technical analysis tools;
No slippage is guaranteed, as are stop loss orders, even when volatile market conditions might prevent that guarantee with other brokers;
Trading platforms are designed around the highly popular Metatrader4 series, augmented with additional features to provide access from anywhere at anytime, as long as you can access the Internet.
Supported Platforms
The management at HYCM has chosen to align with Metatrader4 for its basic and web-based trading platforms, but they have also developed a brand new proprietary platform that they have named "PrimeTrader". HYCM has also developed many innovative trading tools or widgets that can be accessed directly on the various trading platforms. These tools allow clients to better understand products, analyze trends, simulate the market, and more. HY Webtrader supports the iPhone, iPad and Android devices. The latest in 128-bit SSL encryption technology ensures that every session is private from a security purview.
Deposits and Withdrawals
As you might expect of a firm of longstanding, HYCM offers a multitude of ways to deposit and withdraw funds. These methods include all major and many minor Credit/Debit cards, Skrill (Moneybookers), WebMoney, and Bank Wire Transfers. All funds are protected through segregation and by using industry best practices that are continually audited. Withdrawals are processed promptly, especially when legally required documentation is in place. In fact, this firm receives much praise on the Internet for how rapidly and easy it is to withdraw funds, always a good sign.
Customer Support
HYCM has focused on delivering high quality customer service, from one-on-one direct support to whatever you might want in the area of training, education or strategy development. Support comes for 24 hours on any trading day throughout the world via live chat, direct phone line, fax, or email in several languages, including Russian, Chinese, Arabic, Hindi, and Urdu. Support materials are in abundance, as well, to suit all levels of client expertise from beginner to veteran.
Henyep Capital Markets (HYCM) – Conclusion
HYCM (formerly HY Markets) has established a global reputation for excellence and professionalism that is hard to come by in today's marketplace. If you are looking for the best and prefer the comfort of knowing that your broker is heavy on compliance, especially when it comes to protecting customer deposits, then HYCM cannot be beat. As their website notes, "With over 35 years of operational history and under the leadership of a visionary management team, Henyep has become synonymous with professional and quality services. The Group is dedicated to delivering best-of-breed services to its clients and the community alike." Going with a leader like HYCM definitely has its benefits.
See all our forex broker reviews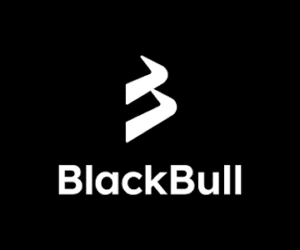 Forextraders' Broker of the Month
BlackBull Markets is a reliable and well-respected trading platform that provides its customers with high-quality access to a wide range of asset groups. The broker is headquartered in New Zealand which explains why it has flown under the radar for a few years but it is a great broker that is now building a global following. The BlackBull Markets site is intuitive and easy to use, making it an ideal choice for beginners.
Please be advised that certain products and/or multiplier levels may not be available for traders from EEA countries due to legal restrictions.