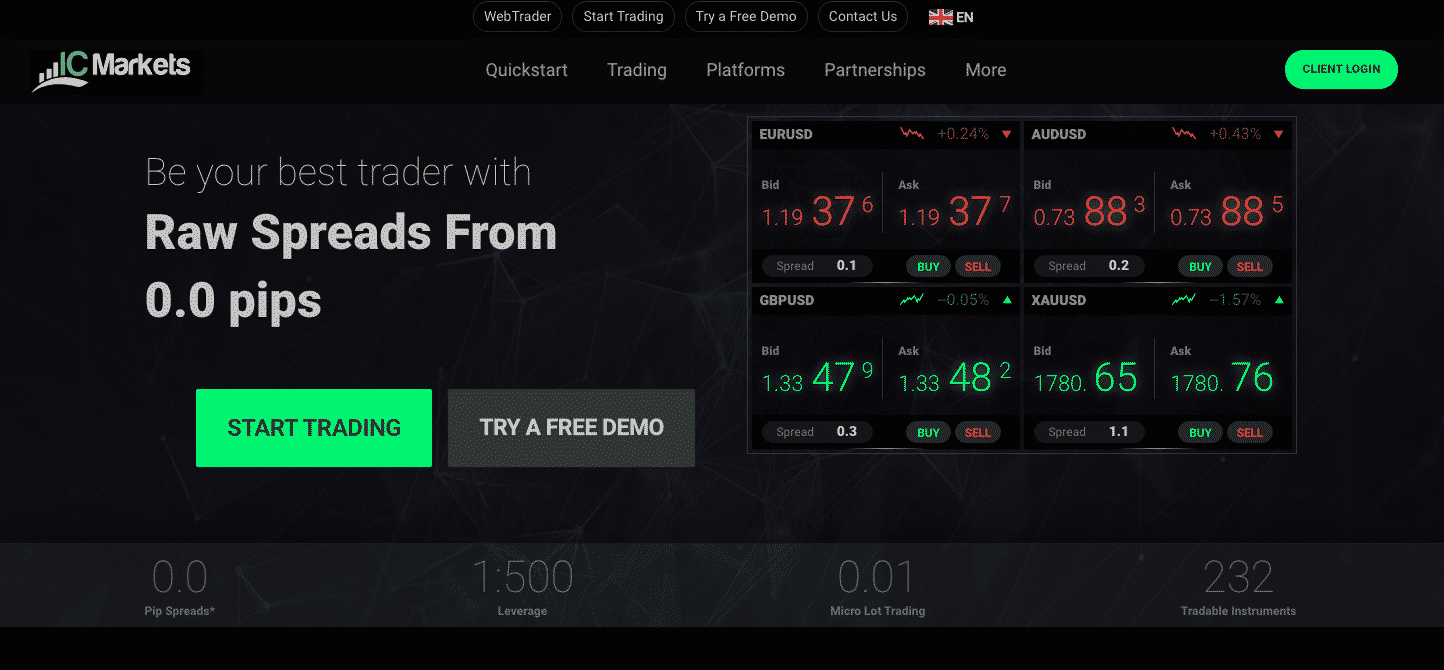 |  IC Markets Pros |  IC Markets Cons |
| --- | --- |
| Fees are quite low | Support can be slow to reply |
| No fees for deposits or withdrawals | Not a huge amount of choice available |
| Easy sign-up process | Investors outside of EU not protected |
Trader's Viewpoint
IC Markets instantly grabs the attention of traders because it has low fees in place. This, combined with no fees charged for making deposits and withdrawals, means that profit margins aren't hit by additional costs. This is something that instantly puts it ahead of some other brokers on the market.
While the fees are generally low, financing rates are quite high. This can increase the cost that traders have to take on board when trading in higher volumes. As such, it's important to ensure that you're able to deal with the costs when choosing to take on the IC Markets financing.
In terms of using the IC Markets platform, traders are given one of the most comprehensive choices around. Access is available for MetaTrader 4, MetaTrader 5 and cTrader. On top of this, IC Markets also features a range of separate tools that provides one of the best selections of trading software on the market. There are also mobile versions of all platforms, so traders who like to work on the go have access to the platform with which they are most comfortable.
The only real negative is that the number of trading instruments on offer is a bit limited – so if you want to trade with an extensive range, then IC Markets is probably not the broker for you.
Deposits and withdrawals can be made with eWallets, which means that the payment methods are more varied than other brokers. This is another benefit, especially for traders who want to make their payments using electronic methods.
About IC Markets
IC Markets was founded in 2007, so it has more than a decade of experience offering brokerage services to traders. It's an Australian company, but it still has regulatory licences in place from a number of top-level regulators, including the FSA, CySEC and ASIC.
As one of the more established brokers on the market, IC Markets has managed to build up a good reputation. Part of this is due to the business strategy of keeping its fees as low as possible. This means that IC Markets allows traders to work without cutting into their costs too heavily on each trade.
Who does IC Markets appeal to? 
IC Markets is able to appeal to both beginner traders and more experienced traders. This is due to the low fees that it has in place. This is an obvious plus point because the higher the fees that a broker has in place, the more it will eat into the potential profits that a trader can make.
The broker will also appeal to traders who want to have a narrow portfolio. This is because the product list that's available at IC Markets is not that varied. Therefore, if you're a trader who wants to diversify your portfolio, then IC Markets might not be the broker for you. However, if you're a trader who is happy to stick to the areas in which they are well-versed, then IC Markets should have more than enough on offer to keep you happy.
It's also very good for traders who want to use more modern payment methods. This is because eWallets are available as a payment method. Not all brokers allow this, so it's definitely a positive that this option is available to traders at IC Markets.
Account types 
There are three main accounts that are available to traders. These accounts offer the following services:
Raw cTrader: This account has a commission rate of $3 per US$100,000, with spreads of 0.0 pips, and it offers the cTrader platform for use.
Raw Spread: This account has a commission rate of $3.50 per lot per side, with spreads of 0.0 pips, and it allows traders to use the MetaTrader platform.
Standard account: There's no commission applied to traders with this account. Spreads start at 1.0 pips and the MetaTrader platform is available.
As you can see, there is a lot of variety in terms of what's on offer to traders, so whichever account option is best for your own trading style can be chosen.
An Islamic account is also available – this allows traders who follow the Islamic faith to trade without breaking Sharia law. These are swap-free accounts, which means that no interest is either paid or earned. The pips are quite low for this type of account, but you do need to be Muslim in order to use the account. It also allows MetaTrader to be used as a trading platform.
Markets and territories
There's a selection of markets available to traders at IC Markets. While it's not the largest in the industry by any means, it still offers enough for traders to get started and to build up a profitable portfolio.
Forex CFD: 60 currency pairs
Indices CFD: 23 indices
Commodities CFD: 19+ commodities available
Stocks CFD: 120+ stocks
Bond CFD: 6+ bonds
Crypto CFD: 10 cryptos available
Futures CFD: 4 futures
As you can see from the different markets that are available, IC Markets certainly has enough for a trader who's just getting started. However, for traders who want to diversify their portfolio, this might not be enough to offer them the selection they want.
IC Markets is available to traders all around the world. The only countries where IC Markets can't be used are the US, Canada, Japan, New Zealand and Iran. IC Markets does also have a disclaimer that states that it's not available to be used in any country where it is against local laws to trade on the different markets. This means that IC Markets is a truly global company that covers traders all over the world.
Instruments and spreads
The forex instruments that are available cover 60 different currency pairs, and there are some extremely competitive spreads available to traders. The spread is relatively low for most of the common pairs, with only the more rare currencies offering higher levels of spread.

In terms of indices, there's a decent amount available to traders at IC Markets. The spreads start at 0.4 pips, meaning that it won't break the bank for traders who want to add to their portfolio.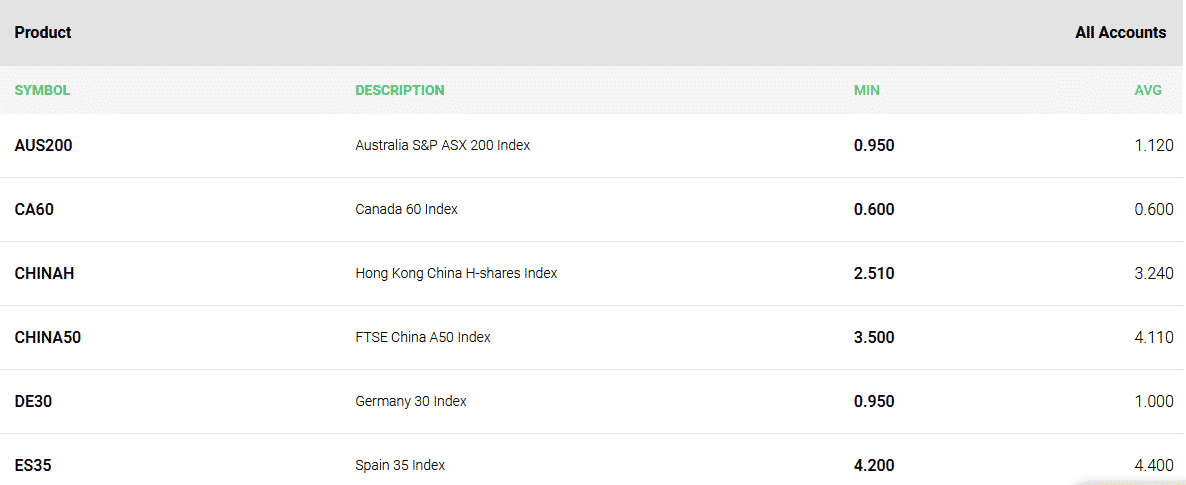 The commodities options allow traders to carry out spot trading. This is traded against the price for the euro or the dollar and works from the time that the trade was placed until the close of the trade.

Stocks offer quite a significant range when compared to other options that are available at IC Markets. However, it's still well below what some other brokers offer.

There's a small bonds offering available at IC Markets. Six bonds are available, and there's no interest debited or credited against them. The bonds market also has a lower leverage amount than other markets, with 1:200 offered by IC Markets.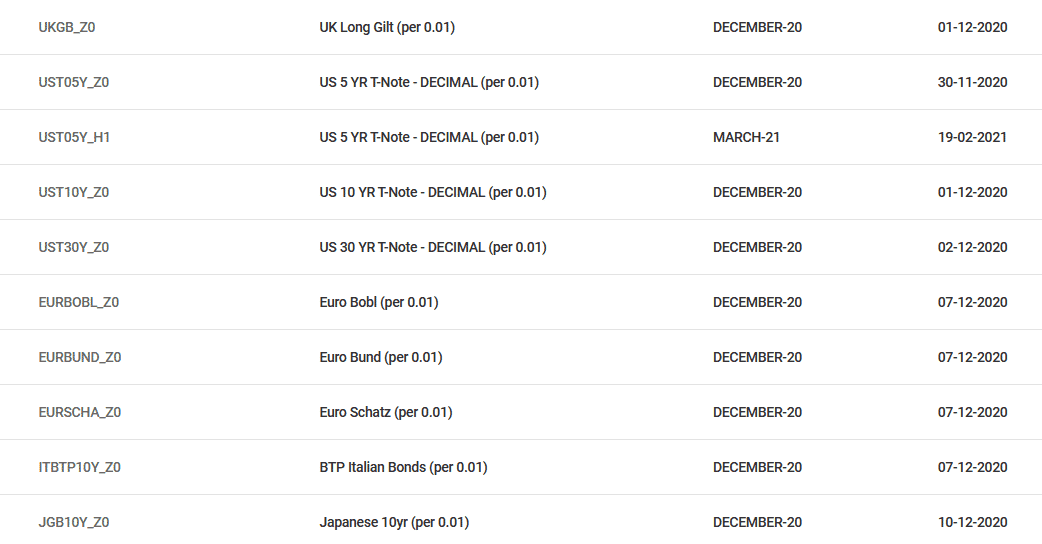 The crypto choice is quite limited compared to what's available on the market. There are 10 of the most popular cryptos available, which means that the most popular cryptos can be accessed.

The futures markets at IC Markets are relatively small – just four futures are available. What is good about the futures options at IC Markets is that all commissions are built into the spread. This ensures that costs are kept low for futures traders.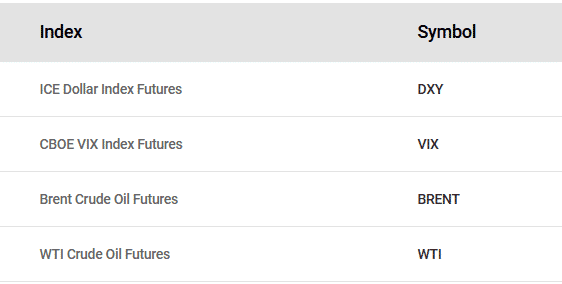 Fees and commissions
The fees and commissions at IC Markets are generally quite reasonable, with each different account type offering different levels of fees.
The Raw cTrader and Raw Spread accounts both offer commissions on trades as opposed to spreads. For the cTrader version, there is a commission of $3 per US$100,000. For the Spread version, there is a commission of $3.50 per lot per side. Both of these are comparable to what is on offer with the rest of the market.
The Standard account offers spreads that start at 0.1 pips but can rise depending on the instrument that is being traded. Overall, the spreads on offer are reasonable and compare well with other brokers.
What is good about trading with IC Markets is that it offers no fees on deposits or withdrawals. This is great to see, as some brokers will try to entice traders with low fees but then claw away at profits by charging for payments. On top of this, there isn't an inactivity fee, so you don't have to worry about your portfolio being chipped away if you leave it to its own devices for a while.
Platform review
What's fantastic about IC Markets is the range of platforms available. With both MetaTrader 4 (MT4) and MetaTrader 5 (MT5) on offer, this is automatically a great start. These can both be used on a range of different systems, so no matter what device you use to trade with, you will be able to engage with the MetaTrader platform.
Obviously, MT4 is generally regarded as the industry standard, and it's won a number of awards for good reason. However, MT5 also being available is certainly a bonus. The range of tools that are available with both platforms, as well as raw pricing and fast trade executions, mean that traders will be able to trade to their full potential when using a platform from the MetaTrader family.
cTrader is more geared towards forex trading. Its features include no trading restrictions, a range of payment options, lot sizes of 0.1 and upwards, fast order executions and raw pricing. While it doesn't quite offer as much in terms of polish as MetaTrader, it's still extremely well-designed for forex traders.
There are also additional tools that can be used at IC Markets. There are private servers that can be used for trading, advanced tools from MT4, and a multi-account manager. This all makes IC Markets one of the best brokers on the market in terms of the platforms on offer.
Mobile trading 
The mobile trading options at IC Markets are in line with what's expected from the market. Traders are able to download all of the different platforms for their mobile devices and so can trade when they are on the go.
On top of this, there are also web versions of the different platforms. This ensures that if traders don't want to download the mobile app, they will be able to access the trading platform using the web version. Mobile browsers are of a sufficient standard to run these platforms now. However, it should be noted that for the highest-quality performance, it would still be advisable to download the app.
Social trading and copy trading 
IC Markets itself doesn't offer a facility for copy trading. However, there is a way for you to carry out copy trading when trading with IC Markets. There is a feature that's included in MT4 called Trading Signals. This allows you to copy the deals that other traders carry out in real time.
The most successful traders will appear at the top of the list, so you will be able to choose a trader who has a lot of success and follow their lead when it comes to how you carry out your own trades.
Crypto 
Crypto is still quite a new concept to a lot of traders. Because it's a highly volatile market without too many clear patterns, it can be something that traders try to avoid. However, to the right trader, it can be an extremely profitable market to enter into. While it might not be fully popular to traders yet, it's certainly a growth market and something that could be highly popular in the future.
IC Markets offers traders the ability to trade in crypto. While there isn't the complete roster of cryptos that are out there, it does include 10 of the most popular cryptos. This ensures that traders who want to get involved with trading in crypto have the option to do so. The cryptos that are available are as follows:
Bitcoin
Ethereum
Litecoin
Dash
Bitcoin Cash
Ripple
EOS
Emercoin
Namecoin
Peercoin
Charting and tools
The charting tools that are offered with IC Markets are quite extensive. Firstly, there are a number of different charts offered within the MetaTrader platforms. Both MT4 and MT5 give traders the opportunity to carry out a number of different analytical charts when they are carrying out trades. This ensures that traders can be fully informed about what different trades they want to carry out.
IC Markets also gives traders the opportunity to add 20 new trading tools to MT4. These are tools that were previously unavailable on MT4, so it seriously increases the level of analysis that can be carried out. Some of the tools that are available are as follows:
Alarm Manager
Correlation Matrix
Correlation Trader
Trade Terminal
Market Manager
These increase the potential of MT4 and ensure that traders are able to carry out their trading to the absolute best of their ability.
Education
There's an extremely extensive education section available at IC Markets. While it's not strictly part of the education section, the help centre is an excellent resource for traders who want to get to grips with what IC Markets has to offer. It allows many different questions to be asked, which allows traders to find out what can and can't be done with IC Markets.
The education section itself is absolutely fantastic. It starts out with a 10-lesson series that introduces traders to trading. From here, absolute beginners can get the basics down so that they can trade with a little more confidence.
From there, IC Markets offers a number of different aspects of education. There are trading articles and how-to guides for newer aspects of the market. There are also a number of different video tutorials that help to introduce concepts to traders, as well as including information for more intermediate traders.
IC Markets also offers a WebTV section. Here, there is up-to-date news that comes directly from the trading floor of the NYSE. It's one of the very best education sections on the market at the moment. Not many brokers can come close to what IC Markets offers to its traders. This is definitely a positive sign and will help traders when they start their journey with IC Markets.
Trader protections by territory 
There are a lot of different protections in place for traders around the world at IC Markets. The first one is through segregation of funds. This ensures that trader funds can't be used to pay off any debts that IC Markets might accrue.
Within Australia, the funds are segregated using the Australian banks. This complies with the client money-handling rules that are in place for that country. In the EU, the funds are segregated at top-tier European banks. This complies with the MiFID regulation. For the rest of the world, IC Markets uses top-tier banking institutions that comply with the Securities Regulations.
IC Markets is also regulated by ASIC, CySEC and the FSA. These bodies ensure that all traders from any territory that accepts IC Markets as a broker are protected by the legislation that's in place. IC Markets also submits to regular external audits and has anti-money laundering processes in place.
How to open an account
Opening an account with IC Markets is quite a simple process. The first step is to click on the 'Start trading' button at the top of the screen. This will take you to a new page, where you can enter your personal details. If you don't want to have to do any typing, then you can also use your PayPal account, Facebook account, or email address to enter the information. These are all available at the top of the form via clickable widgets.
Once this is done, you will have to enter a little bit more information about yourself and what you want to achieve when trading, set up your account, and then fund the account to get started. Once all of this has been carried out, you will have a functional account with IC Markets.
Customer support
 The customer support at IC Markets is a bit of a mixed bag. While it is available 24/7 through a live chat feature, it's also not the most responsive of support services. This means that if you have an issue that needs to be resolved quickly, you might not get the help you need in time. In the fast-paced world of trading, this can obviously be a huge issue. It can lead to heavy losses.
While there isn't a huge number of issues in regard to the platform and how IC Markets works, it's still important to have support that responds in a timely manner – especially in an industry that moves as quickly as trading does.
The bottom line
Overall, IC Markets offers traders a positive experience. It's one of the best brokers out there for traders who are just starting out. This is because the fees are relatively low and the educational materials are excellent. It gives traders who are just getting started an easier route into the world of trading.
However, for more experienced traders, IC Markets might not have the range of instruments that they need to create a highly diverse portfolio. The low fees are a definite plus, but if the instrument that you want isn't available, then it doesn't matter what the fees are.
On the whole, if you're a beginner trader, then IC Markets is a great place for you to start trading. If you're an experienced or professional trader. then you might want to look elsewhere.
FAQs 
Is IC Markets a regulated broker?
It is. IC Markets holds a number of regulatory licences from different legislative bodies. This ensures that traders from all over the world are able to trust the service that IC Markets offers. It has licences from ASIC, CySEC and the FSA.
Does IC Markets offer an Islamic account?
Yes, IC Markets does allow Islamic traders access to an account that complies with the laws of Islam. It provides no interest or costs on swap positions and ensures that there are no religious difficulties when trading. It is important to note that traders will have to prove that they are of the Islamic faith in order to get access to this type of account.
What are the deposit options for IC Markets?
Traders can make payments and withdrawals using a range of different methods. Bank transfers and debit cards can be used as payment methods. On top of this, PayPal is also available for traders who want to use an eWallet.
How do I close my IC Markets account?
Closing your account is a simple process. Just close all of your open positions and then withdraw your remaining funds to your preferred payment method. This will leave your account dormant. You can leave it like this if you wish – there are no dormant account fees with IC Markets. If you want to close it fully, then just contact customer support and inform them that you would like your account to be closed.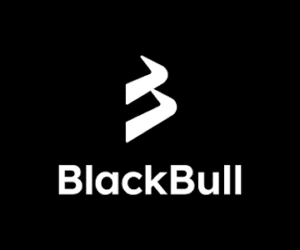 Forextraders' Broker of the Month
BlackBull Markets is a reliable and well-respected trading platform that provides its customers with high-quality access to a wide range of asset groups. The broker is headquartered in New Zealand which explains why it has flown under the radar for a few years but it is a great broker that is now building a global following. The BlackBull Markets site is intuitive and easy to use, making it an ideal choice for beginners.
Please be advised that certain products and/or multiplier levels may not be available for traders from EEA countries due to legal restrictions.