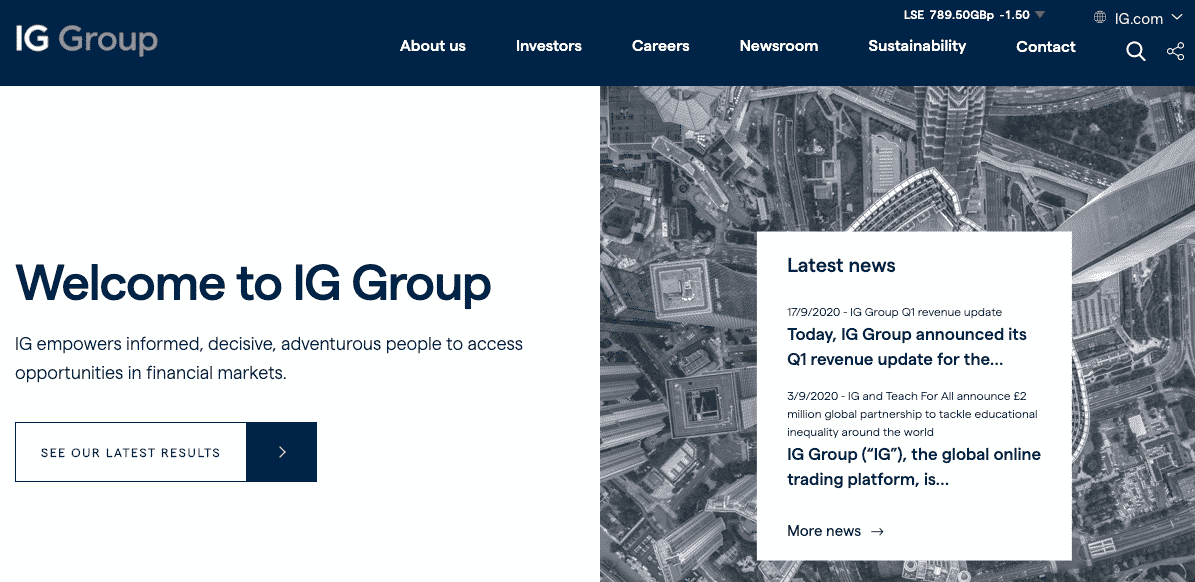 | Pros | Cons |
| --- | --- |
| Huge range of financial instruments ready to trade—over 17,000 markets ready to trade | Spreads not as competitive as other platforms |
| Fully regulated FTSE 250 company | |
Trader's Viewpoint
As one of the most recognisable brands in the online trading space, there are few names out there that have built up the same reputation as IG Group has over the years. Established in 1974, IG Group is one of the oldest brokers around. In addition to being one of the oldest online brokers out there, IG Group is also one of the largest. And amongst spread bettors and CFD traders, IG Group ae alleged to have a significant market share. But do age, experience, and size translate to good user experience, and, more importantly, how do the IG Group compare to the competition?
In terms of the availability of markets to trade, being such a large broker certainly has its benefits. Currently, IG Group provides access to a total of over 17,000 markets across a wide range of instruments, asset classes, sectors, and regions. This gives IG Group one of the most extensive selections of instruments of any broker. And although size is not the only factor you should consider when selecting a broker, it is certainly a strong vote in their favour as having this level of market access allows you to diversify your trading portfolio sufficiently.
Another added benefit of being a broker of this size is that it allows IG Group to offer a high level of customer support. Given the geographic spread of the IG Group, they can offer customer support in a number of languages. Customer support is available through live chat, email, direct phone, or even a visit to one of their local offices spread across 15 major city locations—an amenity which is truly unique amongst their competition! The customer support team are attentive, response, and highly trained, with specialised support available depending on the nature of your query,
When it comes time to trading on the platform, depositing to your IG Group is a fairly seamless process, with a number of traditional and alternative payment methods available—this includes debit/credit cards, bank transfer, and electronic payment services.
Trading on the IG Group platform is a similarly seamless experience and is delivered through a number of different platforms. In addition to the by now industry standard MetaTrader 4 platform, IG Group also provides users with access to their award-winning, proprietary trading platform. This is in addition to a number of different mobile trading options and the ProRealTime charting package.
With all that said, it is safe to say that the IG Group offer one of the most comprehensive, well-executed online trading packages around. With fantastic market access, high-quality customer support, and a solid selection of educational materials and resources, IG Group is an easy choice when compared to the competition. And with over 239,000 clients worldwide on their books, the IG Group are clearly doing something right.
Size has its advantages, as does experience, and you get both when you choose to go with the IG Group (IG) of companies for your access to global trading markets. They are the leader in CFDs and spread-betting services. One industry source pegs their market share of spread bettors and CFD traders at 55% and 36%, respectively. Total revenues of the firm for its last fiscal period ending in 2015 were £388.4 million. Capital adequacy is assured, as well, due to a capital account approaching £500 million. IG has its home offices in the City of London, is a member of the FTSE 250 with a market cap of nearly £3 billion, and has 17 separate sales offices spread across the globe in major cities to serve its growing client base of nearly 140,000.
As we said, IG is big, and they have been at it since 1974, accumulating an impressive list of industry awards for offering CFDs, spot forex, spread betting, binaries, and stock trading to an avid and loyal set of global customers. The group also owns and operates the North American Derivatives Exchange (Nadex), which specializes in binary options and spreads. As per the firm, "Nadex allows U.S. and overseas traders to trade limited-risk contracts on the most popular global financial markets," including trading opportunities in stock indices, commodities, forex, and economic events. Since the firm is a publicly traded stock company, you can also benefit from full transparency and disclosure of financial information that you will never find with a private broker. The FCA is IG's primary regulator, but they are also within the regulatory oversight of wherever their other offices are located. Peace of mind is never an issue with this broker.
The IG consortium consists of many companies, but potential clients can access their direct trading services under the "IG.com" web address. Accounts can be standard or professional, each with a free demo and each with access to over 10,000 market instruments worldwide. Did we say that IG was big? Their proprietary web-based trading platform has been heavily awarded for its features, apps, and performance level, but Metatrader4 options are also supported. Spreads and leverage vary by asset choice, but from a forex perspective, spreads are tight, down to 0.8 pips on the EUR/USD pair. Support materials are also extensive, as you might suspect from a company with such a lengthy history, and client deposits are always safely segregated in Top-Tier banks in compliance with regulatory statutes. As you also would expect, IG's customer service representatives are highly experienced and knowledgeable in all aspects of the firm and its offerings and eager to answer your queries "24X5" from Sunday through Friday afternoon. You can do it all under one roof at IG and know that you are secure with a true pioneer and powerhouse in the investment industry.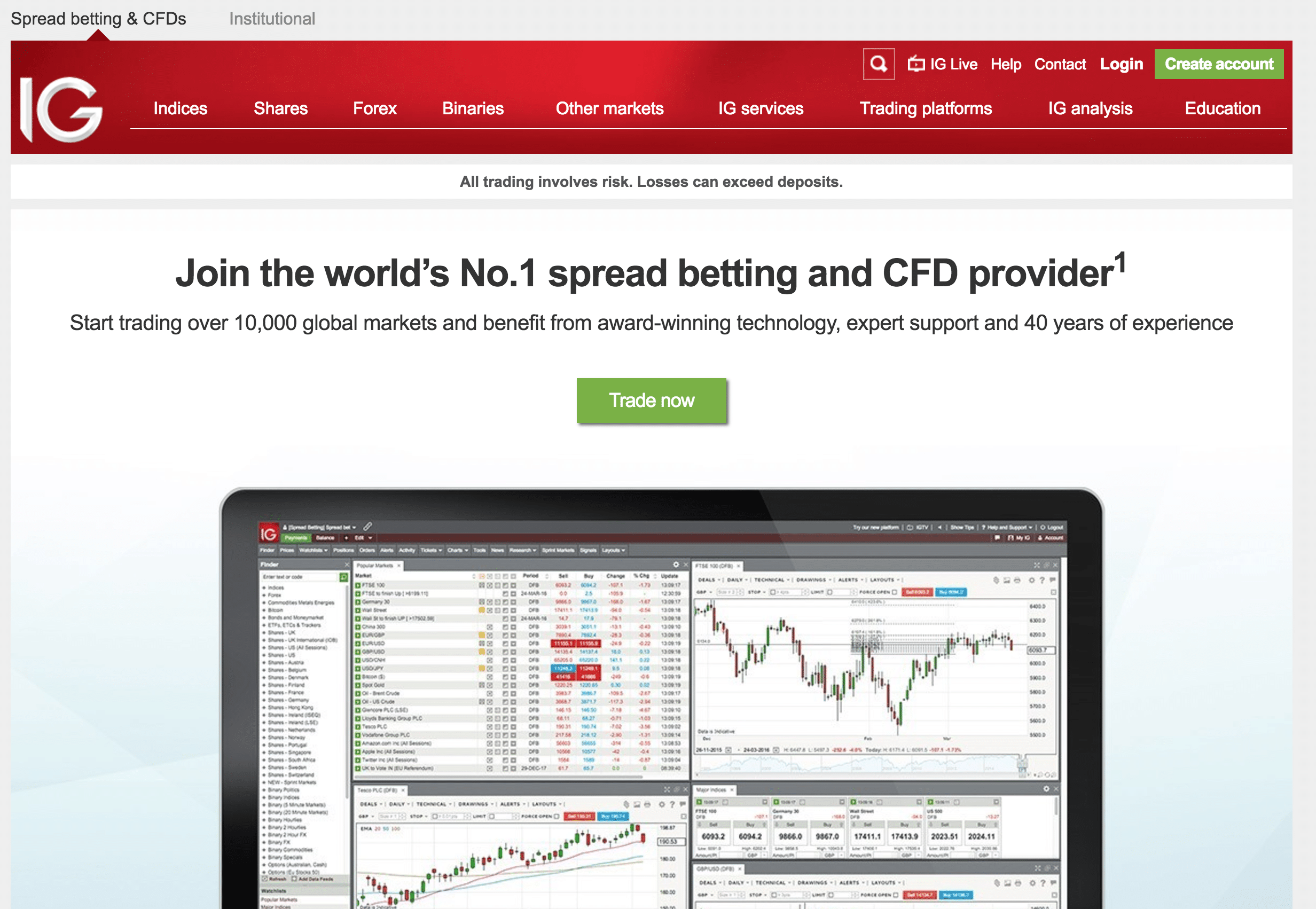 Features at IG Group
Why trade with IGGroup.com? The firm lists these reasons:
Founded in 1974 as a spread betting firm and a pioneer of online trading;
Headquartered in the City of London with 17 sales locations around the globe;
FCA and multi-jurisdictional regulatory oversight and compliance;
On the London stock exchange, member of FTSE 250;
Spot forex, CFDs, spread betting and stock brokering service;
Operates North American Derivatives Exchange (Nadex) that supports U.S. traders (U.S. clients restricted from other offerings);
Free demo account with Standard or Professional account classification;
Access to 10,000 market offerings across the globe, including spot forex, stocks and CFDs in currency pairs, indices, stocks, commodities, bonds and precious metals (over 90 major, minor, and exotic forex pairs offered);
Proprietary award winning web-based trading platform with extensive feature set and mobile apps;
Other specialized platforms may appeal to professional traders that prefer direct market access (DMA) or Metatrader4 protocols;
Tight spreads and leverage that vary by asset choice and type of trading modality  – EUR/USD spread can be as low as 0.8 pips – DMA platform pricing flows directly from liquidity providers at variable pricing formats;
Vast library of training, educational, and support materials;
Professional support personnel available "24X5" when markets are open.
Extensive list industry awards and commendations, both in the UK and in other operating jurisdictions that speak to excellence in all areas.
Supported Platforms
IG's proprietary web-based trading platform and accompanying apps have received countless awards in the industry for innovation and excellence. If, however, you prefer to stick with your tried and true Metatrader4 series, that option is also available, along with other specialized trading platforms for direct market access or more advanced charting and monitoring tools. All confidential and trading activity data are also encrypted for security purposes to prevent any external compromises.
Deposits and Withdrawals
Traditional payment methods, i.e., credit and debit cards or banking wire transfers, incur no fees. Alternative payment methods are also supported, but each may have a fee charged by the provider of the payment service. Withdrawal requests will be processed quickly, as long as identity documentation, as mandated by international law, is current, in order and on file. In accordance with existing statutes, withdrawals must follow the same path as their original deposits to the same named account.
Customer Support
Bilingual customer support is a given, and, due to the firm's long history of service and excellence, these reps have been professionally trained to understand all facets of the IG business model. Live chat, email, direct phone, or even a visit to a local office in one of 17 major city locations can get your queries answered quickly. Educational and support materials are top of the line, and as such were awarded, along with many other areas of the firm, "Best Investor Education 2015 – Shares Awards."
IG Group – Conclusion
If you crave the biggest, brightest and best broker out there, then you must consider IG. Their history and track record are exemplary of a brokerage operation that prides itself on excellence, innovation, and performance efficiency, day in and day out. As one more favorable indicator, IG was just recognized for the eighth year in a row as one of the UK's "Top 100" employers. If employees are happy, then they will be happy to support your every need. After you include reliability, ample regulatory supervision, financial transparency, and access to 10,000 tradable instruments, it would be difficult to find another choice that could measure up in as many categories as does the IG Group.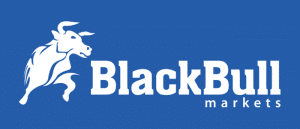 Forextraders' Broker of the Month
BlackBull Markets is a reliable and well-respected trading platform that provides its customers with high-quality access to a wide range of asset groups. The broker is headquartered in New Zealand which explains why it has flown under the radar for a few years but it is a great broker that is now building a global following. The BlackBull Markets site is intuitive and easy to use, making it an ideal choice for beginners.
Please be advised that certain products and/or multiplier levels may not be available for traders from EEA countries due to legal restrictions.