Infinox Cons:
Limited range of markets
Some services exclusive to Professional accounts
Traders' Viewpoint
The trading experience at INFINOX is right up there with the best in the market. MT4 and MT5 might be considered by some to be falling behind the innovative new trading dashboards of rivals, but the MetaTrader platforms are robust, universally used, and packed full of powerful charting tools.
INFINOX's edge over many brokers in the market comes from the professional-grade infrastructure built to support the MetaTrader platforms. There is a choice between STP and ECN trading, which means that clients can decide quite how deep they want to see into the markets. The spread on EURUSD is 0.3 pips, and leverage in forex markets can be as high as 1:1,000.
As might be expected with a high-end platform, VPS trading is possible. The Virtual Private Servers that INFINOX offers are low latency and cross-connected and come with 24-hour support – all vital features for those looking to take their trading to the next level.
There is a healthy enough range of asset groups to trade, including crypto and options. Each of the asset sectors provides a sufficient number of markets. There are, for example, 37 forex pairs and five commodities available. However, if you're trading mainstream markets such as forex majors, oil, gold, stock indices or crypto, then those are all well covered.
Trading terms and conditions are presented in a neat, transparent format and confirm that all in all, INFINOX offers a high-grade and cost-effective trading experience.
About INFINOX
INFINOX has been in operation for more than 10 years and has a global client base. A number of different regulatory bodies – tier-1 regulator the FCA (UK), SCB (Bahamas), FSC (Mauritius) and FSCA (South Africa) – regulate INFINOX. UK traders and those elsewhere across the world – from Nigeria to Thailand and Dubai – are therefore catered for.
The professional setup of the firm is reflected in the senior management team being seasoned pros with more than 100 years' experience in the industry. The formula is a successful one, with the firm continuing to pick up industry awards, including the FX Report award for 'Best Forex Broker' in 2017, the Professional Trader award for 'Best Trading Account Margin Rates' in 2020 and recognition from the London Stock Exchange Group as one of the '1000 Companies to Inspire Britain' in the same year.
Who does INFINOX appeal to?
INFINOX will appeal to intermediate and advanced-level traders looking for a high-spec home for their trading activity. Trickle-down from the prime brokerage service that INFINOX Capital provides to institutional investors results in a lot of high-grade tools and services being available on entry-level accounts.
During this INFINOX review, we did find some of the functionality of the main site to be a bit 'clunky'. This was mainly because the services offered to professional and retail traders overlap to some extent. It was possible to navigate to where we wanted to go, but it was thought that this might put off some entry-level traders from trying the broker. If those potential new clients can see past that initial inconvenience, then once they are through to the working end of the site, they will benefit from the cutting-edge access to the markets that INFINOX provides.
Account types
INFINOX reviews show that there are two main account types. These are broken down by type of trading. The STP account and ECN account both offer excellent trade execution, but as some traders prefer the functionality of one protocol over the other, it's welcome that INFINOX offers new clients a choice.
Both account types are available as an Individual Account, Joint Account or Corporate Account. The trading T&Cs are the same across the different accounts, with all of them providing access to the MT4 or MT5 platform.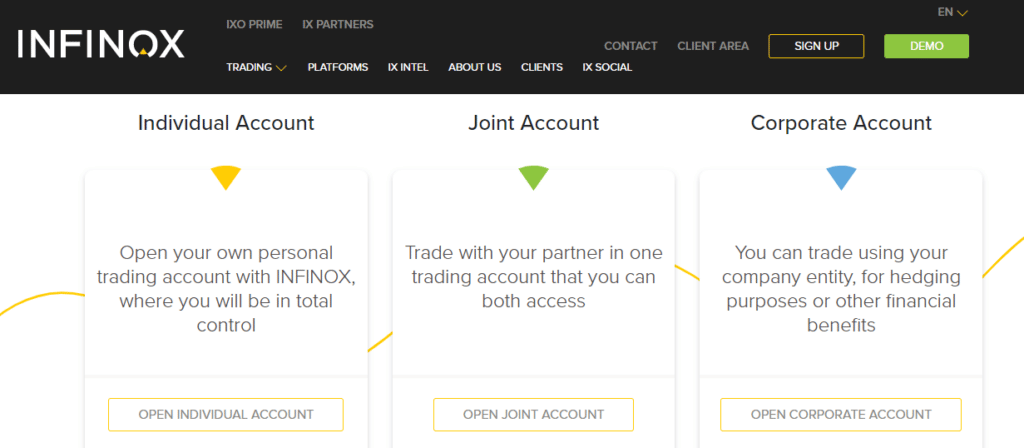 If you are looking to test new strategies, you can take up the option of using the free Demo account or setting up another live account under the same name. The latter option also makes it possible for traders to run portfolios using different strategies or to run accounts in different base currencies.
Markets and territories
The company targets a global client base and is particularly strong in the markets of Nigeria, South Africa, Malaysia, Thailand, Philippines, Dubai and the UK. INFINOX Capital does not currently accept clients from the US.
Instruments and spreads
The refreshing degree of transparency associated with INFINOX's pricing tables is a neat feature. It makes it easier to carry out effective cost analysis on new trade ideas and is also a sign that the firm is confident with its position in the market.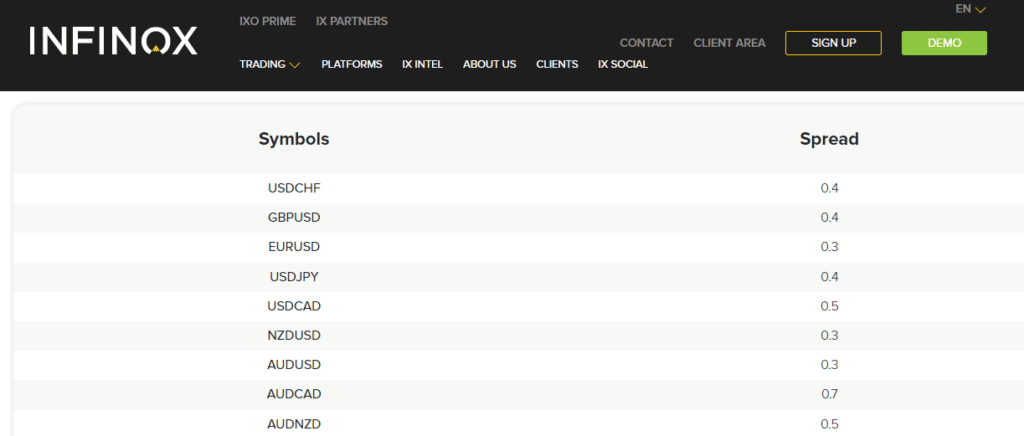 The spreads on major currency pairs aren't the headline-grabbing zero pips that some brokers quote, but 0.3 pips on EURUSD is still impressive. Credit should also go to the firm for its approach to minimising other costs, such as those associated with financing, rather than just focusing on spreads.
The $69 bid-offer spread on Bitcoin (BTCUSD) shows that competitive pricing isn't only limited to the forex markets, and the ability to take up (1:2) leverage on crypto trading will also appeal to many.
Other markets covered include single stocks, stock indices, commodities and futures, with nice-to-have specialist markets such as the VIX (volatility) index also available to trade.
Fees and commissions
Is INFINOX a good broker in regard to fees and commissions? Aggressively low bid-offer spreads are often used to attract new clients, but good brokers also ensure that behind-the-scenes fees are also kept in check. This is certainly the case with INFINOX and is represented by the firm winning the aforementioned Professional Trader award for 'Best Trading Account Margin Rates' in 2020.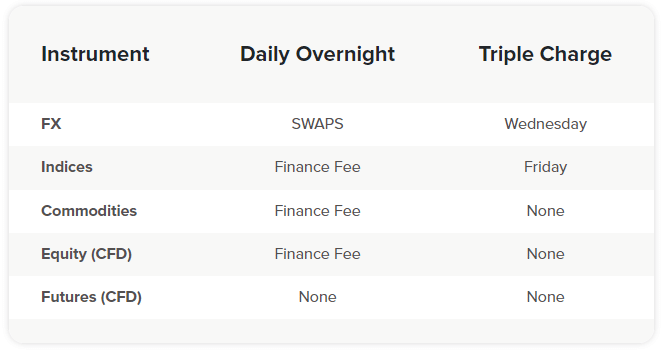 Platform review
The ever-popular MT4 and MT5 platforms remain the 'go-to' option for millions of traders worldwide. Their long time at the top of the market comes down to intuitive functionality and crystal-clear aesthetics that allow traders to focus on what is important. A range of high-spec software tools are available but remain out of sight until called upon. All in all, the trade execution process at INFINOX is a satisfying one.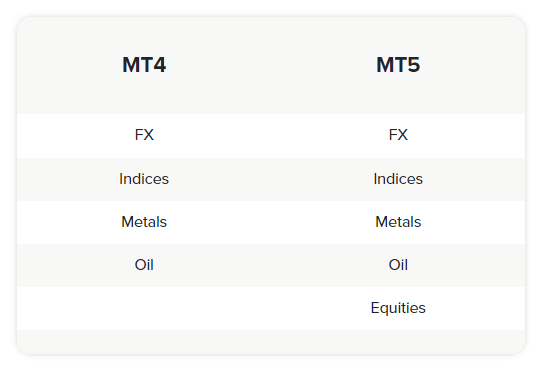 MetaTrader platforms have been so extensively used that any potential upgrade has already been thought of, and they have the feel of being the finished product rather than a work in progress. Those years of use also mean that any gremlins in the system have been flushed out, making MT4 and MT5 two of the most reliable and robust platforms on the market, and this can help ensure that trading orders aren't rejected in fast-moving markets.
INFINOX makes both platforms available in a variety of formats. They can be downloaded to PC and Mac devices or used in a WebTrader format – meaning that traders can access the full platform anywhere they have an internet connection.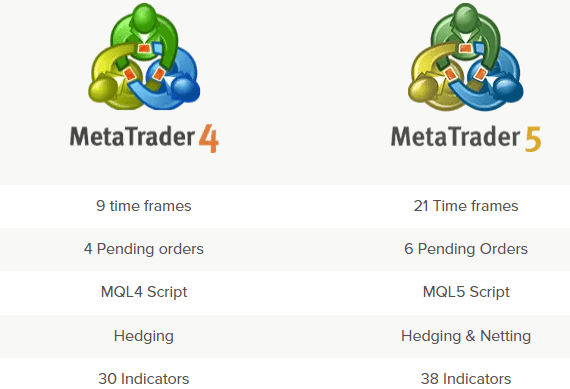 Another benefit of the popularity of the MetaTrader platforms is that users automatically gain access to a well-established and thriving community of other traders who use the same platform. That makes it easy to share ideas on the state of the market, get ideas on the next trade, or download custom-built indicators that can be bolted onto your account.
The Expert Advisors function is home to thousands of traders who are willing to let other traders share their trading signals and complements the IX Social copy trading service that INFINOX developed in-house.
Mobile trading
The functionality of the MetaTrader platforms transfers well to the smaller screen of handheld devices. Nearly all of the MT4 chart indicators are available in the mobile format, which is impressive considering how complex some of them are.
The MetaTrader apps are compatible with Android and iOS devices and are free to download. Those looking to trade on the move can also take up the option of using the WebTrader service, which works from any place that has internet connectivity.
Social trading and copy trading
The professional feel of the INFINOX platform will attract high-quality traders, and fortunately for beginners, it's possible to copy the ideas of those expert traders using the IX Social program. The process is fully automated, and setting your portfolio up to trade using the same way as an experienced pro is done with the click of a button.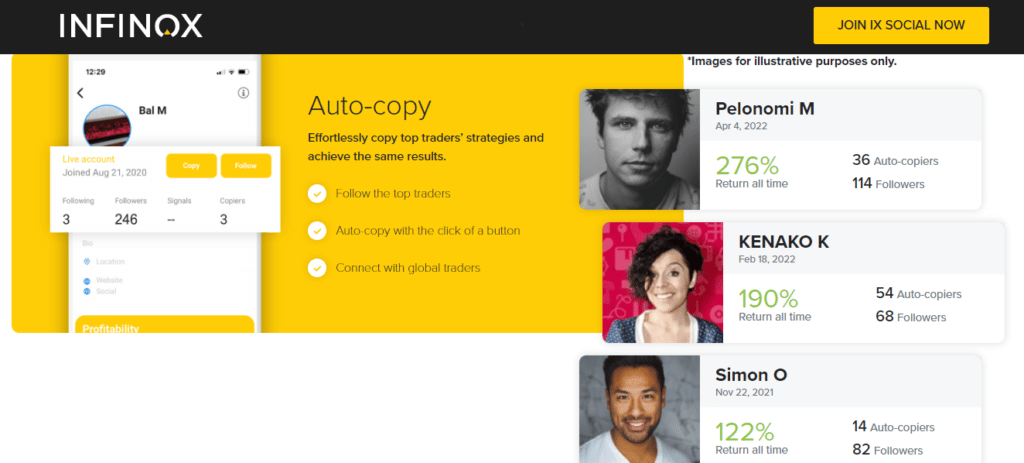 If you're considering taking a more hands-free approach to trading and copying someone else's ideas, then you can locate the best fit by applying a range of filters. It's possible to search for the best trader of the day, month, or year. Alternatively, you can identify traders putting on the most profitable single trades. The platform also runs its own scan of the pool of lead traders and has its own list of 'spotlight' traders who it rates highly.
Relationships with lead traders can be ended at the copying trader's discretion, and signing up for the service requires little more than downloading the IX Social App.

Crypto
INFINOX offers CFD markets in 38 cryptocurrencies. Clients from some countries will be restricted from trading crypto using CFDs, but those who can are able to take advantage of a range of useful features associated with the functionality of CFDs. Using CFDs, it's possible to scale up risk-return, but by applying leverage on trades, there is also the ability to sell short if you think that a market is overvalued.
There's no need for specialist wallets. Instead, you can trade crypto from the same account you trade other assets such as stocks and forex.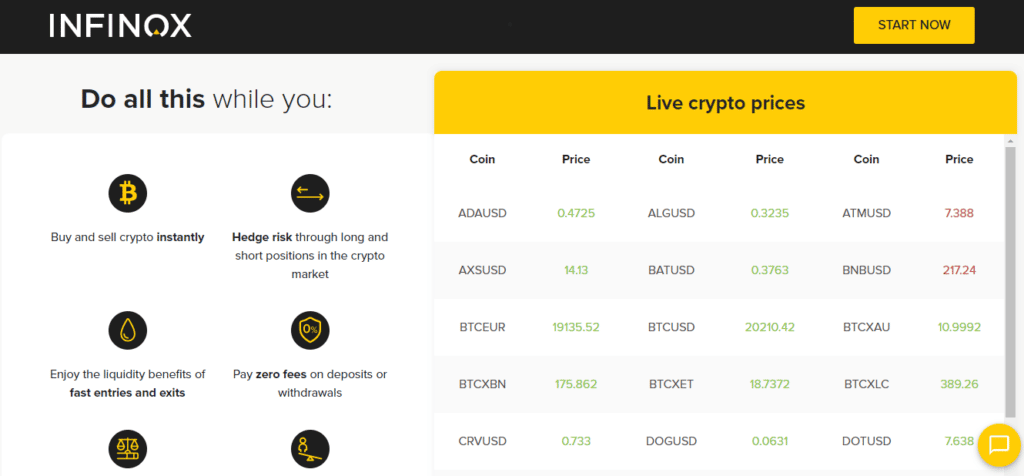 Charting and tools
The MetaTrader platforms offer retail clients institution-grade charting tools. The razor-sharp graphics allow users to pinpoint trade entry and exit points, and it's possible to set charts to three different colour settings according to user preference.
There are nine different timeframe settings on MT4, and 21 available on MT5. MT5 also has an edge on MT4 in terms of trading indicators, which come as part of the default package. MT4 comes with 30 as standard and MT5 with 38. If you're not happy with that number of Oscillators, Volatility Indicators, Volume Indicators and Market Cycle Indicators, then it's always possible to download additional ones from third parties – many of which are available for no fee.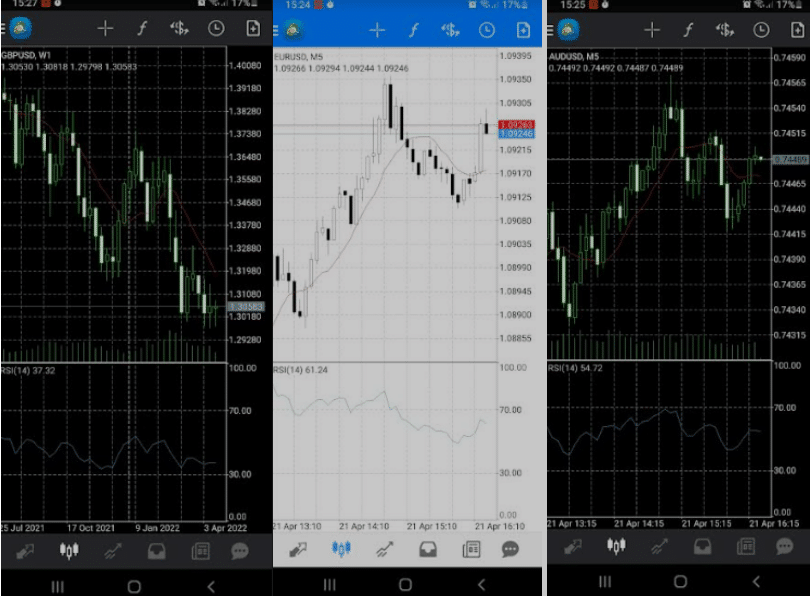 Education
INFINOX's range of educational and analytical tools are provided in a dedicated area of the platform called Intel. It is designed to keep clients up to date with market events but adds value by turning news into trading ideas.
The materials on offer are only just in line with the market average, so while useful, it would be beneficial to clients if the scale of the offering could be extended.

Those looking for additional sources of inspiration can turn to the MetaTrader platform and community. Thanks to MT4 being the most popular platform in the world, it has a well-established forum where traders can share market news and strategy ideas. As it is user-led, it caters to both beginners and advanced traders.
Trader protections by territory
To have peace of mind that you will avoid a possible INFINOX scam, it is important to know about the broker's regulations.
Client protection is determined by place of residence. The primary regulator of INFINOX Capital, a registered trading name of IX Capital Group Limited, is the Securities Commission of The Bahamas (SCB), where the firm is licensed under registration number SIA F-188. The broker is authorised by the SCB to deal, arrange and manage securities out of its registered office, which is located at 201 Church Street, Sandyport, West Bay Street, PO Box N-3406, Nassau, Bahamas.
Additional regulatory licences also apply. INFINOX Capital Ltd SA is an authorised Financial Services Provider and is regulated by the Financial Services Conduct Authority under FSP No 50506 (INFINOX Capital Ltd SA acts as an intermediary for INFINOX Capital).
INFINOX Limited is authorised and regulated as an Investment Dealer by the Financial Services Commission (FSC) of Mauritius under Licence Number GB20025832.
INFINOX Capital Ltd ('INFINOX') is registered and located in the United Kingdom at Birchin Court, 20 Birchin Lane, London, EC3V 9DU, United Kingdom under company number 06854853 and is authorised and regulated by The Financial Conduct Authority under registration number 501057.
Some of the regulators that INFINOX is licensed by have a more relaxed view on client leverage and offer margin terms up to 1:1,000, whereas the FCA caps leverage at 1:30.
The regulatory cover applied to clients trading with the Bahamas entity includes:
Best Execution – Brokers are expected to act honestly, fairly, and in the best interests of all our clients to offer the best possible trade execution terms.
Segregated Accounts – Client funds are always kept in a segregated account under the SCB's Client Money rules. If the broker goes bust, your money is safe.
Negative Balance Protection – Traders are protected from losing more than the amount of cash they deposit.
In 2021, INFINOX Capital took an innovative step in terms of client protection by setting up an insurance scheme to cover client interests. The insurance policy became effective 1st May 2021 and continued until 31st May 2022 and provided up to $500,000 of cover per claimant. Terms and conditions apply and can be checked by downloading the policy on the INFINOX website. There is no guarantee that the scheme will be rolled over to future years, but any additional customer protection is always welcome.
How to open an account
The registration process at INFINOX is designed to be super-easy. To open a live trading account, click the 'Sign Up' button in the top right of the INFINOX broker homepage. The next stage involves setting up an Individual Account, Joint Account or Corporate Account.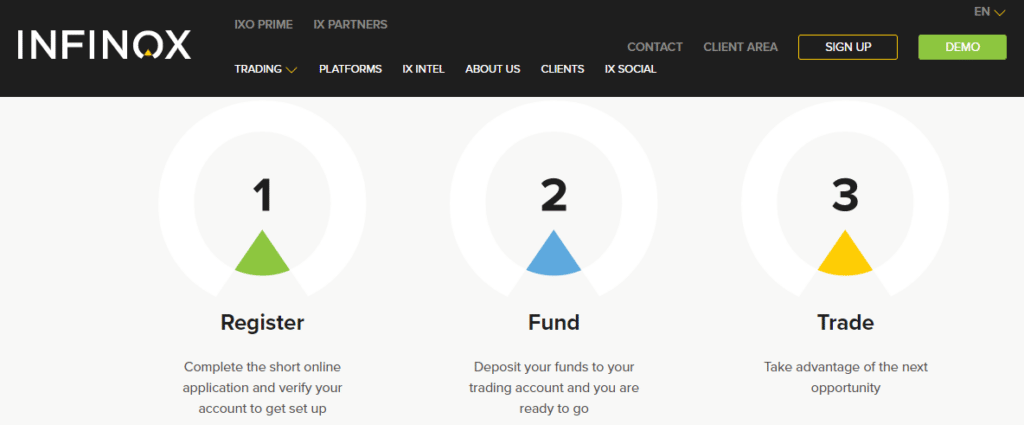 The platform then prompts new users to acknowledge a series of risk disclaimers, which reflects that it takes client protection seriously. After that, it's simply a case of entering in some personal details and selecting which trading platform you would like to use. There is the option of changing that decision at any time.
Verification is completed online and only requires the uploading of an appropriate piece of photo ID to an encrypted server. Then it's a case of depositing funds and starting to trade, a process made easier by the INFINOX minimum deposit requirement being only $1, or the equivalent in other currencies.
INFINOX also offers a range of localised funding options suitable to the respective regions of the world. Crypto payments are also accepted by some entities within the INFINOX group of companies. In the UK, for example, traders can make use of options including bank transfers, credit cards, Finrax, MiFinity, Perfect Money and SticPay. Traders located in Thailand can include Directa24, Neteller and AstroPay amongst their payment options. In South Africa, these include Dusupay, Finrax, Neteller, Ozow, Skrill, Swiffy Pay and ZotaPay.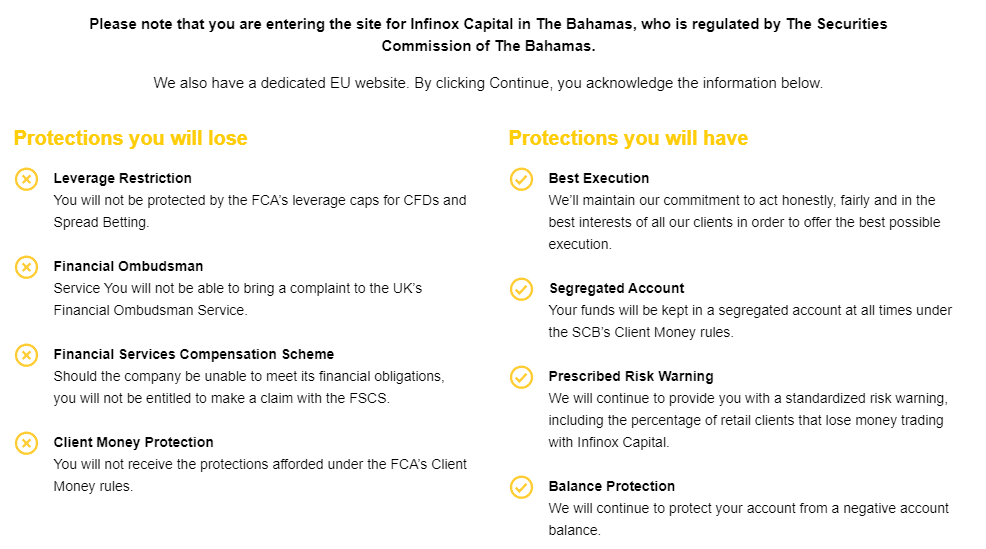 The broker's professional feel is more than a coincidence. Some of its clients are institutional-grade investment houses, including high-grade brokers and hedge fund proprietary desks. The process of signing up for one of these accounts is more involved and out of scope for most traders but gives an idea of the level of service that can be expected.
INFINOX's IX Premium and IX Lite accounts offer a number of additional extras. These include access to dedicated market specialists, 20% deposit bonuses, and cashback style offers, as well trademark low spreads. Traders that opt for IX Premium can also make use of daily content and one-to-one sessions with INFINOX's Market Analyst Richard Perry, as well as premium investment reports.
IX Premium is available to clients with a minimum of $1,000, whilst IX Lite is available with a minimum of $500.
Customer support
Customer support is provided around the clock and is available via phone, live chat, TeamViewer, and email. The extensive range of toll-free numbers is a neat feature and allows clients to contact the support staff at local offices within their timeframe.
During our INFINOX Capital review, we found the customer support staff to be knowledgeable and professional, and we can see why INFINOX picked up the 'Best Customer Support' award at the FX Report Awards in 2017.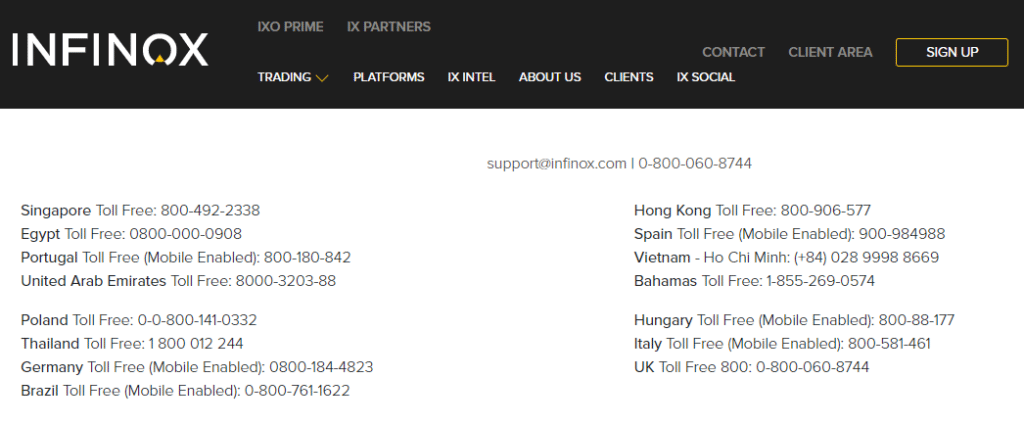 The bottom line
INFINOX Capital has built a reputation in the investment community for developing long-lasting relationships with its clients. It has the feeling of being on the trader's side, and that starts with offering a highly impressive trade execution framework. Offering low spreads, swap-free, tradable bonuses and cashback bonuses, the broker's T&Cs are also competitive, meaning that clients can take advantage of a top-tier and cost-effective trading experience.
Thanks to the firm operating a similar service for institutional clients, some of the additional services on offer can help take retail traders up to another level. VPS, ECN and STP trading are available to all, and the liquidity and connectivity that the firm has developed for bigger clients trickle down to smaller users.
By supporting both institutional and retail investors, there is some cross-over between the two sectors on the INFINOX site. This can sometimes result in the navigation not feeling as intuitive as it could, but it is ultimately a small price to pay for being provided with impressive high-end access to the financial markets.
FAQs
How can I open an account with Infinox?
Opening an account with INFINOX is completed entirely online. Visit the site, head to 'Account Types', and follow the three easy stages to set up an account and start trading.
Is Infinox a regulated broker?
Yes, INFINOX is regulated in four different jurisdictions. Depending on where you live, your trading will be protected by the Financial Services Conduct Authority of South Africa, the Financial Services Commission (FSC) of Mauritius, the Securities Commission of The Bahamas (SCB), of the FCA in the UK.
What fees does Infinox charge?
INFINOX offers very competitive terms and conditions. The fees it charges are in line with standard market practice and relate to trading commissions and financing.
How do I withdraw money from Infinox?
To withdraw funds, simply access your account and click on 'Withdraw Funds'. Then fill out the payment request form. If you have deposited funds from a credit or debit card within the last 12 months, the broker will return funds to that card. Funds cannot be transferred to third-party accounts.
CFDs are complex instruments and come with a high risk of losing money rapidly due to leverage. 83.14% of retail investor accounts lose money when trading CFDs with this provider. You should consider whether you understand how CFDs work and whether you can afford to take the high risk of losing your money.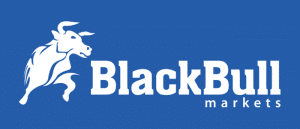 Forextraders' Broker of the Month
BlackBull Markets is a reliable and well-respected trading platform that provides its customers with high-quality access to a wide range of asset groups. The broker is headquartered in New Zealand which explains why it has flown under the radar for a few years but it is a great broker that is now building a global following. The BlackBull Markets site is intuitive and easy to use, making it an ideal choice for beginners.
Please be advised that certain products and/or multiplier levels may not be available for traders from EEA countries due to legal restrictions.