INSTAFOREX BRAND PROS
Well-regulated with a strong reputation
Global Broker with more than 7 million existing clients
A choice of market-leading trading platforms
Flexible account structure
Client-focussed and dedicated multi-lingual staff
INSTAFOREX BRAND CONS
No proprietary trading platform options
A satisfactory but not ground-breaking number of markets to trade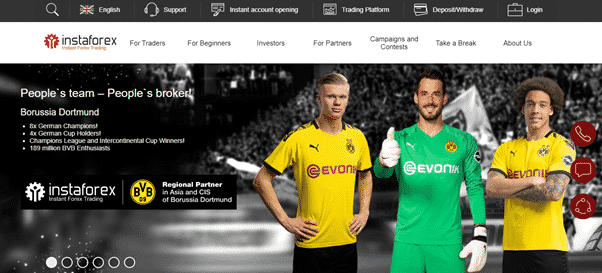 InstaForex positively surprises with its array of trader support functions and accolades. Discover more in our in-depth review.
TRADERS' VIEWPOINT
The service InstaForex offers is hard to resist. The online broker is well-regulated and has invested heavily in building a framework, which gives plenty of reasons for it to be trusted. A solid track record is always important, and the firm has been around since 2007. It's also got an eye on detail and has set up cash deposit and withdrawal processes, making signing up smoother and more reliable.
InstaForex has the feel of a brokerage site run by people who have listened to feedback from the trading community and set about addressing the issues raised, even the small ones.
InstaForex is a global broker with more than 7 million existing clients. Any service provider that sets out to give clients what they want will be popular. InstaForex also shows enough knowledge of the markets to have built a structure that can also help those clients prosper.

The two platforms on offer include the ever-reliable MetaTrader MT4 and WebTrader. Choosing the world's most popular retail forex platform, MT4 is a good start. Balancing that against the user-friendly functionality of WebTrader is another good move.
There are enough markets to trade and forex traders, in particular, will appreciate having all the major, minor and exotic pairs on offer. Automated trading is available, and strategies such as scalping are permitted. If help is needed, the customer service team is super-helpful.
When all of this is added up, it translates to InstaForex being a platform that knows how to tilt the scales in favour of traders.
ABOUT INSTAFOREX
InstaForex is a global broker with more than 7 million existing clients. Its success is based on building trust with traders and has a straightforward and transparent approach.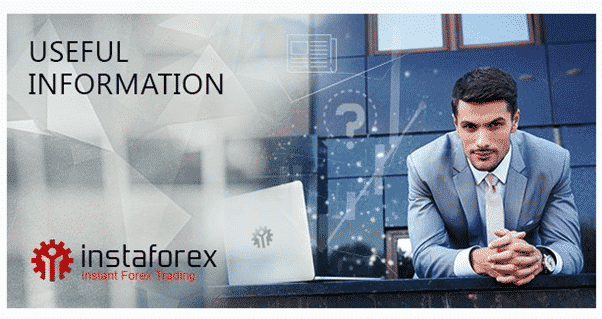 The firm operates globally, with different InstaForex entities providing coverage to different geographical regions. The InstaForexEU entity has been created to offer the firm's unique brand of broking to EU clients and is based in Cyprus and regulated by CySEC.
InstaForexEU Head Office: Spetson 23A, Leda Court, Block B, Office B203, 4000 Mesa, Limassol, Cyprus
InstaForexEU Branch Office: Pražská 11, 811 04, Bratislava, Slovakia
InstaForexEU Branch Office: Na Hradbách 2632/18, Moravská Ostrava, 702 00 Ostrava, Czech Republic
InstaForexEU Representative Office: Dworcowa 47, Bydgoszcz 85-009 Poland
The firm's been very successful in terms of the number of clients signing up, and it continues to develop into a global brand. It sponsors a range of ambassadors in various sports, from chess to rally driving, and has event partnered with Czech Airlines, branding one of its Airbus A319 as the InstaForex Airplane.
Who Does InstaForex Appeal to?
InstaForex will appeal to those who want a broker that has thought of everything. The InstaForex approach involves checking every detail and ensuring everything possible is done to improve the client experience.
It offers the choice of two much-loved trading platforms and excellent customer service. The educational and learning tools are also worth mentioning and will be particularly appealing to beginners.
The sector InstaForex operates in is very competitive, and each broker needs to find its own position. InstaForex appears to have done that, as demonstrated by its growing client base. It can, with justification, be confident that its unique approach will attract even more customers.
INSTAFOREX ACCOUNT TYPES
InstaForex takes the approach of offering up a range of six different accounts to ensure potential clients can find one that suits them. Providing a greater than average number of accounts to choose from is to be welcomed.
It can be the case that having so many accounts to choose from can make direct comparisons of T&Cs hard to do. InstaForex goes a long way to solving that issue by providing a range of in-depth and informative reports to help you choose the best account for you.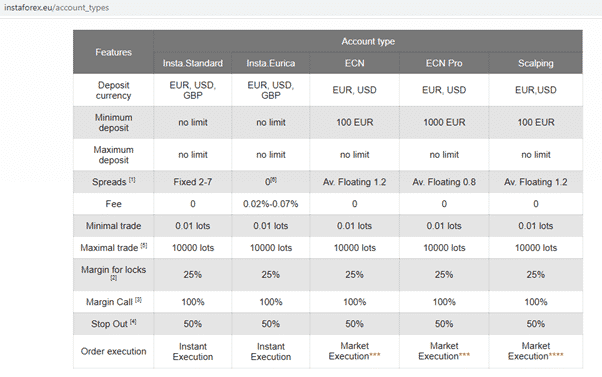 The six accounts to choose from are called: Insta.Standard, Insta.Eurica, ECN, ECN Pro, Scalping and VIP. To make sure everyone gets a chance at finding a best fit there are also Islamic / Swap Free, options as well.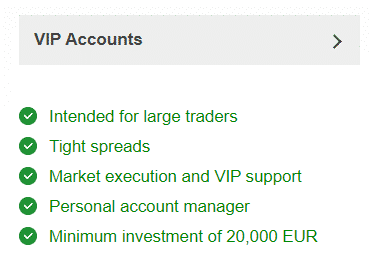 MARKETS AND TERRITORIES
InstaForex is a global operation. It is formed of a group of corporate entities, each one set up to cater to the needs of a specific geographical region. InstaForexEU caters to EU citizens and complies with EU regulations.
EU citizens are able to trade the global financial markets using InstaForex, while staying under the protective regulatory umbrella of CySEC and MIFID.
In line with standard EU regulations, leverage on positions is capped at 1:30.

INSTRUMENTS AND SPREADS
InstaForex provides markets in a good number of asset groups. The total number of markets is in excess of 200, which will be enough to meet the demands of most traders. There's certainly enough for beginners, and by focussing on these markets, InstaForex is able to take an approach that is about quality rather than quantity.
The list of trading instruments includes the following assets:
110 currency pairs
7 stock indices CFDs
5 commodities
89 CFDs on shares listed on the world's leading exchanges
5 cryptocurrency CFDs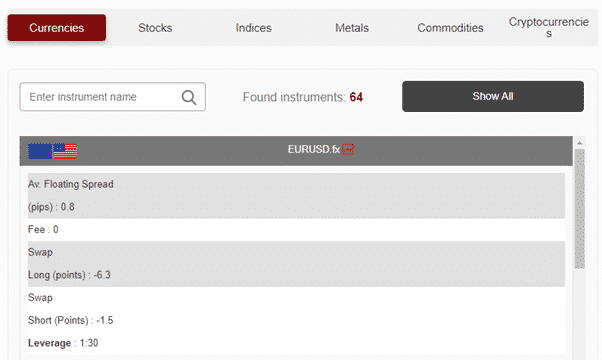 The broker's devotion to transparency and detail is reflected in the database of instruments and markets. The above table for EURUSD T&Cs provides an example of the comprehensive breakdown of terms and what is involved when trading this instrument.
A spread of 0.5 pips on EURUSD demonstrates that InstaForex is more than competitive in terms of price. The exact T&Cs will depend on which type of account is selected, but there are options for operating using fixed spreads, floating spreads or commissions.
Fixed spreads from 2 pips
Floating spreads from 0.5 pips
Fees from 0.02%
All the instruments available to trade can be assessed using this tool, which leaves no questions unanswered.

INSTAFOREX FEES AND COMMISSIONS
InstaForex doesn't charge fees relating to cash deposits. While third-party agents may take a cut, InstaForex does not charge any fees on cash going into client accounts.
There are some fees associated with withdrawing funds. This is because the broker needs to pass on costs it incurs, and studying the T&Cs can help clients manage the situation. Rates of charges differ across the different payment agents, so a bit of forward planning and choosing the right payment system can help minimise charges.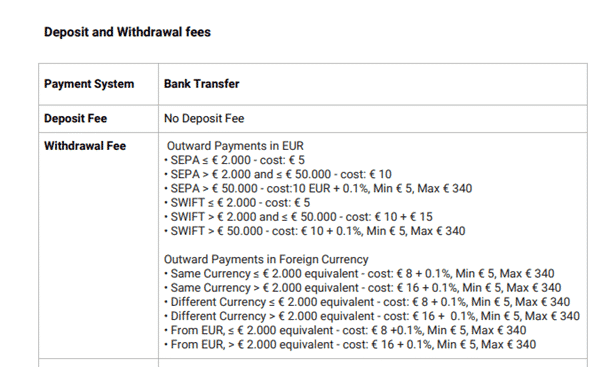 No-one likes paying administrative costs, but one of the neat features of the InstaForex approach is that the broker is completely transparent about what they are. InstaForex also goes into granular detail, so that at least they aren't any surprises.
INSTAFOREX TRADING PLATFORM REVIEW
Three types of platform are on offer at InstaForex. First up is the robust and ever-popular MetaTrader MT4, which remains the go-to platform for currency traders. The WebTrader platform offers an alternative desktop-based approach, and then there are the mobile platforms, which help those who like to trade on the move.
MetaTrader MT4
The MetaTrader MT4 service is the world's most widely used forex trading platform. It has been established for many years and is robust and reliable. Its popularity is largely down to the trader-focused functionality, and it is highly customisable and available in a range of languages.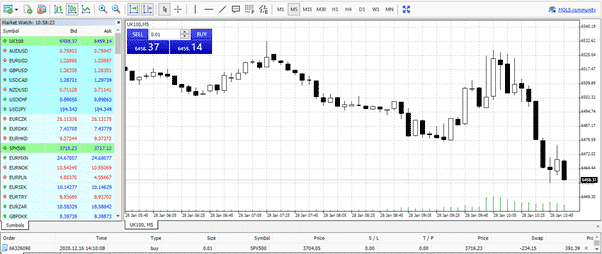 The MT dashboards is packed full of charting software and indicators. The default settings are powerful enough, but can be added to by bolting on third-party tools, which are widely available.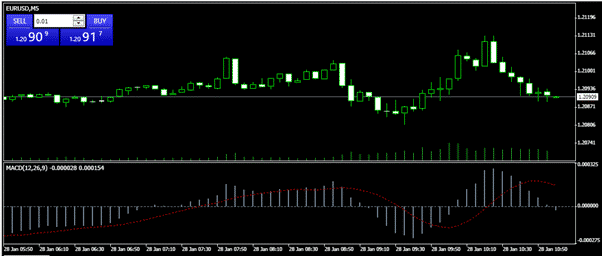 MT4 supports systematic trading. The MQL language enables InstaForex clients to create automated trading programs for their own use.
WebTrader
WebTrader is host to three interface modes: Dashboard, Classic and Chart. On the WebTrader platform, users have the ability to adjust a list of the most traded instruments with the added function of monitoring your trading results.
The Dashboard monitor allows you to follow up to 12 markets at once, and the Tick Chart on the Chart monitor is a neat tool. Other features, which can help you spot trading opportunities, include a Trend Direction and Trader's Position tools.
Order Execution
Some of the behind-the-scenes work done by InstaForex means that its trading platforms are set up to provide top-grade market access. Having nine trading servers in place means trade execution takes place near the exchanges being traded.
Clients with account balances in excess of EUR 1,000 can take advantage of the free VPS hosting service offered by the broker. Low-latency translating as better-quality execution and better prices.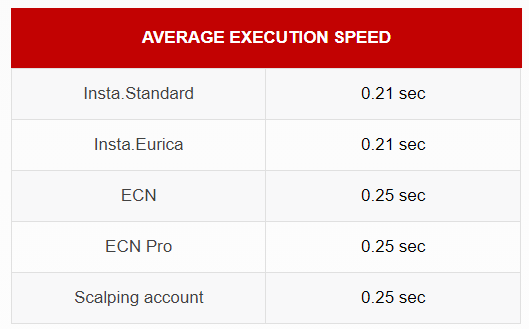 InstaForex facilitates either Market or Instant execution, depending on the account type.

MOBILE TRADING
Those looking to trade on the go can take advantage of the InstaForex mobile apps, which are free to download and are compatible with Android and iOS devices.
The MobileTrader app supports account administration and trading. This is complemented by a selection of other additional apps — all designed to give you that trading edge.
Forex Quotes and Analysis App — online forex rates and market news.
Forex Courses — Well-structured educational courses designed to be studied on the move.
Forex Signals — Receive updates on market developments and trading opportunities for free.
IFX Alarm Clock — Input the level you want to consider trading and IFX will alert you when it comes.
SOCIAL TRADING AND COPY TRADING
All markets can be self-traded on a social basis through the ForexCopy system.
ForexCopy offers clients the chance to take on others' ideas and for a charge, apply them to their own account. There is still risk involved with following a third-party, but the approach can be popular with beginners. It also appeals to those who want to get some exposure to the markets but don't have much time to devote to analysis and following prices.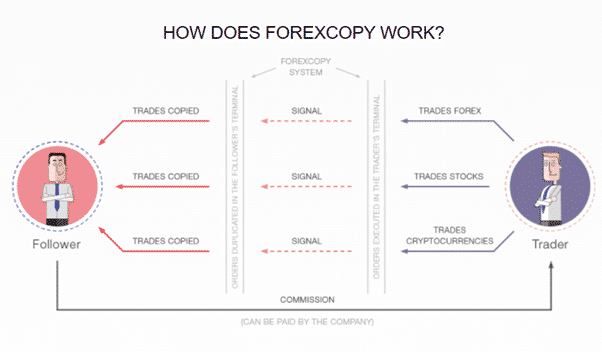 If you find that trading suits you and you make profits, then ForexCopy also allows clients to offer their trading ideas to others. The commissions generated by this would then result in a second income stream.
CRYPTO TRADING WITH INSTAFOREX
InstaForex isn't a crypto specialist but offers the key markets and T&Cs, which are in line with the peer group.
CHARTING AND TOOLS
The MT4 trading platform provides market-leading charting functionality. Its razor-sharp aesthetics are designed to help traders spot trading opportunities.
WebTrader offers a more colourful dashboard, but one that still includes all the charting tools needed to make an informed decision.
EDUCATION
The feeling that InstaForex has carefully planned its approach feeds into the educational service it provides its clients. For starters, the site has a dedicated section 'For Beginners'. This is broken down into general information (Guide to Forex), how to trade (Getting Started), developing trading skills (Training) and a free demo account.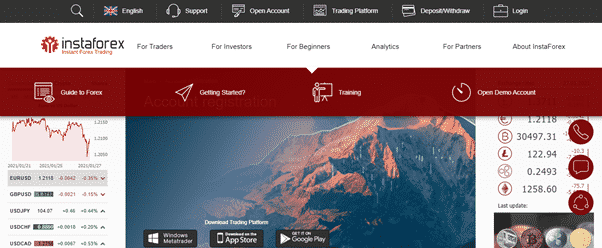 Each section is tailored to improving the trading experience of those who are starting out in trading.
Once you've grasped the basics, the InstaForex site provides a collection of other research and news services to support your trading.
Over 30 currency strategists provide comprehensive daily market analysis
Forex news service
Economic calendar
InstaForex TV
Video analytics
TRADER PROTECTIONS BY TERRITORY
Regulation, compliance and consumer protection are areas in which InstaForex scores highly. The InstaForex group of companies supports traders across the globe, but EU clients are serviced exclusively by the brand's member Instant Trading EU Ltd.
INSTANT TRADING EU LTD is a Cyprus Investment Firm (HE266937) regulated by the Cyprus Securities and Exchange Commission, license number 266/15.
INSTANT TRADING EU LTD is providing investment services under InstaForex brand and operates instaforex.eu website.
By gaining a license in an EU territory, InstaForex is bound to comply with the MIFID rules and regulations.
Client funds being segregated from those of brokers. This means if the firm fails, your funds are held away from them.
According to the protocols of the Investor Compensation Fund, eligible clients can get compensation of up to 20,000 euros in the event that their broker becomes insolvent.
While trading clients are protected by the brokers, they need to comply with their Execution Policy.
Negative Balance Protection means that clients can't lose more than their initial stake.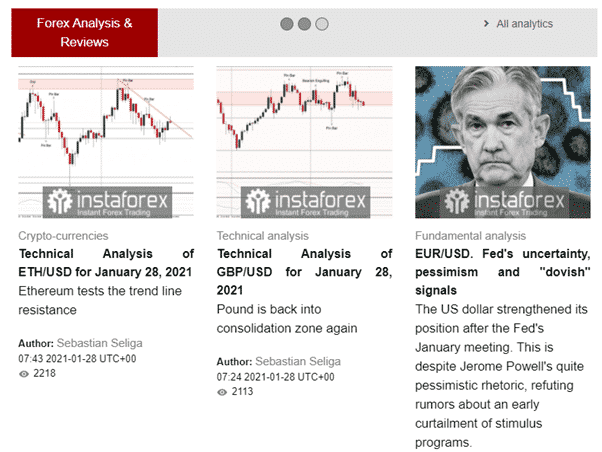 HOW TO OPEN AN ACCOUNT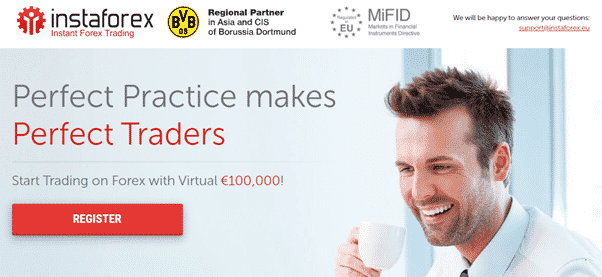 Setting up a demo account takes moments to do and is a really good way to get hands-on experience of any broker. It's free, no-strings and the bare minimum of personal information has to be supplied.

InstaForex offers a fairly standard number of payment options for those looking to deposit funds.
Bank Card
Bank transfer
Skrill
Neteller
B2B in Pay
Bitcoin via Skrill
Sofort
The stand-out feature here isn't the number of methods, but the variety. Included are the tried-and-tested bank-transfer and card payment methods. These tend to be the fastest.
Withdrawals do incur fees — these vary depending on size and payment agent, but most funds are returned next business day.
The stand-out feature is the option to use Bitcoin via Skrill as a payment option. Even on the subject of payments processing, InstaForex has again demonstrated a willingness to keep up with current trends and give clients the type of service they desire.
CUSTOMER SUPPORT
Being able to access members of an informed and responsive customer support team is crucial. It's not an overestimation to say that it can be the difference between a trade making a loss or a profit.
InstaForex has taken note and provides a high-quality service, which is accessible in a variety of ways.
The customer support team can be accessed 24/5, by email, phone, or live chat. The broker has also embraced other means of communication, and clients can seek help using Skype, Viber, WhatsApp, Telegram and Facebook messenger.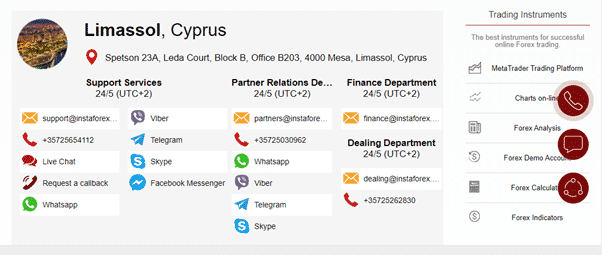 Platform base languages at InstaForex.eu include English, Italian, Bulgarian, Spanish, German, French, Czech, Portuguese, Slovenian, Dutch, Polish and Russian.
the bottom line
InstaForex has the feel of a new entrant, in a good way. There is a buzz about the firm and its range of innovative new features are, at times, eye-catching. It doesn't just back major flagship developments, but instead comes across as a trading platform that has had every detail thoughtfully considered.
The firm, though, isn't a newbie, and at the same time as being innovative and exciting, is also a broker that inspires trust. It's been operating for more than 10 years and its 7 million existing clients are a sign of prolonged success. If it covers the markets you want to trade, then it's very much worth trying out —at least in demo account format. It offers all the standard tools, some interesting new ones and is very user-friendly.
Since its inception, InstaForex has picked up 30 international awards. Its operations now include more than 30 analysts, and 9 trading servers. It doesn't have the widest range of markets in the sector, but has more than enough for most traders. All of this adds to the feeling of dealing with a reputable firm, with a growing reputation.
FAQS
How do I open a demo account with InstaForex?
An InstaForex demo account can be set up in moments by filling in the few lines of information needed here: InstaForex.eu Demo Account
Is InstaForex a regulated broker?
Yes. InstaForex is a global company and EU-based traders will benefit from the firm being regulated by Cyprus Securities and Exchange Commission (CySEC).
What fees does InstaForex charge?
This is a bit complicated. The pricing schedules are actually very transparent, but the broker offers six different account so that it can provide each trader with a best-fit option.
How do I withdraw money from InstaForex?
This is all done online. You simply instruct InstaForex to return funds back to the account that made the initial payment. The firm reports most payments are processed within one working day.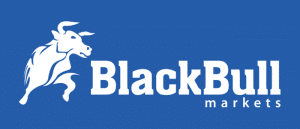 Forextraders' Broker of the Month
BlackBull Markets is a reliable and well-respected trading platform that provides its customers with high-quality access to a wide range of asset groups. The broker is headquartered in New Zealand which explains why it has flown under the radar for a few years but it is a great broker that is now building a global following. The BlackBull Markets site is intuitive and easy to use, making it an ideal choice for beginners.
Please be advised that certain products and/or multiplier levels may not be available for traders from EEA countries due to legal restrictions.