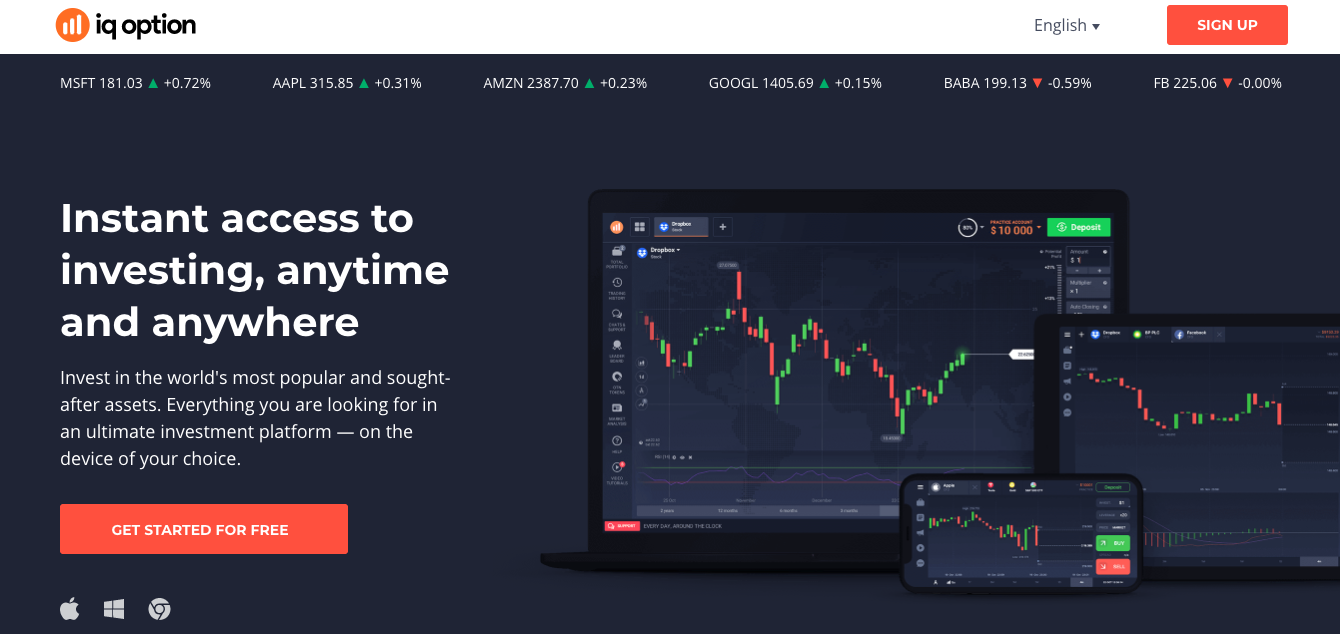 | Pros | Cons |
| --- | --- |
| Convenient trading platform | Slow customer support |
| Variety of options | Country restrictions |
Experts Viewpoint
IQ Option is a multi-functional trading platform, founded in 2013 and managed by IQ Option Ltd, located in Cyprus and regulated by CySec, does not accept users from the USA, Japan, Israel, Turkey, Belgium, the Russian Federation, Australia, Canada, Germany, Italy, the Netherlands , Romania and Spain.
Initially, IQ Option began its activities as a binary options broker, but now it gives customers access to CFDs, stocks, cryptocurrencies, ETFs and Forex.
From the very beginning of its activities, the company has significantly expanded its range of tools.
The company has different trading fees; they are divided into fees when transferring a position to the next day – they vary from 0.1% to 0.5%. And also fees are charged on some cryptocurrencies in the amount of 2.9%.
IQ Option has a multilingual support service that works 24/7, you can contact it through email, phone and online chat.
The IQ Option website has many training resources that can benefit both beginners and experienced traders.
These include various videos, webinars and tutorials. Users also have access to a number of e-books and a FAQ section that covers the most common questions.
The company gives its customers a number of types of accounts:
A regular account has a minimum deposit requirement of $ 10, in this account the client will have access to 350 assets.
A VIP account is available for traders with a deposit of $ 1900 or more. The account has many additional options: a personal manager and reports. VIP accounts are available only to traders who are located outside the EEA.
The maximum leverage available to customers is 1: 300.
IQ Option provides its customers with access to more than 180 currency pairs. Stock CFDs for over 176 different companies registered on the NASDAQ and NYSE.
ETFs are a relatively new product, but currently customers can choose from approximately 4,288 different ETFs.
In addition, IQ Option has access to cryptocurrency trading – 12 major cryptocurrencies, including Bitcoins, Ethereum, Litecoin, Ripple, Monero, Zcash, Omisego, IOTA and Dash.
IQ Option has its own developed platform. The same platform is used for CFDs and for trading binary options using the same mobile application. The mobile application runs on the Android and Apple iOS operating systems. It is available for download via the Apple Store or on Google Play.
In general, IQ Option is a very modern, regulated platform with a competitive offer for trading. The site is transparent, functional and intuitive.
Trading on the site is usually quite convenient, and the platform uses an intuitive user interface that is easy to navigate.
The platform and the trading application are functional enough for professional traders, as well as simple to allow new participants to seamlessly learn the trading process.
IQ Option is a fast-growing company, already has more than 40 million customers and about 1.3 million transactions per day.
IQ Option is a well-known brokerage which is quite ancient in industry terms. For years, it was the most attractive trading destination for binary options, on account of its peerless minimum deposits and outstanding trading conditions. The operation has been plagued by allegations of fraud though, and some complaining regarding certain company practices persists to this day.
IQ Option have always strived to keep their operation on the cutting edge. For a while there, they featured an intricate and rather well-designed system that allowed traders to create, use and even monetize their own trading bots. Due to the nature of binary options though – the only product they were offering – this effort ran ashore, and was eventually abandoned.
The IQ Option of today barely resembles the operation people remember from a couple of years ago. They have now moved well past the binary option era, though they have retained that product too. They have now added Forex, Stocks, ETFs and Cryptos to the lineup, too.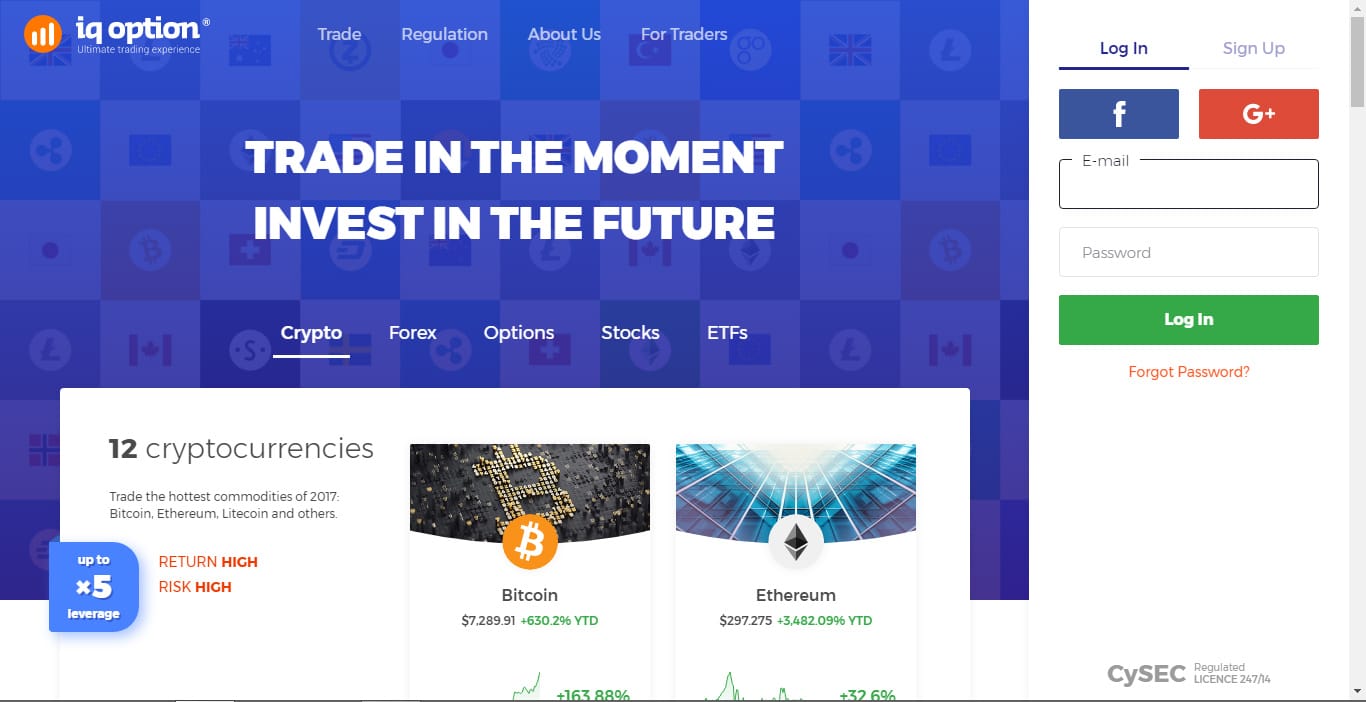 Is IQ Option Regulated?
The company behind IQ Option, IQOPTION EUROPE Ltd, is the possessor of a CySEC license. The license number is 247/14. This EEA (European Economic Area) license means that IQ Option are MiFID compliant and as such, they can provide services to several countries of the EEA.
In addition to the Cyprus Securities and Exchange Commission, IQ Option are registered with a number of other European regulatory agencies, such as the UK's FCA, Italy's Consob, Spain's CNMV and Germany's BaFIN. AFM, CNM and Regafi also have the operation in their national registries.
As a CySEC licensed Investment Firm, IQ Option is a member of the Investor Compensation Fund, which means that in case the brokerage suddenly goes under for whatever reason, its clients are entitled to compensation. As part of their client asset-safeguarding policy, IQ Option keep investor funds in segregated accounts, separately from the funds used for the day-to-day operations of the brokerage.
IQ Option Financial Products
As said above, IQ Option have introduced a number of new financial products, some of which are nothing short of revolutionary. In this respect, they seem very invested in the cryptocurrency vertical right now.
A total of 12 cryptos can be traded, and once again, IQ Option have made sure that they have the most attractive trading conditions around. They offer a maximum leverage on cryptos of 1:25, which is indeed quite outstanding. Short selling is allowed on crypto assets, and the deposits/withdrawals are lightning-fast.
The currencies currently supported at IQ Option are bitcoin, Ethereum, bitcoin Cash, Ripple, Litecoin, IOTA, Dash, Ethereum Classic, Monero, ZCash and Santiment.
All crypto-trading at the site is CFD-based, even though at one point in the crypto section, the site lets on that crypto currencies can actually be bought. That does not seem to be the case once one is trading away on the platform. All 13 available crypto CFDs are based on the crypto/USD pair.
The CFD section of the platform seems to feature crypto currencies as well, and not much else. The spreads are excellent on all these CFDs though, and there may actually be more CFDs available through a real money account.
The Forex section gives traders access to 22 currency pairs, and while the spreads vary quite a bit, they all seem to be well under the 1 pip mark. The Forex section allows traders to manually close a trade whenever they see fit, locking in their profits. Stop Losses and Take Profit levels can also be set for automatic trade settling.
The Options section is where IQ Option's old-style binary options are. There are no fewer than 43 tradable assets here, covering currency pairs, equities, stocks and commodities. These options dangle profit-rates of up to 95% (most of the time, the payouts are below that mark though). Expiry times can be as low as 60 seconds.
The special Digital Options section of the product selection is all about currency pairs. These options feature payouts of up to 900%.
IQ Option Trading Platform
The trading platform used by IQ Option is an in-house creation, and it is very handy indeed. Though it is definitely not an MT4 when it comes to analysis and advanced charting options, it is not half bad. It allows the displaying of no fewer than 9 charts at the same time, and it lets traders add and remove assets at the click of a button.
There's an Open Positions section, which gives the trader a sort of bird's eye view of the trading field, as well as a Trading History option, through which past successes and mistakes can be analyzed.
There's a distinct social feel about the whole IQ Option trading experience, due to the presence of the Dialogs and Chats tab, where communication happens at the click of a button. Those using the demo version should know that actual chat/communication is only available to real money account holders (possibly to stave off congestion, trolling and spam).
There's a leaderboard available directly in the trading interface, as well as an OTN tokens section, which is a sort of loyalty reward scheme. Every day, the brokerage hands out a preset number of OTN tokens to traders who make at least one commission-based trade. These tokens can then be used to reduce commission levels.
The market analysis section is especially useful for those looking to trade the news. Trading tournaments are offered in a special promotional section too, featuring attractive entry fees and massive prize-pools. For only $4, traders can gain access to a prize-pool of more than $17,000. Such tournaments run fairly frequently too.
Last but certainly not least, we have a special section dedicated to video tutorials. These tutorials are simply excellent: they are short, to the point and wonderfully structured. Unlike most trading-related educational videos, they are indeed potentially very useful.
Despite the praises we've piled upon the iqoption platform above, it does have its shortcomings too. Its analytic features are nowhere near MT4's league (which is sort of understandable, considering that this is a web-based platform we're talking about). Also, more importantly: the platform seems to be a bit slow when it comes to locking in the strike-price for the trades, and that is kind of a big problem.
It has to be noted that there's a downloadable version available as well, which unfortunately seems to be the identical copy of the web-based platform.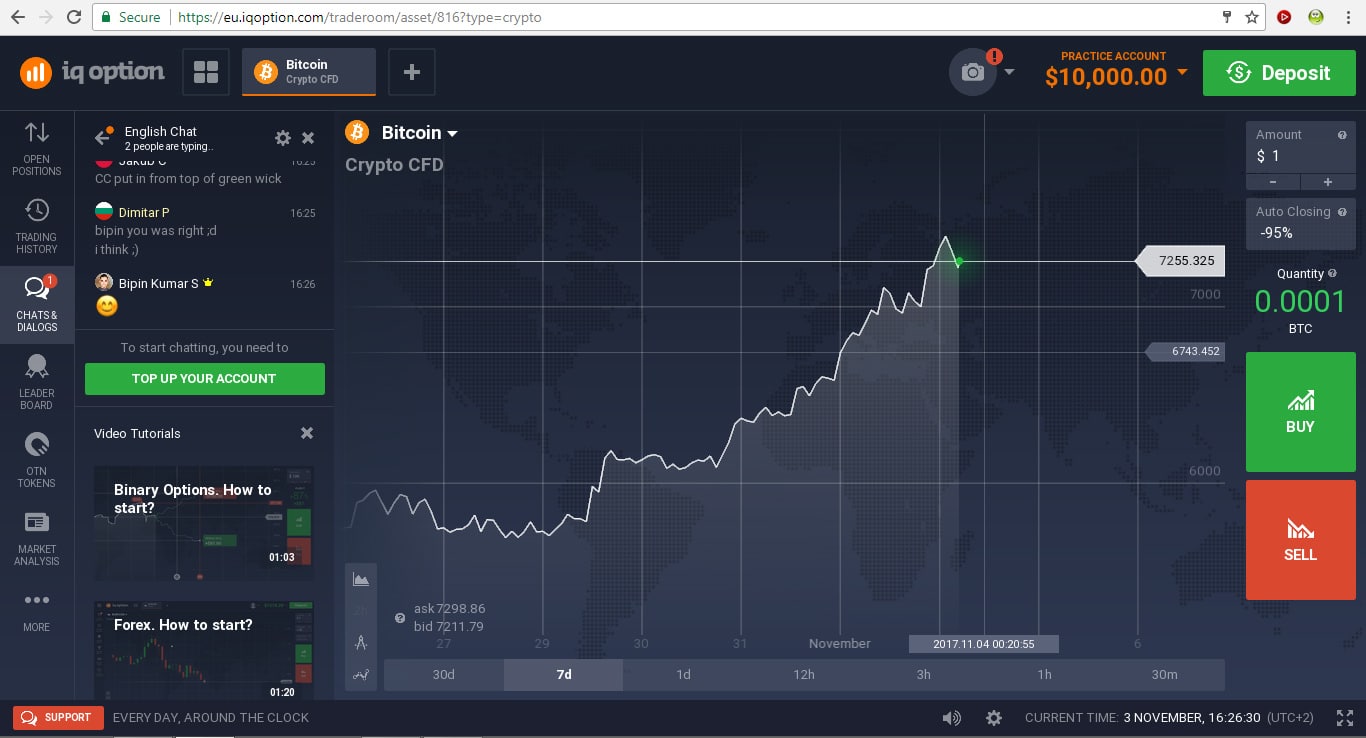 Customer Support with IQ Option
The IQ Option support can be reached through phone, at +44 20 8068 0760. The company is based at Yiannis Nicolaides Business Center, Agiou Athanasiou Avenue 33,4102, Agios Athanasios, Limassol, Cyprus. The CEO and the CAO can be contacted directly. Scores of local toll-free numbers are available on the Contact page of the website, for a number of European, Asian, African and South American countries.
IQ Option Review Conclusion
IQ Option seem to have whipped their operation into shape lately. Offering an exciting selection of new products, the operator has retained its attractive platform, and the trading conditions it offers are quite possibly among the best in the industry.
IQ Option are also the proud possessors of a number of prestigious awards and they have a high-profile partnership in place with Aston Martin racing.
Read all forex broker reviews

Forextraders' Broker of the Month
ForexTime (FXTM) is an award-winning platform that certainly has the feeling of being set up by people who know what they are doing. The firm demonstrates an understanding of what helps traders make better returns, and its success can be measured by the fact that it's doubled the number of clients it supports in recent years. The fact that the broker has grown to have more than two million accounts suggests it is getting things right for clients.
Please be advised that certain products and/or multiplier levels may not be available for traders from EEA countries due to legal restrictions.