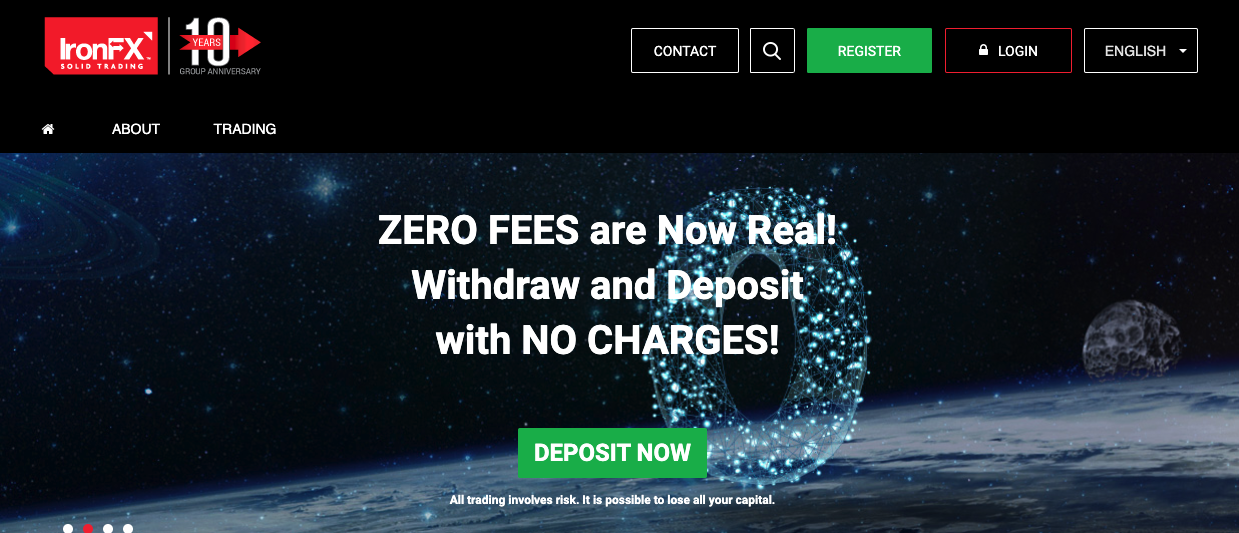 | Pros | Cons |
| --- | --- |
| High levels of customer protection | Research and news resources could be better |
| Great educational resources on offer/td> | Minimal cryptocurrency integration |
Traders Viewpoint
Founded in 2010 in Cyprus, IronFX has undergone a rapid rise to become one of the fastest growing online trading platforms. With a presence spread across 180 countries, IronFX prides itself on offering industry-leading trading conditions delivered in a sleek trading package that puts the customer at the centre of everything it does.
As it very much the industry standard these days, trading is delivered mainly through the MetaTrader 4 and MetaTrader 5 platforms, which are by far the most popularly used trading platforms out there at the minute. Both the MT4 and MT5 platforms come in Mac OS and Windows compatible variations, as well as having dedicated iOS and Android ready mobile versions. In addition, IronFX also provides a proprietary multi-account manager software, which allows you to seamlessly switch between and keep an eye on multiple trading accounts. It also has a proprietary web trading platform which makes for a nice alternative to MT4 and MT5.
In terms of the trading conditions on offer, IronFX provides you with instant access to hundreds of tradeable financial instruments across six different asset classes.
Although the exact spreads you get offered will vary depending on the account type you have open with IronFX; it's generally speaking very competitive when compared to the industry averages.
For users of the platform new to the online trading space, IronFX has made a number of different educational and learning resources available that will provide you with the means to level up your trading skills.
From market analysis, articles of trading psychology, and various technical analysis guides, there is something for all skill levels, which makes IronFX a platform you can really grow with as your skills increase.
Given that IronFX has a presence in over 180 countries, the customer support team is one of the most multi-lingual we have come across.
Support is provided in over 30 different languages, with customer support provided on around the clock basis across a number of different time-zones. We were particularly impressed that it provided toll-free customer support numbers in twelve different countries, making it that little bit easier to get in contact with the customer support team.
All in all, whilst not offering a perfect package, IronFX does a great job of delivering a well put together package that is easy to use, stable, and provides some great trading conditions. For more inexperienced traders, IronFX is a really solid choice as it delivers a wealth of high-quality, useful educational materials that will help you to meet your trading goals.
Despite experiencing a rapid expansion when it first set up shop in 2010, it seems like now IronFX is really beginning to hit their stride. It offers excellent trading conditions and clearly put the customer experience at the heart of everything it does.
IronFX is a registered brand of Cyprus-based IronFX Global Ltd. And is a global leader in online trading.
In Australia, IronFX is a trade name of GVS (AU) Pty Ltd, which is regulated and authorized to operate there by the Australian Securities and Investment Commission or ASIC and does so under AFSL number 417482. Their official website there is situated at www.ironfx.com.au.
IronFX also operates in the United Kingdom as a trade name of 8Safe UK Ltd. the broker is there regulated and authorized by the Financial Conduct Authority or FCA and has the license number of 585561. Their official website is located at www.ironfx.co.uk.
You can view a screenshot of IronFX's official homepage below: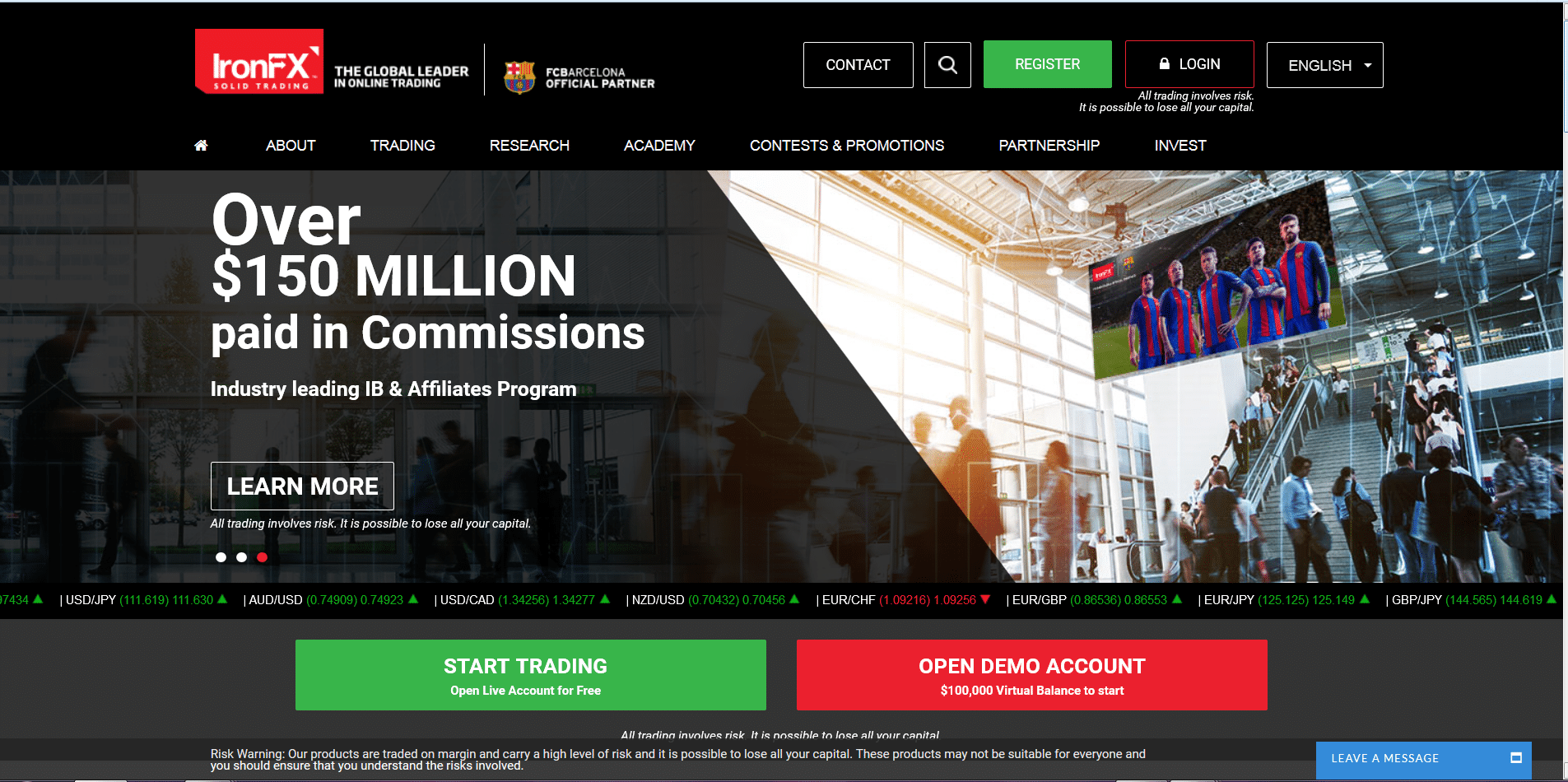 After its recent regulatory issues, IronFX has renewed its commitment to maintaining high standards for transparency and customer services. The broker has also won many awards and assures its clients that their funds are safely deposited in segregated accounts held at top tier banks due to its strict policies in that regard.
All of the IronFX entities have the same ultimate owner and have largely identical websites and services, so they will be reviewed as a single forex broker in this overview.
Please take note that IronFX does not presently accept those clients who are based in the United States.
Features at IronFX
IronFX consists of a group of international finance experts with many years of experience in relevant areas like risk management, client business solutions, software development and financial market analysts.
The broker provides retail and institutional investors in more than 180 countries around the world the ability to make transactions in hundreds of financial instruments and assets. The broker also offers support in more than 30 languages and has offices in six different countries.
IronFX also offers flexible leverage ratios of as much as 1 to 500 and claim to have the lowest dealing spreads in the market starting at 0 pips. Trading is available in more than 120 currency pairs during normal forex dealing hours. Clients can also trade precious metals and other commodities, stock indexes, futures and individual stocks.
The company also has an impressive set of contests and promotions, that currently include a 100 percent Sharing Bonus on up to $10,000 and a 40 percent Power Bonus on up to $4,000, which are both subject to various terms and conditions.  Take note that neither of these bonuses can be withdrawn from your trading account.
Funds in IronFX FCA regulated entity accounts are protected by the UK's Financial Services Compensation Scheme that provides compensation for investors if the broker cannot meet its financial obligations.
PROTECTION UP TO £1,000,000 PER CLIENT by Lloyds, certificate available in our webpage.
IronFX offers Excess of loss insurance cover over and above the FSCS limit of £50,000. Protection up to £1,000,000 per client. Applicable only to FCA clients.
New Product: Absolute Zero
Zero commission trading
Available in EUR and USD
Raw Spreads starting from 0 pips
Flexible leverage from up to 1:200
Ability to trade with micro lots
Spread on EUR USD is 0.18, raw, with no commission.
Other Services
For those interested in Social Trading, IronFX has partnered with AutoTrade by MyFXBook to provide a social trading opportunity for its clients. This feature allows you to mirror trades of others who you deem worthy in your own account. No software download is required to use this service.
Another useful service offered by IronFX involves letting clients connect remotely using a Virtual Private Server or VPS. The VPS hosting service is even offered free to those who deposit and maintain a balance of more than $5,000 in their trading accounts. This server is operated in a secure data center and is available around the clock to run your trading software.
A VPS helps prevent issues like power cuts, computer failure and slow Internet speeds from adversely impacting your trading results when you use an Expert Advisor.  You do not even need to have your home computer turned on for your VPS installation to be trading automatically for you.
Platforms
IronFX claims on its website to offer ten trading platforms to clients, but only a few of them seem worth mentioning there. The first consist of the ever-popular MetaTrader 4 or MT4 and MetaTrader 5 platforms, which have excellent online support and serve as the broker's primary trading platform. You can run the MT4 and MT5 trading platforms on either Mac or PC desktop computers, and a mobile version is available for Apple iOS or Android devices.
IronFXs also has its own Personal Multi-Account Manager or PMAM software that acts as a very helpful risk management tool when you are interested in trading multiple accounts. The PMAM platform allows traders to enter orders with a single click entry, manage several accounts, and set up multiple funds. You can also use it to monitor financial pricing in real time and produce activity reports.
Another trading platform option offered by IronFX is the web based trading platform called Webtrader 4 that it developed in house. A screenshot of this proprietary online trading software is shown below: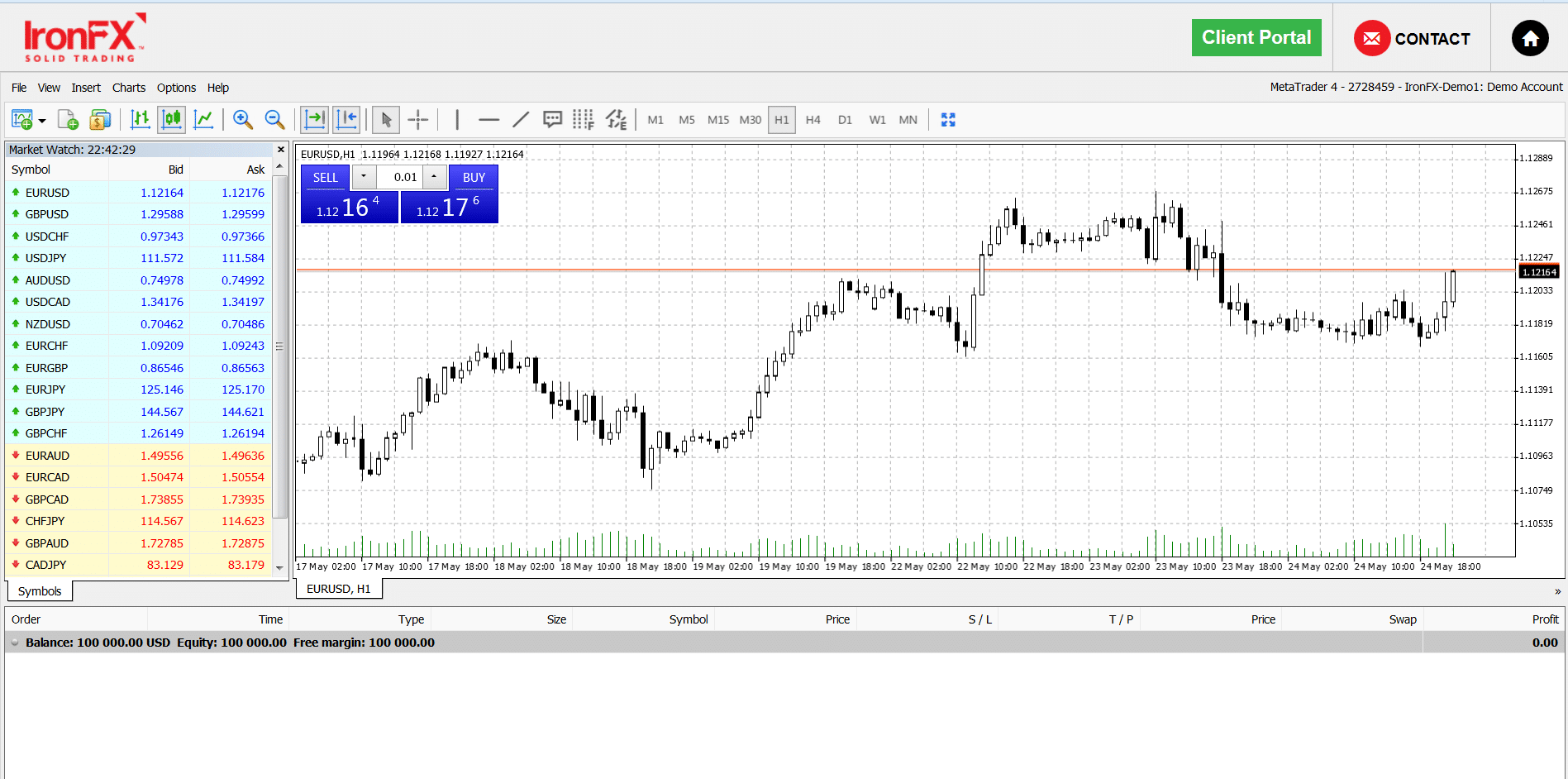 The broker also offers a web-based social trading platform, as was mentioned in a previous section.
Deposits and Withdrawals
IronFX has developed a proprietary bespoke interface, which means that it is tailored to each individual client's needs. The in house interface uses an exclusive Client Portal that makes funding an IronFX account easy, as well as addressing all of a client's needs. Please note that IronFX does not accept cash deposits.
The IronFX Client Portal is completely automatic and lets clients withdraw and deposit funds with one simple interface. Each of IronFX Payment Service Providers are regulated by the world's major regulating agencies and are listed below with their deposit and withdrawal fees (if any), restrictions and maximum transaction amounts.
Credit/Debit Cards – IronFX accepts Visa, Mastercard and Maestro debit/credit cards with no fees for deposits, with up to EUR 1.5 per transaction for withdrawals. The maximum amount per transaction is USD 50,000.
Bank Wire – deposit fees for bank wires depend on the corresponding and intermediary banks and what each bank charges. IronFX does not charge any fees for bank wire deposits with no restrictions.
Neteller – IronFX charges a two percent fee capped to a USD 30.00 minimum with a USD 1.00 fee per transaction for Neteller deposits. There are no restrictions with a maximum transaction amount of USD 50,000 per transaction.
Skrill – IronFX does not charge for deposits with Skrill. Withdrawal fees are one percent capped to USD 10,000 with no restrictions and a maximum transaction amount of USD 50,000.
Fasapay – no fees for deposits are charged by IronFX, however, A 0.5 percent fee per transaction is charged for withdrawals with a maximum of USD 5.00. There are no restrictions with a maximum transaction amount of USD 5,000.
China Union – no fees for deposits are charged by IronFX with a CNY 20 per transaction. There are no restrictions with a CNY 360,000 maximum transaction amount.
IronFX payment service providers are duly regulated with Ecommpay, Webmoney, Skrill and Neteller authorized by the Financial Conduct Authority or FCA in the United Kingdom. Safecharge, Cardpay and CSC24Seven are authorized by the Central Bank of Cyprus, while Dinpay is authorized by the Central Bank of China and Dotpay, by the Polish Financial Supervision Authority.
Customer Support
IronFX customer support provides personalized support for retail and institutional clients in more than 180 countries in Europe, the Middle East, Asia, Africa and Latin America. Support is provided in over 30 different languages with service provided round the clock.
The company offers toll free numbers in 12 countries, including: Brazil, China, the Czech Republic, Germany, India, Japan, South Korea, Poland, Portugal, South Africa, Spain and the United Kingdom. In addition, IronFX can be reached via email, live chat, and at their own telephone and fax numbers with telephone numbers for Introducing Brokers, client funding queries and their trading desk.
In addition to round the clock customer support, the IronFX Academy provides clients with access to some market analysis, informational material and educational videos. Also, IronFX attends major forex expos in cities around the world. The broker also offers a Forex encyclopedia to broaden their customers' understand of trading topics.
IronFX – Conclusion
IronFX claims to be the leading online broker and has taken important steps to comply with CySec after previous regulatory issues arose. It allows clients to use MetaTrader 4 and 5, and also supports a variety of other trading platforms, including one for social trading.
Through its proprietary Client Portal, IronFX offers its clients an easy way to make deposits and withdrawals through one simple interface. Also, the company's customer support lets clients access information in over 30 languages with round the clock email, live chat and toll free telephone support.
For inexperienced traders, the IronFX Academy offers extensive forex educational material that include videos, webinars and seminars, as well as IronFX's participation in forex expos and trade events in major cities worldwide.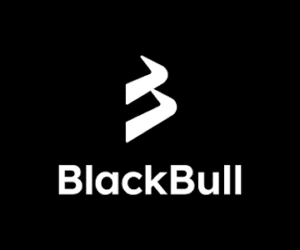 Forextraders' Broker of the Month
BlackBull Markets is a reliable and well-respected trading platform that provides its customers with high-quality access to a wide range of asset groups. The broker is headquartered in New Zealand which explains why it has flown under the radar for a few years but it is a great broker that is now building a global following. The BlackBull Markets site is intuitive and easy to use, making it an ideal choice for beginners.
Please be advised that certain products and/or multiplier levels may not be available for traders from EEA countries due to legal restrictions.