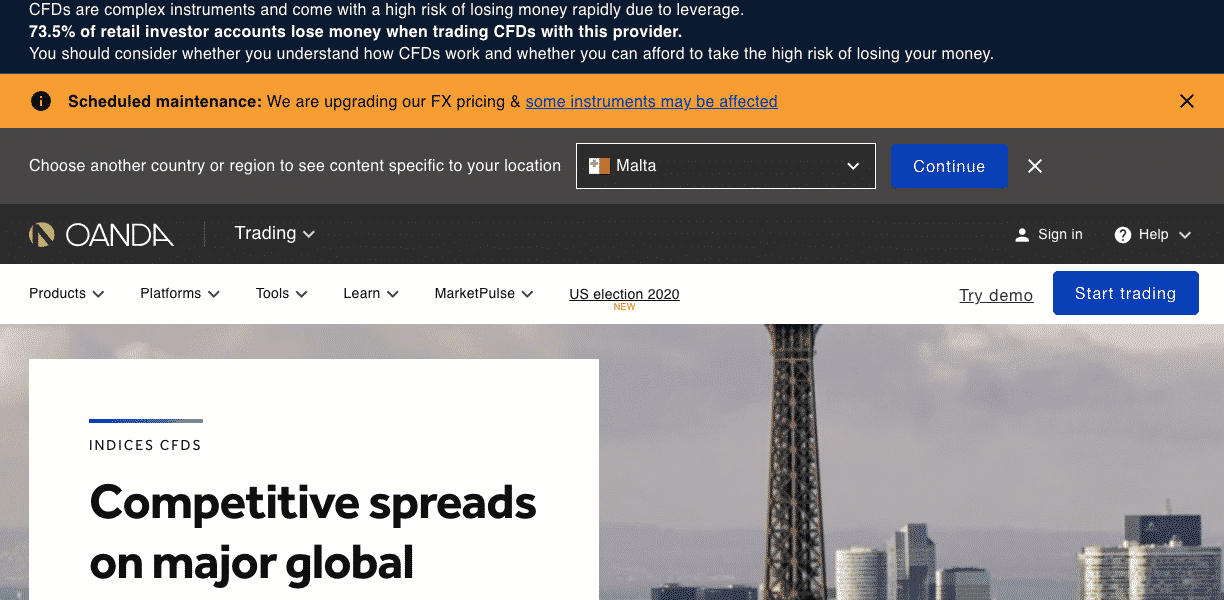 | Pros | Cons |
| --- | --- |
| Access provided to proprietary trading platform | Only one main trading account type |
| Good trading conditions with fast execution speeds | |
Trader's Viewpoint
Established in 1996, and with two decades of experience under their belt, Oanda is one of the more established and well respected online brokerages. Although competing in an increasingly competitive market, Oanda has managed to continue to attract new customers to their platform. Through a global network of CFD and forex-related companies, Oanda has experienced rapid growth in the
But what makes Oanda such a popular choice for both new and old traders, and what makes Oanda stand out from the competition?
One of the things that really helps to distinguish Oanda is how global they are. Since being founded in 1996, they have gone on to establish a global network of offices with a truly international client base. Currently, they have offices across Asia, North America, and Europe.
When it comes to actually trading on the Oanda platform, the selection of instruments on offer is pretty decent. Whilst not quite as extensive as other similarly sized platforms, they nevertheless have a solid spread of asset classes. Those of you looking to trade forex CFDs will be particularly well looked after, with Oanda offering over 60 major, minor, and exotic currency pairs to choose from. Additionally, Oanda also provide access to a wide range of CFDs on metals, commodities, bonds, and stock indices.
The trading conditions on offer are generally quite favourable, and the spreads are for the most part competitive, with forex spreads as low as 1 pip on certain currency pairs. The exact spreads you get offered, however, will change over time and will depend on the asset class you are hoping to trade. Leveraged trading is possible on the Oanda platform and is pegged to the standard rates of 50:1 on major currency pairs and 20:1 on exotic pairs. Execution speeds are generally quite fast, and you won't notice any slowdown compared to other trading platforms.
Trading is delivered primarily through a proprietary trading platform, which was actually amongst the first fully automated, online retail forex trading platforms when it was first introduced. Suppose you would prefer to stick with a more familiar platform rather than Oanda's fxTrade platform. In that case, full access is provided to the MetaTrader 4 family of products, which come with all the benefits you are well familiar with.
Overall, if you are looking for an exciting broker who has a well-established presence in the online trading space, you could do a lot worse than giving Oanda a try. With favourable trading conditions, a very user-friendly proprietary trading platform, and plenty of experience in doing what they do, Oanda is an easy choice. And given that Oanda offers a full-featured demo account which is completely free to create, Oanda is well worth a try for both new and more experienced traders.
You will be hard pressed to find a more highly respected forex broker in the market than is OANDA in the forex industry. The firm, established in 1996, was one of the original pioneers that toiled to make retail forex trading a reality for the general public and quickly leveraged its early successes to become an industry powerhouse. Through its now global consortium of forex-related corporations, it provides not only retail forex trading, but also basic rate quote streaming services, money transfer processing, hedge consulting, and a host of other related forex-business services. It serves its ever-expanding global customer base with subsidiaries in the U.S., the UK, Japan, Singapore, and Australia, in addition to its headquarters in Toronto, Canada, and complies with regulatory oversight in each of its office jurisdictions. Along the way, OANDA has garnered many industry awards, such as "Best Customer Service" and "Best Mobile Platform" in 2015. The firm also accepts U.S. clients, but limits their trading to forex.
If you are looking for currency pairings that you cannot find elsewhere, then OANDA may be the one for you. They offer over 60 major, minor, and exotic forex pairs to choose from, along with CFDs for precious metals, commodities, bonds, and stock indices. If your country does not recognize CFDs as tradable instruments, then you may not be able to access them, but you will still have excess to an extensive library of educational materials, videos, and streaming webinars, fit for all levels of trader. There is no escalating benefit structure tied to your account balance. OANDA does not discriminate in that manner. It has one standard account category, supplemented with a free demo for practice trading. You do have two options when it comes to trading platforms. You can go with their web-based proprietary version, "fxTrade", or elect to go with the highly popular Metatrader4 family of product offerings. Mobile trading is also supported for each platform protocol choice.
OANDA's fxTrade platform was actually the first online, fully automated, retail forex trading platform to hit the market. It provides access to the firm's market making, trading desk back office and has been scaled up over the years to handle the largest volumes in the industry at peak efficiency. A recent report stated that, for the year ended in August 2015, 98% of all transactions were completed in less than 0.057 seconds. Other industry sources estimate that the OANDA servers process over one million transactions a day and account for nearly 20% of all industry traffic, quite an accomplished over the past fifteen years. A portion of their growth is due to acquisitions, the latest being the forex accounts of IBFX, Inc. (a/k/a TradeStation Forex). Customer service personnel and support materials rank on the highest end of the scale, and peace of mind is assured by consistent regulatory compliance across the globe with several key oversight agencies. All client deposits are also maintained separately in Top-Tier bank accounts and subject to various national investor protection schemes. OANDA has it all and then some.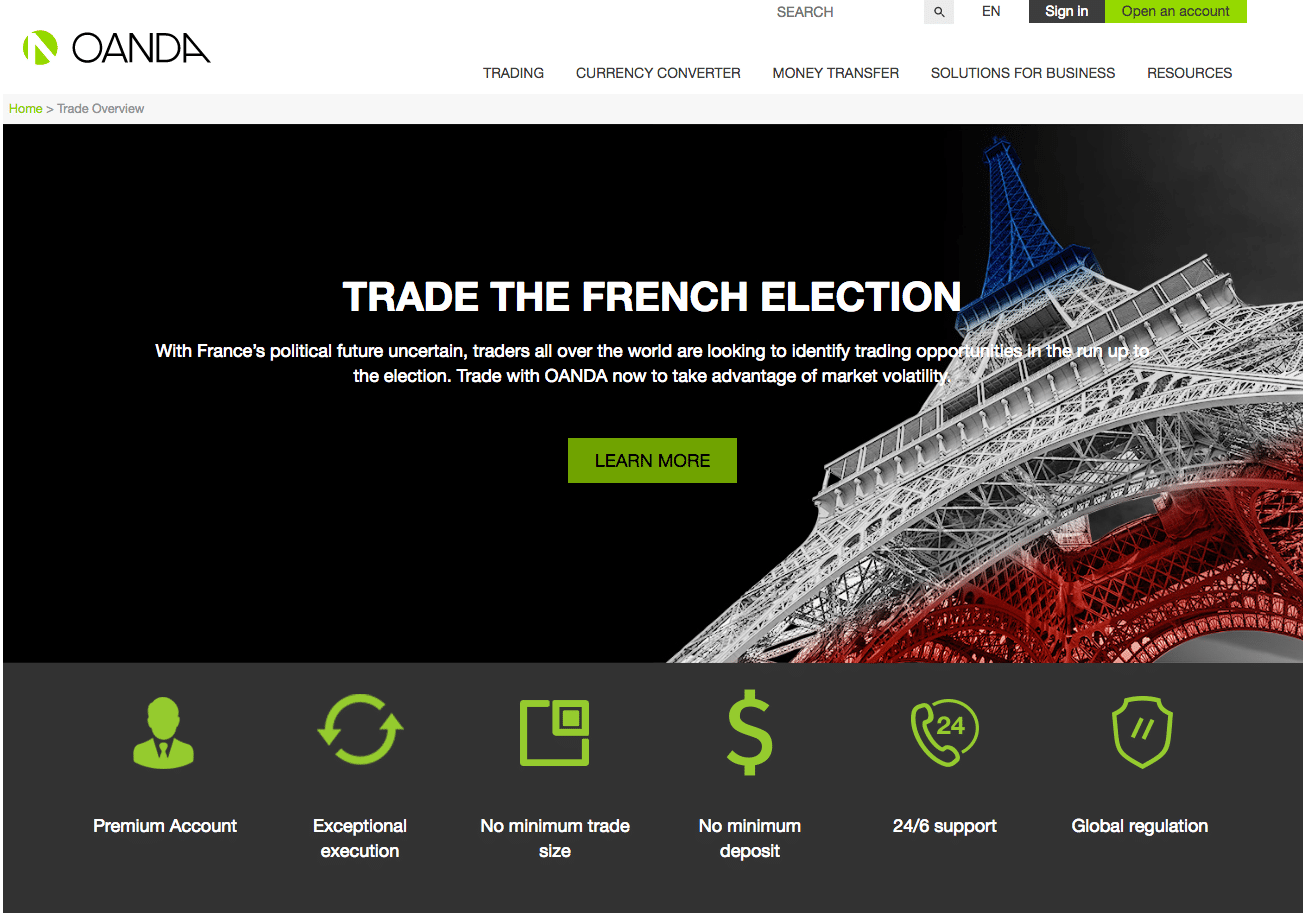 Features of Trading with Oanda
Why trade with Oanda.com? The firm lists these reasons:
Founded in 1996, with headquarters in Toronto, Canada;
Five other subsidiaries in the U.S., the UK, Japan, Singapore, and Australia;
Regulatory compliance in each of six corporate locations;
All client deposits segregated from operating capital in Top-Tier international bank accounts;
One standard account for all clients comes equipped with a free demo account for practice trading;
No minimum deposit or minimum trade amount;
Over 60 currency pairs offered, including major, minor, and exotic pairings;
Over 30 CFDs offered in indices, bonds, commodities, and precious metals (check website to see if your local law permits trading in these instruments);
Spreads are competitive (as low as one pip for EUR/USD) – website posts market spreads on all assets in real time;
Leverage is 50:1 for major pairs and 20:1 for all others – Leverage on CFDs varies by asset – see website for details;
Extensive learning academy, support materials, and ongoing webinars;
Multi-lingual "24X5" customer service support available during all market hours.
Oanda Trading Platforms
The flagship of the OANDA enterprise is its proprietary trading platform, "fxTrade". It takes the honor of being the first online, retail forex trading platform to hit the market. From 2001, fxTrade has been continually upgraded and has led the market in new innovative features. It has always been web-based and capable of handling heavy volume through put. If you, however, prefer to use the family of Metatrader4 offerings, then you will not be disappointed. OANDA supports MT4, as well, and all of its systems have a mobile app to permit trading from anywhere, as long as your device can access the Internet. All trading activity and personal identity data are encrypted using the latest technology for security purposes.
Spreads and Leverages Oanda Trading
Spread offerings are competitive. For currency pairs, the EUR/USD pair can be as low as 1 pip. Spreads for CFDs vary by asset choice. OANDA also provides an online tab on its website that details the prevailing spreads on all assets offered, each changing in real time. As for leverage, the standard of 50:1 for majors and 20:1 for exotics applies to currency pairings, while leverage for CFDs may vary widely, depending on the sector of the market. Check the website for details.
Deposits and Withdrawals with Oanda
Checks, credit cards, debit cards or wire transfers may be used to fund your trading account with OANDA. Withdrawals will always follow a similar path, as required by international law. All withdrawal requests will receive quick processing, as long as your personal identity information, again as required by international law, is current, on file, and in order.
Oanda Customer Support
Bilingual customer support representatives are professionally trained to assist you with any query that you might have. You can access them via live chat, email, fax, or via phone. There are also eight global offices to add an additional layer of convenience to serve you on a regional basis. Support is available every market day across the globe, on a "24X5" basis. Training materials are also extensive at OANDA, with premium webinars and commentary that will appeal to all traders scheduled daily to prepare you for each day's action and to ensure a favorable trading experience.
Oanda Review Conclusion
As stated above, OANDA has it all and then some. The firm has been there since the beginning, and it shows. They have won many industry awards for excellence in all facets of the business and are best known for their early trailblazing efforts in providing conversion rates for the public and then leveraging those experiences to produce the first online, fully automated, retail forex trading platform. Over the course of the last two decades, OANDA has amassed nearly a 20% share of the retail forex trading market and continues to grow and prosper. Size does have its advantages in this business, as do long-term relationships with major global liquidity providers and with major regulatory bodies. The management team's commitment on its website says it all: "We're dedicated to your success. OANDA is flexible enough to appeal to any trader." The choice is yours.
– Your capital is at risk. Losses can exceed investment. Leverage trading is high risk and not for everyone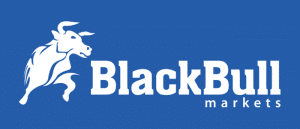 Forextraders' Broker of the Month
BlackBull Markets is a reliable and well-respected trading platform that provides its customers with high-quality access to a wide range of asset groups. The broker is headquartered in New Zealand which explains why it has flown under the radar for a few years but it is a great broker that is now building a global following. The BlackBull Markets site is intuitive and easy to use, making it an ideal choice for beginners.
Please be advised that certain products and/or multiplier levels may not be available for traders from EEA countries due to legal restrictions.