| | |
| --- | --- |
| SquaredFinancial Pros | SquaredFinancial Cons |
| Low fees and commissions | Financial instrument selection could be more extensive |
| Solid range of educational and learning materials | MT5 platform access would be nice |
| Low spreads on the Elite trading accounts | Spreads on the Pro trading account quite high |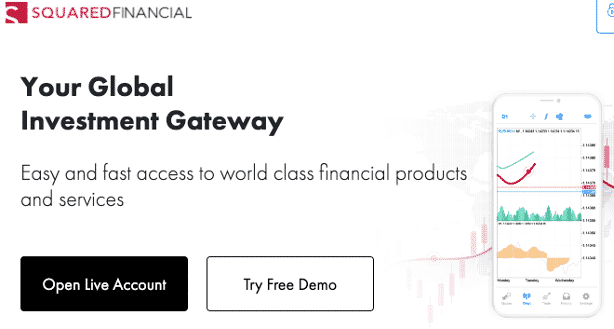 Trader's Viewpoint: SquaredFinancial
In a market that is increasingly populated by brand-new entrants, it can often be quite difficult to find a trading platform with a bit of experience behind it. This is not the case with SquaredFinancial, however, which is one of the few trading platforms with a team who have multiple decades of industry experience between them. Founded all the way back in 2016 – when the online trading and investment scene was a much different space – SquaredFinancial is headquartered in Cyprus and focuses primarily on the European market. However, company history aside, what does SquaredFinancial bring to the table that you won't find on offer elsewhere, and how does it differentiate itself from the competition?
One of the most immediately obvious things that helps SquaredFinancial stand out from the competition is the trading conditions it offers. With Pro accounts giving traders access to spreads starting from 0.0 pips, and a low commission of $5 on each lot traded, these are some of the most favourable trading conditions around. Although the range of instruments supported is not quite as extensive as you might find elsewhere, these favourable trading conditions are hard to argue with. For novice and intermediate traders, in particular, SquaredFinancial is a really solid option, and the range of educational materials on offer makes it a great place to get started.
For this reason, if you are looking for an open and transparent broker that has lots of experience behind it and provides favourable trading conditions, SquaredFinancial is the perfect place to get started in the world of online trading and investment!
About SquaredFinancial
SquaredFinancial is an online trading and investment platform, founded in 2016 and currently headquartered in Cyprus. With a focus on giving retail traders access to the latest fintech trading technology, SquaredFinancial is a global investment gateway. The team at SquaredFinancial comprises experienced industry professionals with decades of experience in the financial services sector between them. Its focus is on providing retail traders with all the tools, professional support, and trading conditions and products necessary to enter into the financial markets and achieve financial freedom.
In terms of what SquaredFinancial looks to offer over its competitors, it prides itself on providing competitive trading opportunities, superior trading tools, multiple account types, fast execution speeds, cutting-edge trading technology, and free educational resources.
Who does SquaredFinancial appeal to?
SquaredFinancial is suitable for traders of all skill and experience levels, though novice and intermediate traders will find the most value on the trading platform. Although the trading conditions on the Elite account are particularly favourable for day traders and professional clients, they may ultimately find the selection of assets available to trade quite limited. For this reason, the SquaredFinancial trading platform is best suited to a novice or intermediate trader looking to build up their investment portfolio. The educational materials on offer are also aimed at this demographic, which makes it an even better choice.
Account Types
To suit the various types of traders who will be attracted to the platform, SquaredFinancial offers a number of different trading accounts. The two main trading accounts are separated in a 'Squared Pro Account' and a 'Squared Elite Account'.
The Squared Pro Account is aimed at the average online trader and offers base currencies of EUR, USD, GBP and CHF. It is a commission-free account, though it will generally have higher spreads than the Elite account. As it is aimed at the average trader, the deposit minimums are much lower on the Pro account – these start from $0.
The Squared Elite Account, as you might have guessed, provides a trading experience that is more suited to professional traders and higher-volume day traders. Much like the Pro account, the base currencies are EUR, USD, GBP and CHF. Unlike the Pro account, the Elite account has a flat commission of $5 per lot. However, the flipside of this is that spreads start from 0.0 pips! As it is aimed at professional traders with higher daily volumes, the minimum first deposit amount is $5,000.
In addition to the Pro and Elite trading accounts, SquaredFinancial also provides an Islamic trading account. Also known as swap-free accounts, Islamic accounts benefit from exactly the same trading conditions and terms as the main trading account types. The main difference is that there will be no swap or rollover interest on overnight positions. Islamic accounts also benefit from higher leverage thresholds of up to 1:500.
Markets and Territories
As it is established in Cyprus, SquaredFinancial's main focus is on servicing the European market. Although we were unable to find comprehensive information about the countries it supports clients from or where its services are restricted, the languages on offer indicate its geographic focus. The SquaredFinancial website currently offers support in English, Arabic, Spanish and Chinese, which appears to be where its focus is in terms of markets and territories. At the present moment, it does not appear that US citizens are supported by SquaredFinancial.
Instruments and Spreads
SquaredFinancial's focus in terms of the instruments supported is on CFDs spread across energies, forex, metals, indices and futures. Of these, its focus is mainly on forex, though the other instrument types are also very well supported.
You can trade over 40 different currency pairs, though they mainly cover the minor and major currency pairs without too much support for exotic currencies. Energies include Brent crude oil, WTI oil, and natural gas. In total, SquaredFinancial provides support for over 70 trading instruments spread across five different asset classes.
Spreads are quite low on the Elite trading account type, starting from 0.0 pips. However, on the basic account type, they are significantly higher, starting from an average of 1.2 pips.
Traders using the SquaredFinancial platform can also benefit from leverage trading, which is capped at 1:30 for retail clients and 1:500 for professional clients.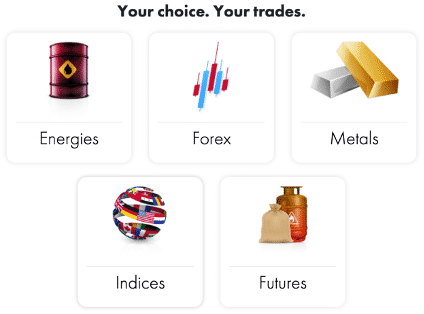 Fees and Commissions
The fees and commissions you get charged on a per charge basis will depend on what type of trading account you have set up with SquaredFinancial.
Currently, the broker provides access to two main trading accounts: Squared Pro and Squared Elite.
Squared Pro is aimed at the average trader who tends to trade a small to medium volume in a given trading period. It provides average spreads from 1.2 pips (on EUR/USD). While not necessarily the most competitive spread that we have seen, the Squared Pro account does benefit from commission-free trading, which makes it significantly more attractive. The Squared Elite trading account offers average spreads of 0.0 pips (EUR/USD), though it will charge a $5 commission on a per lot basis.
It is also important to note that SquaredFinancial does not charge any additional fees on, for example, withdrawals or deposits, and we were unable to find information on any additional fees or hidden charges. As such, the trading conditions offered by SquaredFinancial are very favourable.
Platform Review
Trading on the SquaredFinancial platform is done primarily through MetaTrader 4 (MT4). The MT4 platform is currently the market-leading forex trading platform and has garnered a whole raft of industry awards. It is the chosen trading platform for traders of all experience levels thanks to its easy-to-use layout, customisability and robust charting features.
MT4 is completely customisable and allows you to create custom layout and templates to suit your own trading style and strategies. Additionally, it also allows you to draw historical price charts for back testing and analysis purposes. It also provides full support for automated trading and social trading via the Myfxbook tool.
Given how well established the MT4 trading platform is, there is very little that we can realistically critique or review! The MT4 platform is the industry standard for a reason and it makes sense that SquaredFinancial would select it as its platform of choice. Going forward, however, it would be good to see some support for the newer MetaTrader 5 (MT5) trading platform.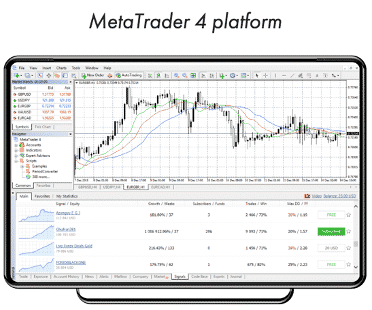 Mobile Trading
For those of you looking to take your trading account on the go, you will be pleased to know that SquaredFinancial does provide support for mobile trading. This is done through the MT4 platform, which they give all users access to.
Although there is not a bespoke SquaredFinancial mobile trading app, the MT4 mobile app is more than up to the job. It is praised for its robustness and ease of use, and can be downloaded to iOS or Android devices. The MT4 mobile app gives you complete access to your trading account on the go and allows you to execute all MT4 order types.
Social Trading and Copy Trading
Social trading and copy trading have become two of the most popular – and sought after – trading platform features in recent years. With so many new traders trying their hand at online trading for the first time in recent years, these tools have become a popular way for novice traders to learn tips, tricks and strategies straight from experienced traders.
In terms of how SquaredFinancial stacks up in this department, while not offering dedicated or bespoke social and copy trading tools, it does make a number of options available.
SquaredFinancial provides support for the Myfxbook trading tool, which is an advanced social trading tool supported by a number of leading trading platforms. This auto trade tool allows you to copy trades from some of the most successful traders using advanced trading robots powered by algorithms – also known as 'Expert Advisors'. These allow you to create auto or copy trading systems that run in the background without any need for supervision. Additionally, you can also use trade mirroring through the Myfxbook platform, which allows you to do much the same with your SquaredFinancial account. These tools can be added directly into the MT4 platform.
Crypto
Given how popular cryptocurrencies have become in recent months, traders of all skill and experience levels have been adding cryptocurrencies to their trading and investment portfolios. Unfortunately, however, SquaredFinancial does not currently support cryptocurrency trading. As such, if you are hoping to add this dynamic new financial instrument to your portfolio, you might be better served either using a different platform completely, or opening up a cryptocurrency-only account on a crypto-focused platform.
Going forward, it would be good to see cryptocurrencies added to the SquaredFinancial platform, particularly given how popular they have become in recent years. Unfortunately, however, we were unable to find any indication that this is something that SquaredFinancial is hoping to add in the near future.
Charting and Tools
Given that SquaredFinancial runs predominantly on the MT4 platform, it does not currently offer any additional or bespoke charting tools. For most traders, this will not be too much of an issue given how robust and comprehensive the MT4 platform is in terms of charting features and tools. The MT4 platform has some of the best rated charting tools built into the platform, which will allow you to engage in high-level technical analysis from the get-go. If, however, you do want more advanced features, the MT4 platform does support additional charting tools and features that can be installed.
Education
As a trading platform aimed at traders of all skill and experience levels, SquaredFinancial has put a lot of effort into providing a range of useful, high-quality learning resources. These are directed at traders of all skill levels – from beginner to advanced – and include video tutorials, eBooks, articles, trading guides, glossaries of trading terms, and a trading FAQ section. Collectively, these resources are known as the 'SquaredAcademy', which aims to make learning materials available to help you level up your trading skills and strategies.
In addition to the SquaredAcademy, SquaredFinancial also has a comprehensive 'Market Insights' section of the website, which provides a range of materials, including live market news, daily market outlook, industry and sector commentary, financial events, market events, and an economic calendar. These are a fantastic resource that will allow you to keep up to date with all the latest market news.

Trader Protections by Territory
Given that trading and investing online can potentially put your sensitive personal information at risk, there is all the more reason to pay close attention to the customer protections offered by your broker of choice.
Thankfully, when it comes to licensing, regulation and customer protection, SquaredFinancial scores well on all fronts. Currently, SquaredFinancial is licensed to operate by two separate regulatory authorities: CySEC and FSA SC. This means that customers who open an account with SquaredFinancial will benefit from the protections of EU consumer and financial services laws, as well as with the Seychelles. CySEC operates out of Cyprus, while the FSA SC operates out of the Seychelles. Within the EU, this includes protections such as the European Securities and Markets Authority (ESMA), MiFID II, investor compensation fund schemes, and the Cyprus Investment Services and the Activities of Regulated Markets Law of 2017 (Law 87(I)/2017).
All of the detail about the regulations and licensing conditions that SquaredFinancial has in place can be accessed in the 'Regulation' section of the 'About' page on the broker's website. This gives you a full rundown of what compliance processes the broker has in place.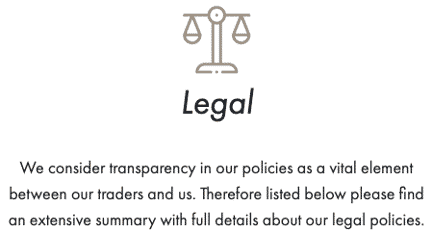 How to Open an Account
Opening a SquaredFinancial trading account is a relatively quick and painless affair. Before setting up a full trading account, however, we would recommend trying out a demo trading account first. This will give you the opportunity to try out the platform in a risk-free environment without the need to commit any funds to the platform.
If you want to set up a full trading account, simply click the 'Open Live Account' button in the top right-hand corner of the SquaredFinancial homepage. Once clicked, this will open up the account creation portal. You will then be asked to enter some personal details, including your full name, phone number, email and password. After this initial step, you will be sent a verification email, which you need to open to complete the account creation process. After your account is verified, you will then have to enter some more personal details, such as your address, and undergo some additional identity verification. Once this is all complete, you will then be able to get trading on the live markets!
Another option that we were impressed to see is the ability to open a SquaredFinancial trading account using your Facebook account. While this option might not be for everyone, it is still good to see it offered.
Customer Support
As anyone who has ever traded online before knows all too well, having a decent customer support team in place can make or break a new brokerage looking to make a name for itself. For this reason, when you are looking for a new broker to trade with, you want to make sure that you choose one that has a responsive customer support team who can respond to any queries you might have in a timely and effective manner.
In terms of how SquaredFinancial stacks up against the competition, we are pleased to say that it more than makes the grade. If you want to get in contact with a member of the customer support team, simply head over to the 'Contact Us' section of the website. From there, you will be given a number of contact options, including telephone, email and even Facebook Messenger. The customer support lines are open 24 hours a day throughout the trading week – i.e. 24/5. Queries can also be submitted directly through the SquaredFinancial website itself.
While we would have liked to see a live chat box embedded in the SquaredFinancial website – as you see on many other trading platforms these days – the Facebook Messenger option is a great alternative. We haven't seen this feature used elsewhere, so SquaredFinancial gets bonus points for innovation!
Generally speaking, customer support queries are usually responded to in a prompt and timely manner, and the advice they give is always explained in simple terms and actionable. Additionally, based on the research conducted for this review, customer feedback online seems to be quite positive.

The Bottom Line: SquaredFinancial
If you are a novice or an intermediate trader looking for a broker that provides favourable trading conditions, a range of educational and learning materials, and maintains high levels of compliance and customer protection, SquaredFinancial is the perfect place to get started trading. Although more experienced traders might find the selection of instruments on offer quite limited when compared to other trading platforms, the conditions on the Pro trading account nevertheless make it a really solid choice. Additionally, the high levels of customer protection on offer and the decades of industry experience that the team have between them make SquaredFinancial easy to recommend. If you want to give the broker a try before committing any funds to the platform, why not open a free demo account? A demo account gives you full access to the platform in a risk-free environment, along with $50,000 of virtual trading funds to play with, making it the perfect way to try it out before committing to it.
FAQs: SquaredFinancial
How can I open a demo account with SquaredFinancial?
If you are still undecided about whether you want to open an account with SquaredFinancial or not, new users who sign up to the platform are given full access to a demo account. Demo accounts are useful because they give you an opportunity to try out the SquaredFinancial platform without the need to commit any real funds. The demo account replicates the live trading environment you would get on the full version of the website and gives you the opportunity to make trades. To sign up for a demo account, simply click the 'Try Free Demo' button on the homepage of the SquaredFinancial website. This will take you through to an account creation portal, where you will be required to enter some personal details. Alternatively, you can also sign up for a demo account using your Facebook profile, which saves you the hassle of creating a completely separate account. Once you confirm your email address, you will then be able to get trading straight away!
Is SquaredFinancial a regulated broker?
SquaredFinancial is a fully regulated broker that is licensed to operate in a number of jurisdictions. SquaredFinancial is authorised and regulated by both CySEC (under licence no. 329/17) and FSA (under licence no. SD024). This means that it falls under the regulatory jurisdiction of CySEC in Cyprus and the FSA in the Seychelles. Additionally, SquaredFinancial is also audited by Deloitte, which is one of the most prominent auditing companies out there.
What are the deposit options for SquaredFinancial?
As you would expect for a platform of SquaredFinancial's size, there are plenty of deposit options on offer for when you decide to top up your account. Once you have validly created and verified your account, you can then choose from a range of deposit methods, including Visa Credit/Debit, Mastercard, Maestro, Union Pay, Alipay and bank transfer. Additionally, deposits can be made using the eWallet services Skrill and Neteller – however, these are limited to deposits only. Generally speaking, SquaredFinancial will not charge any additional fees on deposits or withdrawals to and from the platform, though they may be subject to additional charges by your card carrier.
How do I withdraw money from SquaredFinancial?
When it's time to withdraw your earnings from the SquaredFinancial trading platform, you have a number of options open to you. Withdrawals can be made using the same deposit methods as above, which includes Visa, Mastercard, Maestro, Union Pay, Alipay, as well as bank transfers through NatWest and the Bank of Cyprus. Processing times will vary depending on the method used, but for Visa, Mastercard, Maestro, Union Pay and Alipay, withdrawal requests will generally be processed within an hour. Bank transfers will typically take between two and three business days. To withdraw from your SquaredFinancial account, simply head over to the 'Deposit/Withdraw' section of your account and submit a withdrawal request.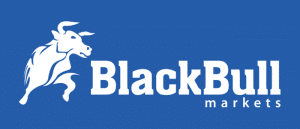 Forextraders' Broker of the Month
BlackBull Markets is a reliable and well-respected trading platform that provides its customers with high-quality access to a wide range of asset groups. The broker is headquartered in New Zealand which explains why it has flown under the radar for a few years but it is a great broker that is now building a global following. The BlackBull Markets site is intuitive and easy to use, making it an ideal choice for beginners.
Please be advised that certain products and/or multiplier levels may not be available for traders from EEA countries due to legal restrictions.