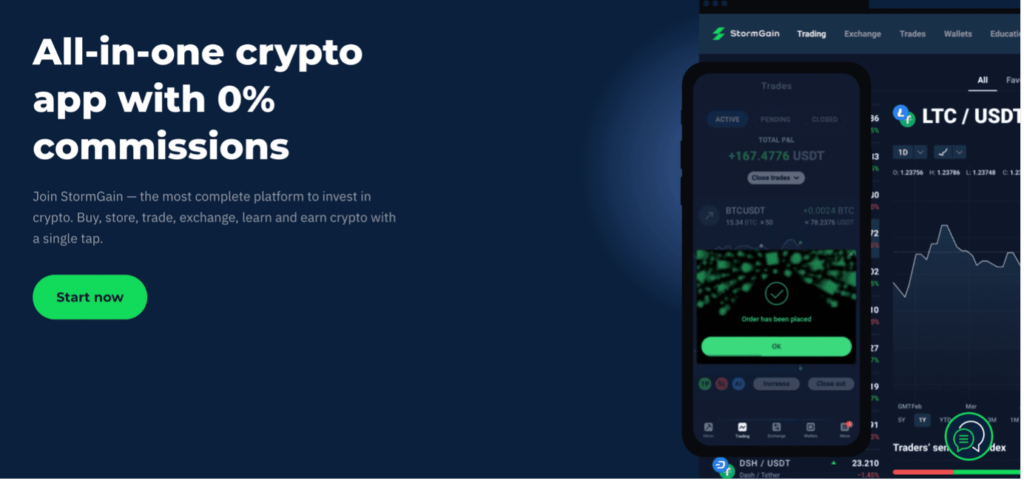 Pros
Cons
Easy to use
No order book
Leverage of up to 150
Does not support the exchange of cryptos into fiat
Low trading and exchange fees
No regulation
Multiple deposit methods
Trader's Viewpoint of StormGain
StormGain's rapid growth and easy-to-use functionality have resulted in this relative newcomer to already be considered in the same league as Binance, CoinBase, and BitMEX. Opening and funding an account is super-easy, the platform is designed to support beginners, and clients only pay charges on winning trades.
The StormGain platform provides three core services – namely leveraged crypto trading, regular and instant crypto exchange and a multi-currency crypto wallet. It is among the few exchanges in the industry that allows direct deposits from debit and credit cards. Moreover, it trades with a multiplier of up to 500 times, which is currently the highest in the industry.
StormGain is also among the few crypto exchanges that offer crypto staking opportunities at a guaranteed APR of 10%. The funds saved through the platform are used to provide leverage to traders. As we will see in this review, StormGain has the most competitive trading fees. It also has one of the best trading platforms in the industry.
All you need to open a StormGain account is an e-mail address and a secure password. Traders can also choose between using the desktop or mobile app.
The straightforward approach to signing up and trading crypto doesn't mean that clients are completely left to their own devices. StormGain traders can draw on an extensive range of support services relating to crypto research, investment ideas, 'how to trade', and an informative blog.

About StormGain
StormGain is a crypto broker and exchange registered as STORMGAIN LLC, of Hinds Building, Kingstown, St. Vincent and the Grenadines Company No. 312 LLC 2020. The platform's core services include a regular and instant exchange, leveraged crypto trading, and a multi-currency crypto wallet. StormGain was founded in 2019 and has gained popularity since then to become a recognised brand name among crypto exchanges.
Its top competitors include popular exchanges include BitMex, Huobis, Binance, Coinbase, and Kraken. StormGain has a lot to offer when compared to most of these exchanges. Even though this platform is relatively new to the market, it already has 5 million clients in more than 230 countries.
Popularity among the trading community is backed up by an impressive number of industry awards. World Finance awarded StormGain the title of Best Crypto Broker in 2022, and in 2020 the firm won the European CEO Award for Best Trading Platform.


Regarding target markets, this platform is accessible in most countries apart from the US, Canada, Japan, Syria, Vanuatu, Yemen, Afghanistan, Ethiopia, North Korea, Uganda, Iran, Tunisia, and a few others. You can determine if it is available in your country by attempting the signup process, which is secure and straightforward.
With this platform, users are not required to go through the tedious and time-consuming Know Your Customer (KYC) process to use this platform. For the record, the KYC process mostly involves uploading a government-issued ID and a recent bank statement or utility bill for verification. With some exchanges, the process can take up to 24 hours.
Who Does StormGain Appeal To?
Unlike most exchanges and crypto trading platforms, the StormGain platform is easy to use for beginner as well as experienced traders. Moreover, the platform comes with a wide range of educational resources to help users to set up an account and trade, invest, or transact cryptos. For crypto traders, the platform comes with risk management features, including 'stop-loss' and 'take-profit'. These features enable the trader to define the level of risk they are willing to take.
StormGain is the platform for you if you are looking to gain exposure to the crypto sector. Investors who are focussed on long-term price growth will find it a convenient place to buy-and-hold positions. Those applying more active, short-term trading strategies will find the easy-to-use platform a convenient way to stay on top of the markets.

One particularly neat feature of StormGain is the crypto staking on offer. This allows clients to buy cryptos that use Proof of Stake (PoS) protocols and receive a return similar to interest on a cash-saving account. By staking their position, investors receive a passive income as well as any capital gains associated with moves in the price of the coin.
Crypto traders who choose this platform can trade a range of crypto futures. Even better, they can trade at a leverage of up to 500. StormGain is recommended to traders with a minimal budget, given that the minimum account balance required is 50 USDT. This translates to 50 USD, given that the USDT is hedged to the USD at a ratio of 1:1.
Account Types
Setting up a StormGain account is very straightforward and takes moments to do. The procedures for completing onboarding vary slightly depending on whether you choose to use Apple iOS, Google Play / Android, or the desktop/web trading platform.
If you want to practise trading crypto before stepping into the market, then the fully functional demo account allows you to try it out using virtual funds. There is also the option to set up a Shariah-compliant Islamic Account.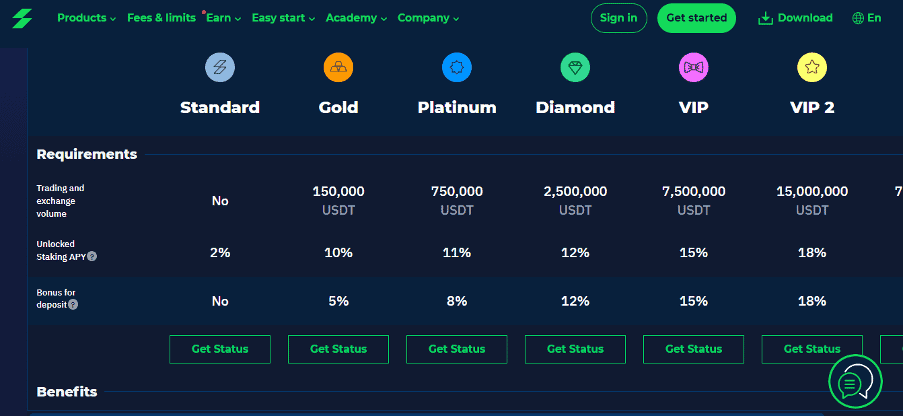 Once your account is set up, it is possible to take advantage of a range of seven loyalty programs. These account types include Standard, Gold, Platinum, Diamond, VIP and VIP 2.
As an example, Gold programme holders must have a trading volume above 150,000 USDT. The benefits associated with this account include a bonus deposit of 5%, a trading commission discount of 5%, and an exchange commission of 0.08%. A trading volume of 150,000 USDT is equivalent to $150,000, and hence those who make it to this level can be said to be experienced traders.
The Platinum account requires a trading volume of 750,000 USDT. Regarding benefits, traders who achieve this level get to enjoy an 8% bonus deposit, and an exchange commission of 0.07%. More benefits are accrued in the Diamond account, which provides a trading commission of 15%, a deposit bonus of 15% and an exchange commission of 0.07%. Users must have a trading volume of above 2,250,000 USDT to enjoy the benefits of the Diamond account.
The pinnacle of the account types are the VIP, VIP 2 and VIP 3 accounts. A minimum trading balance of above 7,500,000 USDT is needed to gain the VIP status. Those who hold standard VIP status receive a deposit bonus of up to 20% and an unlocked staking APY of up to 15%.
Markets and Territories
StormGain has established an impressive global client base. However, as mentioned, the platform is restricted in some areas. Some of these countries have regulations in place that discourage crypto derivatives trading. Others have a weak financial system and hence pose a lot of risks to StormGain.
You need to try the signup process here to determine if StormGain is available in your country. It may also be a good idea to chat its customer service before opening an account.
The StormGain platform is available in over 10 languages. These include English, Spanish, Dutch, French, Italian, Polish, Portuguese, Turkish, Korean, Vietnamese, Chinese, and Russian. StormGain has recently joined the FinaCom's Blockchain Association, a self-regulating body whose members include companies transacting in digital assets.
Instruments and Spreads
As mentioned above, StormGain provides leveraged crypto trading, regular and instant exchanges, and a multi-currency crypto wallet. Regarding trading, users gain access to around 60 cryptos – including Bitcoin, Litecoin, Ripple, Dogecoin and Cardano.
StormGain's leverage means that traders can take positions worth up to 500 times their invested capital. The platform offers a high level of leverage when compared to competitors. It is worth noting that high leverage is a double-edged sword that magnifies both the profits and losses. Beginner traders should not trade with high leverage.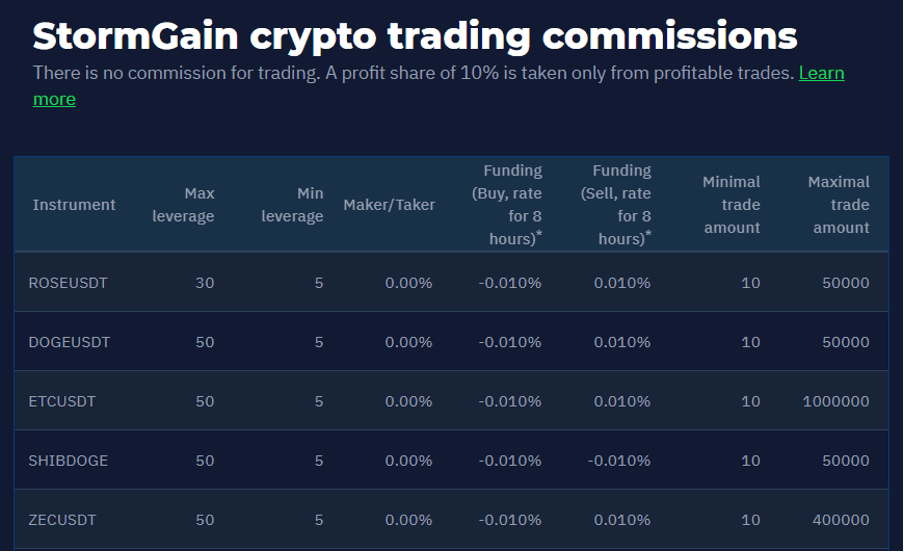 The minimum deposit with this platform is 50 USDT, and the minimum trade is 10 USDT. All transactions on the StormGain ecosystem are denominated in USDT (Tether). For the record, Tether is hedged to the USD at a ratio of 1:1. Unlike BTC, ETH, and many other major cryptos, the USDT is stable enough to make a good case for a medium of exchange.
StormGain does not charge any spreads on crypto trading. Instead, traders pay a commission of between 0.15% and 0.25% depending on the crypto pair traded. The 0.15% is for Tether (USDT) pairs while the 0.25% is for the BTC pairs. A commission of between 0.08% and 0.25% is also charged on instant exchange services.
Unlike most exchanges, StormGain charges a fee for long and short positions daily. The Swap Buys attract a daily rate of -0.04% for all trading pairs while the Swap Sell attracts a daily rate of 0.004% for all USDT pairs. BTC pairs carry a daily Swap Sell rate of -0.04%. When compared to the likes of BitMEX, Kraken, and Binance, StormGain charges the lowest daily rate for Swap Sell positions.
Fees and Commissions
StormGain's zero-trading fees include withdrawal fees and bank card deposit commissions. As mentioned earlier, StormGain allows users to buy crypto directly from the platform using debit or credit cards. The platform charges a commission of 5% on every debit or credit card deposit. Any credit/debit card commission must be 10 (USD/EUR) and above. The minimum deposit with a bank card is $50 while the maximum is $20,000.
Crypto deposits are free, but a withdrawal fee of 0.1% applies for USDT, BTC, BCH, ETH, LTC, and XRP. The minimum amount of withdrawal is 50 USDT, 0.0059 BTC, 0.15 BCH, 0.3 ETH, 0.8 LTC, and 240.0 XRP. StormGain does not allow fiat currency withdrawals. When compared with most other crypto exchanges, this platform has a transparent fee mechanism.
Platform Review
StormGain has a proprietary trading platform available in web, desktop, and mobile versions. The desktop version is compatible with Windows, Mac, and Linux OS. Moreover, the web version is compatible with all major browsers and is accessible from smartphone and tablet devices.
The StormGain trading platform is highly intuitive and easy to use for all, including beginner traders. As mentioned earlier, StormGain's main competitors are mostly suited for experienced traders. Moreover, the majority are only available in web-trader versions.
For instance, there are a lot of reviews on TrustPilot complaining about the complexity of Binance and BitMEX trading platforms. Moreover, there are a lot of complaints about Binance UI bugs. Some users report serious issues such as not being able to close positions or place orders due to these bugs. The system crashes are associated with an increase in trading activity.
We haven't identified such complaints about StormGain. Most of those who have reviewed this platform report a great experience. StormGain comes with additional risk management features such as 'stop loss' and 'take profit'. These features enable users to define the level of risk they are willing to take per trade.
Also available is 'auto-increase', a feature that automatically adds to a losing trade to prevent it from getting liquidated. Moreover, traders can monitor the status of their live trades on StormGain through the 'My Open Trades' feature. Through this feature, users can monitor the details of their trade, including the current profit/loss and when the trade was opened.
As mentioned earlier, StormGain also provides a free wallet that is connected directly to its exchange. The wallet allows users to receive and send crypto directly and easily. Moreover, the wallet supports all the major cryptos. To use the wallet, go to the wallet section on StormGain website, download it and finish the signup process.
The StormGain platform is adequately encrypted to ensure data safety and users are required to adhere to strict safety measures when signing up on the platform. StormGain is also compliant with the EU General Data Protection Regulation (GDPR).
Mobile Trading
StormGain mobile trading apps are available for iOS and Android for free on the Google Play Store and the App Store. The mobile app comes with all the features found in the web and desktop versions. Moreover, it is easy to access the demo account through the mobile app rather than the desktop or web trader.
Also, the mobile app has a notification and tracking link system to notify the user of trading opportunities as they arise. Furthermore, the app is lightweight and secure and hence doesn't compromise the performance of the device.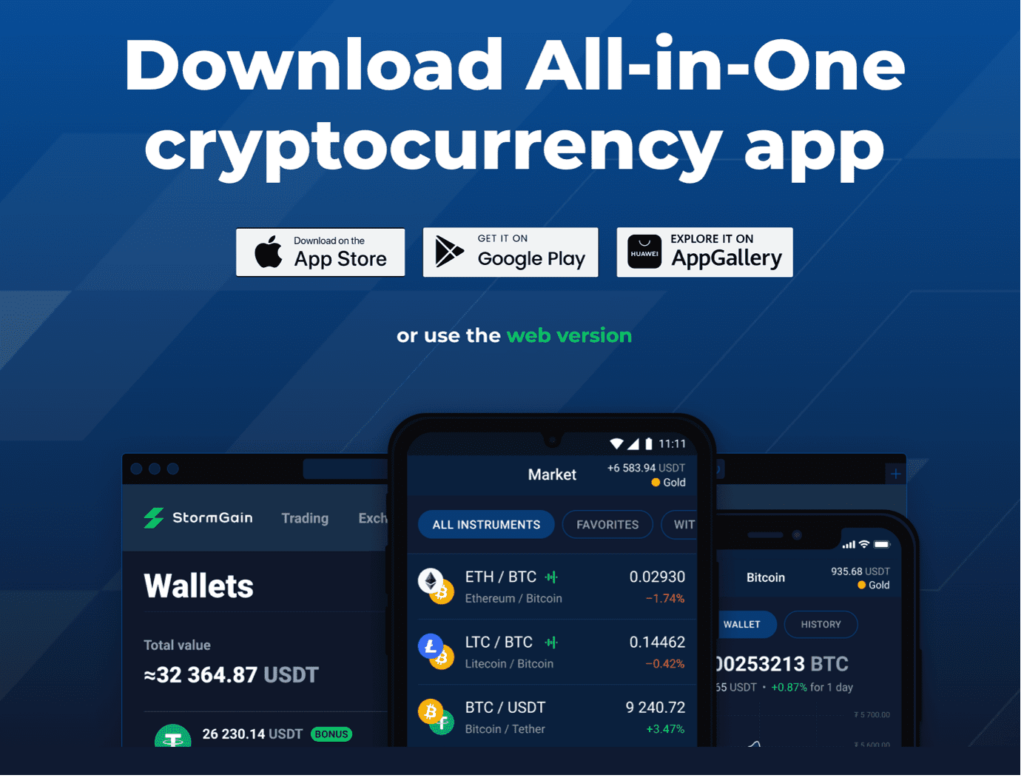 Crypto Trading
Once you've set up an account at StormGain, navigating through to the trading platform involves simply tapping a screen. There is an impressive selection of price charts, market flow monitors, and depth of market indicators available to help you find the best crypto to buy.
With the choice made, simply search for the 'Buy crypto with credit card' button in the app or web platform. Then use your debit/credit card to buy crypto and add funds to your account.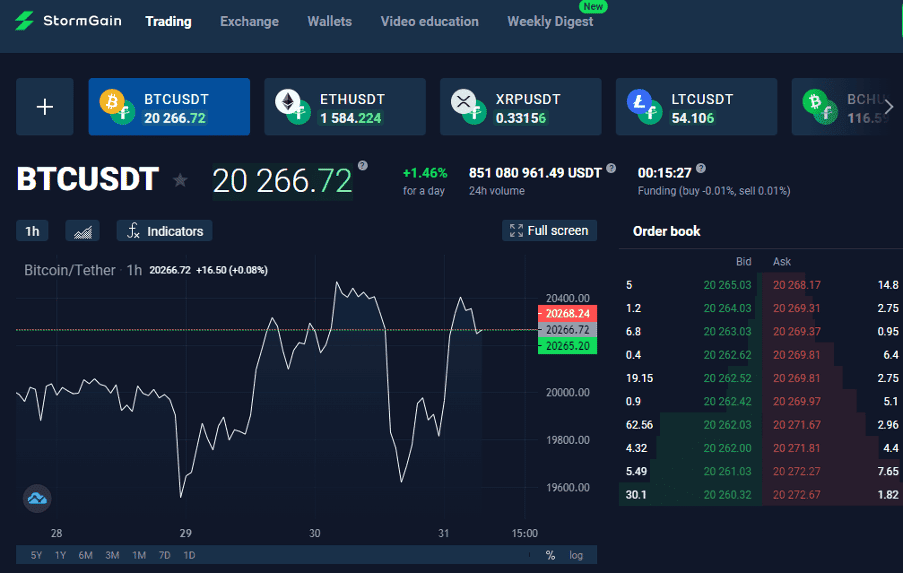 From there, it's easy to buy crypto outright using the built-in wallet and manage and exchange your positions whenever you want.
Charting and Tools
StormGain provides a variety of charting tools that can be customised to fit the user's needs. These include indicators, bar style, trend lines, and time interval adjustments. StormGain offers an array of indicators to support technical analysis.
The bar style is a tool that is used to adjust how the chart data is visualised. With the right adjustment, the tool can help identify opportunities that are likely to be missed with other chart styles.
Education
As mentioned earlier, StormGain provides a wide range of educational resources. These resources include trading guides, blog posts, vlogs, structured courses, and webinars. Most of these materials are free and accessible before registration. Each lesson comes with a test to help the user determine their learning progress. StormGain provides a feature that helps users determine their overall educational achievement.
A dedicated account manager is available to guide beginner traders through the first steps of trading. Also available is an intuitive demo account to help users practise what they learn without risking real money. StormGain also provides a live newsfeed to help users stay up to date with what is happening in the crypto market.
Trader Protections by Territory
As with other specialist crypto platforms, StormGain is not regulated. None of the trading activity on the platform is covered by the rules and regulations of bodies such as the FCA (Financial Conduct Authority). However, it appears to operate in full transparency and is trusted across the globe and the growth in the client base points to the firm getting the basics right.
How to Open and Account
The account opening process with StormGain is simple, fast, and secure. Account creation involves submitting personal details through the provided registration form and creating a strong password. The process takes less than five minutes.
Users are required to verify their email and phone number to proceed, as well as a minimum deposit of 50 USD. The verification process involves clicking a link sent through email and submitting a code sent to the provided phone number.
Customer Support
StormGain provides 24/7 customer service. It is reachable through live chat, email, and phone (+1-844-584-7390). You can also contact StormGain via Telegram. StormGain customer agents are friendly and appear to be knowledgeable.
We have conducted a live test and confirmed that it takes a few seconds to get connected to the broker's agents via phone and live chat. Emails may take up to 12 hours.
The Bottom Line
StormGain is a legitimate and worthwhile crypto exchange and trading platform. This platform provides leveraged crypto trading, regular and instant crypto exchange services, and a multi-currency crypto wallet. StormGain offers competitive pricing and offers the highest leverage in the industry. Moreover, it has some of the best crypto trading platforms around. The registration process is also simple and straightforward.
StormGain is highly recommended for beginner as well as experienced traders. This broker has invested in a comprehensive educational centre, which caters for the needs of all types of traders. Moreover, a demo account is available to help beginners practice before going live.

FAQs
How can I open an account with StormGain?
Account creation involves submitting personal details through the provided registration form and creating a strong password. The process takes less than five minutes. Users are required to verify their email and phone number to proceed, as well as a minimum deposit of 50 USD.
Is StormGain a regulated broker?
StormGain and all trading in crypto markets is unregulated. However, the platform operates in transparency and is trusted across the globe.
What are the deposit options for StormGain?
StormGain accepts deposits through major debit and credit cards and cryptos. All deposits via crypto are free while those made through bank cards attract a fee of up to 5%.
How do I withdraw money from StormGain?
Yes. StormGain allows 24/7 withdrawals through all major crypto wallets. All withdrawals incur a fee of 0.1% and facilitate within 24 hours.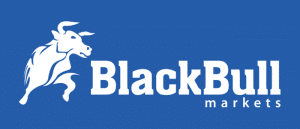 Forextraders' Broker of the Month
BlackBull Markets is a reliable and well-respected trading platform that provides its customers with high-quality access to a wide range of asset groups. The broker is headquartered in New Zealand which explains why it has flown under the radar for a few years but it is a great broker that is now building a global following. The BlackBull Markets site is intuitive and easy to use, making it an ideal choice for beginners.
Please be advised that certain products and/or multiplier levels may not be available for traders from EEA countries due to legal restrictions.