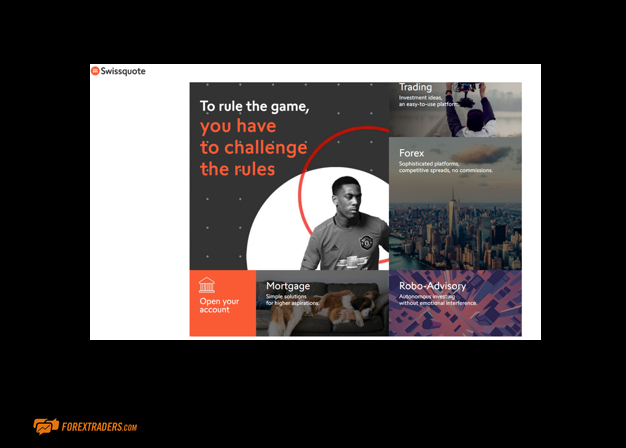 Swissquote Pros
Swissquote Cons
Top tier regulatory framework
High minimum deposit levels
Innovative resources
Limited crypto
Publicly listed since 2000
Market leading platform offering cost effective trading
Experts Viewpoint 
Swissquote is a well-regarded and successful Swiss online broker and financial services provider. The company has been building its reputation for some time and has been in business in its current form since 1996. It was floated on the SIX Swiss Exchange in May 2000 and has over the years established a structure with highly regarded regulatory and compliance controls. Swissquote Ltd is a subsidiary of Swissquote Bank, and is based in London, where is regulated by the Financial Conduct Authority (FCA).
The Swissquote platform supports 230,000 customers and is considered Switzerland's largest financial portal. The trading service is best described as 'multi-asset brokerage' and it is possible to trade indices, commodities, forex, equities and bonds, all under one roof. Trade size and leverage terms are variable to client discretion and offering the MetaTrader MT4 and MT5 platforms as part of the package ticks a lot of boxes for both new and more experienced traders.
Who does Swissquote appeal to?
Swissquote is a Forex and CFD broker with wide appeal, mainly serving investors in the UK and other European countries. The broker's specialist services means that it has something to offer more experienced traders who are looking for that little bit extra. Beginners will be drawn to the user friendly lay out of the site, exemplary transparency and well laid out educational resources. The Swissquote platform has been fine-tuned over more than 20 years and as a result gives traders just what they need to get to work in the markets.
Some may be drawn to the leverage levels of up to 50:1, others to the Robo-trading service. A lot will be attracted by the best-in-class regulatory framework.
Account types
Swissquote offer three main account types: Standard, Premium and Prime. There is a minimum deposit of USD $1000 in order to open a trading account, and Standard account size is anything from this minimum up to USD $25,000. Premium accounts are generally for those with between USD $25,000 and USD $100,000. Prime accounts are reserved for bigger investors with over USD $100,000 to trade with.
There are differences in the spreads and margin requirements for different account holders, and slightly different features and benefits will apply. The minimum and maximum transaction sizes, however, are the same for all account holders, and all account holders will find they incur no extra fees for withdrawing funds, allowing an account to become inactive, or closing an account. Swissquote also offers a useful demo account, with a virtual balance of USD $100,000, to experiment with. The demo account is very realistic and uses real time market data and prices, but is only available for 30 days.
Markets and territories  
Swissquote operates across many different territories, and it is possible to deal all over the globe in a variety of markets, 24 hours a day, five days a week. The company structure involves the parent company, Swissquote Group Holding Ltd, based in Gland, Switzerland, which operates Swissquote Bank Ltd, also based in Gland, and Swissquote Financial Service (Malta) Ltd based in Mriehel, Malta. Swissquote Bank Ltd has three main subsidiaries: Swissquote Ltd in London, Swissquote MEA Ltd, in Dubai, and Swissquote Asia Ltd, based in Hong Kong. Each branch of the company is regulated by the relevant body in that jurisdiction, so the London-based Swissquote Ltd, for example, is authorised and regulated by the UK Financial Conduct Authority, while Swissquote MEA Ltd holds a category 4 licence from the Dubai Financial Services Authority (DFSA). 
Instruments and spreads
This company offers a very interesting and diverse range of tradeable instruments, including almost 80 Forex pairs, around 20 commodity pairs, over 20 stock indices and a few bonds, all available as CFDs. Minor and exotic currency pairs are available and commodity CFD pairs tend to be commonly traded assets such as oil and gold. It is also possible to trade warrants and derivatives, ETFs, and bonds. Some markets are only available to investors in particular domiciles and such priveleges ought to be checked as part of the on boarding due diligence process.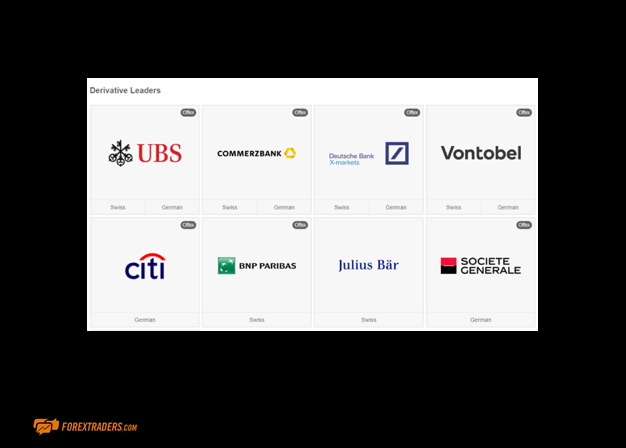 Spreads are dynamic and will vary across different financial instruments, and according to the type of account you hold. The minimum quoted spread on the Standard account is 1.7 pips. On the Premium account it is 1.4 pips, and for Prime account holders spreads start from 1.1 pips. Spreads on minor and exotic pairs will be higher, of course, due to lower liquidity, but this is the case at any Forex brokerage.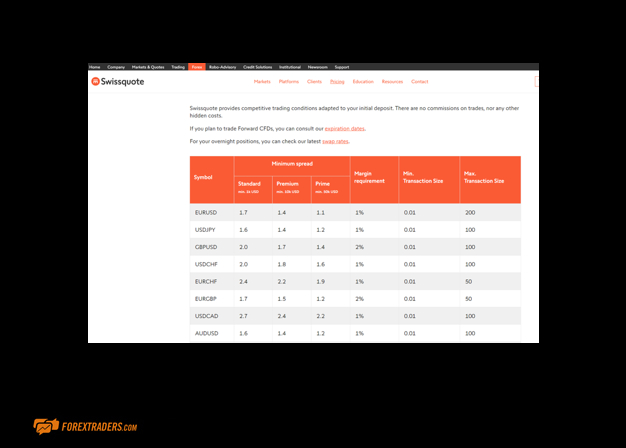 When you look at each tradeable asset on the website, you will see the spreads currently being charged and other important trading information. There are, as usual, some costs applied to keeping a position open overnight.
Fees and commissions
Swissquote runs on a no-commission model for Standard, Premium and Prime accounts. As is always the case when there are no commissions, the broker's profits are taken from the spreads, as outlined above. At Swissquote, the spreads vary, but will always depend on the type of account you hold.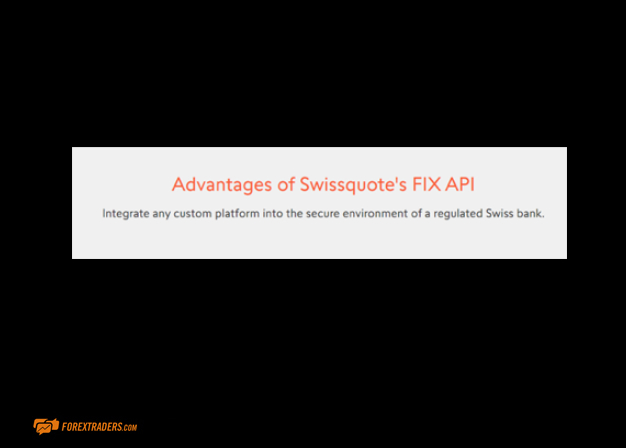 The Swissquote website is very transparent and displays up-to-date spreads for all their offerings, as well as other fees and important figures such as overnight interest calculations, minimum trade size and leverage offered. The minimum deposit to open an account is USD $1000 and Swissquote does not generally charge deposit or withdrawal fees, although your bank or credit card company may well levy a fee on these transactions. There is no inactivity fee. Fees and charges are subject to change, so always check current fees and trading policies before you start trading.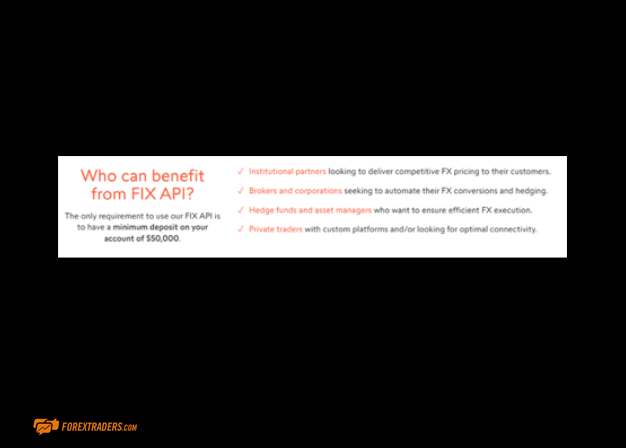 Platform Review
Swissquote provides its clients with both of the MetaTrader platforms. The MT4 and MT5 platforms are the most popular retail trading platforms in the world and have earned that position by providing traders with the functionality they want and need. As MetaTrader enthusiasts know, the software has a host of advanced features including a variety of integrated technical indicators, back testing facilities and other trading tools. There is also the advantage that MT4 and MT5 software is highly customisable and integrates well with many third party tools and indicators.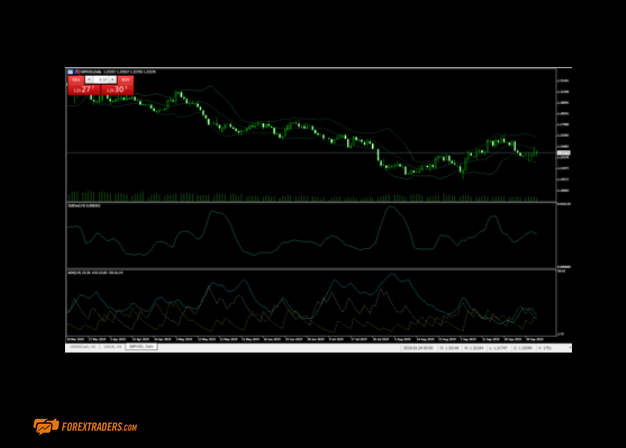 The broker also offers its own desktop trading platform, Advanced Trader. Ironically, given its name, this is lacking in some of the advanced trading tools that MT4 and MT5 traders are used to, but its attraction is in its simplicity. It has a very clean and uncluttered interface and is highly intuitive to use and navigate. It has basic tools such as a watchlist based on a pre-set list of currency pairs, although customisation is limited. For newer traders, however, who are not familiar with MetaTrader software and just want a very clear and simple platform, Advanced Trader may well be more than sufficient.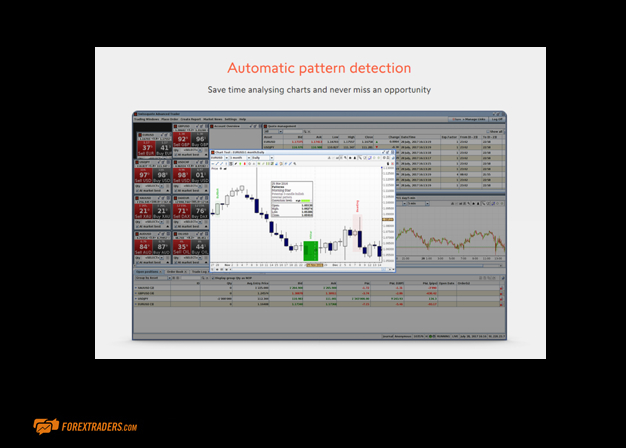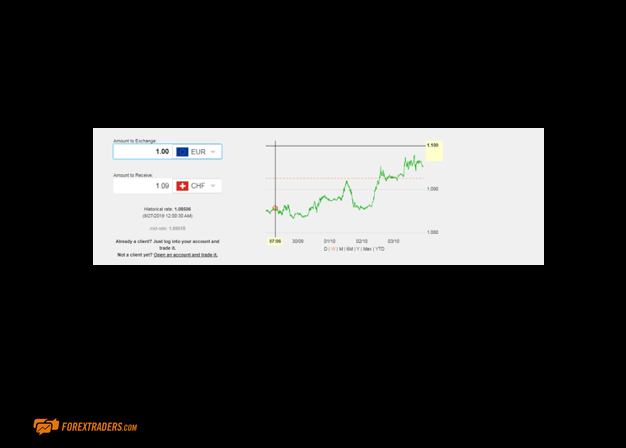 Mobile trading
Swissquote provide a free mobile app for both iPhone and Android. The app functions well but does have some limitations and drawbacks. In terms of security, the app seems to be operating at a fairly basic level, without automatic two-step authentication, whilst this is in line with the peer group it could be improved upon.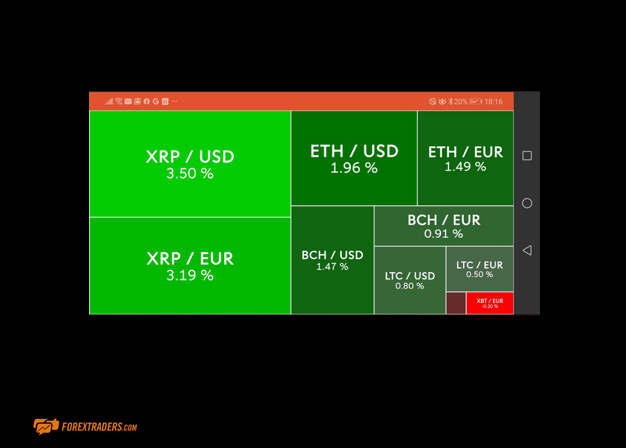 The app also seems to lack technical indicators and other vital trading tools, but mobile traders can access all trading instruments, account details and other vital functions.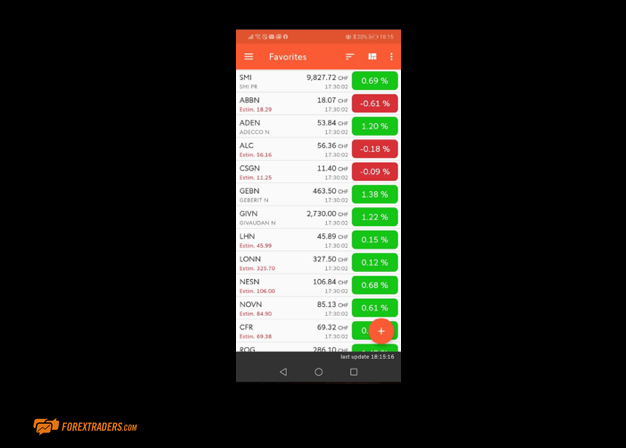 The star rating for the Android app is only 3.1 stars which might reflect dissatisfaction from clients though during our testing we found the app to be reliable and actually very user-friendly. The service transfers well to the small screen and it has a nice bright aesthetic.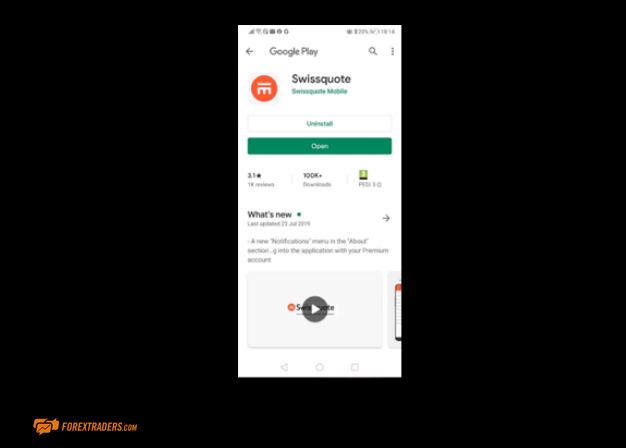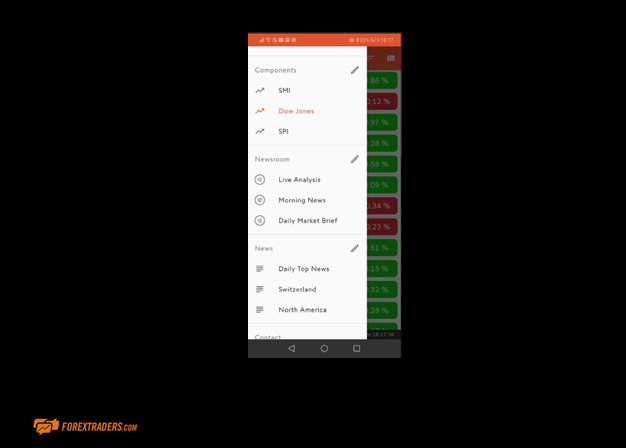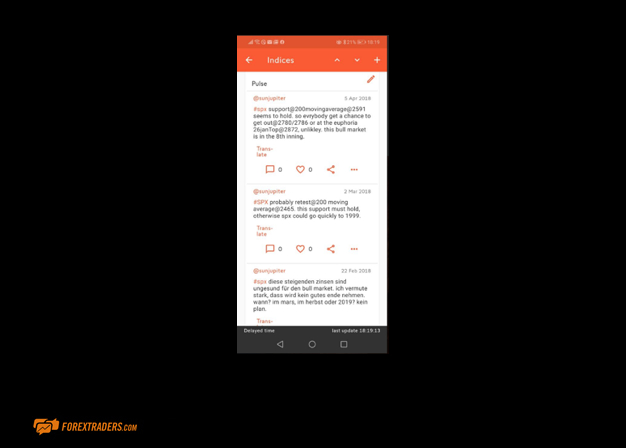 There is a handy mobile news feed integrated into the app, with news from Dow Jones newswire. There are also streaming quotes on all tradeable instruments, and a customisable mobile watchlist, where you can easily add trading pairs you are interested in by tapping on the + sign at the top of the screen. Charts on the mobile apps are quite basic and, as is often the case, not as easy to read as on desktop. Overall, though, the mobile experience is acceptable, though it is not the best trading app we've tested. MT4 and MT5 traders can, of course use the mobile version of these trading platforms.
Social trading and copy trading
Whilst Swissquote don't offer what the trading community would identify as a proprietary social/copy trading service they do have a lot to offer traders looking for a more hands-off experience.
Starting with the important but rather standard offering; clients of the platform can take advantage of the MetaTrader Expert Advisors service which allows automated trading based off the signals of others and also offers a social trading style forum.
There are some features which are more distinctive and provide 'value added' to traders looking to incorporate the ideas of others. First up is AutoChartist, a tool offering an automated algorithm to identify chart patterns using Fibonacci Patterns and Horizontal Levels. This allows for advanced risk management and some back testing.
There is also the Robo Advisor service, which is an automated investment manager that creates a bespoke investment portfolio for traders which is derived from the client's appetite for risk.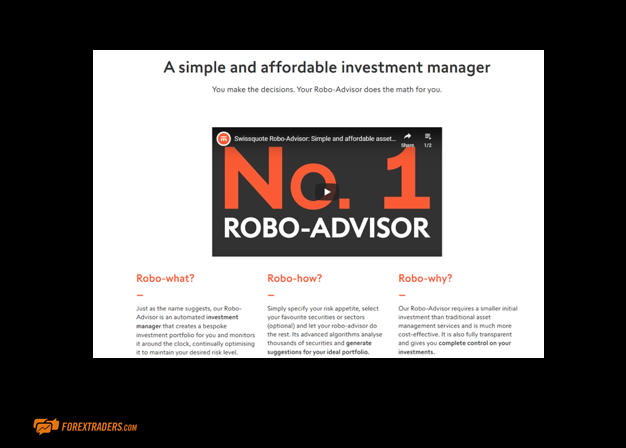 The Themes Trading service is as suggested by the firm 'revolutionary'. It's a valuable addition to the broker space and will offer a lot of value to Swissquote account holders.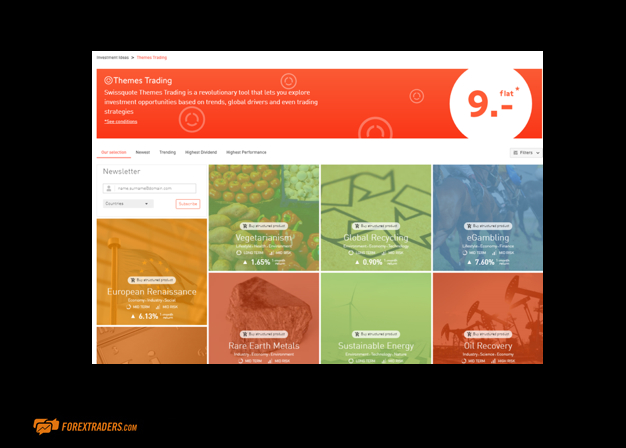 Crypto
The crypto offering from Swissquote is fairly comprehensive.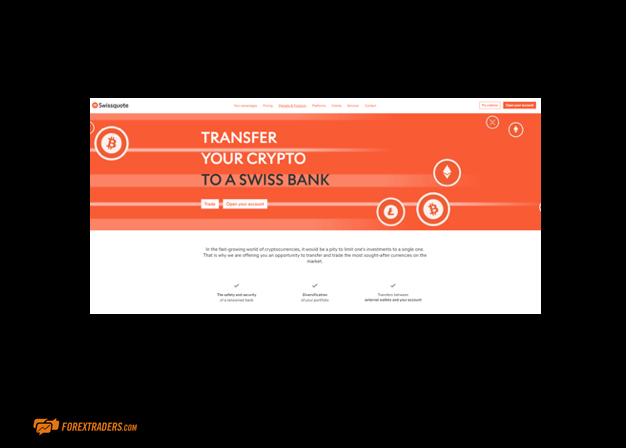 Not all account holders in all regions will have the same access to the crypto markets but those that can trade them can access all the big names. Some clients will also be able to make easy transfers between their Swissquote Bank account and their external cryptocurrency wallets, although this is currently only possible with Bitcoin and Ethereum.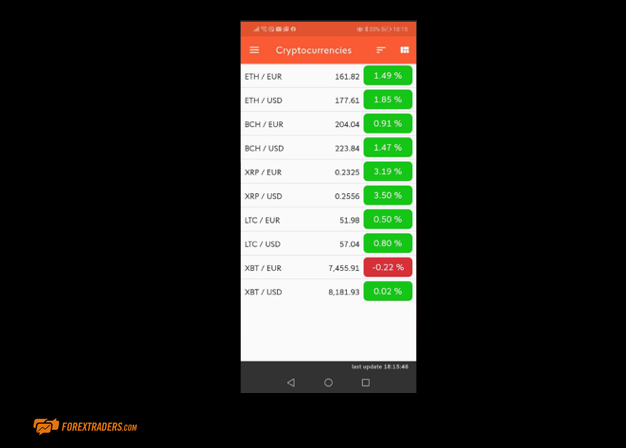 Clients of Swissquote Bank can make crypto deposits and withdrawals by selecting 'payments & transfers' in their Account Overview within the eBanking portal, or from the 'cryptocurrency' section.
Charting and tools
Swissquote provides basic charting options and other trading tools for all customers. The AutoChartist feature is a very handy tool for those looking for automated advanced data analysis, back testing and the ability to base risk management strategies on customised data, by calculating their real capital exposure and then setting risk-adjusted position sizes.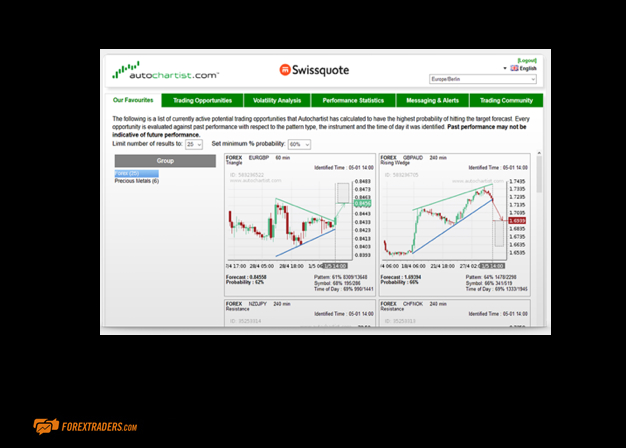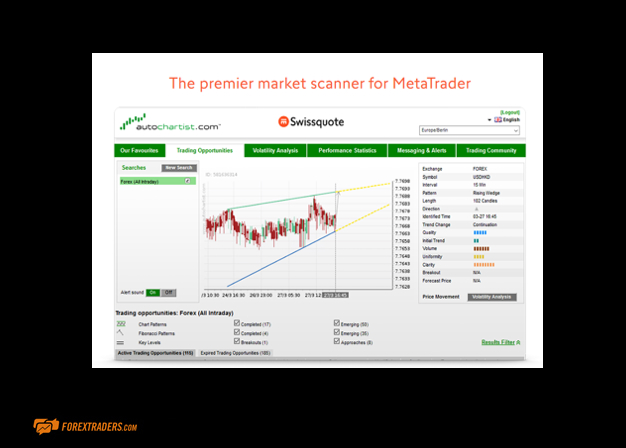 Swissquote Ltd also provides research tools and insights, although they are not very extensive. They offer a limited amount of technical and fundamental analysis, with analyst reports available to all customers via a free email subscription newsletter. A basic economic calendar is available via both the desktop and mobile platforms, and there is also a real-time news feed, covering relevant market developments and analysis.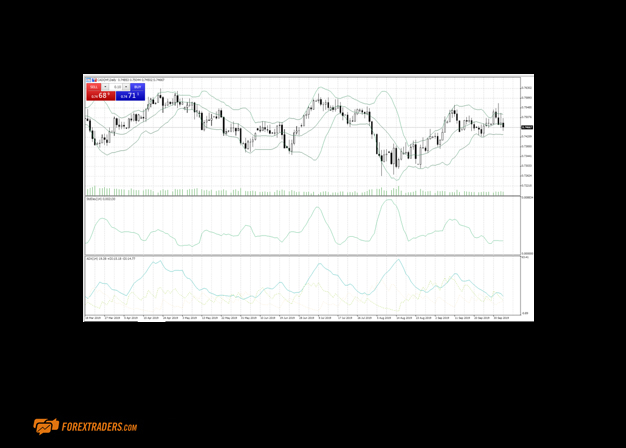 As always MT4 and MT5 traders will have access to all the integrated and third party tools they need, with the ability to customise the platform, combine their preferred technical indicators and charting tools, and add Expert Advisors and other relevant plugins.
Education
Swissquote offers a range of educational resources to its clients and whilst not offering anything particularly ground breaking in this area the offering from the broker is in line with the peer group. There are training videos, eBooks and webinars available, with plenty of information on a wide range of topics. One refreshing feature is that educational resources cater to more experienced traders and not just beginners.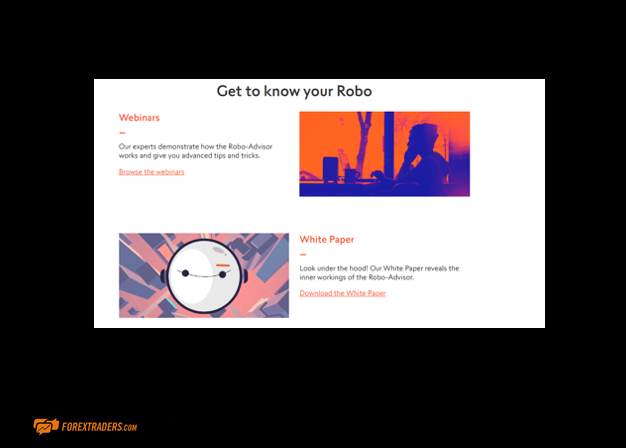 The learning centre includes simple, stylised videos, split into sections, covering topics such as an introduction to Forex, an introduction to CFDs, technical analysis, fundamental analysis, and risk management. There are also user guides to MetaTrader software, and the proprietary platform, Advanced Trader.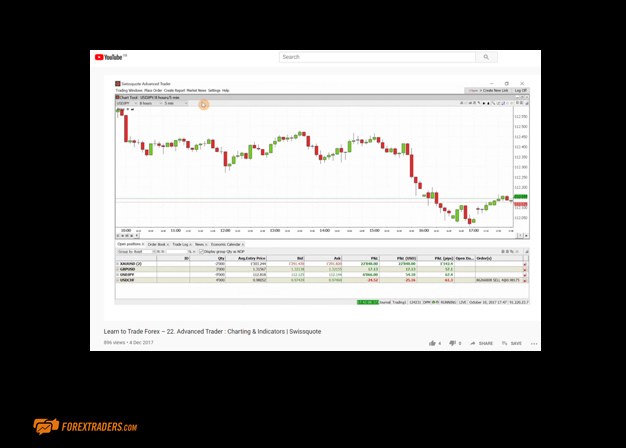 There are a number of webinars which can be accessed from the learning centre, both live and on-demand. These webinars are offered in multiple languages, which is a bonus for international traders, but we noted that the webinars were all listed together and there did not seem to be a function to browse, for example, all the webinars available in English. The same webinars appear to be available in each major language, it is just not that easy to filter down to the ones you want.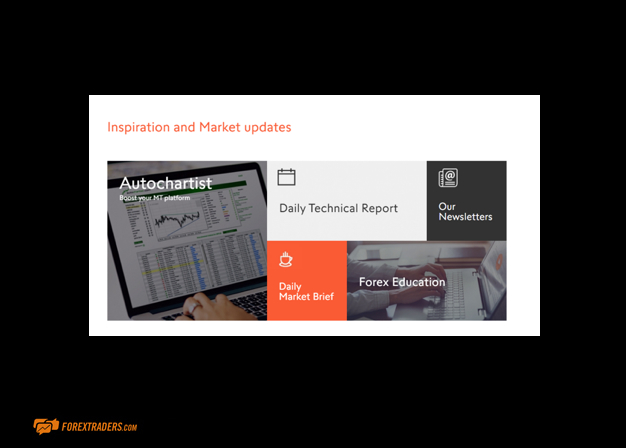 Swissquote break up their online training into different topics. One section focuses on different instrument types such as CFDs or Forex. Another offers training on topics such as technical analysis and risk management strategies, which are more generic in nature.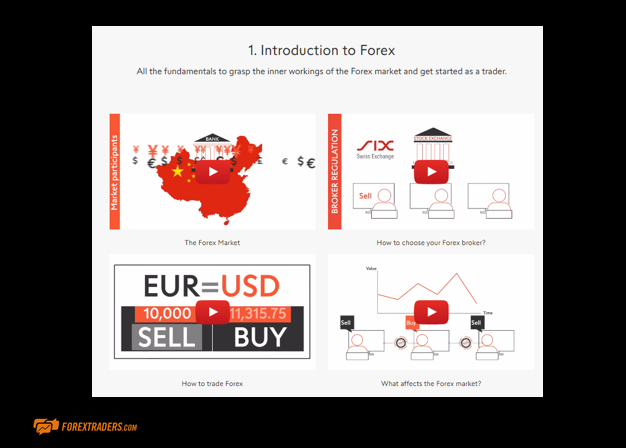 The cataloguing of the learning resources is done in a neat way. Towards the bottom of the main education page, there are some useful links, such as a product guide, which is a complete summary of all Forex and CFD products offered by Swissquote with the individual trading conditions and other details. There is also a full guide to trading conditions at the broker, for all account types, specifying spreads, leverage, maintenance margin, minimum trade size and other essential information. Swissquote also provide various research tools, and a live news feed. Generally speaking, the education and research sections are fairly good, and there is something for all types of traders.
Trader protections by territory
Swissquote is a globally regulated online broker. The main trading company Swissquote Ltd is based in the UK and therefore authorised and regulated by the Financial Conduct Authority (FCA). However, the company also has the appropriate authorisations and regulations in place in all the jurisdictions in which it operates. Swissquote is regulated by:
FINMA – Swiss Federal Financial Market Supervisory Authority
DFSA – Dubai Financial Services Authority
SFC – Securities and Futures Commission
MFSA – Malta Financial Services Authority
FCA – Financial Conduct Authority
Swissquote Bank Ltd is a member of the Swiss Bankers Association and the parent company Swissquote Group Holding Ltd is listed on the SIX Swiss Exchange. Traders with Swissquote Ltd are protected by the Financial Services Compensation Scheme (FCSC), meaning clients may be entitled to compensation in the event of insolvency, up to a limit of £50,000 per account. Swissquote uses best practices when it comes to data security, with client data encrypted and protected across the site, although clients should be aware that site and app security currently lack extra security features such as two-factor authentication.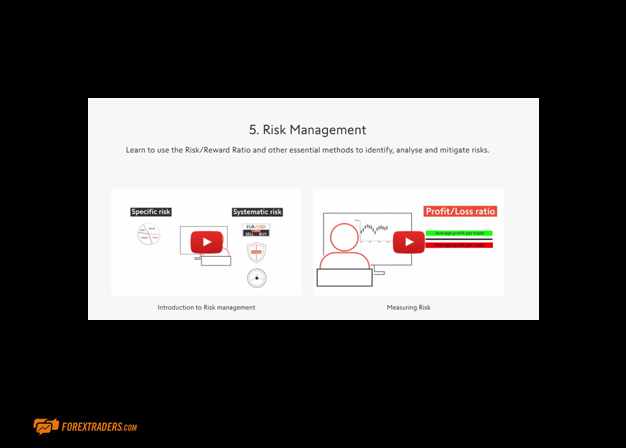 How to open an account
Swissquote trading accounts are available in the UK, all European countries, and many other countries worldwide. Those domiciled in these countries can set up an online Demo account in seconds. Notable exceptions to the coverage include the USA, Canada, Japan, and Singapore.
Traders in different domiciles will engage with different entities of the Swissquote group but generally speaking, for trading purposes, trading accounts are registered with the London-based Swissquote Ltd. All potential clients of Swissquote (and indeed any other broker) should prioritise carrying out due diligence on account terms and corporate structuring.
Once you are ready, simply go to the website and click on 'Open Your Account'. Then follow the instructions. Remember that Swissquote offers a demo account, with a balance of USD $100,000 of virtual money to practice with. The demo account uses real time market data and prices, and is a very useful tool, so if you need to familiarize yourself with the platform, that is the one you are looking for. The demo account is only available for 30 days, at which point, if you are happy with the platform, you will need to upgrade to a real account. You can, of course, do this anytime within the 30 days, too.
Given that Swissquote holds licences with a range of top-grade global regulators there is a need for any new clients to complete a 'Know Your Client' process. These checks can take some time but once complete the account is ready to trade as soon as funds are deposited into it. Funding can be done using GBP, EUR, CHF, AUD, JPY, PLN, CZK, HUF and USD. Swissquote only works with banks with a minimum AA credit rating.
There are no broker levied fees on deposits made via bank transfer, but credit card deposits may incur fees, depending on your country of residence.
Customer Support
At Swissquote, customer support can be easily accessed by phone and email, and there is also a responsive live chat option available on the website. During testing response times were good nad the staff very knowledgable of their product. One draw-back is that general customer support is only available during business hours, Monday to Friday. Outside of these times it possible to contact the Trading desk which operates 24 hours a day from Sunday 23.00 to Friday 23:00 CET. Whilst the trading desk might not be the ideal partner for solving more obscure customer support issues a direct line to the execution team is reassuring in the sense that during extreme market conditions there is a back-up route to flattening positions to zero.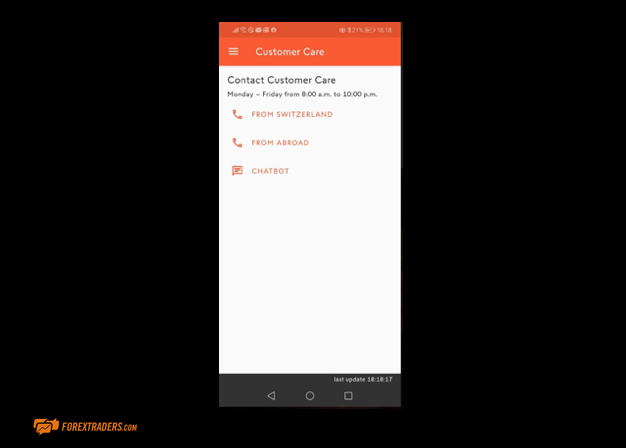 may not In other words, the Trading Desk is open when the worldwide markets are. The company also runs active social media accounts, allowing for an extra convenient way for customers to get in contact. Support is multi-lingual.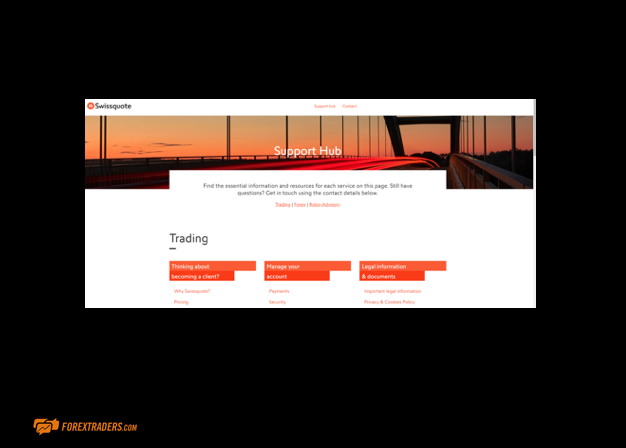 In addition to these customer support channels, there is also a lot of helpful information available on the website, and this is also in several languages. Swissquote products and policies are clearly explained, and things like trading policies and terms and conditions can all be easily found.
The bottom line
Swissquote launched the Robo-advisor service in 2010 and by doing so became the first Swiss firm to introduce and electronic wealth manager. The firm is very proud of their achievement which reflects their willingness to push boundaries in order to empower their investors. That particularly milestone is just one example of the firms approach and innovation continues to this day and stretches across the whole Swissquote platform. There is definitely a feeling that Swissquote offer their clients something different, something based on creative use of technology and an in-depth understanding of trader needs.
The firm has been around for over 20 years and has been listed on the Swiss stock exchange since 2000. It operates out of a very strong regulatory framework and the number of compliance pop-up buttons that appear may be momentarily frustrating for new users but demonstrate the firm takes compliance and its reputation very seriously indeed. Swissquote's success is demonstrated by it hosting 231,000 clients. This is despite the larger than average minimum deposit size which shouldn't be too much of an issue for the more serious trader. It appears the firm prefers to take on quality rather than quantity.
Swissquote supports trading of the global markets but target clients in the UK, EU and Switzerland. Traders in these regions considering using a new broker would do well to research the many benefits of using Swissquote.
Please be advised that certain products and/or multiplier levels may not be available for traders from EEA countries due to legal restrictions.