Are you in the market for a truly unique broker, one that has focused and invested heavily in developing an innovative and better trading experience? Then, welcome to Tradeo.com. This firm has taken the managed account or mirror-trading concept to the next level. Operations began in 2012 out of Malta after three years of development, where the emphasis was on expanding the social trading rage to a higher quality level of service offering.
Tradeo is a registered broker and is regulated by UR Trade Fix Ltd. (CySEC 282/15).  You may also link their service to a host of other participating brokers, if that is your preference. In other words, you can take advantage of their social trading expertise with your own broker, or choose to use their parent's brokerage service.
Tradeo's operating platform is the best part of their innovative product offering. It literally takes social trading beyond its current definition by allowing not only trade copying of preferred global trading participants, but it also speaks to the strategies employed, a neat educational feature, and it also allows for an automatic intervention when a specified loss level is reached, a form of stop-loss protection on someone else's traded position. The firm has developed a proprietary trading platform that interfaces effectively with their social service scheme, but you may also use MT4, if you want. Client funds are also protected by the Cyprus Securities and Exchange Commission (CySEC)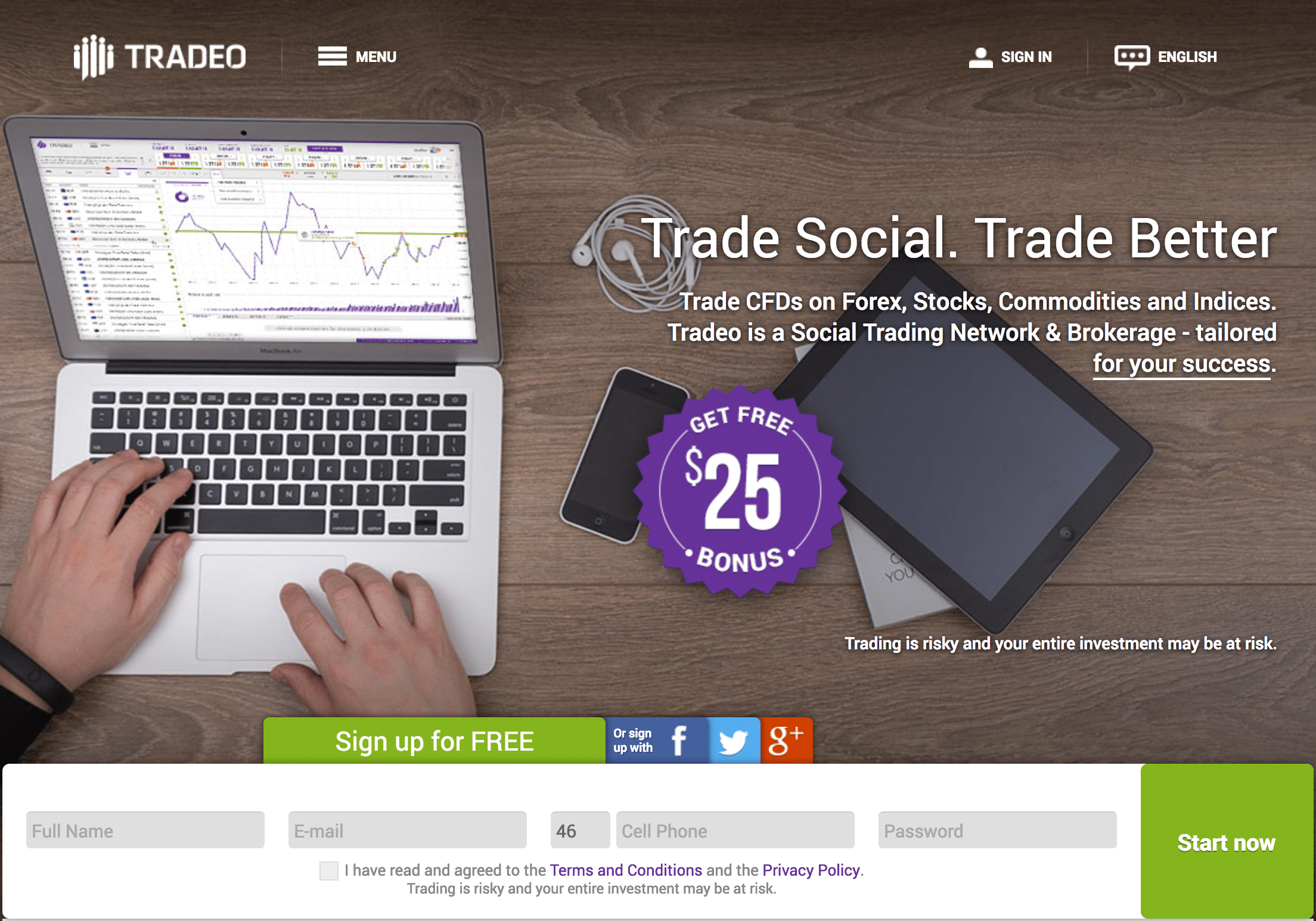 ---
Features at Tradeo
Why trade with Tradeo.com? The firm lists these reasons:
Operating since 2012 and founded by experts in the forex industry with an emphasis on social trading operating systems;
Licensed by the Cyprus Securities and Exchange (CySEC)
Independent reviews state that, "the Tradeo platform is probably the most impressive social trading platform out there in terms of functionality and visual appeal;"
Traders may choose Tradeo's proprietary trading platform or use MT4;
Over 170 choices of trading assets, including forex pairs, stocks (CFDs), commodities, and indices;
Minimum deposit is $250;
One simple account classification for all clients, plus a free demo account;
No dealing desk – full STP trading model;
Leverage offered up to 200:1;
Customer service and support available online via email or live chat, or you can call directly;
Unique economic calendar feature also allows for filtering by importance or by asset type;
Social trading features are free – no additional commissions;
Upgraded analytical tools allow for high functionality when integrating traded positions and market activity.
---
Platforms
Traders need not give up their treasured MT4 trading platform, but you would be advised to try the firm's proprietary platform, since it interfaces with the social trading features in a better fashion. The company also offers a free demo system that does not expire at some future date. This feature is helpful in getting comfortable with the enhanced social trading capabilities. In all cases, your interface is straightforward, intuitive, and user-friendly. The trading experience is further enhanced by the ability to trade on the go using the Tradeo Mobile App. Available for download on the iTunes store, take the platforms' social trading features with you, and don't feel tied down to your laptop. All trading activity is encrypted using the lasted in SSL technology.
---
Deposits and Withdrawals
Deposits and withdrawals are easy, using either a credit card or bank wire transfer. Be sure to have your private identification information, as mandated by international law for all brokers, on file before making a deposit or withdrawal request. Approval can happen quicker when the proper documentation is present.
---
Customer Support
Customer service reps and support personnel are eager to help you enjoy your Tradeo experience. Live chat, email, and direct phone lines are available for access to the support team at Tradeo. The safety of your client deposits is never in doubt, since the firm participates in the Malta Investor Compensation Scheme.
---
Tradeo – Conclusion
As their website attests, "You are not alone anymore." Newcomers to forex are always counseled to seek out a mentor and to follow his guidance, the actual justification for copy-trading in the first place. One testimonial reads, "I thought it would be hard to get started, but they really made it easy. Once I picked a few leading traders to copy, it was all automatic – now I just sit back and watch them trade for me!" If you are still not convinced, a simple perusal of other reviewers yields such phrases as "magnificent" and "the most impressive social trading platform out there." With such kudos in so short a timeframe, you may not want to miss an opportunity to try this new and innovative company's approach. Their free demo system awaits you.
How are some of the Tradeo traders doing?
Please be advised that certain products and/or multiplier levels may not be available for traders from EEA countries due to legal restrictions.