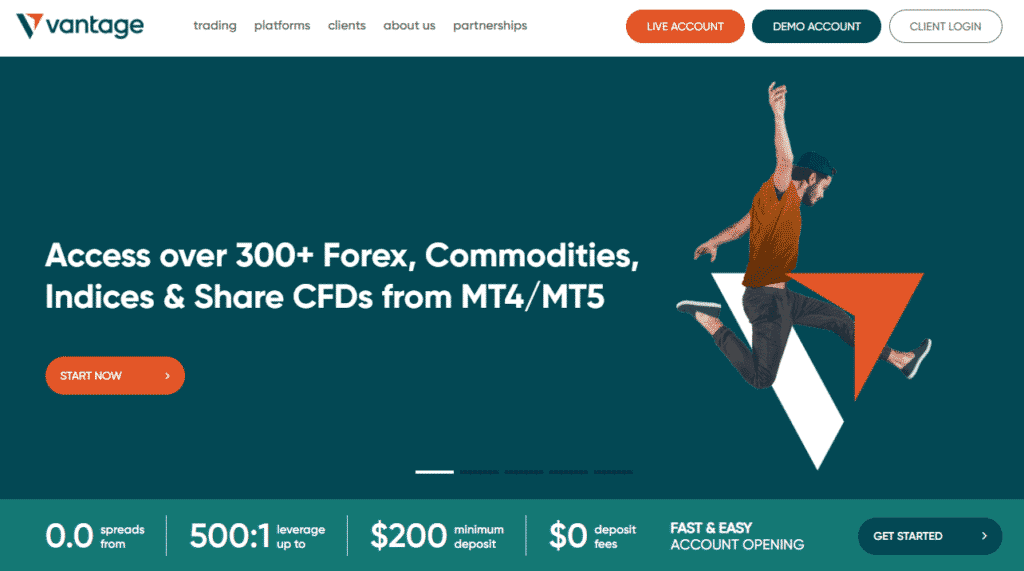 Forex Trader's Viewpoint
Vantage is a well-established and oft-awarded Australian FX/CFD broker, that used to feature binary options in addition to its "more traditional" trading products, some time ago.
With the binary option part of the deal now gone, the brokerage has taken on an entirely different, much more serious appearance, and indeed, its reputation has taken a turn for the better as well.
That is not to say however that this reputation is currently spotless…There are quite a few negative reviews posted by users at various review portals, mainly decrying the usual issues: problems with withdrawals and alleged price-manipulation, with the goal of abusively triggering stop losses.
Obviously, there's very little solid proof delivered with any of these complaints, but their mere existence is enough to raise a red flag with some.
In addition to those issues, the broker was apparently involved in a couple of less-than-savory incidents in the past, none of which carry much significance for the rank-and-file user though.
One such incident saw the broker deny payment to one of its IBs. After the latter complained about it online, the broker allegedly offered to make the payment if he removed the said complaint – thus effectively holding his money hostage.
Another problem pointed out by various reviewers was about a well-known scammer working as a Vantage IB for quite some time.
The bottom line reputation-wise is that – everything accounted for, and despite the above detailed issues – the user-feedback Vantage has managed to rack up over the years is overwhelmingly positive. There are scores more people who appreciate the services of the broker (and we know that content clients are much less likely to leave any kind of feedback) than complainers.
Trader monies are for instance kept in segregated accounts with the National Australia Bank, and the operation is a member of the KPMG – a global network of auditing firms – meaning that to ensure continued regulatory compliance, it undergoes regular 3rd party audits.
The Vantage website claims that the broker deals with an impressive list of liquidity providers, including Goldman Sachs, Bank of America and RBS – among others.
Vantage Rating Overview
| FEATURE | Vantage |
| --- | --- |
| Overall | |
| Education | |
| Market Research | |
| Range of Markets | |
| Deposits & Withdrawals | |
About Vantage
Founded in 2009, Vantage is indeed a major brokerage agency based in Australia, operating in one of the most stringent regulatory jurisdictions and prosperous.
The maximum leverage offered by the broker is 1: 500 – this is really impressive
The broker does not charge a commission for servicing the account, spreads start from 0 points (only on certain types of accounts), and the minimum required deposit is only $ 200, which makes the broker's services accessible to everyone who is interested in trading.
Why did we call the Vantage reputation "spotty" in the name? Despite the fact that most of the reviews/reviews that brokers use on different portals are positive, there are always some who do not agree. Obviously – apart from the usual range of complaints about withdrawals and a bargain – the broker was involved in a number of allegedly behind-the-scenes actions at certain points in his existence.

In one such incident, payment to one of its IB (Introducing Brokers) was denied. After the said branch posted a complaint about the operator on one of the review portals, Vantage allegedly offered to pay him only if he first deleted the complaint. Whether such stories are true is currently completely impossible to verify. Their simple existence and implied trust raise a few red flags.
Another such problem was that Vantage allowed the famous fraudster to act as an IB for the operation for some time, although he was warned about this.
The corporate entity behind the Vantage brand is Vantage Pty Ltd. The company is registered in Australia; its registration number is ACN 140 903 886. However, this company is not a direct issuer of the services presented on the Vantage website. This honour belongs to Vantage Global Prime Pty Ltd, also a registered Australian company, whose official representative is Vantage Pty Ltd.
Liquidity brokerage partners are some truly high-profile legal entities in their own right. We are talking about those such as Citibank, JP Morgan and HSBC.
Why do you want to trade with this undoubtedly serious online FX / CFD provider?
Unlike most other regulated brokers, Vantage offers a cash bonus, as well as access to real ECN execution. With spreads starting at 0 pips, there is no need to sneeze on the trading conditions either.
Thanks to MT4, as well as MT5, the broker offers its users access to some of the best existing solutions for online trading.
Who does Vantage appeal to?
Trading conditions always come first as far as value is concerned, and Vantage have quite a solid thing going in this regard.
On some of their (ECN) account types, their spreads start from 0 pips (such accounts do charge a commission though).
In addition to that, the site delivers a few other reasons why one should trade there, in a special section.
Transparency and strong regulation are both on that list, together with the generous, 1:500 leverage that's also offered. The broker is an award-winning one – as mentioned in the beginning of this review – and it features a superb range of trading platforms.
Its execution speeds are said to be superb as well as is its market coverage (it includes several cryptocurrencies in addition to the regular lineup of tradable assets).
Opening an account is supposedly easy as well though that probably only goes for Demo accounts, since for real money ones, there are quite a few questions asked and documents required.
Who is Vantage Recommended For?
Trading conditions always come first as far as value is concerned, and Vantage have quite a solid thing going in this regard. Its execution speeds are said to be superb as well as is its market coverage.
Vantage is best for - Beginner to intermediate traders familiar with Metatrader

Forex Account Types
Vantage currently supports three types of accounts, of which the most accessible is the standard STP account, which obviously supports STP execution.
This type of account offers access to the entire spectrum of markets supported by the broker, and its minimum balance is $ 200.
Spreads at this start at 1.4 pips, and the maximum available leverage is 1: 500.
A standard STP account does not charge fees.
The next step up the account type ladder is the Raw ECN account, which is declared the most popular broker account option.
The execution on this account is ECN, and the minimum balance that is required is 1: 500.
Spreads start at 0 pips (as you would expect from such an account), but a commission of $ 3 is charged on each lot.
The Pro ECN account is an option of a "complete additional" broker. The minimum required balance on such an account is $ 20,000. Trading conditions are really the best at that. In addition to ECN execution, the Pro account has a range of 0 points and a commission of $ 2 per lot on each side.
The maximum available leverage is 1: 500 for this type of account.
In addition to the detailed account types listed above, the broker also offers Islamic account versions, as well as a demo account for those who want to test the platform (s).
Instruments and Spreads
The Vantage website shows a typical spread of 1.4 pips on EUR / USD on a Standard account. On Raw ECN accounts, the typical spread is 0.1 pips with a commission of $ 3 per way ($ 6 per full transaction).

Fees and Commissions
As mentioned above, the size of spreads and accrued commission depends on the type of trading account that a trader uses. On STP trading accounts, the minimum spread starts at 1 pip. On ECN trading accounts, the minimum spread may be 0.0 points. But for each traded lot, traders are required to pay a commission of $ 3.00.
Forex Trading Platform Review
When it comes to trading platforms, the variety of Vantage offers is unparalleled. At least nine options are available, mainly with MT4 and MT5.
MT4 is the most popular trading platform in the world, perhaps the centrepiece of the Vantage offer. In addition to the Windows version, which can be downloaded for free from the Vantage official website, the platform is also available in the Mac version.
MT5 is obviously an upgrade from MT4, but still, it is slightly less popular than its successful predecessor. Those looking for better and easier ways to create personalised technical indicators and experts will certainly appreciate the improvements made by MT5.
Both platforms are available in mobile formats, so busy traders can continue to trade while on the move. Mobile versions retain most of the useful features and benefits of the full versions.
In addition to the above, the MT4 and MT5 versions are available in Web Trader versions for those who cannot or do not want to download anything to their local machines. The web trader versions are also amazingly capable and customizable.
However, MT4 and MT5 web traders are not the only browser-based trading options. Market Trader, developed by ChartIQ, is also available at a brokerage company. HTML5-based Market Trader is compatible with almost all browsers.
Options offered by the broker, MAM / PAMM accounts, are obviously intended for those who are looking for high-performance trading solutions. With this option, you can manage multiple accounts, which is very useful for experts trading for multiple clients.
The MyFxBook AutoTrade feature further enhances social trading opportunities. This allows users to copy trades of more successful and profitable traders.
ZuluTrade, another solution provider Vantage has teamed up with, is at the peak of its social trading experience.
Mobile Forex Trading
Vantage provides customers with the opportunity for mobile devices. Trading applications are available for devices based on iOS and Android.
Since the Vantage broker is mainly focused on the use of MetaTrader, the mobile versions of the MT4 application for iOS and Android are quite standard and are available for installation from the Apple iTunes and Android Playstore stores, respectively.
Social trading and copy trading
Vantage works with Myfxbook AutoTrade, an automated trading service that allows customers to access social trading. Myfxbook AutoTrade is an automatic copying service for trading strategies that allows Vantage traders to access the trades of many successful traders.
Crypto
Vantage does not have actual cryptocurrencies; however, the company provides CFD contracts for popular cryptocurrencies.
Forex Charting and tools
In addition to the basic platforms, for customers using the MT4 web version, Vantage also offers access to the innovative ChartIQ web platform (under the MarketTrader brand) as an alternative web platform that can be used with an MT4 account.
Forex Education
The site has a section on the education of future traders. Having carefully studied the information presented, the client will have the necessary basic terminology, as well as an understanding of how the web platforms presented on the site function, what factors affect the value of assets, etc.
It should also be added that Vantage has a demo account for beginners. This tool allows you to practice learning everything you need to trade online without spending a cent of your own savings on these goals. Fast, convenient, reliable, and most importantly – it is a very productive tool.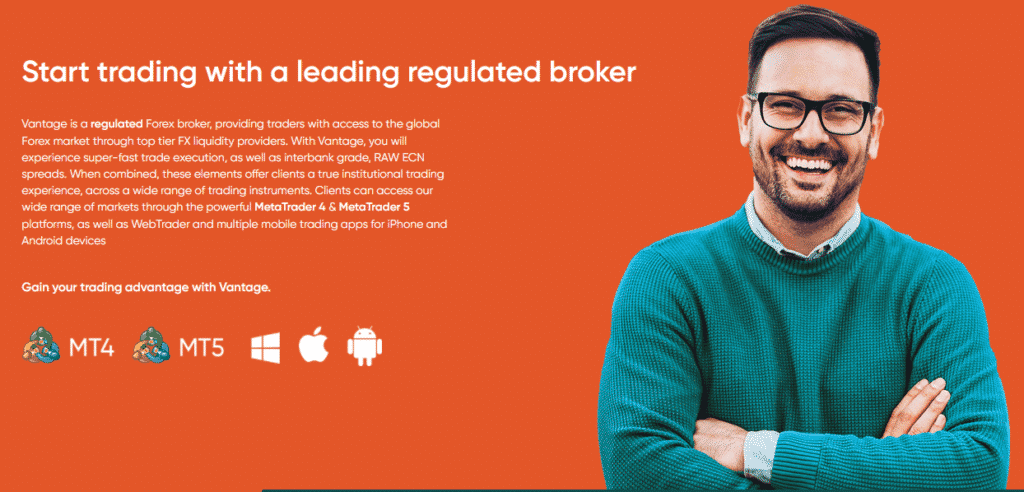 Forex Trader protections by territory
Reliability Vantage extends not only to the financial support of firms but also to the provision of services. Vantage uses only the proven MetaTrader 4 (MT4) platform. Thanks to the advanced functionality of the platform, MT4 Vantage can conclude transactions with lightning speed.
Complying with high standards of professionalism and ethical standards, Vantage has taken the protection of clients' funds to a new level by means of insurance of funds. $ 20 million of coverage is provided by SJ Catlin and Lloyds of London.
Compare Vantage with other approved brokers
| | | | | |
| --- | --- | --- | --- | --- |
| | | | | |
| Education | educational content, courses, webinars, market analysis | courses, market analysis | educational content, webinars, market analysis | educational content, webinars, market analysis |
| Customer Support | email, phone, live chat | email, phone, live chat | email, phone, live chat | email, phone |
| Minimum Deposit | $200 | $100 | $50 | $5 |
| Total Markets | 300+ | 1260 | 300+ | 1300+ |
| Total Currency Pairs | 44 | 55 | 44 | 57 |
| Total Cryptos | 34 | 17 | 16 | 0 |
| Total CFDs | 200+ | 626 | 200+ | 1200+ |
| Trading Platforms | MetaTrader 4, MetaTrader 5, WebTrader | MetaTrader4, Sirix, AvaOptions, AvaTrader, Mirror Trader | Pro Trader, MT4, MT5 | MT4 Terminal, MT4 for Mac, Web Trader, iPhone/iPad Trader, Droid Trader, Mobile Trader, MT5 |
Opening an account
Vantage Global Prime Pty Ltd, trading as Vantage, is regulated by the Financial Conduct Authority (FCA) in the UK and the Australian Securities and Investments Commission (ASIC). Both regulators require brokers that they license to comply with KYC (Know Your Client) and client protection protocols. That means that when signing up for a new Vantage account, you must provide some personal and background information and proof of identity.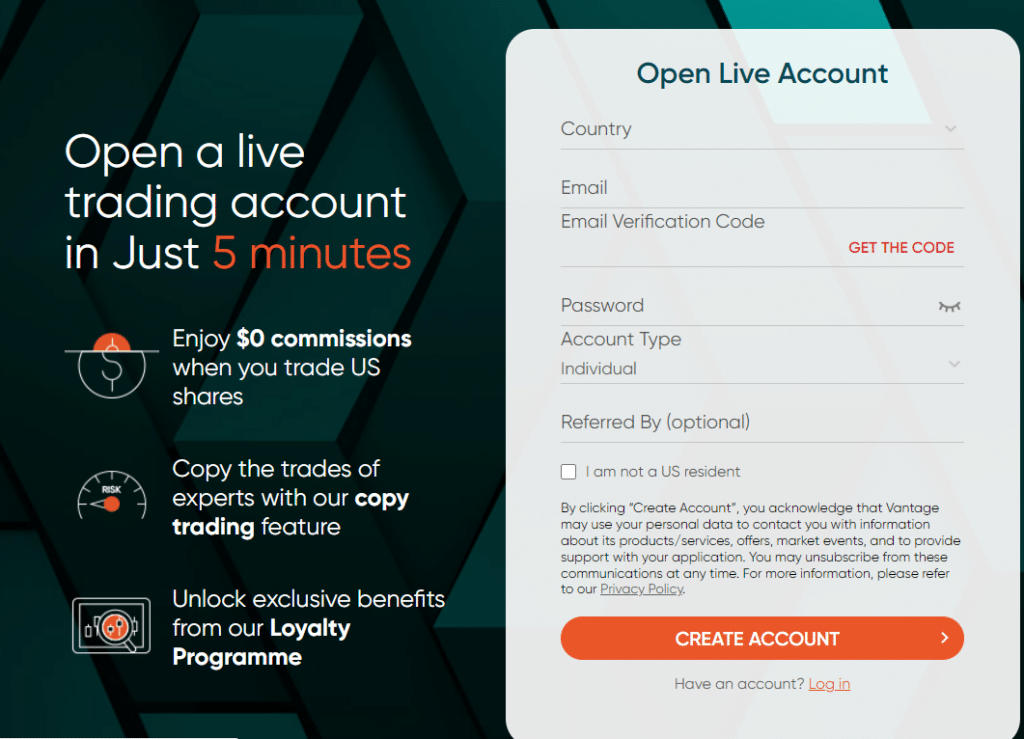 During our Vantage review, we found that submitting the required registration information takes less than five minutes, matching the claim made on the broker's site. The information to be included ranged from basic address details to information about how much trading experience new users have and the source of funds that will be used to trade the markets.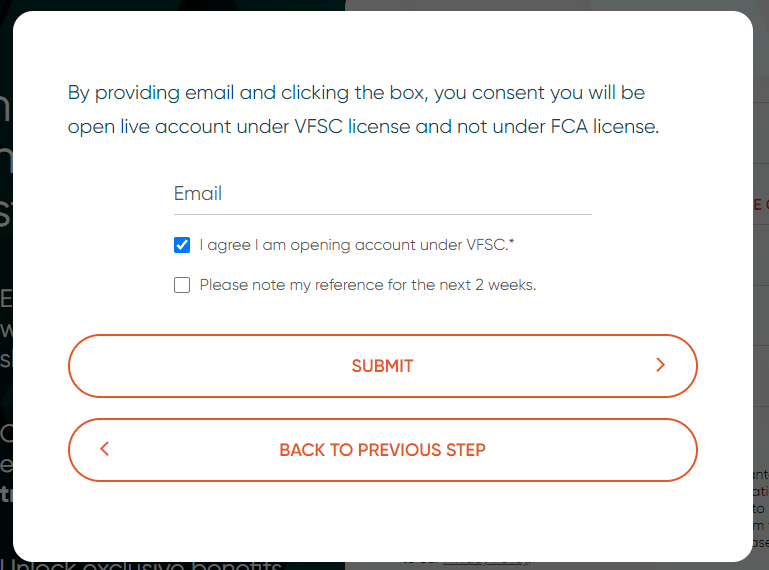 The entity of the Vantage group with which you open an account will be determined by your place of domicile, and some clients are offered a choice of whether to sign up with one regulator or the other; the decision on which one to choose is determined by personal preference.
Making a deposit
As part of the onboarding process, you will be required to follow a two-factor authorisation for security purposes. The deadline to respond can be as little as 60 seconds.
The next stage of the process involves deciding whether you want your account to be denominated in USD, EUR, or GBP.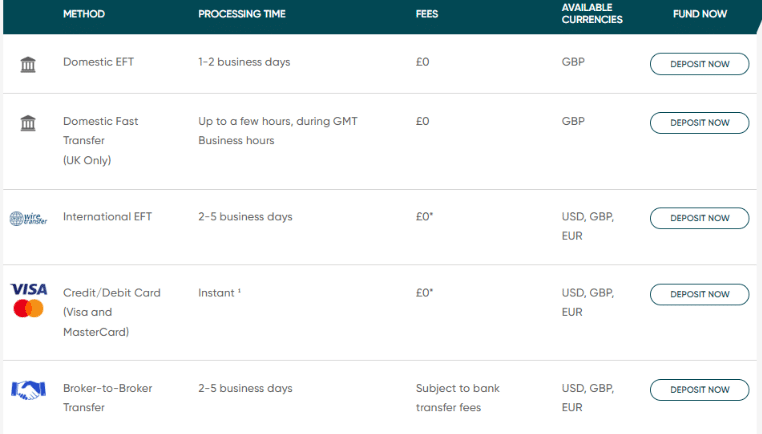 Whichever base currency you choose, a wide range of payment options are available, including bank transfer, credit/debit cards, and e-payment service providers. Wire transfers can take 2-5 days to complete, but during our testing, deposits made using cards were, as stated by the broker, credited to our trading account instantly. Those using AstroPay, Neteller, and Skrill will also see funds credited almost immediately and no charges are applied by the broker on transfers using those services.
Ongoing management of accounts and cash transfers is performed by visiting the home page of the trading platform. Vantage does point out that some payment options might incur charges levied by third parties, so checking the small print can save paying unnecessary fees.
Placing a trade
Vantage offers clients a choice of four excellent trading dashboards. Following the link to the WebTrader platform takes you to a version of the ever-popular MetaTrader MT4 platform, which can be accessed from anywhere with an internet connection. Setting up your trading to use the MT5 version of the MetaTrader product range is also possible. MetaTrader is a third-party software provider, so login details for this account are sent via email.

The ProTrader platform links up with the highly regarded TradingView platform. The account number needed to access this dashboard is emailed to new users who, once logged in, can take advantage of a range of powerful software tools and indicators. The final platform option is the Vantage app, which combines user-friendly functionality with access to hundreds of forex pairs, commodities, indices, and stock CFDs.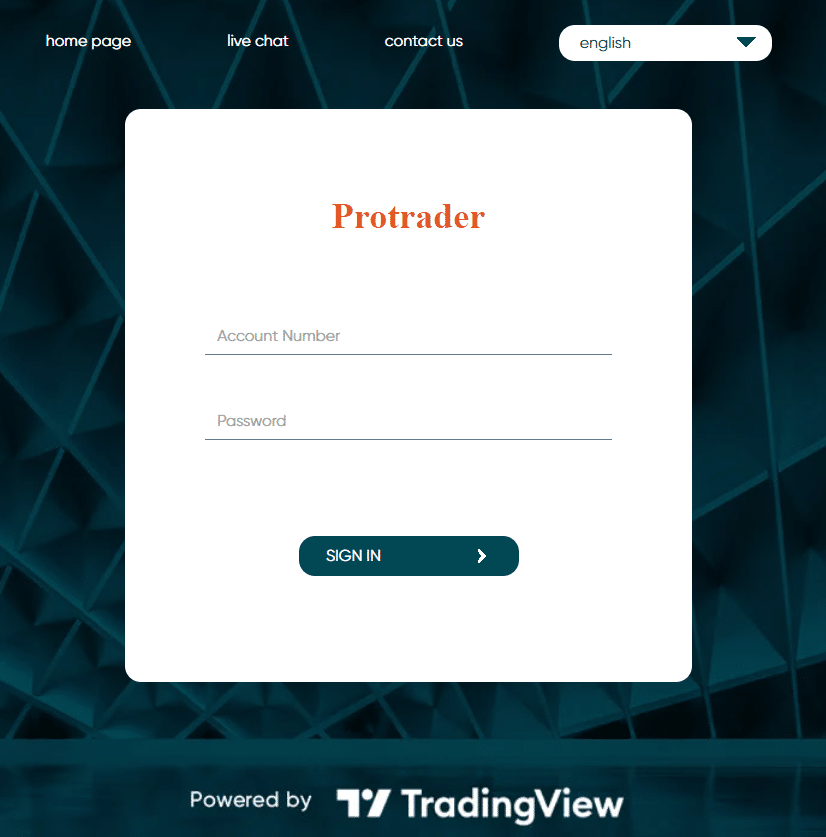 Our Vantage review involved testing the MetaTrader MT4 WebTrader platform. We booked test trades in AUDCHF and AUDJPY and set the screen display to different background settings.

Contacting customer support
Vantage scores highly regarding how easy it is to contact the customer support team. The broker steers users towards its 'VIVA' Live Chat service, which offers an immediate response time; however, when you contact VIVA initially, you will be met by an automated response system. The prompts offered to our queries were helpful and steered our testers towards resolving their problems.
Our request to talk with a human agent worked well, and on entering an account number, the chat was transferred directly to the broker's customer support team. Another neat feature of the site is that accounts are, by default, set up so that copies of all Live Chat conversations are emailed to you after chats are closed.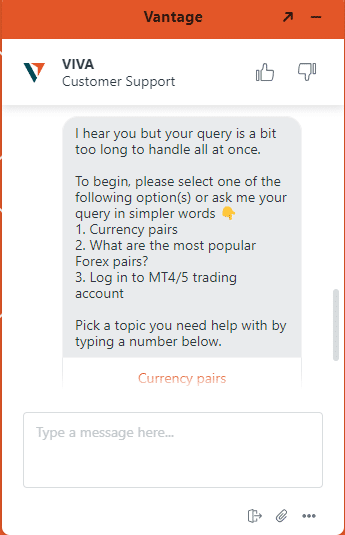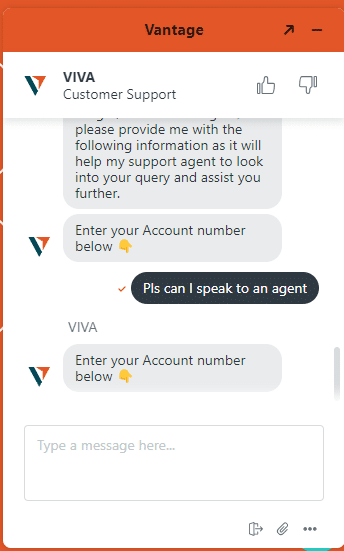 More in-depth queries can be sent via email, with the broker supplying a selection of email addresses so that questions can be directed to the most appropriate area best equipped to handle them. That means no time is spent redirecting your approach if you are looking for information on tech issues, partnerships, or complaints.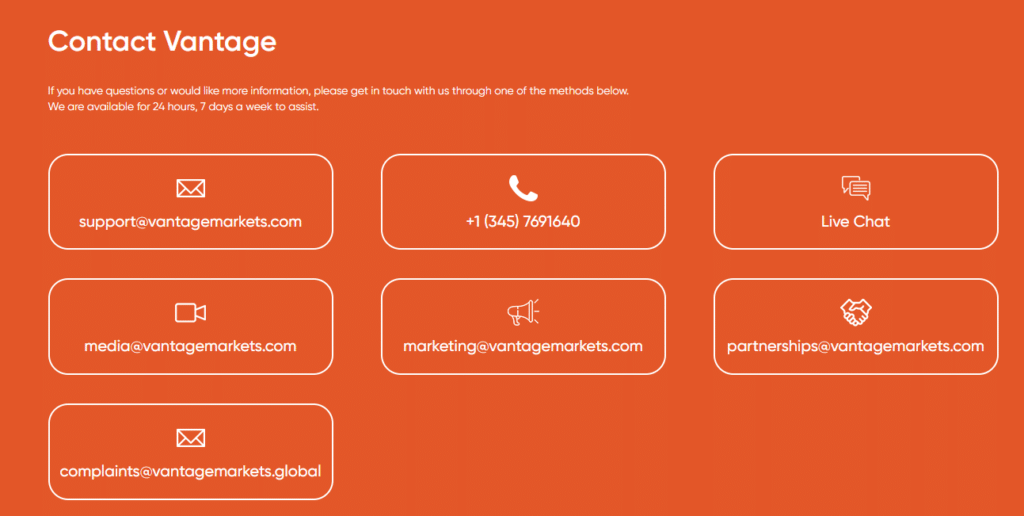 The broker doesn't stipulate its response times to emails, but during our testing, we found our queries were answered within a few hours. It was also noted that follow-up questions can be sent to the same person using the same subject title rather than starting again from scratch.
Telephone customer support is available 24 hours a day, seven days a week. We found the staff taking our calls to be informed and professional and able to resolve our queries quickly. The waiting times to get support were minimal.
The bottom line
Vantage's reputation may not be impeccable, but it is certainly good enough to interest any trader: beginner and professional.
The site offers excellent trading platforms, trading conditions, execution and market coverage.
Please note that some products and multiplier levels may not be available to traders from EEA countries due to legal restrictions.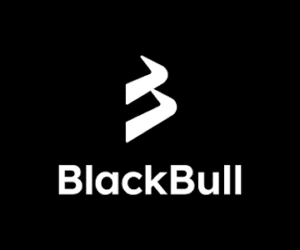 Forextraders' Broker of the Month
BlackBull Markets is a reliable and well-respected trading platform that provides its customers with high-quality access to a wide range of asset groups. The broker is headquartered in New Zealand which explains why it has flown under the radar for a few years but it is a great broker that is now building a global following. The BlackBull Markets site is intuitive and easy to use, making it an ideal choice for beginners.
Please be advised that certain products and/or multiplier levels may not be available for traders from EEA countries due to legal restrictions.