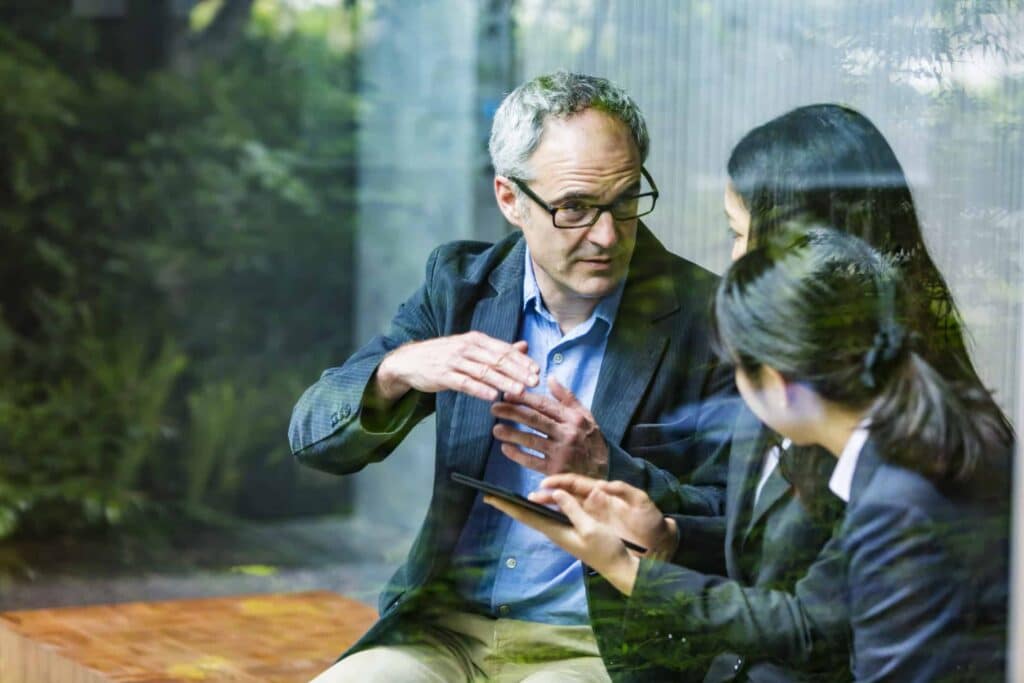 Before we examine how to use Expert Advisor in MT4, let's first understand what MT4 (short for MetaTrader 4) is all about. Indeed, it's a massively popular trading platform developed by MetaQuotes Software in 2005 and licensed to forex brokers who function as MT4 servers to their clients. So, if you are one of the latter or thinking of entering the arena, it's likely that your selected broker is an MT4 licensee.
Another thing to appreciate is that traders routinely require an array of structured indicators to assist their trend predictability. So, MT4 substantially fits the bill because it's highly customisable in two significant ways. First, it accommodates a broad trading style range. Second, it seamlessly integrates with modern algorithms that guide trade openings and closings to comply with traders' parameters. One of the most popular trading aids is Expert Advisor. For more on this, read on.
What is an Expert Advisor (EA)
Successful trading depends on being right most of the time, which, in turn, relies on evaluating optimal trading conditions. However, it's challenging to identify which trades represent the best profit potential (and when) in a volatile market that never sleeps. Thus, EA emerged as a software category with in-built proprietary skills designed to enter and exit forex trades automatically and optimally. Modern EAs, going hand-in-hand with MT4, are incredibly flexible and capable of syncing with diverse trading styles and outlined preferences. The latter is accessible via:
Downloading for free
Purchasing a proven commodity
Creating your own
For novice traders wanting to know how to use Expert Advisor in MT4, we recommend (a) or (b) above – the remaining focus of this article. If you've never worked with EA before, this article provides a complete overview of the pros and cons and a step-by-step approach to how to install Expert Advisor on MT4 and running, hassle-free, what's often referred to as a forex trading bot.
How to use expert advisor in MT4 – The Pros and Cons
Pros
We can only appreciate the advantages of EA in light of traders' most significant pain points and goals. So, consider the following:
We rely on our senses to send messages to the brain as we interact with our environment. Depending on the urgency and message content, we react, often in an emotionally charged manner. So, in forex trading, currency pairs' price movements (i.e., environmental events) trigger excitement, shock, humour, deflation, calmness, and sometimes panic as we detect them. What we do next will determine whether trade ends up as a profit or loss and how much we accumulate of each. Unfortunately, when heightened emotions are in the mix (e.g., fear or exuberance), any following decisions are likely irrational.
For example:  Suppose the trader erases a stop loss in response to a price moving in their favour, only to experience a sudden and sharp reversal that goes right through the position where the deleted protection once existed. Is this unusual?
Disastrous outcomes like this emerge all the time because, but for a few exceptions, much of our lives are emotion-driven.
Novice traders, frequently wading in where angels fear to tread, can recount a thick storybook of similar situations.

Many forex participants – scalpers, day traders, and swing traders – rely on fast reflex action with their traditionally tight trading frames. Indeed, a few pips can make the difference between profit and loss. In addition, trading efficiency jumps into the ring with all lights blazing when the trading spectrum broadens and volumes increase.
Traders also sleep, eat, spend family time, and socialise with friends. What it means is absence from the platform for several hours every 24 hours. It's, therefore, a matter of luck whether or not one's active hours in an all-day-and-night marketplace coincide with the best trading opportunities.
Metrics, metrics, metrics! Why do we repeat it three times? Because savvy traders rely on them to demonstrate gaps in their trading methodologies. In addition, translating one's trading activity (i.e., data) into readable patterns becomes an invaluable asset. For example, the following ratios (to mention only a few) are vital to establishing sound trading methodology:

Maximum drawdown
Average trading loss/win
Consecutive number of wins/losses
Average monthly profit
Average number of daily trades
Average return on fully leveraged trades
Average return on equity

Once metrics are in the mix, traders can springboard to backtesting (BT). Sadly, many traders are neither metric-oriented nor BT-centric. Why? Simply because it's a cumbersome, time-consuming, mind-boggling human task without an automated system at one's fingertips. In short, a BT framework is a crucial aspect of how to run Expert Advisor MT4 successfully, and for traders that function manually, it's a daunting challenge.
So, how does EA resolve the trading obstructions above?
1. As a start, it engineers the process consistently at mega-times "people" trading speed without:
Connection to human emotions
Wavering under the trade volume
Failing to interpret the complexity of multiple currency pair positions
Ever suffering from fatigue
Allowing self-doubt or second-guessing to interfere with decisions
2. And secondly, it inserts an element of discipline into the trading process by:
Following an MT4 rule-based trading methodology
Sticking to the job 24/7
Kicking latency and slippage to the kerb
Being active and present during the best trading hours
Automatic, fast, and robust backtesting
Cons
EAs acquired from outside sources (a popular channel of access) involve a few caveats as follows:
Bought or free downloaded EAs are black boxes. What do we mean by that? They never come with an explanation of the logic behind what drives the system. Thus, the instant these EAs stutter for a few trades, they tend to lose their sparkle. Why? Because blind trust goes only so far. The "guru" effect deflates quickly when the trader can't adjust the cogs in the engine.
EAs suitable for one trading style may fail dismally for another. Matching the right EA to your needs takes research, scanning user reviews, and pre-testing them with your parameters. Even though EAs work automatically, it doesn't mean automatic success. In other words, there's no substitute for due diligence. Therefore, we advise forward testing EAs in demo mode before pulling the trigger as a crucial opening gambit in learning how to install EA on MT4.
When the EA is let loose in real-time, it trades with your monetary resources. If technical glitches create a malfunction, it could result in severe losses. Computer crashes, power outages, and software updates are all potential disruptors of an otherwise seamless system. Thus, ensure you test, test, and test again for EA resilience before launching. Also, regularly monitor the EA as it progresses.
Virtual Private Servers (VPS) and sound, reliable EAs go hand in hand because stable networks ensure the least technological upheaval – a vital consideration, as we can see from (3) above. Unfortunately, VPS comes at a higher cost, which traders should be prepared for when deploying a selected EA.
EAs being automatic implies that extraordinary trading skills are unnecessary – the "bot" does all the thinking. However, savvy traders deploying EAs appreciate that even the best algorithms have a relatively short life, and when the cycle ends, they adjust the EA or move to a new one. Traders who allow the EA to dictate the strategy, thereby shoving trading skills to the back seat, are setting up for disappointment down the line.
Step One: Download your selected EA to your computer desktop.
Step Two: Open the MT4 platform and click on Auto Trading in the top menu as indicated in the image below: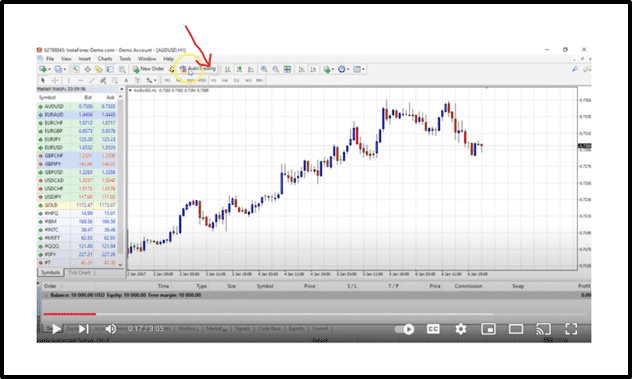 Step Three:
Go to your Desktop where the EA is stored (titled Moving Average Expert Advisor in this example).
Right-click and copy it.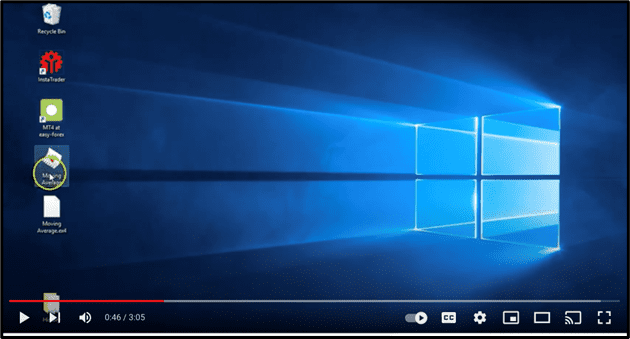 Step Four:
Return to the platform.
Click on File and select Data Folder, as demonstrated below.
Click on it.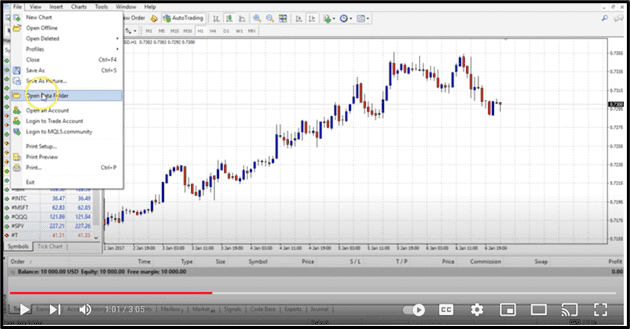 Step Five:
From the Data Folder screen, select MQL4.
Click on it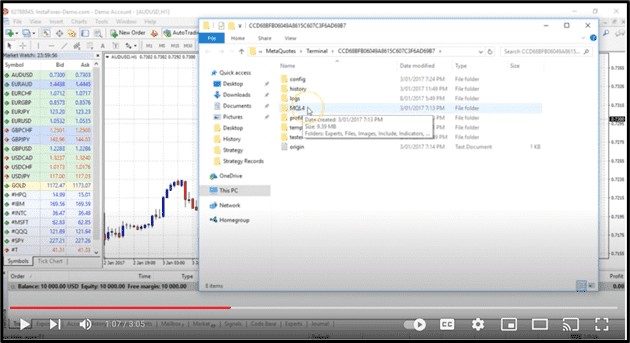 Step Six:
On the next screen, select Experts (at the top of the list).
Click on it.

Step Seven:
A new screen opens up.
Choose "This PC"
Right-click and paste the EA to the page.

4. And we see the EA (Moving Average Expert Advisor) pop up in the menu.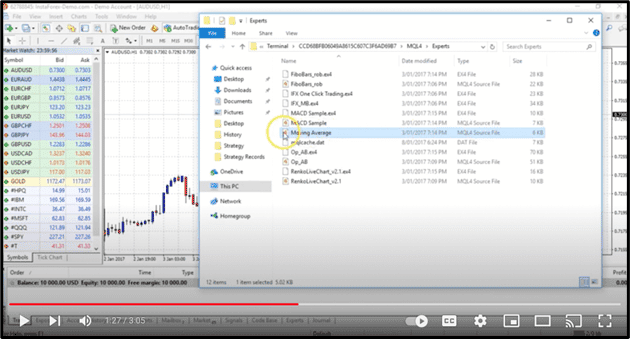 Step Eight:
Close the window.
Restart the platform.
Step Nine:
After the MT4 platform restarts, click on "View" on the top menu
Then click on Navigator as per the image below.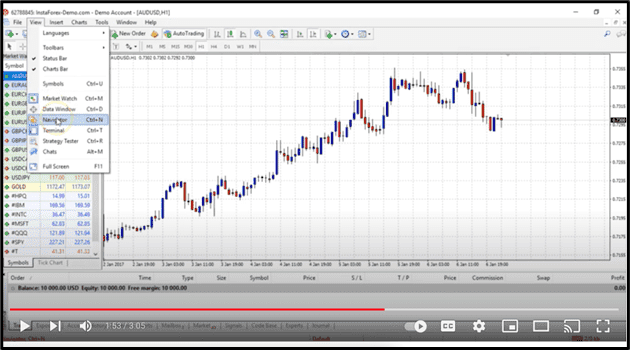 Step Ten:
A new window opens with a list of EAs (where this trader deploys several).
And as we see below Moving Average EA is among them:
Of course, we want to trade with the selected EA after installation. So once again, let's go through the steps:
Step One:
Simply left-click on the EA.
Then drag and release it anywhere on the chart, as shown in the two images below: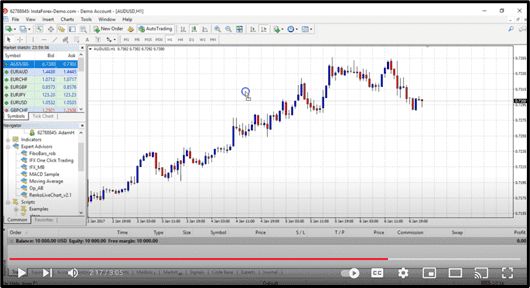 Step Two:
The customisation window opens, where you can change the settings.
In most cases, traders stay with the developer's default structure.
If so, click on "OK" (see below).

Final Step:
Look up at the top right-hand corner of the MT4 screen (see below).
Note the EA's ID, signifying it's in place and running on your selected chart.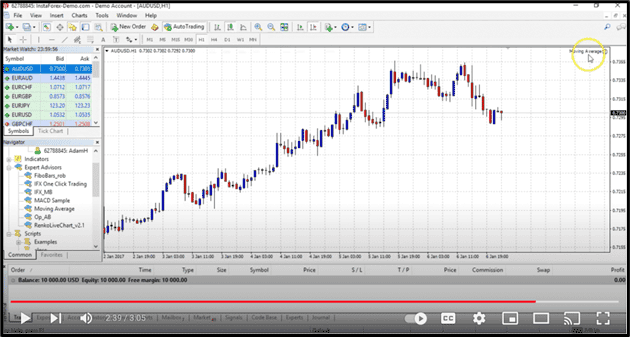 ---
Related Articles
---
Conclusion
The article above provides a comprehensive overview of how to use Expert Advisor in MT4. A major takeaway is that there is substantial competition in the marketplace, with EA developers claiming their software "bot" represents the holy grail of trading – the secret to sure-fire forex trading success. The truth of the matter is that the best EAs have worked for some traders some of the time. However, if you interpret this to mean it will always work for you, you're headed for disappointment. The process of selection is ongoing, with continual monitoring and backtesting. It requires patience and due diligence to find the right fit. Here are some reliable links and introductions to proven and reputable EAs *for a fee and free) that promise to make an impression in 2023.
If you are trading on MT4 and want to take your results to a higher level, EAs may be the open sesame you're looking for, as long as you remember that it doesn't replace trading skills as the primary ingredient for success.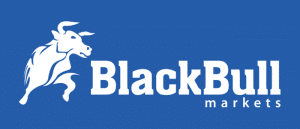 Forextraders' Broker of the Month
BlackBull Markets is a reliable and well-respected trading platform that provides its customers with high-quality access to a wide range of asset groups. The broker is headquartered in New Zealand which explains why it has flown under the radar for a few years but it is a great broker that is now building a global following. The BlackBull Markets site is intuitive and easy to use, making it an ideal choice for beginners.