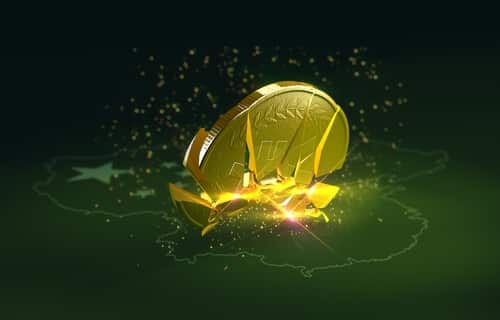 Global stock futures are treading water as the US earnings season enters its second week. Big banks such as Goldman Sachs and JPMorgan kicked things off last week and brought about a temporary rally, but that has fizzled out with eyes shifting to tech stock announcements.
Soon after the European session's opening on Tuesday, Stock Futures in Japan and the US Russell 2000 index are both trading within 0.01% of their previous close.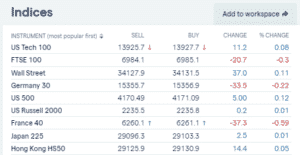 Source: IG
Netflix Earnings Released on Tuesday
Netflix is due to release its earnings report on Tuesday. New subscriber growth will be in focus, with analysts concerned that the boom in home-streaming may have been too closely tied to the Covid pandemic and households being in lockdown.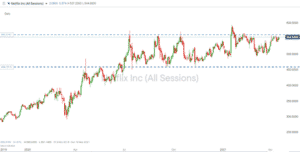 Source: IG
Netflix has been trading in a tight sideways range since July of 2020 with no less than five failed attempts to breach the $555 resistance level. Will Tuesday's announcement be the catalyst for it to burst through? Fans of that idea can take comfort from the Daily chart SMA's being in a position to support the move. The 50 SMA has held its position above the 100 since January, and the 20 Daily SMA on Monday intersected the 50 to the upside.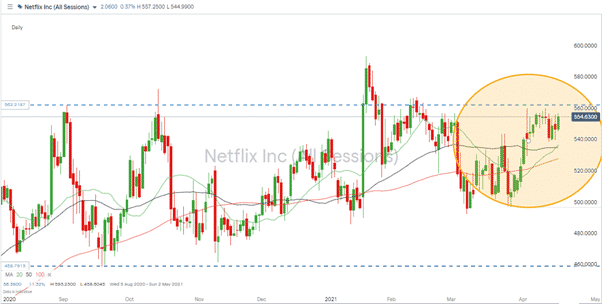 Source: IG
With the technical indicators representing a cocked-gun, price weakness following the news release from Netflix would mark a significant disappointment for bulls of the stock. It would also ring alarm bells across the rest of the market.
Nasdaq Earnings Season
The Nasdaq 100 Index has also been trading in a tight range since earnings season began. Sitting near all-time highs, it could be the case that any good news is already priced in. Other tech firms to report this week are Intel Corp, SNAP Inc and AT&T Inc, which release their reports on Thursday.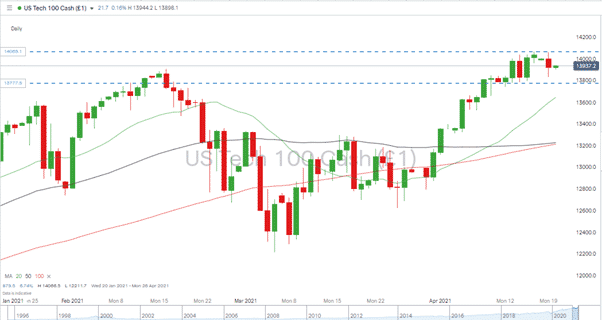 Source: IG
The Problem with Current Equity Valuations
The nervousness over the upcoming earnings releases is justified. With equity valuations derived from earnings forecasts, 2020 – 2021 has been a tricky time for analysts.
There are question marks over Tech stocks, which saw revenues soar in the lockdown and cyclical Main Street stocks that saw earnings plummet. Will the former maintain their growth, and will the latter recover, and by how much?
Going into earnings season, the Price to Earnings ratios for the following US indices are:
Nasdaq 100 – 39.98
S&P 500 – 46.92
Dow Jones Industrial Average – 30.38
Source: Barron's
Nasdaq PE Ratio – Multi-year chart

Source: Macro Trends
S&P 500 PE Ratio – 100-year chart

Source: Long Term Trends
There's only one way for the market to answer questions relating to current price levels – and that is earnings season. Volatility could well pick up as other announcements paint different pictures about how the economy looks after the Covid reorganisation.
Over the last year, analysts have been struggling to source reliable and valid information. The adage 'bad data in, bad data out' could be about to be applied to the past 12 months of market valuations, and that would light a considerable number of fireworks.
If you want to know more about this topic, please contact us at [email protected]