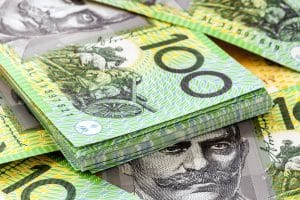 The Australian dollar was one of the major losers in the forex markets yesterday after a data release predicted a slowdown in the country's economy.
GDP figures showed that the fourth quarter of last year experienced only a 0.2% economic growth rate. This was down on the projected figure of 0.3%.
As a result, the Australian dollar dropped in the AUD/USD pair by 0.4% to a level of $0.7052.
Elsewhere, the US dollar index, which monitors how the greenback is performing compared to six other currencies from across the globe, went up, managing to reach a strong two-week high point of 97.008.
This news came largely as a result of a positive data release on the service industry in the US.
Over in Europe, the single currency was down in the EUR/USD pair at $1.1300.
The Japanese yen was down too, with the JPY/USD pair reaching 111.83 at one stage during the day's trading.
With half of the week still left to go, there are lots of events for forex traders to watch out for on the economic calendar.
This lunchtime, there will be a major speech from the Bank of England's Deputy Governor for Financial Stability Sir Jon Cunliffe, who will speak at 12.15pm GMT.
This will be followed by a number of major Canadian data releases at 1.30pm GMT. These will include imports information for December, as well as labour productivity data for the fourth quarter of the year. Quarter on quarter, this is expected to show a change from 0.3% to 0.2%.
International merchandise trade figures for December will also be out at the same time, and these are due to show a change from $-2.06b to $-2.8b.
At 3pm GMT, attention will switch to the Bank of Canada, which will release its interest rate decision. This is widely forecast to remain steady at 1.75%.
Several more central banker speeches are expected later in the day. A speech from the US Federal Reserve's John C. Williams will occur at 5pm GMT, while over the Atlantic half an hour later there'll be a speech from the Bank of England's Michael Saunders.
Looking ahead to Thursday, Japan's leading economic index for February is due at 5am GMT. This was last recorded at 97.5.
Silvana Tenreyro, who serves on the Bank of England Monetary Policy Committee, will speak at 9.30am GMT.
Europe-wide gross domestic product information for the fourth quarter of last year is expected to hold steady when it is released at 10am GMT. Year on year, it was last recorded at 1.2%.
US jobs data is expected too. Initial jobless claims for the week of February 25th will come at 1.30pm GMT, and it is forecast to remain steady at 225,000.
Later in the day, there'll be a key release on overall household spending in Japan for the month of January, due to come out at 11.30pm GMT. Year on year, this is expected to show a change from 0.1% to -0.4%.