USDCAD – BOC to Make Rates Announcement
The Bank of Canada is widely expected to leave its monetary policy unchanged. Outlier opinions are pointing towards a micro-rate cut – some fraction of the standard 25bps move.
Markets appear to be pricing in "Unchanged" with trading volumes dropping off and the Bollinger Band Width decreasing in the day running up to the Bank's announcement.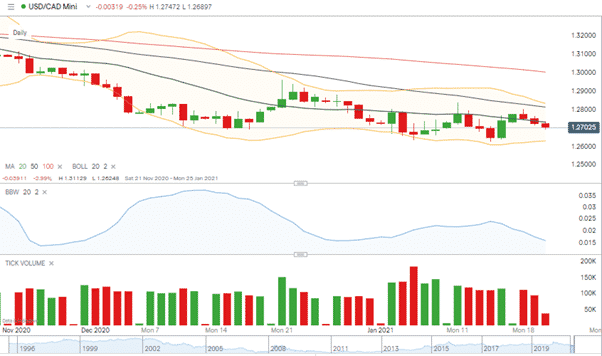 Source: IG
The Loonie's strength against the US dollar is too obvious to ignore and will be hurting Canadian exporters but most of the move is down to USD weakness rather than CAD strength. The low volatility of the move is possibly leaving the Canadian central bankers thinking that fighting an inevitable correction in price might be foolhardy.
The Canadian jobs report could be the deciding factor. While the total number of jobs fell by 62,000 most of the drop in headcount was among part-time workers and the number of full-time employees actually increased. The fact that more permanent job numbers are holding up makes it less likely that Governor Macklem will tinker.
Forecast: CAD base interest rates to remain at 0.25%
Look out for: The devil will be in the detail of Macklem's statement. If, as expected, rates are unchanged, price moves will be based on clues about how long this is expected to continue. The risk of a micro-cut is small but is in play, so hints of a long-term passive approach to rate management could see USDCAD slide even further in value.
GBPUSD – Inflation Higher than Expected
The UK has on Wednesday posted higher than expected inflation data. December's headline CPI rate was up 0.6% against an expected 0.5% and marks a shift from the previously recorded number of 0.3%.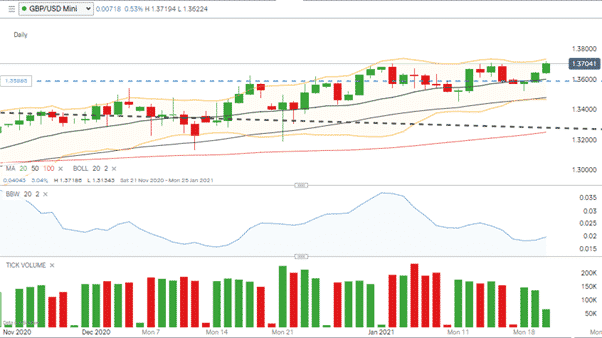 Source: IG
Central banks like a little bit of inflation but it's notoriously hard to control once it gains momentum. One of the best-selling analytical books of the moment, The Great Demographic Reversal, is all about a resurgence in inflation. With market-watchers looking out for and chatting about inflation, the small spike in CPI will put the Bank of England on amber alert.
Will this materialise as interest rate rises?
The market is pricing in that rates will remain unchanged for now. Covid-19 fears will still be a priority and some of December's number is down to built-up spending pressure being released after the November lockdown.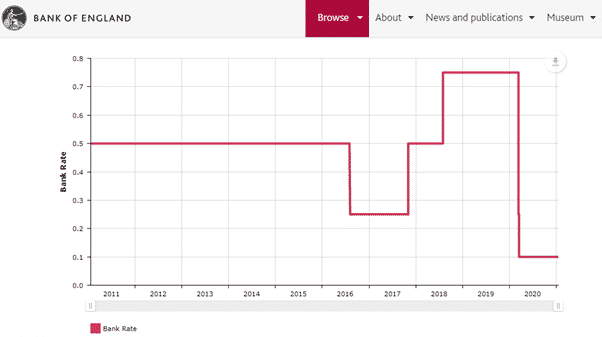 Source: Bank of England
Also, bear in mind that inflation favours debtors who see their borrowing costs eroded by broad price rises. Global governments burdened with record amounts of debt would be happy to gamble on inflation rates being higher than where they are at present.
Forecast: UK interest rates to remain at 0.1% at the next BoE meeting on the 4th of February.
Look out for: comments relating to how long the record low-rate of % might apply. The last emergency cut was also described as "temporary" but was in place for 15 months. Rate changes could be a slow-burn and Covid and Brexit are both more likely to influence the price of sterling.
If you want to know more about this topic, please contact us at [email protected]