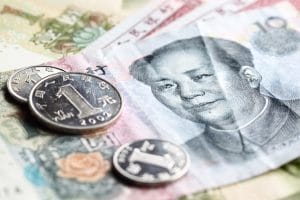 The Chinese yuan crawled up a little on the international forex markets yesterday after a spokesperson for the government there said that there were no plans afoot to start knocking its value down.
The government, which unlike most western nations has the power to alter the currency's value artificially, said that "competitive devaluation" was out of the question.
Lu Kang, a spokesperson for foreign ministry there, said that allegations from the US that China was damaging its own currency on purpose in order to boost exports during a time of trade tensions were "groundless speculation and irresponsible".
The USD/CNY pair went down as a result of the spat, and it was down 0.03% at 6.9304.
The dollar index, which measures how the greenback performs against six other currencies rather than just one in a pair, was down slightly at 0.1%, to 95.29.
It wasn't all bad news in Asia for the dollar, though. The USD/JPY pair, for example, managed to crawl up by 0.1% to 95.29.
As is common when the yuan surges, the Australian dollar also climbed a little. It went up by 0.2% against the US dollar to 0.7119.
The remainder of the week looks full up on the economic calendar, and there's lots for traders to take into consideration.
A series of major US data releases will be out at lunchtime today (GMT). The producer price index for September will be released at 12.30pm GMT, with month on month changes expected to show a welcome rise from -0.1% to +0.2%.
The same change is expected even when food and energy are taken out of the equation.
Later in the day will be data on US wholesale inventories for August, which are expected to hold firm at 0.8%.
Speeches from different major central bankers around the world will take place in the evening. Raphael W. Bostic, who is President and CEO of the US Federal Bank of Atlanta, will speak at 10pm GMT.
Half an hour later, Luci Ellis – the Assistant Governor at the Reserve Bank of Australia – will speak at 10.30pm GMT.
The day will finish with bank lending data from Japan at 11.50pm GMT, which is expected to show a slight drop from 2.2% to 2.1%.
There'll be the country's domestic corporate goods price index for September at the same time, which is expected to show a rise from 0.0% to 0.2%.
At 5am GMT Thursday morning, the central banking speech theme will continue with an address from the Bank of England's governor Mark Carney.
The Spanish consumer price index for September will be out at 7am, and month on month change is expected to hold firm at 0.2%. For euro traders, this could be seen as a significant indicator of how the economies of Southern Europe are performing ahead of possible interest rate rises for the bloc next year.
A further speech from Mark Carney is due at 9am GMT, while the Bank of England's important credit conditions survey report will come out at 8.30am GMT.