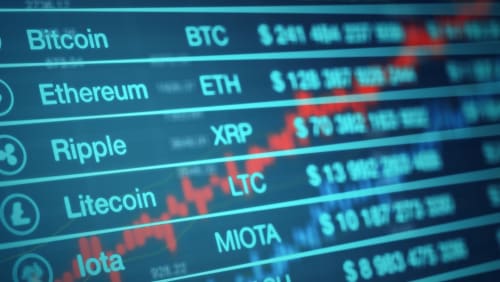 Crypto continues to dominate the headlines with further price tumbles recorded over the weekend. The arguments for or against, Bitcoin, Ethereum and Doge, have changed to some extent, but the price move reflects panic rather than realignment.
The difficulty is deciding to what extent the price crash reflects a fundamental change in investor sentiment towards the coins or is it the popping of a speculative bubble? Crypto markets have throughout May certainly seen a rush for the door, sometimes a stampede, but is this little more than a sign of inexperienced speculators realising markets can go down as well as up?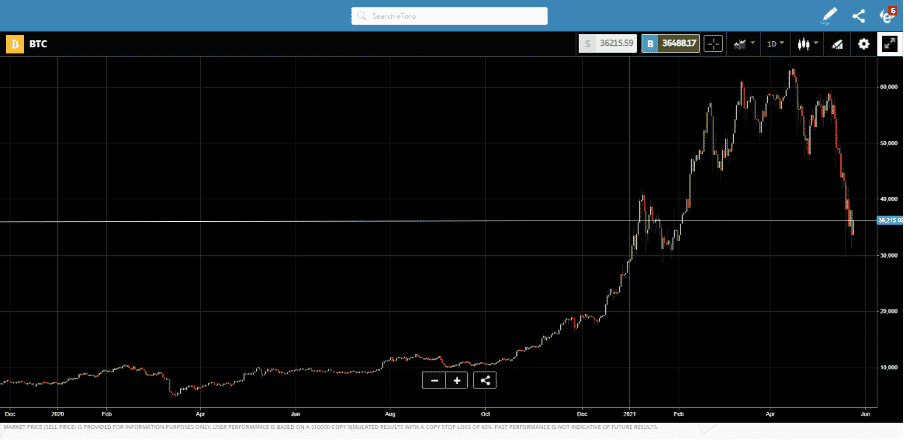 Source: eToro
Will there be New Entrants into the Crypto Market?
Most of those who got into a Bitcoin long position before the 4th of February this year are still sitting on a profit. Early adopters could still be holding considerable, life-changing gains, even with the Bitcoin price starting the week trading near $35,000. If you bought Bitcoin in October of last year, you're still sitting on a 245% gain. In the case of Dogecoin, anyone who bought before the 15th of April is still showing a profit.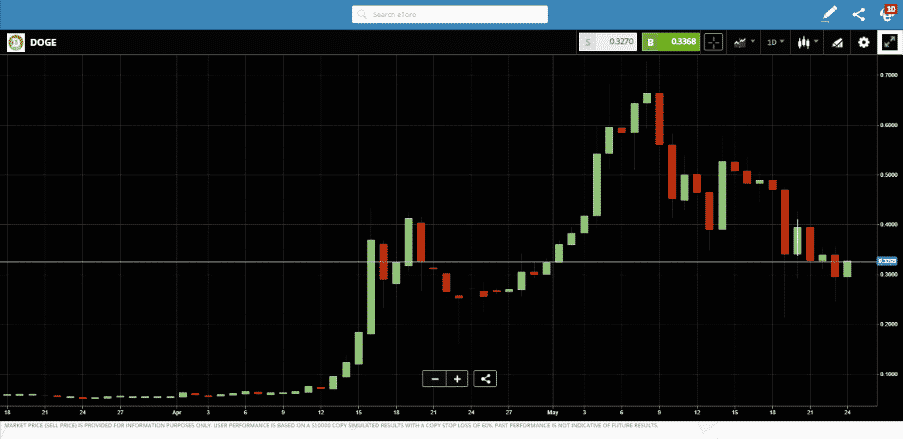 Source: eToro
There's no doubt that some traders who were late to the party will have got their fingers burnt by recent events. More frustratingly for them, they potentially had paper profits at one point as the crypto markets rocketed "to the moon". Some of this group will mark the experience down as a valuable lesson learned and might come back into the markets as better traders. Nothing is guaranteed, but the recent dip is being seen by many as a buying opportunity.
Who Might Buy Crypto at These Low Levels?
Nobel-prize winning economist Robert Shiller is an example of a new and different group who might take recent events as a chance to make their first trade in crypto. The runaway price surge over the last six months was just too much for some to engage with, despite the temptation to do so. Shiller shared his thoughts on the subject with CNBC:
"I was thinking of buying them to experience the effect. A lot of people do that actually … I never bought bitcoin. Maybe I should be active in that market."
Shiller's approach to the subject of crypto valuations highlights that price drivers are different from other asset classes but he doesn't dismiss the idea of blockchain currencies out of hand. He said:
"That's a very psychological market. It's impressive technology. But the ultimate source of value is so ambiguous that it has a lot to do with our narratives rather than reality."
The most recent shake up has come from that "narrative" being applied to negative rather than positive elements of the crypto market – and sentiment could easily flip back to being positive. The risk of China clamping down on crypto trading and launching its own coins has been present for years, as reported by Forexfraud.com.
The second pin to burst the Bitcoin bubble were Tweets from Elon Musk on the ecological impact of mining the coin, but that risk was also very much out in the open. The Forex Traders' analysts highlighted it back on the 1st of March in this report.