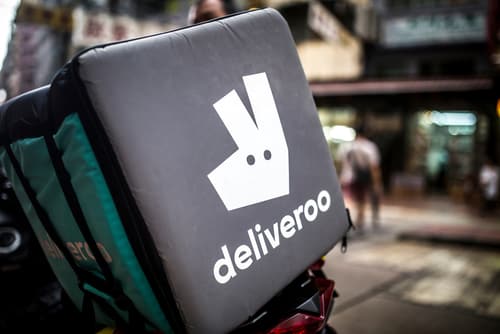 Wednesday will see one of the biggest floats on the London Stock Exchange (LSE) in a decade when the online food delivery service Deliveroo lists shares on the market. The release of stock in the loss-making operation divides opinion and could prove to be something of a barometer for general investor appetite. Even if you're not looking to take away some shares, the launch on Wednesday is something to monitor.
Founded in the UK in 2013, Deliveroo now operates globally, providing its service in the Netherlands, France, Belgium, Ireland, Spain, Italy, Australia, New Zealand, Singapore, Hong Kong, the United Arab Emirates and Kuwait. The company has over 140,000 restaurants listed on the app and over six million people order through the platform each month.
In some respects, Deliveroo ticks a lot of boxes for UK investors who have been calling out for more 'next-generation' firms to be listed in London. The firm's not quite as cutting edge as Tesla or Zoom, but it is backed by Amazon and was one of the beneficiaries of the new way of doing things following the Covid pandemic. Why then are big investment firms taking the surprising step of announcing before the launch that they won't be buying any stock?
Deliveroo – Off the Menu at Big Investment Houses
There is a catalogue of reasons given by those who won't be getting involved on Wednesday. Some relate to softer metrics such as work-practices, but that could be a smoke-screen for the ultimate driver of buying interest – price.
In 2020 Deliveroo reported an underlying loss of £224m. That disappointing figure was posted despite a rise in net revenues of 54 per cent to £1.2bn. In the UK and Ireland, the markets where it is most well-established and had had time to work its magic, sales were up by 65% to £599m. Losses in 2019 were £317m, so while it's heading in the right direction, there are no clear signs that it's soon going to break even.
On Monday, the firm announced that it will now sell shares for £3.90 to £4.10 each, which is at the bottom end of the £3.90 to £4.60 range initially suggested. That would perhaps indicate that meetings with prospective institutional investors had not gone well. In this case, those investors who are crucial to the IPO being successful have broken cover and publicly declared they're not going to be taking part.
Governance – The share price structure has been manipulated so that founder and CEO Will Shu will control more than 50% of voting rights even though he'll own less than 7% of the company.
Worker's rights – Deliveroo's reliance on gig-economy workers has moved on from being an 'inconvenience' to a significant risk. Uber drivers have recently challenged their status as 'self-employed' and that could leave firms with flexible working conditions with a hefty bill in the future.
Income – a lot of the funds that have declined to take shares at this stage are income funds and Deliveroo's loss-making track record places the firm in the Growth Stock
No FOMO – industry rival Just Eat listed on the Amsterdam Exchange in May of 2020 and has a share price currently trading in line with where it started.
Just Eat Share Price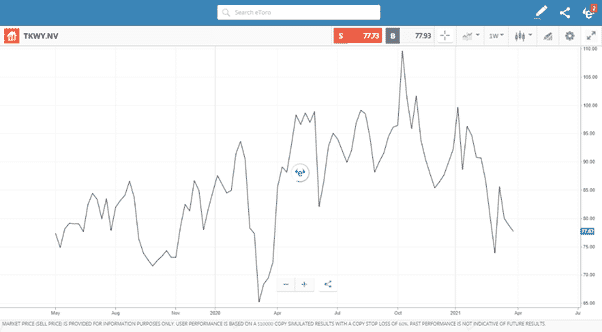 Source: eToro
Deliveroo is the new-age type of stock some have been wanting to enter the London market but it's coming to market with a lot of traditional baggage. For many, it might not be a 'buy' but it is a situation worth following.
If you want to know more about this topic, please contact us at [email protected]