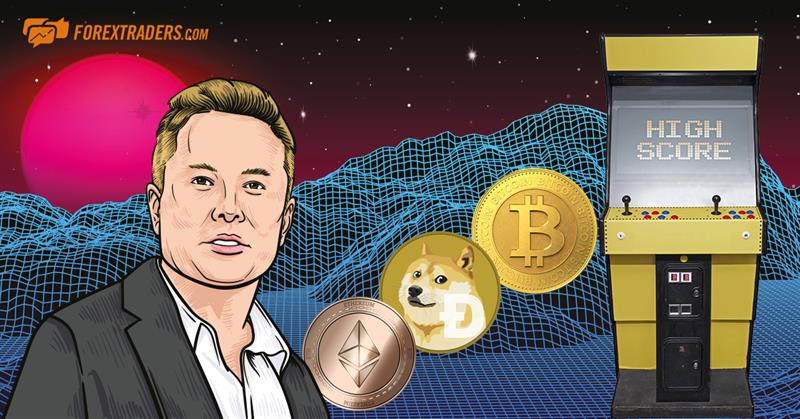 On Monday, cryptocurrencies went "to the moon". One of Elon Musk's favourite soundbites is perhaps the best way to describe the one-day price spike of +20% in Bitcoin. The intraday price trading range of 38,060 – 46,772 was a dramatic one, even for the highly volatile crypto. It was primarily inspired by comments from Tesla, the EV maker that Musk manages.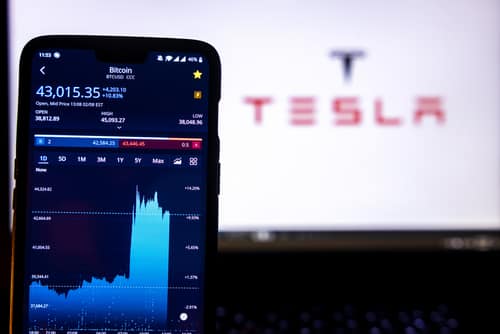 The catalyst for BTCs price move was the disclosure by Tesla, Inc. that it has parked $1.5bn of the spare cash on its balance sheet in Bitcoin positions. The intention was to "diversify and maximise" returns on its cash, but the EV maker also stated it expected to accept Bitcoin as a form of payment for its products.
Bitcoin – 1H price chart

Source: Pepperstone
Tesla's Move Means You Might Now Own Some Bitcoin
As Tesla is a constituent of the flagship S&P 500 stock index anyone with a pension which has a position in that, now has exposure to Bitcoin price moves. After all, Tesla has pledged a hefty chunk of change, approximately 8% of its spare cash, to the position.
The investment industry will over the next few days engage in some head-scratching as it considers the question, "if I want to invest in Bitcoin, isn't that a decision for me to take myself?"
So far, that question hasn't been asked with too much intensity because BTC price is rocketing and profits often buy friends. The crypto is up 50% year-to-date and Tesla stated it had built its position through January.
Even if the move might not have been quite what the pension fund managers bargained for the fall-out won't kick-off until, or if, the price of BTC falls.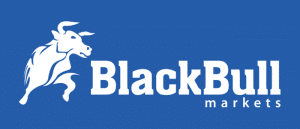 Forextraders' Broker of the Month
BlackBull Markets is a reliable and well-respected trading platform that provides its customers with high-quality access to a wide range of asset groups. The broker is headquartered in New Zealand which explains why it has flown under the radar for a few years but it is a great broker that is now building a global following. The BlackBull Markets site is intuitive and easy to use, making it an ideal choice for beginners.
Tesla's Bitcoin Gamble – What Happens Next?
The move by Tesla is a positive for Bitcoin but another question being asked is what the move means for Tesla. Speaking with Trading Nation, Mike Novogratz of Galaxy Investment Partners saw Musk's passion for crypto as a positive for the Tesla stock price.
"Every company should be looking at how to accept digital currencies as payments, as part of their business scheme. It's not that difficult. It's what customers want. It's where the world is moving."
He continued:
"I think he's getting ahead of the curve and I think you're going to see every company look at that."
A quick look at the USD Dixy index shows why a position of long crypto and short the US dollar might generate returns for Tesla. If there is a break of the key 88.00 support price level, all bets are off.
USD Basket – Monthly price chart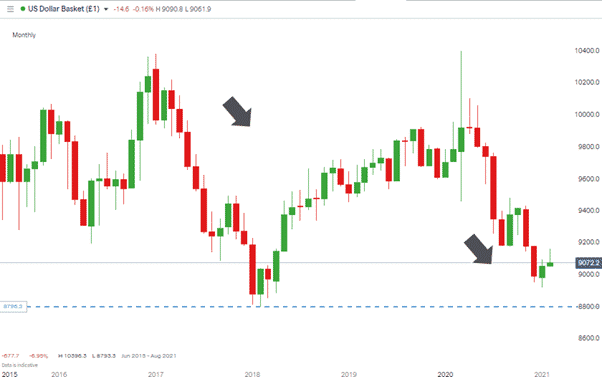 Source: IG
Tesla's BTC strategy is partly founded on the dollar's continued debasement and that of other fiat currencies. It has legs due to the central banks continued pumping of money into the financial system that doesn't look like ending any time soon.
The prominent fund managers who invested in the S&P 500 are aware as Musk is of the long-term challenges facing fiat currencies. If the position proves profit-making, it could encourage more big corporations to follow Tesla's lead.
If you want to know more about this topic, please contact us at [email protected]