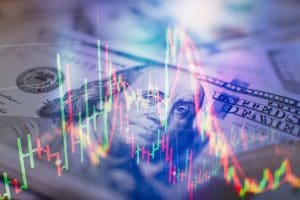 The US dollar continued to be the dominant party in global forex trading on Wednesday.
Its run of good luck in previous days was largely down to Treasury yields performing well. However, its continued steady performance on Wednesday came from other sources, as the Treasury yield boost began to run out.
The dollar index, which measures how well the currency is performing compared to several other significant currencies around the world, was up on Tuesday to an almost monthly high point – reaching 95.517 at one stage.
This time, the dollar's capacity to keep its head above water came largely from growing concerns that central banks are moving towards more dovish positions.
This included the Reserve Bank of Australia, which announced on Tuesday that rates would remain as they are, and suggested that they could be reduced over time. The Australian dollar went down a fifth of a percentage point to $0.7057 in the AUD/USD pair.
Elsewhere, the British pound went up by a quarter of a percentage point in the GBP/USD pair after Prime Minister Theresa May said she would attempt to hold talks with opposition leader Jeremy Corbyn.
With the mid-way point of the forex trading week now here, it's time to look at what the rest of the week holds for traders.
Today (Wednesday), there will be a series of major US data releases. The Mortgage Bankers Association will release its mortgage applications data for the days around March 29th; this was last recorded at 8.9%. This information is due at 11am GMT.
Shortly afterwards at 12.15pm GMT, US employment change data will be released by Automatic Data Processing, Inc. This is expected to show a change from 183,000 to 165,000.
At 2pm GMT, the US Institute for Supply Management (ISM) will release its non-manufacturing Purchasing Managers' Index information for March. This is predicted to show a change from 59.7 to 58.7.
Looking ahead to Thursday, there's a German factory orders data release due out at 6am GMT. Month on month, this was last recorded at -2.6%.
Spanish unemployment change information for the month of March is due out at 7am GMT. This was last recorded at 3,330.
Later in the day, US initial jobless claims for the period around March 29th will be out at 12.30pm GMT. This was last recorded at 211,000.
At 11.30pm GMT, labour cash earnings information for February is expected out of Japan. Year on year, this was last recorded at 1.2%.
On Friday there'll be more information out of Japan. The preliminary leading economic index for the month of February is expected at 5am GMT. It was last recorded at 95.9.
House price data covering the month of March from Halifax in the UK is expected at 7.30am GMT. Month on month, it was last recorded at 5.9%.
Over in the US, nonfarm payrolls information for the month of March is due at 12.30pm GMT.
Average weekly hours worked information for the month of March is due at 12.30pm GMT as well. This statistic, from the Department of Labor, is expected to change from 34.4 to 34.5.