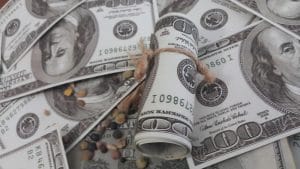 The US dollar began showing signs of its old successful self on Friday as it began to rise in the face of good news from trade talks.
A news piece in the Wall Street Journal yesterday claimed that a senior US government official, Treasury Secretary Steven Mnuchin, was debating whether or not to scale back tariffs on Chinese goods. This claim was later denied by a spokesperson for the Treasury Department.
There's a visit from Chinese Vice Premier Liu He in the calendar for the end of the month too. He will visit the US as part of trade talks, a move seen as a positive development in the easing of tensions.
As a result of the renewed positive feeling around the issue, the dollar index, a tool used for tracking the performance of the US dollar relative to six other major international currencies, was up.
It hit its highest point for two weeks at one stage, reaching 96.264.
Elsewhere, the GBP/USD pair was recorded at $1.2984 – which puts it in a region near its past two-month high stage of $1.3001.
A new week is on the horizon in the forex markets and it looks set to be a busy one.
Monday will be relatively quiet in the US due to the public holiday for Martin Luther King, Jr. Day.
Chinese gross domestic product data will be out at 2am GMT, meaning all eyes will be on the Asian markets. This data, covering the fourth quarter of last year, is expected to show a year on year rise from 6.4% to 6.5%.
German producer price index data for December is set to come out at 7am GMT. It is expected to show a year on year rise from 3.2% to 3.3% over December.
Unemployment figures for January are expected out of the UK at 9.30am GMT on Tuesday. These are forecast to remain steady at 4.1%.
Canadian wholesale sales data for November is due at 1.30pm GMT on Tuesday. This is expected to show a sharp drop from 1% to 0.4%.
Existing home sales levels in the US for December will come out at 3pm GMT. Month on month, these are expected to drop from 5,320,000 to 5,280,000.
Over in New Zealand, the consumer price index for the fourth quarter of last year is expected out at 10.45pm GMT.
The World Economic Forum in Davos will begin on Tuesday and is due to continue until the end of the week.
Into Wednesday, the Bank of Japan will announce its interest rate decision and release a statement on the matter at 2am GMT. The rate currently sits at -0.1%.
French data on January's business climate, meanwhile, is expected at 7.45am GMT.
At 1.30pm GMT, Canadian retail sales information for November is expected. This is due to show a move from 0.3% to 0.4%.
Thursday's major event will be the interest rate decision from the European Central Bank (ECB) at 12.45pm GMT. The rate currently sits at 0%.