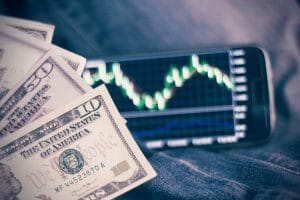 The US dollar was looking set to experience the largest dip in its value for over three months as trading began on Friday.
Worries about next week's interest rate decision from the Federal Reserve are looming large, and there is a perceived risk that the bank will release pessimistic comments on the state of the world's economy.
The dollar index, which measures the greenback's performance compared to several global currencies, was down by 0.2% on Friday – reaching 96.61.
However, when measured across the whole week, it is likely to have gone down 0.7% – a plunge which hasn't been seen since 2018.
Elsewhere, the British House of Commons' decision to vote in favour of not leaving the EU without a deal at the end of this month had a positive effect on the pound. The currency was at $1.3217 in the GBP/USD pair, and it has risen almost two percentage points over the course of the week.
With the trading week now coming to an end, it's worth looking at what's coming on the forex trading calendar next week.
On Monday, there will be a number of key releases, including Japanese industrial production figures which are due out at 4.30am GMT and will cover January. Year on year, these were last recorded at 0%.
A monthly report from the German Bundesbank central banking system is due out at 11am GMT.
The day will be rounded off by a speech from Christopher Kent, Assistant Governor (Economic) at the Reserve Bank of Australia. He is due to speak at 10pm GMT.
Shortly after this, and into Tuesday GMT time, the Reserve Bank of Australia will release the minutes of its most recent meeting. These are due at 12.30pm GMT.
At 9.30am GMT, British figures for average earnings, excluding bonuses covering January, are due. When measured three months/year, this is expected to show a decline from 3.4% to 3.3%.
There'll be more reporting from global central banks later in the day as the Bank of Japan releases its monetary policy meeting minutes at 11.50pm GMT.
On Wednesday, the British retail price index for February will be out at 9.30am GMT. This is expected to show a month on month shift from -0.9% to +0.7%.
Consumer price index data for February will be out at the same time. This is expected to show a month on month change from -0.8% to +0.3%.
The main event on Wednesday, however, will be the interest rate decision due out of the US Federal Reserve. The rate currently sits at 2.5%, and it is believed by many analysts that no further changes are on the horizon this time round.
The Federal Open Market Committee is expected to give a press conference shortly afterwards, at which it will discuss the decision.
The day will end with a gross domestic product data release from New Zealand covering the fourth quarter of last year. This is expected to show a quarter on quarter rise from 0.3% to 0.6%.