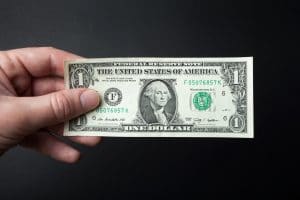 The US dollar was on a high on Tuesday after it surged ahead in the forex markets compared to major peers.
The recent release of positive US GDP figures for the fourth quarter of 2018 buoyed treasury yield values, which in turn led to higher demand for the dollar.
The US dollar index, a tool which measures the performance of the greenback in comparison to six important global currencies, went up by 0.05% to 96.276 on Tuesday.
It also managed to surpass 96.8 earlier in the day, which put it close to its recent fortnightly high point.
Elsewhere in the forex markets, the Australian dollar plummeted in the AUD/USD pair by 0.2% and reached $0.7077 at one stage.
The euro also suffered over the course of the day. It went down by 0.1% in the EUR/USD pair to $1.1326.
This was due in large part to the impending European Central Bank interest rate decision but was also caused by fears of a drawn-out economic slump in the Eurozone.
There's a packed economic calendar for foreign exchange market traders to be aware of this week.
Later today (Tuesday), there will be a data release covering European retail sales in the month of January. This is expected to show a year on year change from 0.8% to 1.2% when it is released at 10am GMT.
This afternoon's key event will be the release of the ISM Non-Manufacturing Index from the Institute of Supply Management (ISM) in the US.
This release, covering the month of February, is expected to show a change from 56.7 to 57.3.
The US monthly budget statement covering January is also due to come out at 7pm GMT.
Into tomorrow, Australian gross domestic product information for the fourth quarter of 2018 is expected to show a quarter on quarter rise from 0.3% to 0.4%.
At 3pm GMT, the Bank of Canada will make its interest rate statement. It's likely that this will remain steady at 1.75%.
Several speeches from central bankers around the world are expected later in the day. John C. Williams, who is the President of the US Federal Reserve Bank of New York, will speak at 5pm GMT.
Shortly afterwards at 5.30pm GMT, there will be a speech from Michael Saunders, who is a member of the Bank of England's Monetary Policy Committee.
Into Thursday, the main event will be a European gross domestic product data release covering the fourth quarter of 2018.
There is likely to be some reassuring news for European investors, with quarter on quarter figures due to show no change from 0.2%.
All eyes will remain on Europe later in the day, meanwhile, as the European Central Bank makes its interest rate decision at 12.45pm GMT. It is widely forecast that this will remain at 0%.
The weekly round of US jobless claims information will be out at 1.30pm GMT. Continuing jobless claims for the week of January 25th will be out then.