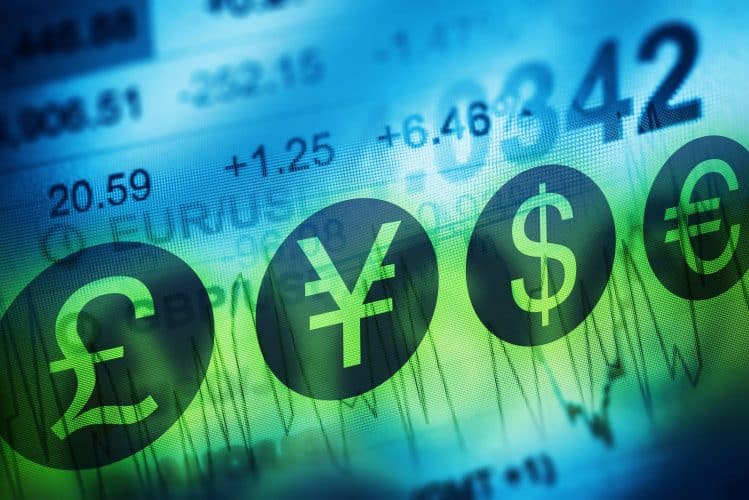 The recent surge in the US dollar price continues to be the main talking point in the markets. Whether trading the currency in its own right or using it as a guide to other asset groups, it's the market to watch.
Asian markets were down overnight thanks to fears about Evergrande Group. The property giant has another debt instalment to pay on Friday. Jitters about its ability to do so have led many to turn to the safe-haven aspects of USD.
There are reasons to scratch the surface and establish if the quoted reasons for dollar strength are the ones driving the price move. Evergrande's debt payment has been marked as a big day for the markets for some time, with Forex Traders' analysts providing this roadmap for the situation last week. In relative terms, China's crisis is very much a domestic rather than a global matter, and it could be a case of fitting a story to the price move, rather than the other way around.
US dollar strength is something that needs to be understood. The five-year price chart for the US Dollar Basket index shows that recent events could mark a watershed.
US Dollar Basket 5yr price chart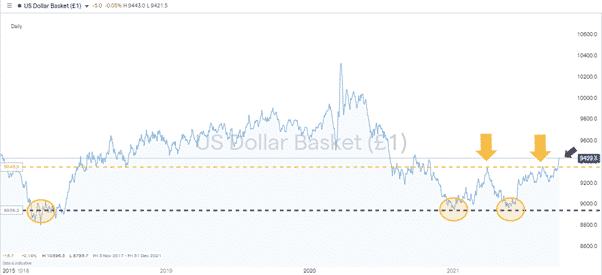 Source: IG
The recent double bottom pattern occurred at the same levels as the price low of 2018. The support for the index in the region of 88 – 100 proved significant over a long period. With the bottom of the market confirmed, the obvious question is how far any upward price trend might run?
Technical analysis and the two failed breakouts at the 93.50 level in March and August of this year had until Monday the 27th of September, marked the upper end of the trading range. That resistance level was broken in emphatic style and will now convert to form a substantial support level for those looking to go long.
US Dollar Basket 1yr price chart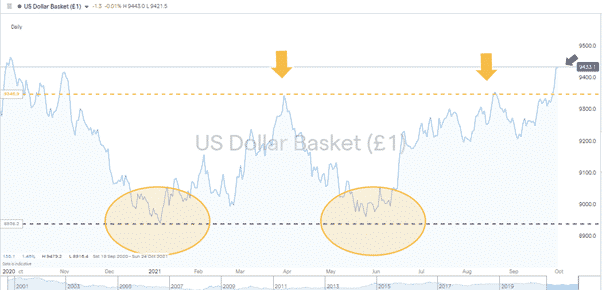 Source: IG
What This Means for the Markets
The strength of the dollar surge means the genie is well and truly out of the bottle. Appetite for the lower risk US dollar is at its highest level for almost 12 months which comes down to a changing interpretation of economic fundamentals. Evergrande may have acted as a catalyst of the move, but the momentum for the trend is based on the actions of the US Federal Reserve.
The big date to watch out for is the 2nd – 3rd of November when the FOMC next convenes to discuss interest rates and share their findings with the markets. Some guidance may be offered in the interim, but October's trading will be carried out with Fed chair Jerome Powell firmly in mind.
Big moments like this can mark the start of new trends. Those may still be developing, but while the US dollar basket index trades above 93.50, the mood is that change could be about to happen.
If you have been the victim of a scam, suspect fraudulent behaviour, or want to know more about this topic, please get in touch with us at [email protected]