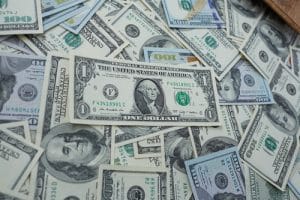 There was a mixed picture in the global foreign exchange markets on Tuesday as trading got underway.
The US dollar managed to hover just below its highest position all year. The dollar index, a tool for assessing the greenback's performance in comparison to other currencies including the euro and the pound, rose to 97.41 at one stage.
This comes after a twin boom for the currency. Statistics on the US economy have shown promise in recent weeks, and analysts are forecasting further positive news as time goes on.
With the Federal Reserve saying last week that another interest rate rise was on the cards, markets have responded favourably.
The Japanese yen, in particular, lost out as a result of the dollar's strong performance. The USD/JPY pair rose by 0.23% on Tuesday, and it now sits at 114.10.
The British pound, meanwhile, was up by 0.33% against the dollar and managed to hit 1.2891.
This came in spite of the fact that there was renewed uncertainty around the chances of Britain leaving the EU with an exit deal in place.
On Monday, Prime Minister Theresa May said that talks between her country and the EU were now in what she described as the "endgame", but there's still no guarantee of developments.
After a relatively quiet day on the economic calendar front yesterday, forex traders now have plenty to monitor for the rest of the week.
Today sees a significant set of releases from Europe, including the ZEW "current situation" survey covering Germany in November. This is expected to move from 70.1 to 65.
A Europe-wide ZEW release covering economic sentiment is expected too. Both releases are out at 10am GMT.
At 10pm GMT, meanwhile, Mary Daly, the head of the Federal Reserve Bank of San Francisco, will speak.
This will be followed shortly afterwards by the Australian Westpac consumer confidence survey for November, which will be out at 11.30pm GMT.
Looking to tomorrow, preliminary German gross domestic product data is expected for the third quarter of 2018.
Out at 7am GMT, this is forecast to show a quarter on quarter change from 0.5% to -0.1% – a development which could cause significant troubles for the euro, as Germany is considered the bloc's economic powerhouse.
Britain's retail price index for October, which is due out at 9.30am GMT, is expected to show a modern rise year on year, with the figure predicted to go from 3.3% to 3.4%.
Core consumer price index data is expected to show a rise in the same period from 1.9% to 2%.
On Thursday, a batch of significant Australian data points will be released at 12.30am GMT. These will cover unemployment where participation rates for October are expected to rise a tiny bit from 65.4% to 65.5%, while the overall unemployment rate for the same month is expected to go from 5% to 5.1%.
Also out on Thursday will be retail sales data from the US, covering October and excluding car sales. This is due out at 1.30pm GMT.
Month on month changes here are forecast to change from -0.1% to 0.5%.