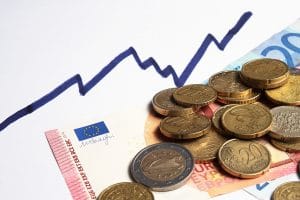 The downward spiral of US Treasury yields spelled further trouble for the dollar on Thursday as an increasing number of traders began to sell off the greenback.
Ten-year US Treasury yields, which are widely seen as benchmarks, were down yesterday to 2.826% – their lowest point in three months.
In another blow, the US trade deficit was later recorded at its highest point for a decade when October figures were released.
Other currencies managed to mop up some of the gains left by the decreasing value of the dollar. The euro, for example, went up 0.26% against the greenback, at one stage reaching $1.1373.
Against the Japanese yen, the dollar dipped significantly by 0.4%.
The British pound also managed to pick up some of the shortfall left by a declining dollar. It rose 0.38% over the course of the day – although the sustainability of these gains was in doubt somewhat given the ongoing Brexit battle which the British economy has to navigate.
Not all non-dollar currencies were winners, however. The CAD/USD pair was recorded at a year and a half low point at one stage, following pessimism from the Bank of Canada's governor over just how strong the country's economy actually is.
Looking ahead to next week, there's plenty for forex traders to watch out for.
Both the pound sterling and the euro may be affected by the European Court of Justice's decision on whether or not Britain can unilaterally end the Brexit withdrawal process. This decision is expected at 8am GMT.
The pound could also be under pressure from British gross domestic product data for October, which is out at 9.30am GMT. There are currently no analyst forecasts available for this release.
Canadian housing starts information for November is due out at 1.15pm GMT. Its previous recorded position was at 206,000.
On Tuesday morning, the Australian house price index for the third quarter of the year is due at 12.30am GMT. Its last recorded position was at -0.7%.
All eyes will be back on Britain at 9.30am GMT when average earnings rates, excluding bonuses, for the month of October will be released. The last position was recorded at 3.2%.
In Australia, the Westpac consumer confidence survey for December is due out at 11.30pm GMT. Its last recorded position was 2.8%.
On Wednesday, core consumer price information from the US covering November is due at 1.30pm GMT. Its last recorded position was 2.5%.
Looking to Thursday, the Swiss National Bank's Governing Board will release its monetary policy assessment at 7.30am GMT – a move which is due to contain its interest rate decision.
The European Central Bank's interest rate decision is expected at 12.45pm GMT. Currently, this rate sits at 0%.
Finally, Friday of next week sees a number of major US releases. Retail sales for November are expected at 1.30pm GMT, while their previously recorded position was 0.8%.
Industrial production data for the US is expected not long afterwards at 2.15pm GMT. Its last recorded position, meanwhile, was at 0.1%.