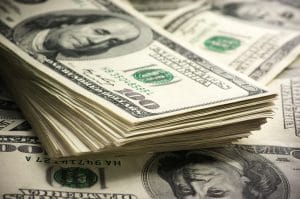 The US dollar took a hit on Friday and into this week after comments from the US Federal Reserve boss hinted that future interest rate rises weren't set in stone.
Jerome Powell, who chairs the central bank, told the American Economic Association on Friday that the institution won't necessarily go down a route of interest rate rises over time, and that market movement will be considered when the decisions about future potential interest rate changes are made.
It is "prepared to shift the stance of policy", he said.
As a result, the dollar took a hit – and many other global currencies advanced instead.
The Australian dollar, for example, went up by 0.2% against the US dollar and reached its best performance since mid-December. While the euro rose by 0.22% in comparison to the US dollar.
The US dollar index, which tracks the currency's performance compared to a group of six peers around the world, was resting at 95.96 before European markets opened on Monday – which represents a drop of 0.2% from its intraday peak.
As the first full trading week of the New Year gets underway today, there's a lot for forex traders to keep their eyes on.
Today (Monday) sees factory orders information out of the US this afternoon covering the month of November. Month on month, these are expected to move from -2.1% to +0.7% when they come out at 3pm GMT.
In Canada, the Ivey purchasing managers' index for December will be out at 3pm GMT as well. This release, covering December, is expected to show a slight change from 57.2 to 56.8.
Looking ahead to Tuesday, Australian trade balance information for November is expected at 12.30am GMT. This is forecast to shift from 2,316,000 to 2,230,000.
The Japanese consumer confidence index for December is expected at 5am GMT, while the Swiss unemployment rate for December is due at 6.45am GMT. This is forecast to show no month on month change from its previous position of 2.4%.
French trade balance data for November will be out at 7.45am GMT, while Halifax house price information for that month is expected at 8.30am GMT. This latter release is expected to show a change from -1.4% to 0.2%.
A range of Europe-wide releases will come at 10am GMT. Industrial confidence information for December is expected, with a move from 3.4 to 3.1 predicted.
Business climate information for the same month is expected to move from 1.09 to 0.99, while consumer confidence is expected to hold firm at -6.2.
Wednesday's significant market event will be the Bank of Canada's interest rate decision, which is due at 3pm GMT. It is expected that the Bank will hold the rate steady at 1.75%.
It will be followed by a press conference. Other central bank speeches will take place on Wednesday, including one from the Bank of England's governor Mark Carney at 3.30pm GMT and one from the US Federal Reserve Bank of Boston's President at 4.30pm GMT.