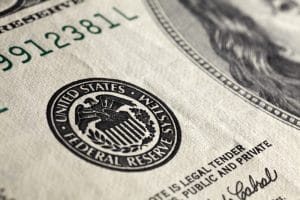 The US Federal Reserve announced on Wednesday that it would raise interest rates in the country from 2.25% to 2.5% – leading to a knock-on effect all over the forex markets.
However, while the US dollar managed to surge a little bit in the wake of the news, it did not appear to move towards a wholehearted rise.
It actually went down against several major competitors over the course of the day, including by 0.2% against the Japanese yen to 112.36.
The Federal Reserve's decision was attributed to positive economic data out of the US in recent times. However, it also predicted that while this year would see a 3% rise in overall economic growth, next year's figure would go right down to 2.3%.
It claimed that there would be "some" rate hikes, expected to be largely gradual in nature, in the future. While, officially, the exact timing and extent of these have been left uncertain, the Fed's economic forecasts hinted that there could well be two rate rises in 2019 and then one in 2020.
As the week begins to draw to a close and the Christmas break week appears on the horizon, it's wise to take stock of what's coming up in the next few days.
Today (Thursday) sees the Bank of England release its interest rate decision at 12pm GMT. It is largely assumed that the Bank will keep the current rate of 0.75% in place.
At 1.30pm GMT, the initial jobless claims released by the US Department of Labor will be released. These will cover the week of December 14th and are largely expected to show a rise from 206,000 to 216,000.
Continuing jobless claims for the week of December 7th will be out at the same time. These are forecast by analysts to rise from 1,661,000 to 1,665,000.
Over in Canada, wholesale sales data for the month of October will be out at 1.30pm GMT as well. These are expected to show a month on month rise from -0.5% to 0.4%.
Into Friday, business confidence data for Italy in December is expected at 9am GMT. This index is expected to reveal a drop from 104.4 to 103.6.
Consumer confidence data for the same country is out at the same time. This is expected to show a downward move as well, this time from 114.8 to 114.0.
Later in the day, the annualised gross domestic product data out of the US will be released, covering the third quarter of the year. This is expected to remain steady at 3.5%.
Canadian retail sales information for October is expected at 1.30pm GMT. This was last recorded at a month on month position of 0.2%.
Into next week, a number of major holidays will reduce international forex market activity significantly.
Monday sees the birthday of the Emperor of Japan, so banks in the country will be closed and yen action may well be slower than usual.
Many European, North American and Antipodean markets will be closed on Tuesday due to the Christmas Day holiday.