What's next? This question continues to resonate in hallways. We are already one quarter in, but market uncertainty is still the new normal. With each passing week of the Trump administration, the complexities of the future keep getting, well, more complex. Foreign policy issues are now coming to the forefront that, if not handled correctly, could lead to a host of consequences, not least of which might be a race for safe havens and a burst of volatility in the foreign exchange markets.
Industry pundits are actively searching for clues, wherever they can find them, of what the road ahead might bring. Search as they may, these analyses cannot avoid the fact that our present global economic situation may just be too unique in just too many ways. Although analysts can point to several similarities from times gone by, there are, without a doubt, quite a few rather spurious characteristics that defy legitimate forecasting techniques. Modeling wizards can only guess how certain dependent variables might react to specific risk factors, whether domestic or geopolitical in nature. The end result is a constant guessing game.
Read more forex trading news
The winner of this perennial guessing game, if there is one, may gain a host of new subscribers to his or her newsletter, but the losers will simply withdraw to guess again on another day. Financial markets will assimilate the latest guesstimates, form a new narrative, jostle about to reach consensus, and then move on to the next phase. As for the forex market, we have been anticipating a jostling of the deck chairs for some time. Tight ranging markets are no fun, although there have been significant movements in the major pairs to warrant a reasonable level of net trading gains. For example, here is a recap of the first quarter's action: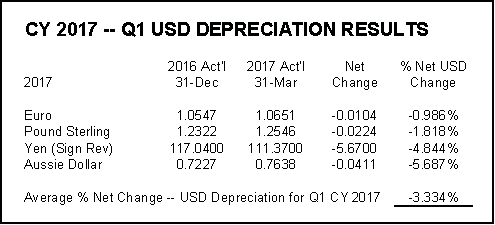 The U.S. Dollar retreated versus each of its major brethren to the tune of 3.3% over the first three months of 2017. There were a variety of causes, but the general overarching reason was that the market had sold on the news after December's Fed rate hike and discounted the Fed's projection of another two rate hikes to come. There was also the unexpected market reaction to Trump's promises of more economic stimulus programs, which sent positive jolts across the globe that demand in the U.S.A. would soon raise the tides for everyone's economic ship.
The mood, however, has darkened over the first week in April. The greenback recovered a full percentage point on average over its rivals. The Euro, Pound, and Aussie lost 70, 180, and 140 pips, respectively, while capital flows to Japan boosted the Yen by a mere 30 pips. Analysts believe that a gradual shift is taking place in the background, as smart money starts to react to a new risk assessment of the months ahead. Brexit is now official, as formal papers were finally submitted to the EU. Things are heating up in Syria, enough so that Trump's generals launched a missile attack on one of its primary fighter jet squadrons. Is the global politic about to unwind? Is chaos imminent?
March Non-Farm Payroll figures were unimpressive…
Quite a few analysts were dismayed by Friday's release from the Department of Labor. The prevailing takeaway was that the data might be an early signal that recession is on the way. As has been the trend for quite some time, the Street was expecting another round of 200,000 net job additions, but, unfortunately, the figure came in at 89,000 for private sector job additions (governments added another 9,000), and the two previous months were downgraded by 38,000. Layoffs have been commonplace in the retail sector, a sign that consumers are shifting their favor from brick-and-mortar shopping malls. Nearby service companies, bank lending portfolios, and counties that depend on related property taxes will be at risk going forward.
If there was any good news, it was that unemployment dipped to 4.5% and a measure of discouraged workers fell by 125,000, its largest decline since the financial crisis took hold in 2008. As noted above, the U.S. Dollar regained ground on many of its major pairing partners, and the obvious slowing of the U.S. economy prompted another open debate as to whether the Fed would continue tightening anytime soon. The Trump administration's short-lived euphoria over February job additions faded like snow in the desert, as reality set in that massive job growth may be a tougher nut to crack.
One analyst tried to explain away conflicting stories behind household and firm survey data, as follows: "This divergence sometimes occurs because the data come from two different surveys. From other data on economic activity, such as factory orders, it is likely that the payroll survey, which will be revised over the next two months as more data come in, is temporarily out of line with the household survey. But no one knows for sure." Another analyst had other worries: "Poor jobs creation and downward revisions from the prior two-months are early signs of recession.
What is an assessment of the major risks that could reshape market directions?
The prevailing narrative in the investment community for some time has been that the U.S. economy will pull the rest of the world out of its current GDP growth malaise. Add to this scenario that President Trump will reform taxes, cut regulations, and expand infrastructure spending, and you have the latest justification for market exuberance that has reached a potential crescendo.
Risk, however, never sleeps. It has been building on several fronts, necessitating a brief re-assessment, if we are to be prudent in the days that lie ahead. With a primary focus on the U.S. market and what could derail its train, there are four significant risk areas that cannot be ignored (Section headings provided by one concerned analyst):
1)    "Reflation Frustration: The "Trump Trade", as it has been called, is beginning to fade into the sunset. Momentum is waning, as enthusiasm is attacked from all sides, i.e., the failure to adopt a healthcare replacement bill, dismal jobs report data, and firing missiles into Syria. If you get behind the data, there are significant indications that a shift in loyalties is occurring. The Yen has strengthened beyond anticipated resistance levels. Treasury yields are in decline, and equity positions are being unwound. The race is on, although very quietly at the moment, to determine who the "greater fool" will be that is left holding this market's bag of air. One can easily make an argument that the bulls will be in charge for a while longer, but smart money is not buying that proposition. Caution is advised.
2)    "Car-Mageddon": U.S. auto sales figures cratered last week. This bad report should not have come as a surprise. Although auto sales had been a strong underpinning of the U.S. economic recovery, auto lot inventories have been gradually expanding over the course of the past few years. The inventory to sales ratio recently surpassed three months, a level not seen since the late eighties, if you exclude the Great Recession period. Low sales will force discounts from automakers to make up lost ground, but the issue is primarily poor credit scores for the populace at large. A dramatic increase in non-performing loans in this sector is a real possibility. The chart below depicts the erosion in this industry: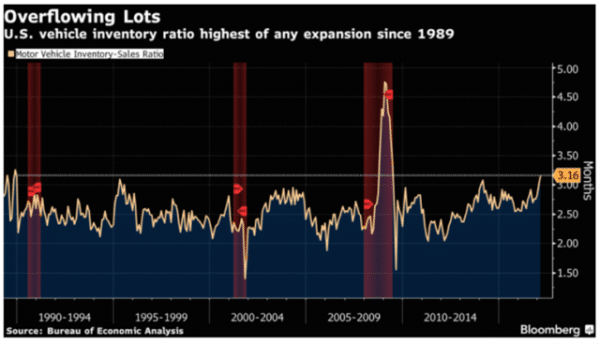 3)    "Retail Apocalypse": What is going on in the retail sector? The U.S. economy is well known to be consumer driven, by as much as 70% by some estimates. Household disposable income growth on an inflation-adjusted basis has been nearly flat for fifteen years. Household debt has climbed in order to fill the gap and maintain existing standards of living, but a ceiling is forming that will stop this trend in its tracks. As a result, retail spending has been imploding for several months, Once again, this situation should come as no surprise, as the chart below will attest. The downward trend in brick-and-mortar malls and department stores is palpable. Yes, there will be winners in e-commerce, but will gains in that division offset the debilitating losses in others? Consumers need to have more money to spend and want to spend it, but where will that stimulus come from? Tax cuts for the wealthy will not do it. More jobs would help, but expanding wage bases are the solution, and leaders in the corporate world are continuing to outsource and offshore labor-intensive activities to cheaper regions, i.e., not here.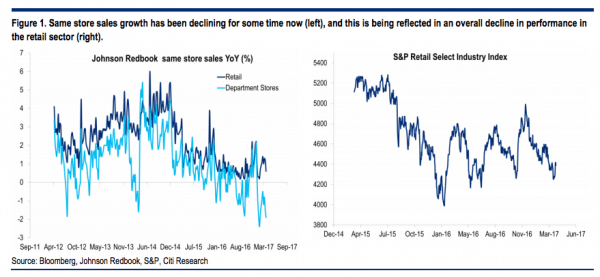 4)    "Geopolitics": If everything else had been sweet, then we might expect geopolitics to raise its ugly head and scare weak-handed investors into predictable safe havens. Syria is heating up, a bit of a bad pun after Trump and his henchmen delivered 59 Tomahawk missiles onto an offending airstrip last week. For every action, there is always a reaction, and although most global leaders applauded the show of force, the U.S. has come down on the side of the Sunnis, while Russia, Iran, and Syria are decidedly in the Shiite camp. What will happen next? Expect more volatility, as traders panic on every possible sign of tension.
There is one more disturbing tend related to employment data…
Labor participation rates for men between the ages of 25 and 54 are in decline.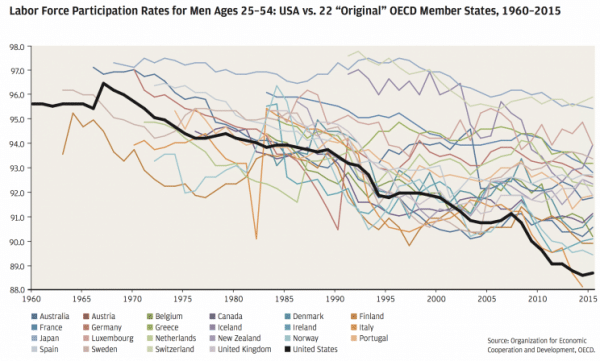 With the exception of Finland, the U.S. rate is lagging behind every other developed nation on the planet. If the rate returned to only 93%, the average for those nations presented, then there would be ten million more men in the workforce, earning salaries, and spending their new found cash, hopefully, at the mall and in department stores.
A full 57% of the non-working males are on some form of disability. Others lack the skills to tackle today's modern job needs. These are the so-called "left behind" members of our society that have fueled populist movements across the globe and were grist for Trump's mill of campaign slogans. When Jamie Dimon, the CEO of JP Morgan Chase, was asked to comment on the current milieu, he responded, "It is understandable why so many are angry at the leaders of America's institutions, including businesses, schools and governments. Collectively, we are the ones responsible."
Concluding Remarks
And the beat goes on, but are we hearing ominous drumbeats in the distance? It remains to be seen, but there are a number of disturbing trends that are causing analysts and investors to lose sleep at night. The world is looking for positive signs, not political rhetoric, that things will definitely get better and that we are on the right track. If not, then to be forewarned is to be forearmed! Stay cautious!