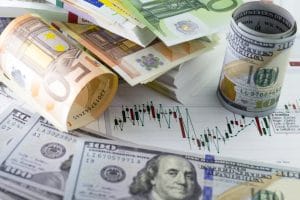 The single European currency managed to crawl its way upwards during trading on Wednesday.
The euro was up by 0.1%, to $1.1304, over the course of the day. It came in part after analysts began to revise their expectations about the European economy's performance.
Figures out this week from China, for example, suggested that the manufacturing sector was doing well there – and given that European firms buy-in from the East Asian economy, this was positive news.
However, whether or not it will be enough to encourage monetary policy-makers at the European Central Bank to push up their interest rates is another matter.
Elsewhere, the US dollar index, which tracks the greenback's performance in comparison to a number of other major global currencies, remained fairly static. It was recorded at 97.051.
However, the Australian dollar saw changes in its value over the course of the day. The currency, which is often deeply affected by commodity price changes, had been doing well in recent days following a rise in crude oil prices. However, the end of this rise period meant that the dollar remained static at around $0.7179. It did manage to scale the heights of $0.72 at one stage thanks to an economic data release.
The forex trading week may be coming to a close, but there's still a lot to monitor.
A round of Markit PMI information is scheduled for today (Thursday). Over the course of the morning, manufacturing and services data will be out of Germany and France – and then Europe-wide.
British retail sales data for March is expected at 8.30am GMT and is due to show a month on month change from +0.4% to -0.2%.
Retail sales information from the US, covering March, is due at 12.30pm GMT. This is expected to show a month on month change from -0.2% to +0.7%.
The weekly round of jobless claims will come out of the US at 12.30pm GMT. Continuing jobless claims for the dates around April 5th will be released and were last recorded at 1,713,000.
Initial jobless claims for the period around April 12th are also expected. This particular metric was last recorded at 196,000.
A series of Japanese data releases are expected to round off the day at 11.30pm GMT. The main one will be the overall national consumer price index for March, which was last recorded year on year at 0.2%.
Looking ahead to tomorrow (Friday), most major economies are likely to experience a slowdown due to Good Friday, which is celebrated as a public holiday in Britain, North America and large parts of Europe.
However, there will be some action over the course of the day. In Italy, there'll be a business confidence release covering the month of April at 8am GMT. This was last recorded at 100.8. There will also be a consumer confidence data release covering April, which was last recorded at 111.2.
Over in the US, there'll be a range of housing-related data releases including housing starts information for March. This will be announced at 12.30pm GMT and is forecast to show a month on month change from 1,162,000 to 1,230,000.