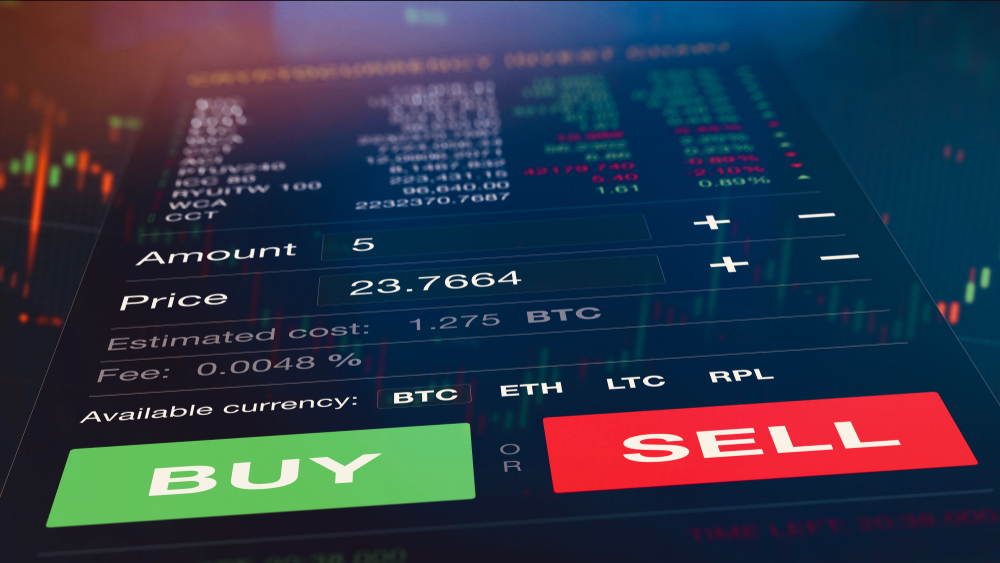 Forex and Crypto markets are becoming a focus of attention. While equity indices continue their apparently unstoppable ascent to post-pandemic price levels, the currency and crypto markets have seen an uptick in volatility.
For equity markets, all news is good news at the moment but the situation in other asset classes is a lot less clear.
GBPUSD
Cable prices continue to become increasingly volatile with the will-they-won't-they Brexit talks turning into a never-ending saga. With deadlines slipping, price reflects some optimism returning to the chance of a post-withdrawal agreement.
The fact that talks are continuing could mean progress is being made. With the odds of a deal being about 50%, there doesn't appear to be too much upside for GBP. In December 2019 the high of 1.35156 was posted. GBPUSD did trade above that level on the 4th of December 2020 but failed to close above it.
GBPUSD – Monthly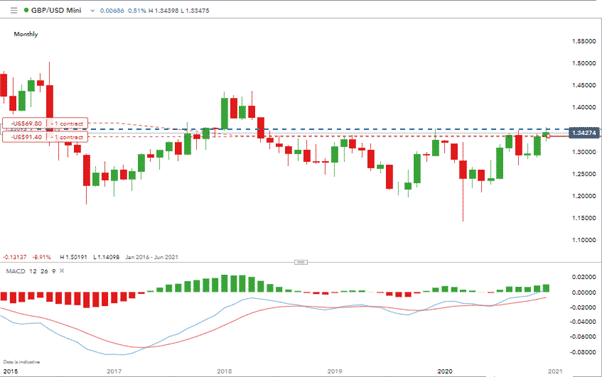 Source: IG
GBPUSD – Daily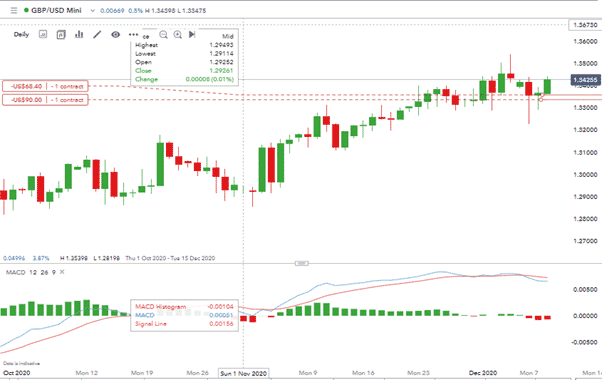 Source: IG
Wednesday saw GBPUSD back trading well above 1.34. The 5-min price chart shows a steady influx of buying pressure rather than the whipsawing which characterised Tuesday's market. The supporting trend line is providing consistent support for further price increases.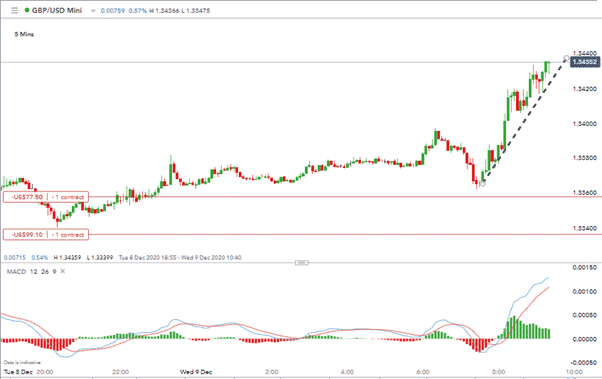 Source: IG
USDCAD
Canadian dollar fans have enjoyed the markets 'risk-on' approach since March.
USDCAD's high print of 1.4668 in March is now 12.84% off current price levels.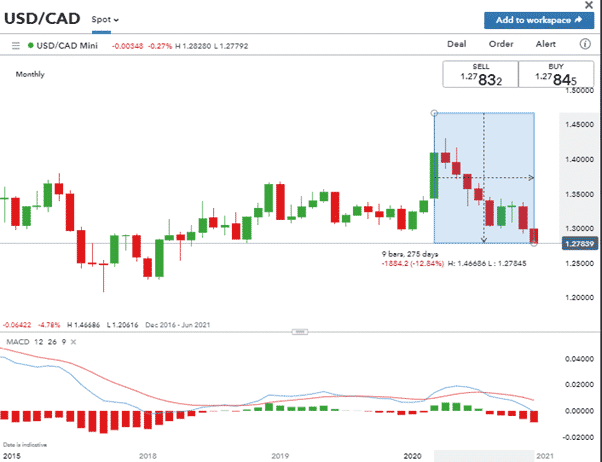 Source: IG
There aren't too many technical factors standing in the way of further weakness. MACD indicators are at their lowest level for three months. Price is below the 20, 50 and 100 moving averages and while a momentary dead-cat bounce might be on the cards, the path of least resistance remains skewed to the downside.
Attention will instead turn to the Bank of Canada and its announcement on interest rate policy that is due to be released on Wednesday.
The market has priced in 'no-change' to be declared at the BoC's December briefing. If that is the case, there could be further downward movement in USDCAD.
Are Cryptos Beginning to Lose Momentum?
The upcoming ban on specific UK clients trading cryptos might not be the driver of weaker crypto prices, but it won't help. A full break-down of how that regulatory change might impact the price of BTC, ETH, XRP and others can be found here.
Prices in crypto markets are on the slide and it might be more of an old-fashioned case of a market being overbought. The Bitcoin bull market has been in place since the question was raised last week as to whether the current price action represents the consolidation of a market running out of steam. That question remains, and Bitcoin is notoriously hard to value. No one would discount the crypto continuing past $20k but the recent pause suggests that any price rises above that level may be different in nature to those of the last few months.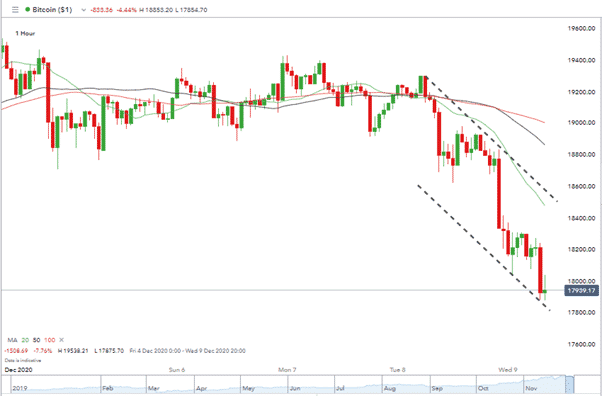 Source: IG
When BTC approached the previous 'big-number' resistance level of $10k it needed four attempts (July 2019, Sep 2019, Feb 2020 and Jun 2020) to break it and it also fell back to give a confirmatory test of that support level in Sep 2020.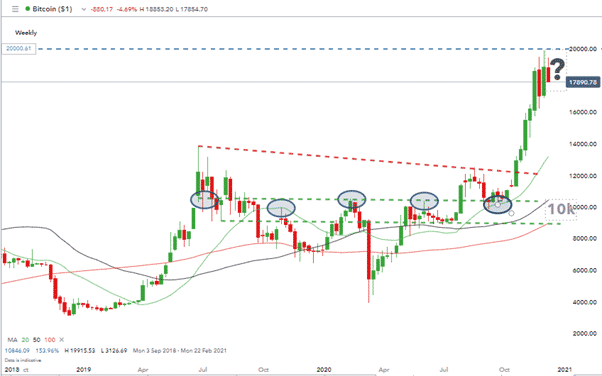 Source: IG