The UK economy has taken centre stage this week with news releases, but despite jobs and inflation 'beats' the currency pair, GBPUSD has failed to break out. The simple explanation, which looks at the relative strength of the US dollar itself, indicates where the global economy might be heading next.
GBPUSD – Daily Price Chart – 2021 – Downward Channel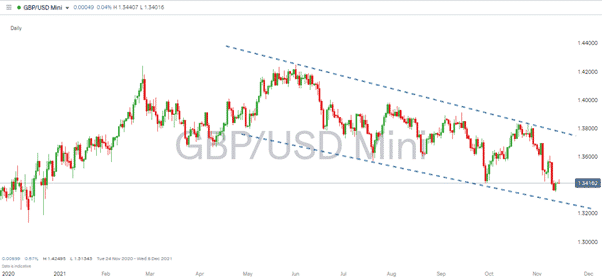 Source: IG
UK Inflationary Pressures Continue to Build
Speculation at the start of the week centred around the prospects for a sterling rally. The UK unemployment numbers are due on Monday and CPI inflation data due on Wednesday are identified as potential catalysts for a price move. The obvious choice for trading the move was cable. The most liquid GBP forex pair is highly liquid, comes with tight trading spreads and is well covered in terms of analyst research notes.
Monday's UK jobs data turned out to be surprisingly positive. Despite the government furlough scheme coming to an end, the unemployment rate in the UK for July to September fell to 4.3%, down by 0.5% compared to a year earlier.
Wednesday morning saw UK inflation numbers also beat estimates. The CPI rose by 4.2% in the 12 months to October 2021, up from 3.1% in September, beating a poll of economists that had predicted a figure of 3.9% for October.
All of this buoyant economic data undoubtedly points to more pressure being placed on the Bank of England to raise UK interest rates harder and faster than previously expected. Higher rates should then see GBP become more attractive and rise in value, but the price move was muted.
GBPUSD – Hourly Price Chart – 15th – 17th Nov 2021 – Sideways Channel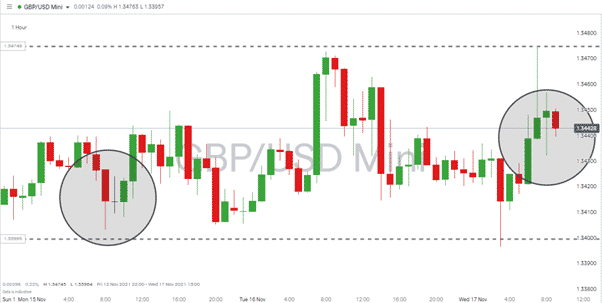 Source: IG
Why Didn't GBP USD Break Out
Strategies based on these news announcements triggering a rally in GBPUSD turned a profit but failed to break out.
The hourly price chart shows that between 8 am on Monday and the same time on Wednesday, GBPUSD rose in value by 0.3%. That's not a bad return, and there were spikes along the way which could have optimised returns. The good news for sterling bulls was that the support level in the region of 1.34 held strong. The other side of the coin is that resistance at 1.3475 has twice held.
GBPAUD Does Break Out
A glance at the GBPAUD currency pair sheds some light on why GBPUSD met resistance. Between 8 am on Monday, and Wednesday GBPAUD rallied by 1.08%.
GBPAUD – Hourly Price Chart – 15th – 17th Nov 2021 – Break Out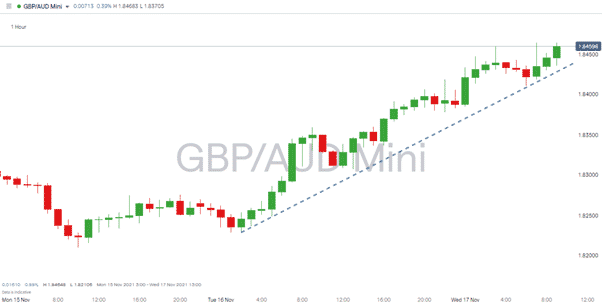 Source: IG
Applying the right strategy to the wrong market is an easy and common mistake to make. More important is that the error highlights how economic data from the US is beginning to spook the markets. The strong US jobs and unemployment data analysed in this report 'GBPUSD – The Gift That Keeps On Giving' leads the markets to price in more hawkish behaviour from the US Federal Reserve. That will have ramifications for all markets, from forex to crypto and gold to stocks.
If you have been the victim of a scam, suspect fraudulent behaviour, or want to know more about this topic, please contact us at [email protected]